Accademia Riaci
Student Reports
Read all class reports from our students!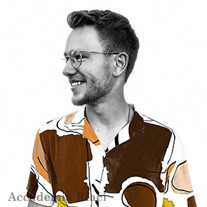 Reporter
Daniel Trembovelski
Country: France
Course: Jewelry Making
Program: Master Course
Period: Sep 6, 2021 - Apr 15, 2022
My name is Daniel Trembovelski, I am a 23-year-old French and Russian student in jewellery. I am currently following the 1-year Master course in jewellery making at the Accademia Riaci after graduating from a bachelor in Jewellery and Silversmithing at the Birmingham School of Jewellery in the UK. I decided to follow this course with the aim to gain more practice and confidence in my work before getting to work in the industry. I was also motivated to learn the "Incisione" techniques in addition to the different possible stone settings and therefore reach a new level in my jewellery creations. My long-term ambition is to gain enough various experience in jewellery all around the world and open my own brand and create my collections once ready! Outside of school, I like to read, visit exhibitions, work out and go out for walks and hikes in the countryside of Italy, Florence being the perfect place for that kind of extracurricular activities! You can follow my journey in jewellery and see my creations on my Instagram account @trembo_jewellery
May. 11, 2022 | Posted in Reports, Jewelry Making , Student Reporter | Tags:Daniel Trembovelski, Jewelry MakingReporter: Daniel Trembovelski | Course: Jewelry Making
Week 4
Ring project
I started the week by continuing last week's ring project.
Once the main part clean and even, I decided to make it even more curved than it was. For that I hammered the edge of the surface in a shaping base with a conical shape. Going from larger to narrower, this process gave the ring a more curved shape while keeping its balance on each side. It took a lot of filing to get the edges straight again, but the result came out very satisfying. (See ring picture 1) I then had to file the surface of the piece with a fine file as well as the inside and the sides. As I had still a pretty deep cut at the soldering point on the inside of the ring, I added a bit of solder which fixed the cut. (See ring picture 2). I then polished the inside which makes it ready for engraving. (See ring picture 3)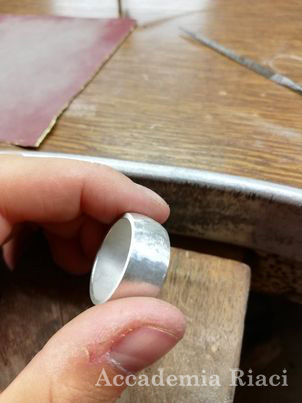 ring picture 1
ring picture 2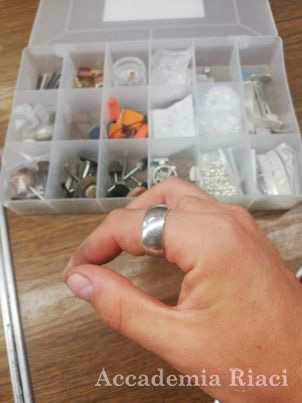 ring picture 3
Engraving lesson
ast week, the teacher prepared an example of letter engraving on a piece of copper by writing my name in an engraving font. When done, he deepened the cuts to give it a shadowy aspect and some relief. (See engraving picture 1)
I then tried a few tries myself that are far from being as successful as his, but I was happy to notice progress even after a few tries. (See engraving picture 2)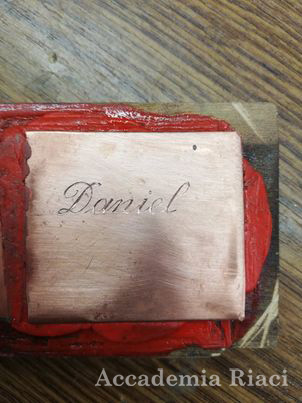 engraving picture 1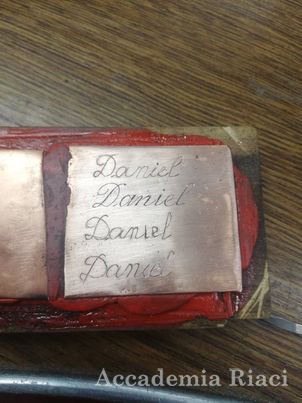 engraving picture 2
The teacher then introduced me to the engraving pattern I will use on the ring project once it is ready. It consists in dividing the surface of the ring into approximatively 1cm regular squares and engrave the inside as well as setting a stone in the middle of some squares with different kind of cuts and curves. (See engraving picture 3)
We then created the pattern that will be on the sides of the ring. I indeed repeated the pattern learned last week, but on a way smaller scale on a rectangular band 2mm wide. I really struggled with that pattern as the surface is really small. Time to train and repeat now. (See engraving picture 4)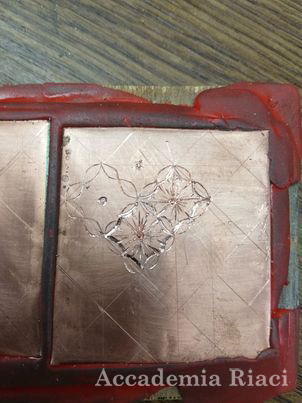 engraving picture 3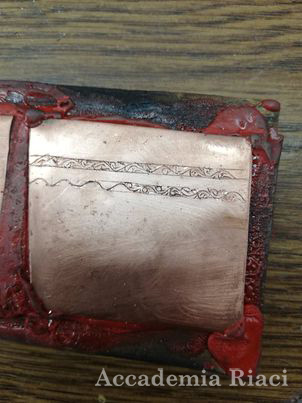 engraving picture 4
Bracelet repairing
I decided to ask for the help of the jewellery teacher to repair a bracelet I had from my brother. It is a bracelet bought in Morroco, supposedly made of silver, and that had been on his wrist for almost a year. After this time, it simply snapped in two parts. (See bracelet picture 1)
I've tried soldering it many times which I never succeeded. Another teacher of mine explained that it happens a lot to traditional jewels bought in Morocco because the percentage of silver in the alloy of the metal is lower than in the classic alloys of Europe. Therefore, the soldering is harder to achieve. With the help of the teacher and 2 torches, we managed to solder the two pieces together, but it broke straight away after been put in the acid. (See bracelet picture 2)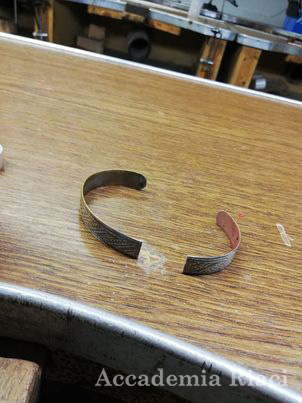 bracelet picture 1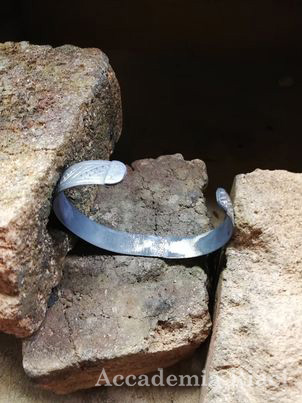 bracelet picture 2
Therefore, I opted for another solution. I created a silver base 1mm thick and about 2cm long that would work like a pad behind the bracelet. The bracelet won't be worn anymore, just kept as a souvenir as it has many chances to snap again because very fragilized after the first original break. Therefore, the visual perfect aspect matters less than the actual integrity of the piece. I then create 4 symmetrical holes on each side of the breaking point and aligned them with 4 holes drilled on the back silver plate. I then create a silver round wire to fit those holes, cut 4 parts and soldered them inside the holes. Once in place, they would fit perfectly with the holes on the actual bracelet. (See bracelet pictures 3&4)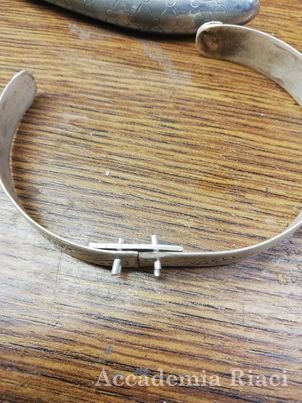 bracelet picture 3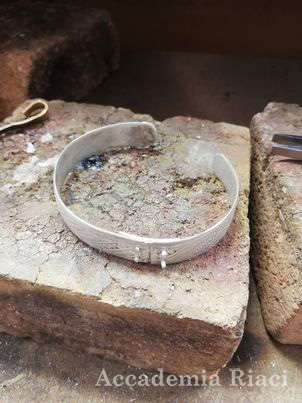 bracelet picture 4
I then cut them shorter and riveted them by hammering the top on the bracelet to hold them still. In between, I gave the back plate the curved shape of the bracelet. Then came sanding and cleaning as usual. The piece is fixed at the best possible in this situation. (See bracelet pictures 5&6)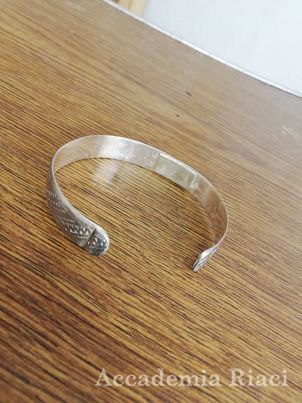 bracelet picture 5
bracelet picture 6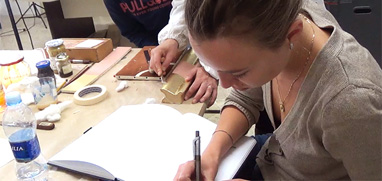 At Accademia Riaci, we are recruiting Course Reporters from our students. The students who are chosen to become Course Reporters are given 10 % of the tuition as their scholarship fee.
The Reporters who have submitted excellent reports will have his or her profile posted on our school website for the next 5 years as an alumnae and will be able to connect with their business chancesafter their graduation.