Scholarship
Scholarship
Student Reporter Scholarship
Scholarship
Although there are currently no government funds or endowments available for financial assistance, past students have consistently received financial assistance from private educational loan companies. You may also apply for scholarship directly from Accademia Riaci.
Scholarship by Accademia Riaci
Students may apply for scholarship from anywhere in the world. They may be eligible to receive a partial tuition scholarship. To apply, please send the following items to admission office or your nearest information center.
Required Documents For Scholarship
– ACCADEMIA RIACI Scholarship Application Form (PDF)
– 1-2 pages statement objectives (in English)
– Portfolio of Twelve Artworks *If you don't have any experience in the field which you are applying for, it is not necessary to submit.
– A portfolio description sheet listing each piece by number, size, medium and the date completed. *
Preferred Documents
– Two recommendation letters from faculty, work supervisor, or any authority with a close relationship, if available.

**You MUST write which course you are applying for. In case you don't write course name, your documents cannot be sent to the selection committee for scholarship.
Deadline
By three months prior to the course start date.
*The number of students who may be accepted is limited.
Student Reporter Scholarship
At Accademia Riaci, we are recruiting Course Reporters from our students.
The students who are chosen to become Course Reporters are given 10 % of the tuition fee as their scholarship.
The Reporters who have submitted excellent reports will have his or her profile posted on our school website for the next 5 years as an alumna and will be able to connect with their business chances after their graduation.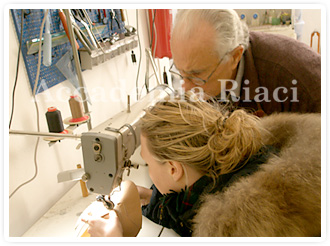 Qualification Requirements
Accademia Riaci's prospective students
Number of Recruitments
Two students for each major in one-year course and master course (September, January and April applicants) and for each major in the summer course (12 week course or 8 week course or 4 week course applicants)
Scholarship fee
5% to 10% of the student's tuition (can be used in combination with regular scholarship applications). By submitting of weekly reports, and those who excelled, he or she will be given scholarships for the second year course.
Report content
1. Summary of the contents and rules we would like you to report on.
Once a week, report on each lesson of the week with photos/video and text. The following contents and conditions must be met.
<Contents>
Descriptions of the techniques learned the introduction of materials and tools, lesson scenes, etc.
Minimum of 5 photos and 10 videos per week.
Each photo image must have 2 to 10 lines of comment.
Language should be English and native language( As per Japanese native, Japanese, or English).
<Examples of contents of a one-week report>
At least 2 close-up photos or videos of your class work.
Photos and videos of you with your classmates and teachers (pictures/videos of all of you together, photos/videos of you with your teachers).
At least 2 photos/videos of you working in class
At least 2 photos/videos of you in your daily life (where you are staying, in the city, on vacation, back home, traveling, etc.)
At least 10 works per week (at least 5 photos and 5 videos of you with school staff, etc.).
For example, a student in the academic year who starts their course in the fall semester should submit 27 weeks of lessons (27 reports) + 1 report during fall break + 1 report during winter break + 1 report during spring break = 30 reports in total.
・For academic year students starting courses in the spring (January), students must submit 27 weeks of lessons (27 reports) + 1 report during spring break = 28 reports total.
・For academic year students starting in early summer (May), 27 weeks of lessons (27 pieces) plus 2 reports during the summer break and 1 report during the winter break = 30 reports total.
<How to submit photos and reports>
All digital pictures and videos are to be submitted to the secretary's office every Friday morning.
Report texts, compressed photos, explanatory text for each image, 5 or more videos of 10 seconds each, and explanatory text for each video are to be sent to the designated email address specified by the school by Friday afternoon each week. You must compress data.
2. ules and Notes on Student Report Scholarships; please read carefully.
Please note that being awarded a scholarship above means that you will be expected to contribute a lot. Accademia Riaci is looking for motivated students who will share their classes at Accademia Riaci, the joy of learning Arts, Design, Crafts, and life in Italy with the whole world in a positive way. We are willing to provide mutual understanding and support to achieve this goal.
If you are awarded a Student Report Scholarship and fail to write your report during the lessons, your un-updated report history will remain on the school's website. In addition, you will not be able to take the classes for which you were awarded the scholarship. Therefore, if you receive a 10% scholarship and fail to submit a single report, you will forfeit your right to take classes for your last 10% period. If you receive a 5% scholarship and submit only half of the required reports, you will forfeit your right to attend 2.5% of the classes. If you want to take all the classes, you are obliged to return the scholarship you received at the time of enrollment to the school by one month before the end of the course.

Please consider carefully whether you want to do it and whether it suits you before applying. Accademia Riaci is looking for motivated applicants!
◾️Conditions of Course Reporter
All rights reserved by the Accademia Riaci.
Your name and picture will also be on the web page.
The school will check the contents, so not all of your reports will be on our website.
Application Method
Accademia Riaci Application Form- downloadable from the Scholarship page of our school homepage.
Student Reporter Scholarship Application Form
*Please write the name of the course you wish to enroll, and check if you apply for becoming a Students' Reporter. It may not be considered without the name of the course.
Essay: Theme: "How I would like to expand my own business in the future"
A4 size1-2 pages, in Italian or English 200~300 words, or 400 words in Japanese.
Portfolio with 12 of your works (It must be attached to mail by PDF file.)
*If you have no experience in your major field of study, 12 photographs and 12 10-second videos of your own work in your major field of study (e.g., Interior design course : Photographs and 10-second videos of the interior of your home or a friend's home, Jewelry making : Photographs and 10-second videos of jewelry and accessories that you and your family own and a 10-second video of a painting you have done in the past, Shoe course : Photographs and 10-second videos of shoes you and your family have made).
List of portfolio contents: number, size, medium, and date of completion noted.
Explanation of each work in your portfolio about the making and characteristics of the works.
Application deadline: Three months before the start of the course. (It is reviewed by first come first served basis) among the Scholarship applicants, 2 persons (max.) for each course will be selected.
Scholarship
Student Reporter Scholarship