Accademia Riaci
Student Reports
Read all class reports from our students!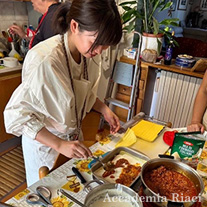 Reporter
H. T.
Country: Japan
Course: Italian Home Cooking
Program: Summer Course
Period: Sep 11, 2023 – Oct 6, 2023
I work as a cook. I used to cook Italian food at restaurants and hotels, but I had always wanted to learn about local cuisine and home cooking from people who live there, and after the coronavirus pandemic, I was finally able to participate. (This time it's a 4-week home cooking course.)
料理の仕事をしています。レストランやホテルなどでイタリア料理もしていたのですが、郷土料理や家庭料理を、現地でその土地で暮らす人から学びたいとずっと思っており、コロナ禍を経てようやく参加することができました。(今回は4週間の家庭料理コースです。)
Oct. 18, 2023 | Posted in Reports, Summer Course , Student Reporter | Tags:H.T., Summer Intensive CourseReporter: H. T. | Course: Summer Intensive Course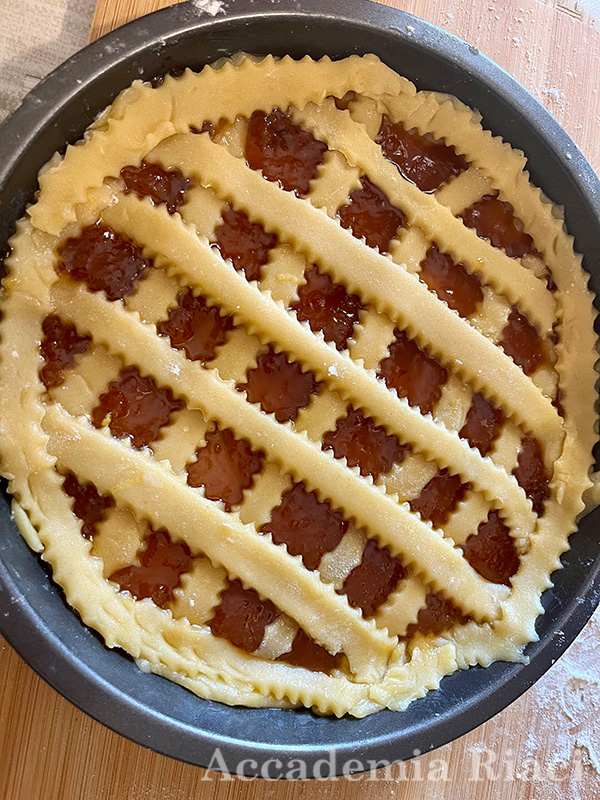 In today's lesson, we made a "crostata". A tart that is traditionally eaten in Italy and has a simple and light texture. The teacher used vegetable oil instead of butter. I also add seasonal jam, and on this day it's peach jam. Cookies made with leftover dough are filled with the teacher's homemade prune jam. This jam is also special. The sourness of the prunes and the soft texture of the dough were so exquisite that I could eat as much as I wanted. この日のレッスンではクロスタータを作りました。イタリアで伝統的に食べられているお菓子で、素朴で軽い食感のタルトです。先生は、バターではなく植物性のオイルを使っていました。また、季節のジャムを入れるのですが、この日は桃のジャム。余った生地で作ったクッキーには、先生お手製のプルーンジャムをサンド。このジャムがまた格別。プルーンの酸味と生地のほろっとした食感が絶妙で、いくらでも食べれそうでした。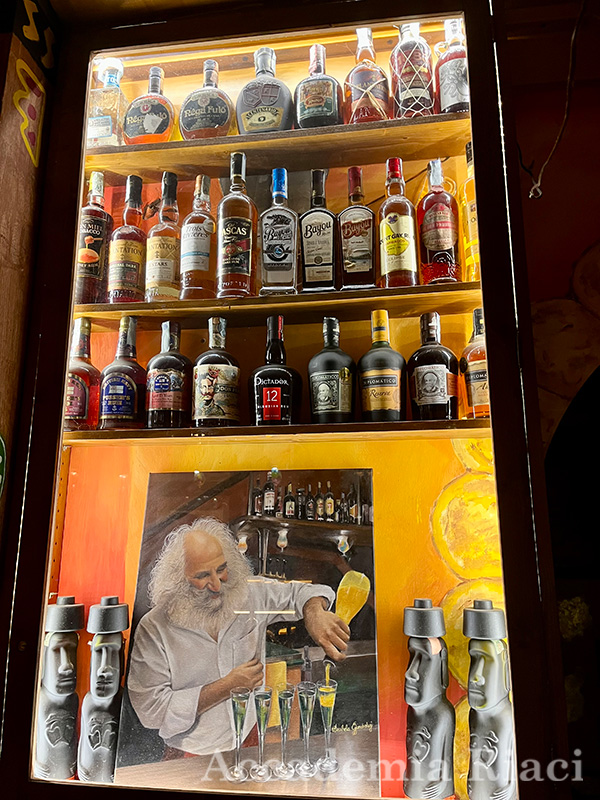 I was taken to a restaurant that served stylish cocktails. It looked cute, and everything I tasted was new to me, so it was a great experience. 連れて行ってもらった、おしゃれなカクテルを提供してくれるお店。見た目も可愛く、全てが初めての味で、良い経験になりました。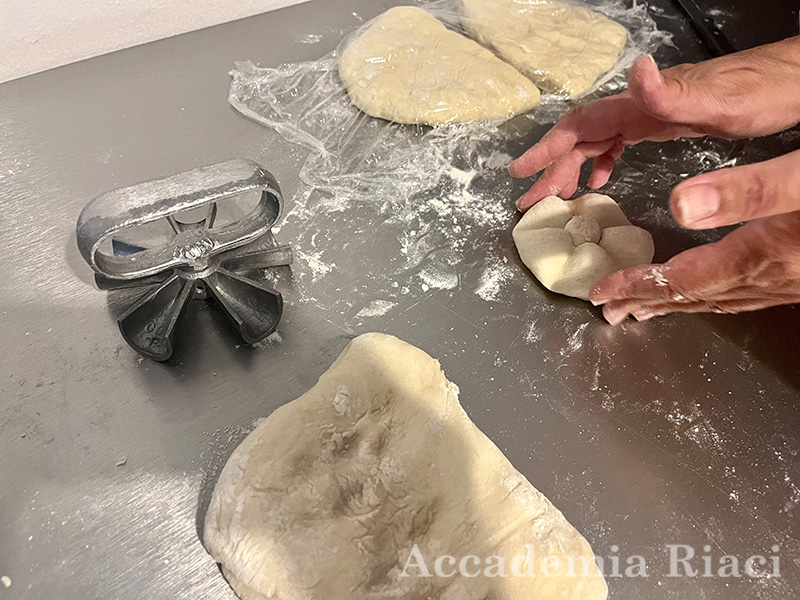 An optional bread lesson. They told me about the Rosetta bread I requested. Rosetta means rose, and is molded into a pattern using a special mold. They even went out of their way to prepare molds for us, which made it a valuable experience. オプションでとったパンのレッスン。リクエストしたロゼッタパンを教えていただきました。ロゼッタとは、バラという意味で、専用の型を使って模様をつけて成形します。わざわざ型も用意してくださり、貴重な体験ができました。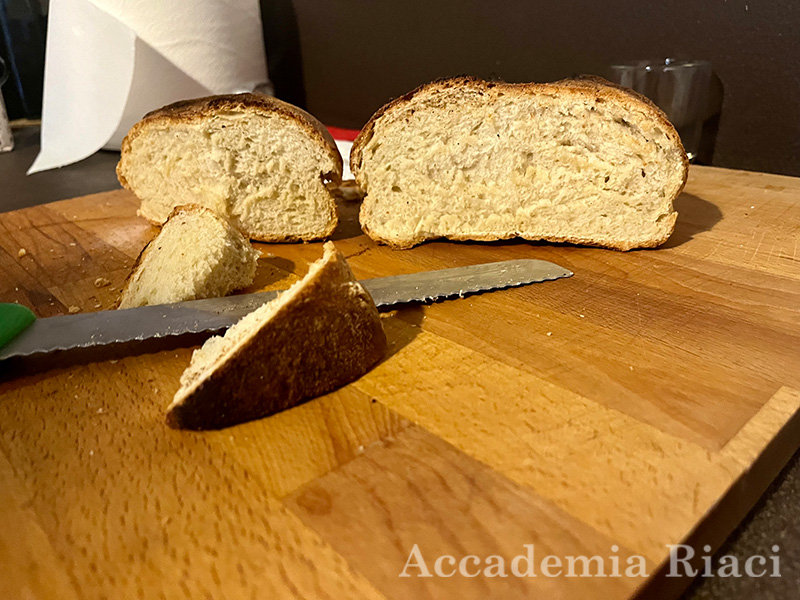 In the bread lesson, we also made Puglia bread. Unlike Tuscan bread, this bread contains semolina flour, so the dough inside is a little yellow, and the outside is browned very strongly, making it hard and fragrant, with a strong flavor. The original recipe for both breads takes quite a long time to ferment, so we shortened the fermentation time in the lesson. I think I'll take some time to make it after I get back to Japan. パンのレッスンでは、プーリアのパンも作りました。こちらはトスカーナパンと違って、セモリナ粉が入っているため、中の生地が少し黄色で、外側はかなり強めに焼き色をつけるため硬くて香ばしく、風味をしっかりと感じました。どちらのパンも、本来のレシピでは、発酵にかなり時間がかかるため、レッスンでは短縮して行いました。帰国してから、時間をかけて作ってみようと思います。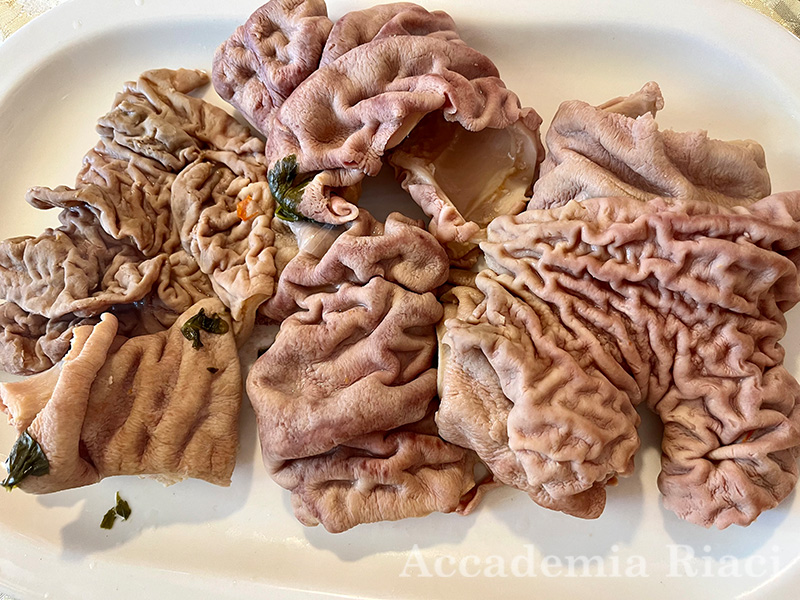 For today's lesson, we requested Panino Lampredotto and Trippa alla Fiorentina. Both are famous Florentine offal dishes. I never thought it would be so easy to make at home, so I'm definitely going to try it when I get some fresh meat. この日のレッスンでは、リクエストした、パニーノ ランプレドットとトリッパ・アッラ・フィオレンティーナ。どちらもフィレンツェ名物の内臓料理。家庭でこんなに簡単に作れると思ってなかったので、新鮮なお肉を手に入れた際は、是非試してみたいです。
I wanted to go to Armando, a long-established Italian trattoria. What I wanted to eat here was pasta called Carrettiella. A simple spaghetti with tomato sauce flavored with garlic and chili peppers. The way the materials worked was exquisite and as expected. 行きたかった、イタリアの老舗トラットリアのアルマンドへ。ここで食べたかったのが、カレッティエラというパスタ。ニンニクと唐辛子が効いたトマトソースのシンプルなスパゲッティです。素材の効かせ方が絶妙で、流石でした。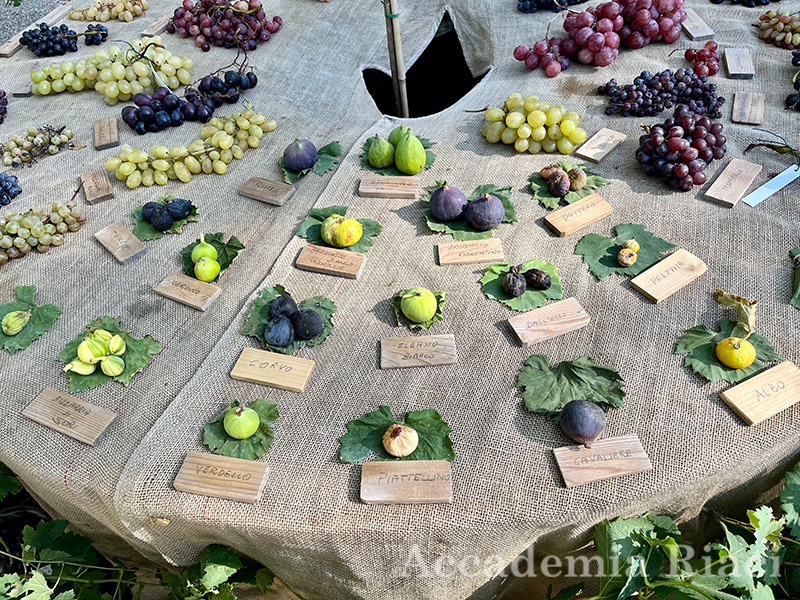 A flower market is held in the garden near the teacher's house. It was a very nice and pleasant market. Personally, I really liked this fruit display. 先生の家の近くの庭園で開催されている、お花の市場。とても素敵で、気持ちの良いマーケットでした。個人的には、この果物のディスプレイがとても好きでした。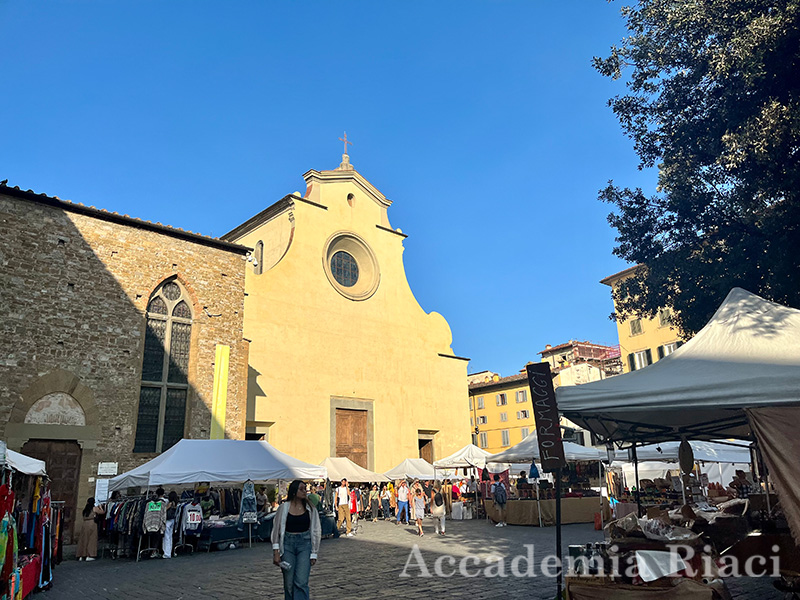 On my days off, I go to the market in front of Santo Spirito Church. Whenever I look in there, I see all sorts of shops lined up and busy, and it's fun just looking around. 休みの日は、サントスピリト教会の前で行われる市場へ。いつも覗くと、いろいろなお店が並んでいて賑わっていて、見ているだけで楽しめます。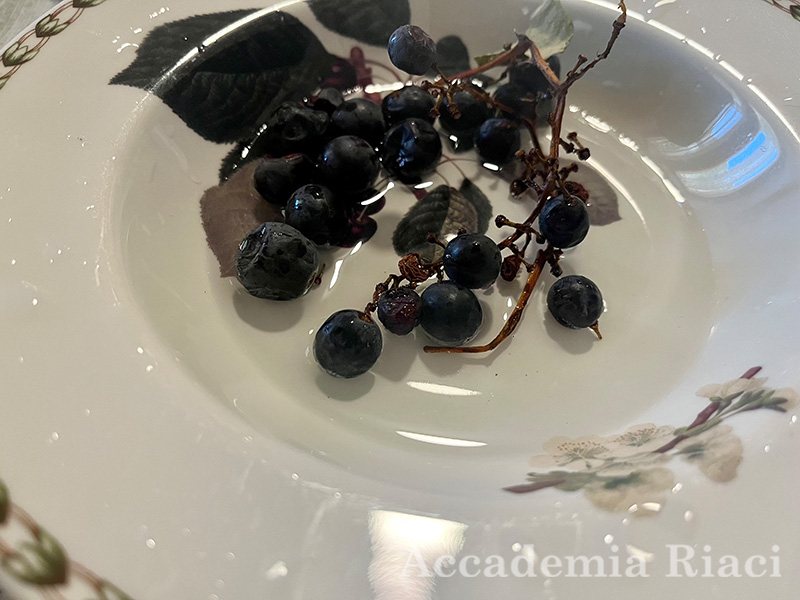 Grapes for wine that I received from my teacher. It is a variety called Fragolino, which is made for sweet wine. The moment I ate it, I was surprised by its eye-opening aroma and concentrated sweetness. I was so moved to find such delicious grapes. 先生からいただいた、ワイン用のブドウ。フラゴリーノという、甘めのワインのための品種だそうです。食べた瞬間、目を見開くような香りと凝縮されて甘味に驚きました。こんな美味しい葡萄があるなんて、、感動でした。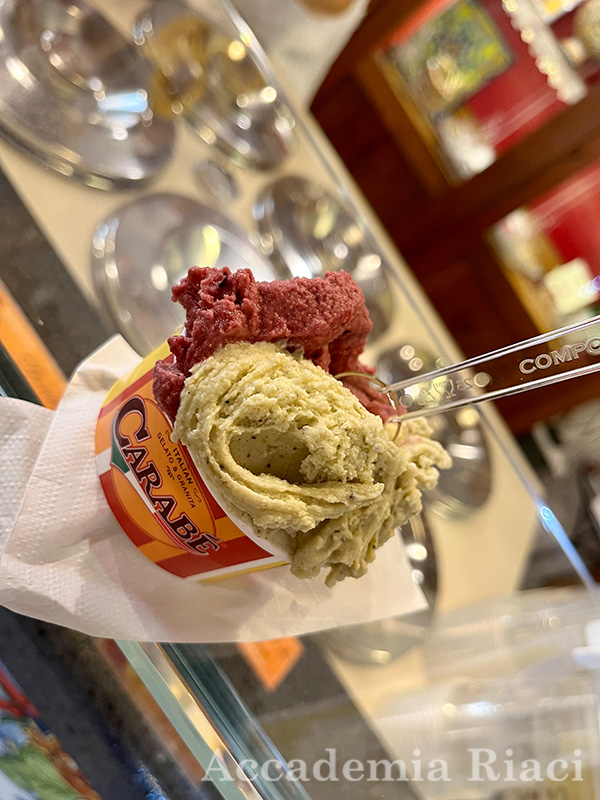 This gelato is made with grapes that are said to be harvested only at this time of year in Florence. This gelato also had a unique flavor and was an unforgettable taste. こちらは、フィレンツェでこの時期だけしか獲れないと言われている葡萄を使ったジェラート。このジェラートも風味が格別で、忘れられない味となりました。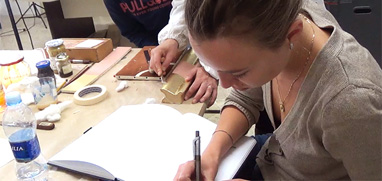 At Accademia Riaci, we are recruiting Course Reporters from our students. The students who are chosen to become Course Reporters are given 10 % of the tuition as their scholarship fee.
The Reporters who have submitted excellent reports will have his or her profile posted on our school website for the next 5 years as an alumnae and will be able to connect with their business chancesafter their graduation.