Accademia Riaci
Student Reports
Read all class reports from our students!
Reporter
A. W.
Country: Japan
Course: Italian Home Cooking
Program: Summer Course
Period: Sep 11, 2023 – Sep 30, 2023
I couldn't forget the trip to Italy that I did when I was a student, so I decided to take advantage of my retirement to study abroad for a short period of time. I chose the home cooking class because I love cooking and eating. I hope that while learning about the dishes that Italian people usually eat at home, I can also experience the dishes of restaurants outside and learn a little bit about food culture. 学生の頃に旅費を貯めて訪れたイタリアが忘れられず、今回、退職をきっかけに短期留学をすることにしました。料理と食べることが好きなので、家庭料理コースを選択しました。イタリアの人々が普段家庭で食べている料理を学びながら、外のお店の料理にも触れ、食文化を少しでも学べたらいいなと思っています。
Oct. 13, 2023 | Posted in Reports, Summer Course , Student Reporter | Tags:A.W., Summer Intensive CourseReporter: A. W. | Course: Summer Intensive Course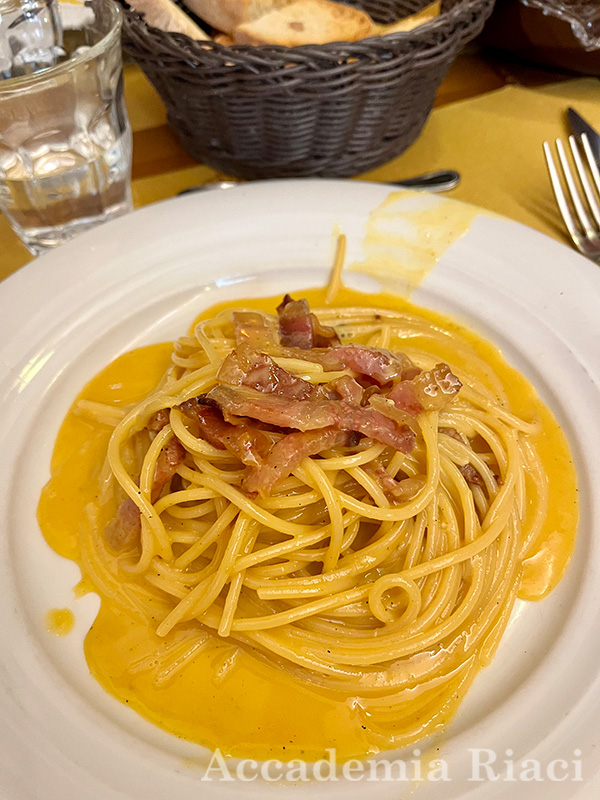 The real carbonara, made with only eggs and cheese and no fresh cream in the sauce, was very delicious, with a yellow sauce full of the flavor of the guanciale. It was rich but smooth and had an addictive taste. 卵とチーズのみ、ソースに生クリームは使わない本当のカルボナーラは、グアンチャーレの旨味がいっぱいの黄色いソースがしっかり絡んで、とても美味しかったです。濃厚だけどサラサラ、クセになる味でした。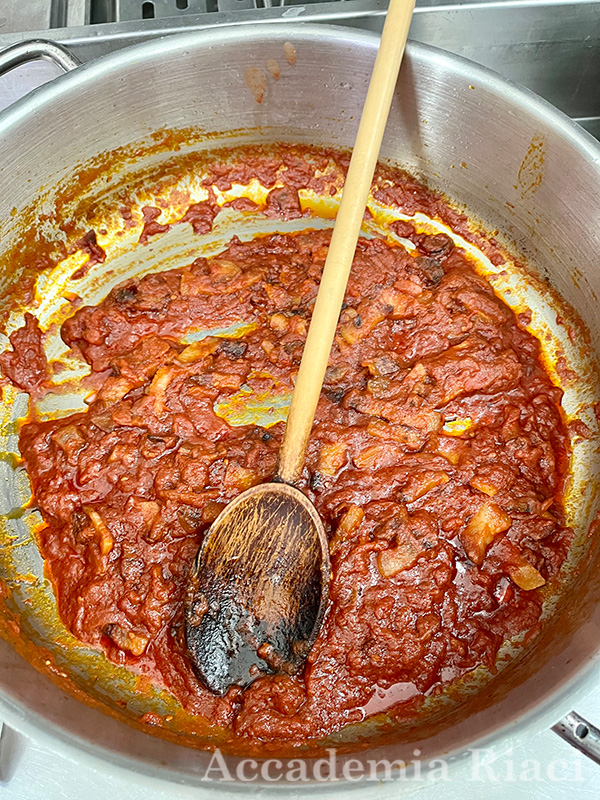 The Amatriciana sauce had the best flavor of the guanciale, just like the carbonara! The water was evaporated and boiled down much more thoroughly than I had imagined. アマトリチャーナのソースは、カルボナーラの時と同様に、グアンチャーレの旨味が最高でした!想像していたよりもずっとしっかり水分を飛ばして煮詰めていました。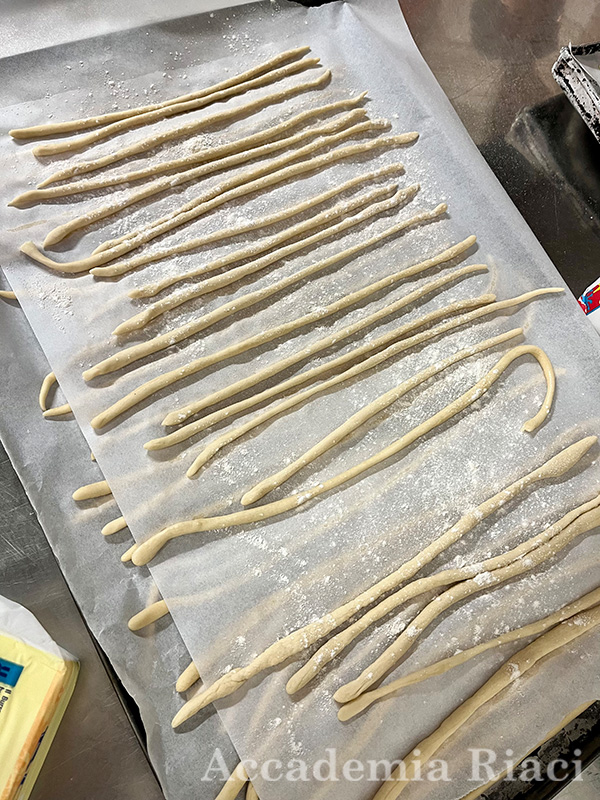 I tried making thick fresh pasta called peach. It took a lot of strength to knead the dough. As the students were stretching the dough into long noodles with both hands, the teacher repeatedly called out to them, "Be gentle!" It's hard to follow your teacher's example. The teacher gave advice while watching each student's work, saying, "This requires practice" don't be afraid of failure, "this is okay" and "do this". ピーチという太い生パスタ作りに挑戦。生地をこねるのには、とても力がいりました。生地を両手で麺の状態に長く伸ばしていく作業では、「dolce!優しく!」と先生から何度も声かけがありました。先生のお手本のようにはなかなかいきません。これは練習がいることだ、失敗を恐れないで、これはいいよ、そうじゃないこうするんだ、と、一人一人の作業を見ながら先生がアドバイスをくれました。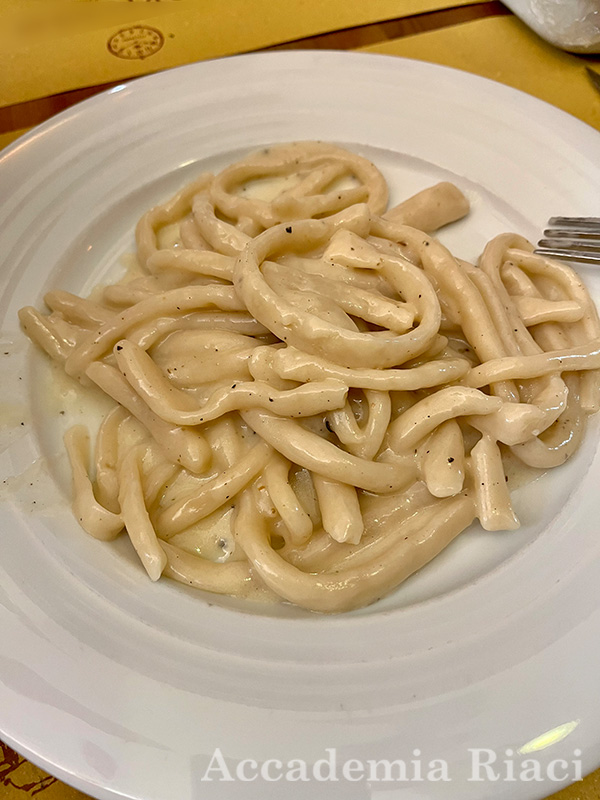 The cacio e pepe made with fresh pasta peach turned out to be thick noodles, almost like udon noodles, but the chewy texture was the best! 生パスタピーチで作ったカーチョエペペの出来上がりは、まるでうどんのような太麺になってしまいましたが笑、もっちもちの食感が最高でした!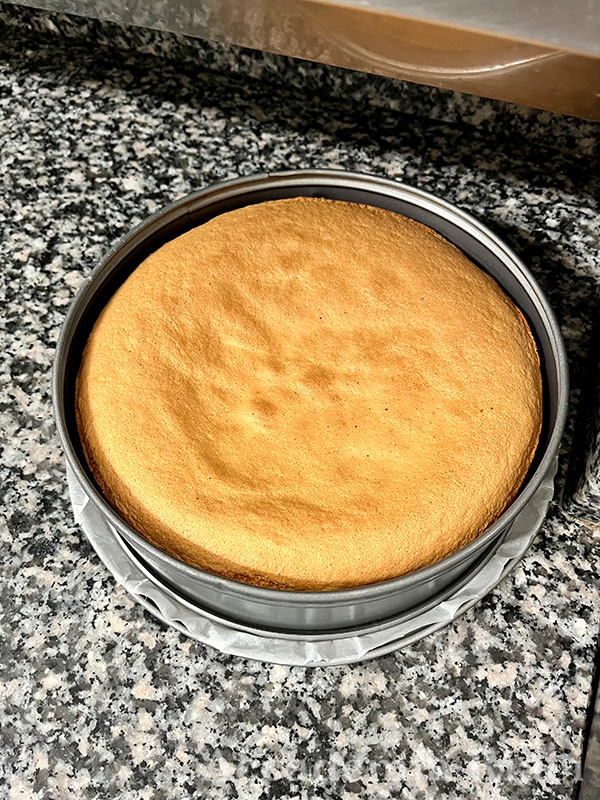 The key to making a simple cake using eggs, sugar, and flour was to whisk the eggs and sugar until they were stiff. The teacher's hands when mixing the flours were very gentle. 卵と砂糖と小麦粉で作るシンプルなケーキは、卵と砂糖をもったりするまでしっかり泡立てることがポイントでした。粉類を混ぜるときの先生の手つきが、とてもとても優しかったです。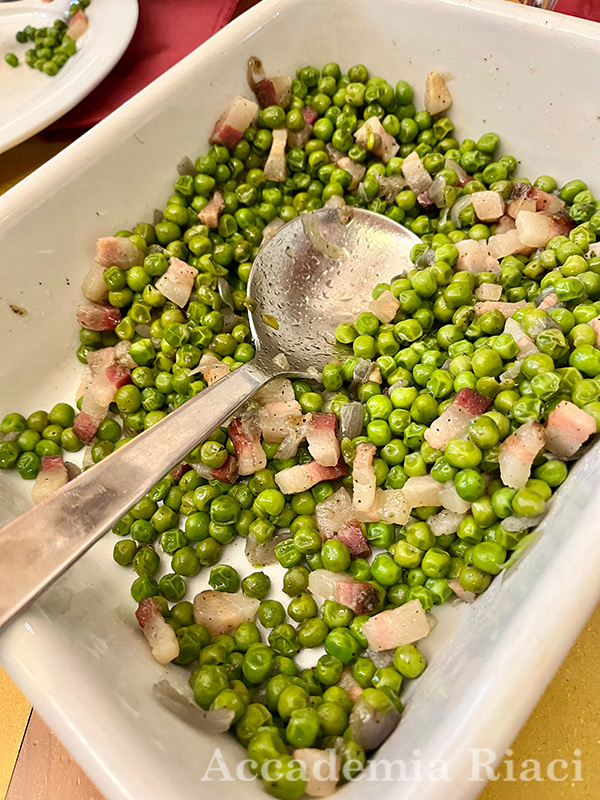 The green pea garnish was a great combination of the umami of the pancetta and the strong flavor of the beans. It was so delicious that you would end up eating too much. グリーンピースのつけ合わせは、パンチェッタの旨味としっかりした豆の味が相性抜群でした。うっかり食べ過ぎてしまいそうな、後を引く美味しさでした。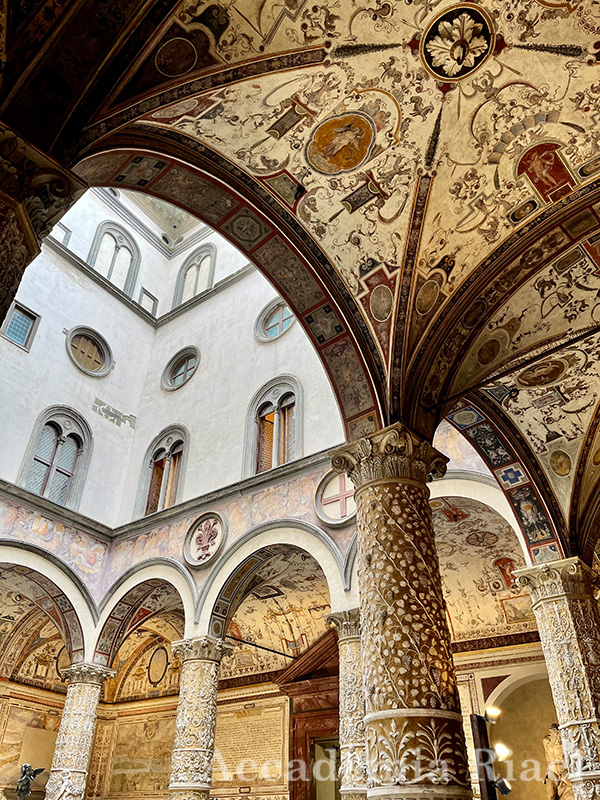 At Palazzo Vecchio and Piazza della Signoria, which I visited on Friday's guided art visit, there were many Florence marks and the coat of arms of the Medici family. As I listened to the explanations as I walked around, I became more interested and wanted to visit the museum at a later date. 金曜日のART Visitで訪れたヴェッキオ宮殿とシニョリーア広場には、沢山のフィレンツェマークやメディチ家の紋章がありました。説明を聴きながらまわるので、より興味がわいて、後日、美術館も合わせてゆっくり訪れたいと思いました。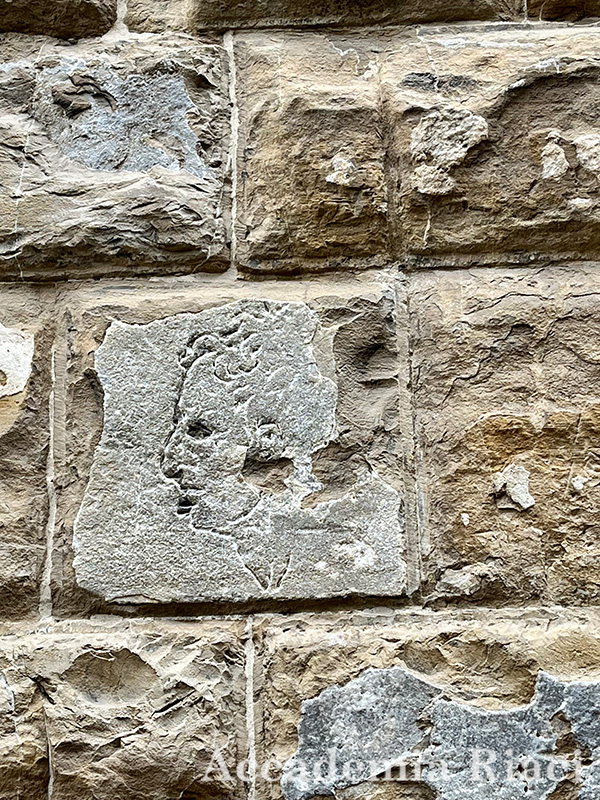 Guided Art Visit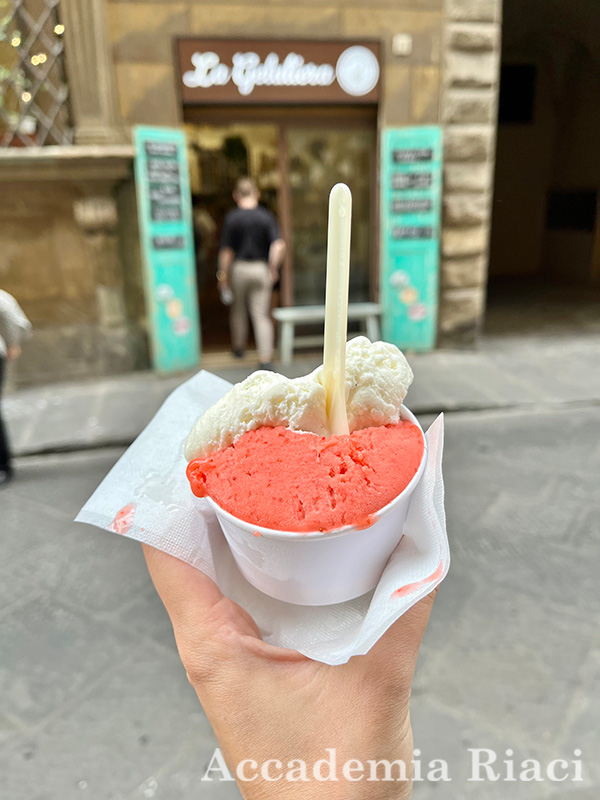 I found a gelato shop that is particular about BIO, vegan, and sugar free products. The shop was cute, and the gelato was packed with the flavors of the ingredients and was very much to my liking. BIO、vegan、sugar freeにこだわっているジェラート屋さんを見つけました。お店も可愛く、ジェラートは素材の味がギュッと詰まっていて、とても自分好みでした。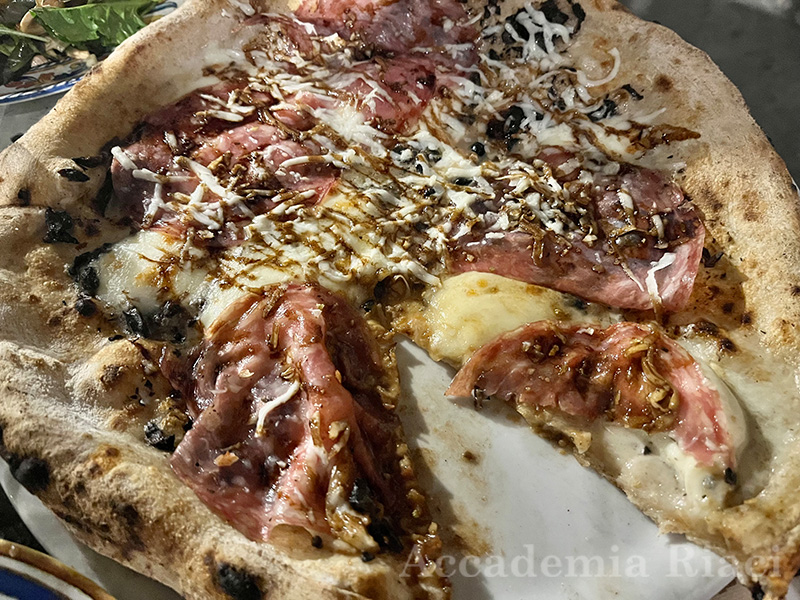 Had dinner with friends at a pizzeria that makes organic pizza. I tried making a pizza without tomato sauce. It was very delicious, but I wasn't used to cutting pizza with a knife, so I had a hard time cutting it properly! オーガニックのピザを作っているpizzeriaで、友達と夜ご飯を。トマトソースではないピザにしてみました。とっても美味しかったですが、ナイフでピザを切りながら食べるのに慣れていないため、上手に切れずに苦戦しました!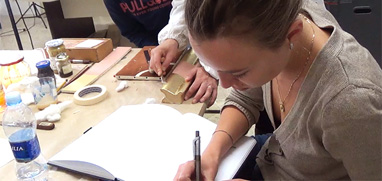 At Accademia Riaci, we are recruiting Course Reporters from our students. The students who are chosen to become Course Reporters are given 10 % of the tuition as their scholarship fee.
The Reporters who have submitted excellent reports will have his or her profile posted on our school website for the next 5 years as an alumnae and will be able to connect with their business chancesafter their graduation.