Accademia Riaci
Student Reports
Read all class reports from our students!
Reporter
A. W.
Country: Japan
Course: Italian Home Cooking
Program: Summer Course
Period: Sep 11, 2023 – Sep 30, 2023
I couldn't forget the trip to Italy that I did when I was a student, so I decided to take advantage of my retirement to study abroad for a short period of time. I chose the home cooking class because I love cooking and eating. I hope that while learning about the dishes that Italian people usually eat at home, I can also experience the dishes of restaurants outside and learn a little bit about food culture. 学生の頃に旅費を貯めて訪れたイタリアが忘れられず、今回、退職をきっかけに短期留学をすることにしました。料理と食べることが好きなので、家庭料理コースを選択しました。イタリアの人々が普段家庭で食べている料理を学びながら、外のお店の料理にも触れ、食文化を少しでも学べたらいいなと思っています。
Sep. 26, 2023 | Posted in Reports, Summer Course , Student Reporter | Tags:A.W., Summer Intensive CourseReporter: A. W. | Course: Summer Intensive Course
This is my first time eating meat in my life. During the cooking process, we were given detailed explanations about the herbs that go well with the meat, and how to calculate the necessary seasoning while considering the salt content of ingredients such as cheese. ウサギ肉は、人生で初めてです。お料理の過程では、お肉に合わせるハーブのこと、チーズなど一緒にあ使う食材の塩分を考えながら必要な下味を計算すること、詳しく説明がありました。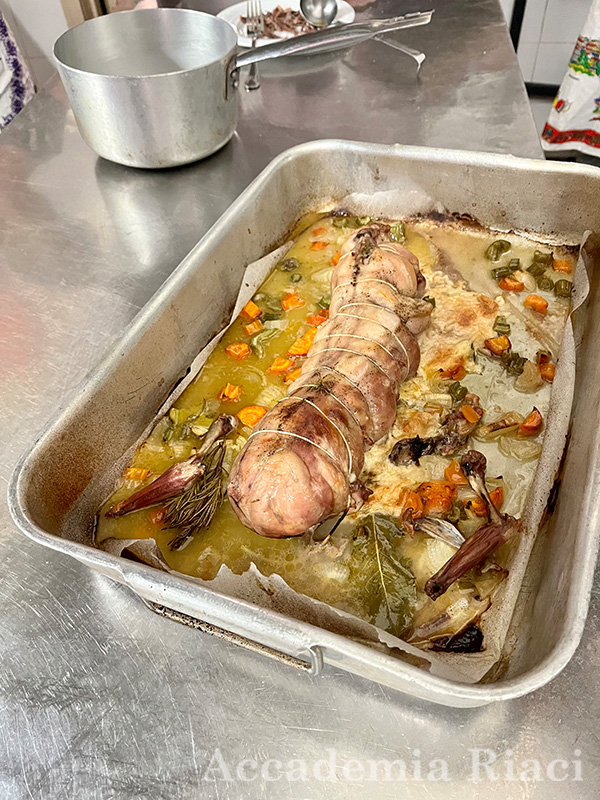 The grilled meat was light but had a strong flavor and was very delicious. Herbs worked well. 焼き上がったウサギ肉は、あっさりしているのにしっかりと旨味があって、とても美味しかったです。ハーブがよく効いていました。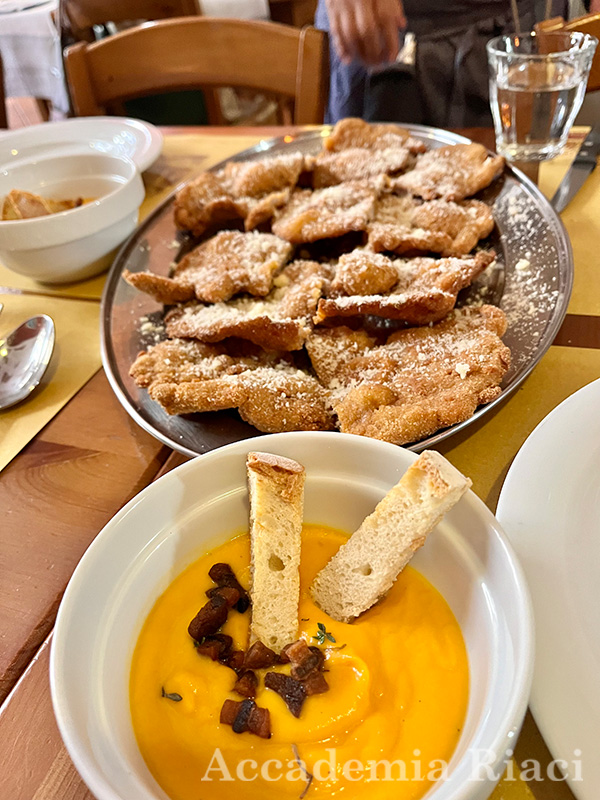 The pork was cooked by pounding the meat with a meat pounder and spreading it out. I first looked at the teacher's example and then tried it. It was more like sliding it and spreading it out rather than hitting it. The pumpkin garnish was also smooth and delicious. 豚肉は、肉叩きでお肉を叩いて広げて料理しました。まず先生のお手本を見てから挑戦しました。叩くというよりはスライドさせて広げるイメージでした。かぼちゃのつけ合わせも、なめらかでとても美味しかったです。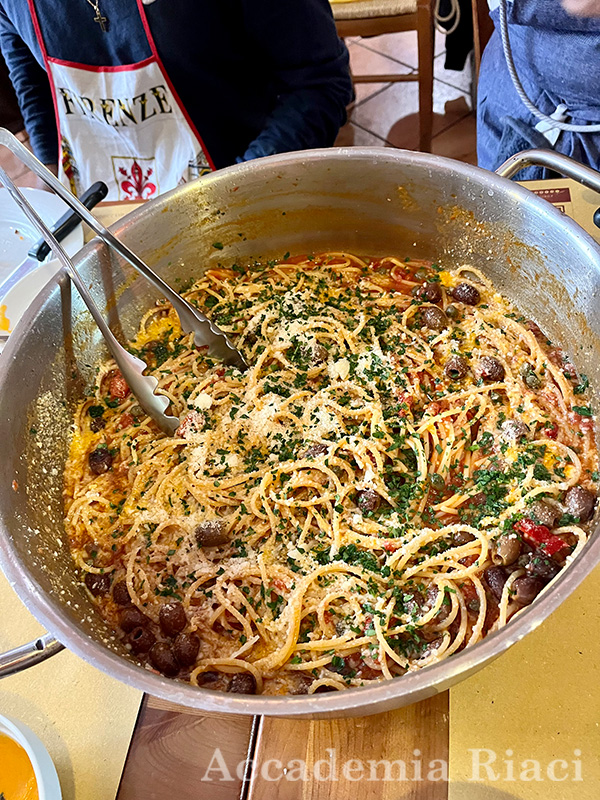 There is a proper trick to pouring pasta when separating it from a large plate, and the teacher explained in detail such details, and I see! I thought. パスタは、大皿から取り分ける際の注ぎ方にもきちんとコツがあり、先生が、そういった細かい点も詳しく教えてくださり、なるほど!と思いました。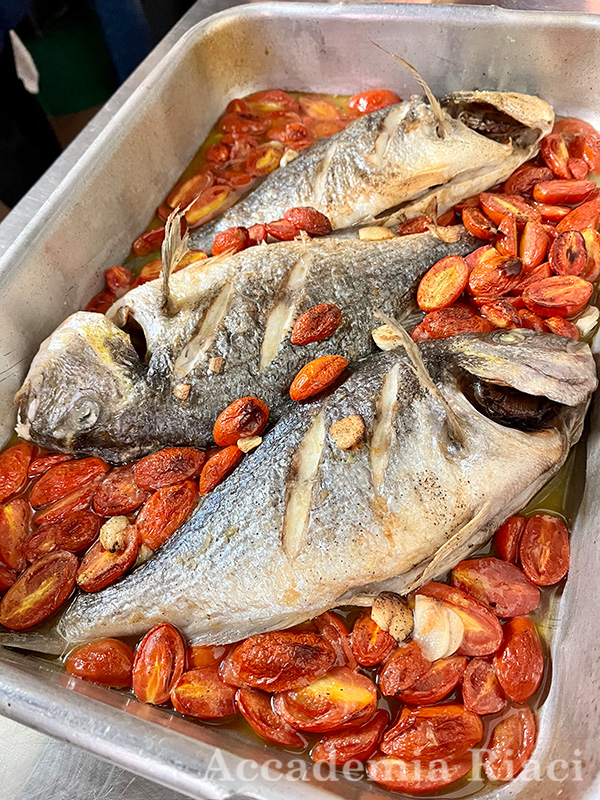 Aqua pazza had the image of being cooked in a pot or frying pan, but it was actually cooked in the oven. It is customary to eat seafood on Fridays, so on this day I also made octopus ragu. アクアパッツァは、鍋やフライパンで煮るイメージがありましたが、オーブン料理でした。金曜日は、魚介を食べる習慣があるとのことで、この日はタコのラグーも作りました。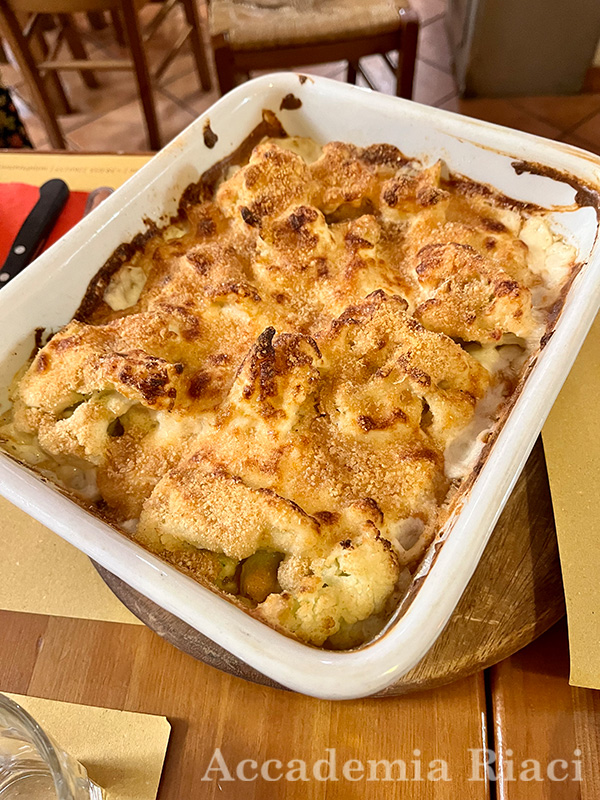 Cauliflower béchamel sauce. It was lighter and smoother than the béchamel sauce made in Japan. This means that the sauce will be more likely to stick to the vegetables. From now on, I want to make this béchamel sauce too. カリフラワーのベシャメルソース。日本で作るベシャメルソースよりもあっさりしていて、サラッとしていました。その分、ソースが野菜により絡みやすくなるそうです。これからは私もこのベシャメルソースにしたいと思いました。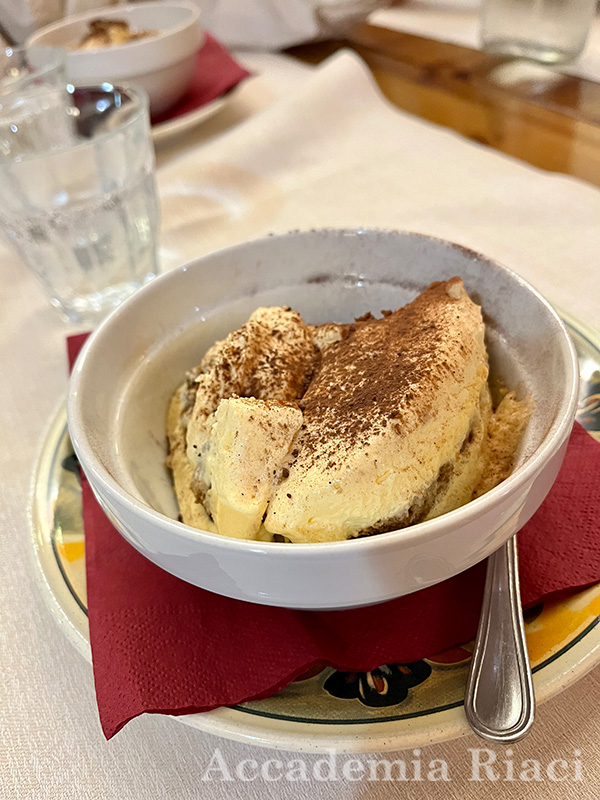 Italian Dolce is big size! This tiramisu also had two servings. When I was eating at a restaurant, the restaurant staff asked me if it was ok. They ask things like, "vino"? (Would you like another glass of wine?), "dolce"? (Would you like some dessert?), etc. Through lessons and eating out at restaurants, I realized that it's important to ask for food when you want it, to refuse when you don't, and to eat in a way that makes you feel comfortable. イタリアのドルチェはビッグサイズ!このティラミスも、ひとつで2人前ありました。お店で食事をしていると、お店の方が、Ok?、や、vino?(ワインのおかわりは?)、dolce?(デザートは?)、などと声をかけてくれます。欲しいときは頼んで、いらないときは断って、自分の心地よい食べ方をすることは大事だなと、レッスンやお店での外食を通じて感じました。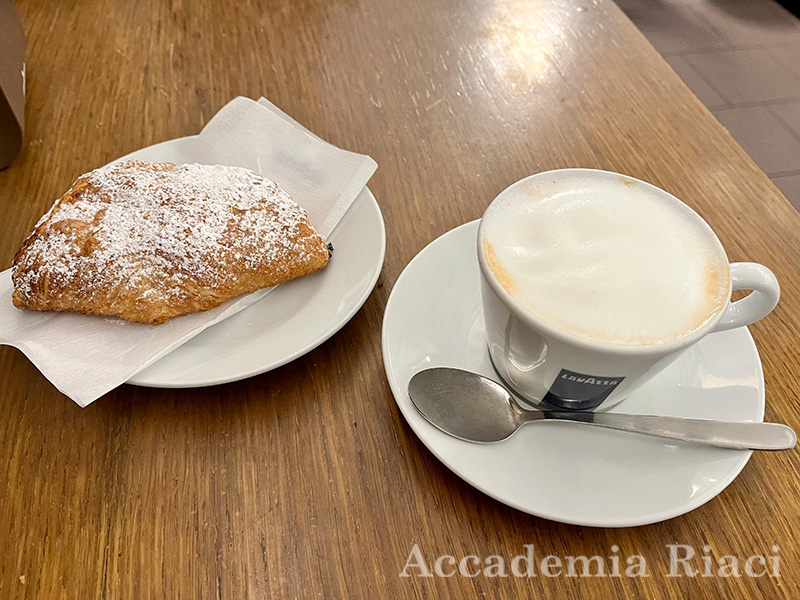 In the morning, I went to a bar near the room I was staying in. The cappuccino and sfoglia with ricotta became my favorites. When I look at the people who come to the store, I see that some people don't stay long, have a quick drink, eat, and then leave the store, while others sit leisurely and enjoy chatting. I can feel that it is happening. 朝、滞在している部屋の近くのバールへ。カプチーノと、リコッタ入りのスフォリアが私のお気に入りになりました。お店に来る人たちを見ていると、長居せずに、サクッと飲んで食べてお店を出て行く人や、ゆっくり座っておしゃべりを楽しむ人、、それぞれ自分の好きなスタイルで利用していることが伝わってきます。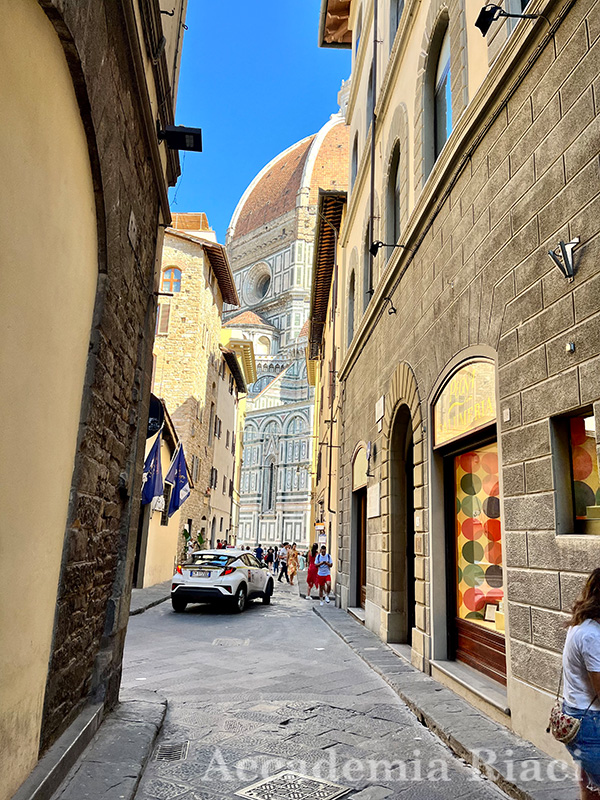 When I walk to school in the morning, I try to leave early and change the route little by little so that I don't get lost. There are new discoveries, such as whether you can see the cupola like this from here. 朝、学校までの道を歩いて行くときは、早めに出て、迷子にならない程度に、少しずつルートを変えてみたりしています。ここからこんな風にクーポラが見えるのか、など、新しい発見があります。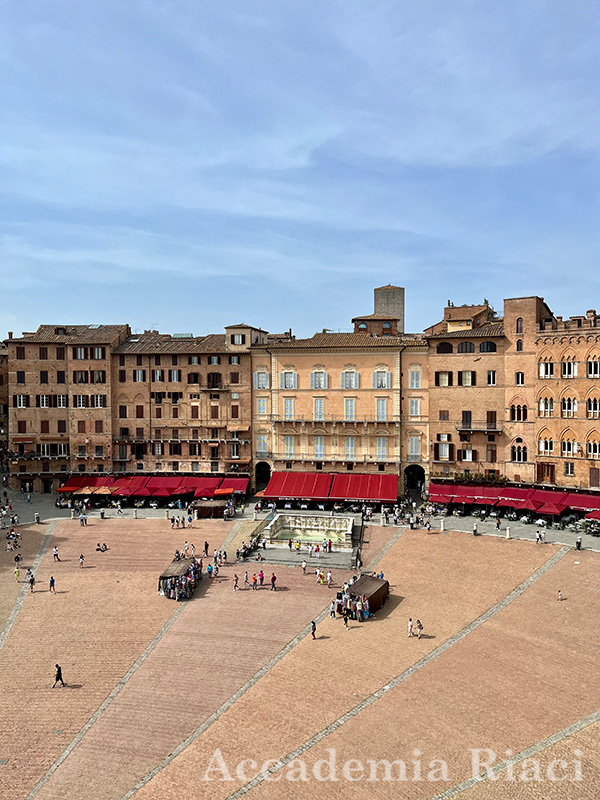 On Sunday, I took an express bus to Siena. It was a very beautiful place with the medieval townscape still intact. When you go to Siena, we recommend climbing the Mangia Tower. The view from the top of the tower is amazing. 日曜日に、高速バスに乗ってシエナに行きました。中世の街並みが残っている、とても美しいところでした。シエナに行った際は、マンジャの塔に登ることをおすすめします。塔の上から見る景色は最高です。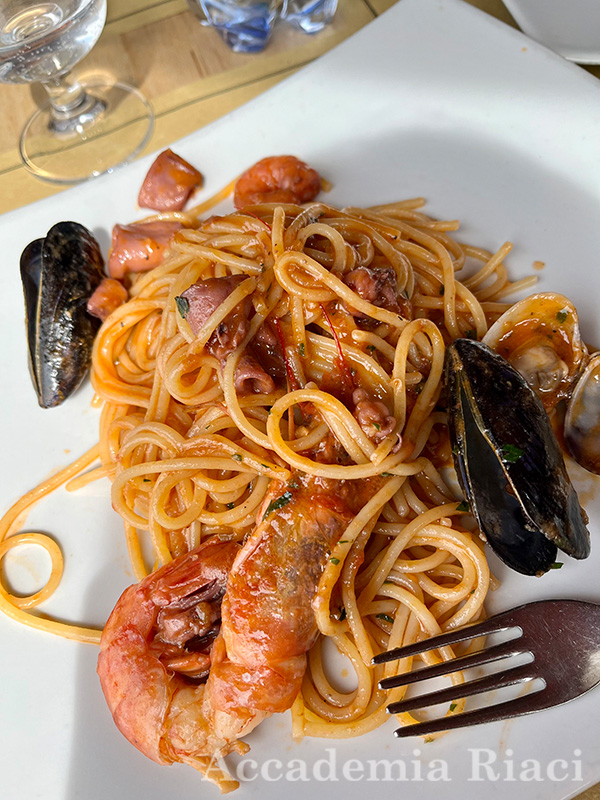 (Siena) The seafood pasta I had for lunch was also delicious! (シエナ)お昼に食べた魚介のパスタも、美味しかったです!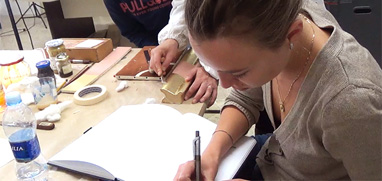 At Accademia Riaci, we are recruiting Course Reporters from our students. The students who are chosen to become Course Reporters are given 10 % of the tuition as their scholarship fee.
The Reporters who have submitted excellent reports will have his or her profile posted on our school website for the next 5 years as an alumnae and will be able to connect with their business chancesafter their graduation.