Accademia Riaci
Student Reports
Read all class reports from our students!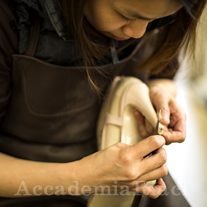 Reporter
Yi-Chen Chou
Nationality: Taiwan
Course: Shoe Making
Program: Master 1year Course
Period: Sept.8,2014-Apr. 24,2015
With medical background specializing in biomechanics of lower extremity, Yi-Chen Chou is interested in producing bespoke shoes for both general population and people with special needs. By taking the entry level of shoe making course last year at Florence, she has now equipped with the fundamental skills of shoemaking, and would like to learn more advanced shoemaking techniques as well as to integrate the gained knowledge onto prospective orthopedic shoes using customized lasts through her second year.
Oct. 16, 2014 | Posted in Reports, Shoemaking , Student Reporter | Tags:Yi-Chen Chou, ShoemakingReporter: Yi-Chen Chou | Course: Shoemaking
1) Last Sunday, I went to see the movie "Lucy" to see how Luc Besson filmed my beloved hometown Taiwan. Interestingly, Italians go to movies with wines instead of popcorns.
上週日我去看了「露西」這部電影,瞭解盧貝松如何著墨台灣,有趣的是義大利人看電影只喝酒卻不吃爆米花。
2) This week, the class started with the traditional dessert "cantuccini" with its perfect match "vin santo." Yummy!
本週的課程從一盤義式傳統餅乾配一小杯甜酒開始,真是太美味了!
3) Instead of buying one, new students started to learn how to prepare the midsole by themselves.
新生們開始學習如何自製中底而不是用現成的。
4) Meanwhile, continuous students keep working independently.
同時間,舊生們持續其獨立的學習。
5) We have a new face, Katarina from Sweden, joining us starting from this week. She has been learning from another shoemaker in Florence for nearly half an year.
本週來了一位瑞典的同學叫Katarina,她已經在佛羅倫斯跟著另外一位製鞋師傅學習了半年左右。
6) Jill was making a marking gauge for herself. Sometimes, shoemakers have to make their own tools as they are not available in the market.
Jill正在幫自己作一把幫鞋底壓記號的工具,有些時候鞋匠要自己作自己的工具因為市面上買不到。
7) Amy was not happy with her previous shoe uppers, and decided to re-make a new one. It's this pursuit of excellence from artisans makes these hand-made shoes so valuable.
Amy不太滿意她之前的鞋面並決定重新來過,就是這種追求卓越的態度使得手工鞋更為珍貴。
8) Trying to be perfect is all shoemaking artisans' ultimate goal.
試圖呈現完美是所有製鞋工匠的終極目標。
9) During our 10 minutes coffee break at 11am, we generally flock into the bar for coffees!
在早上11點鐘的休息時間,我們通常蜂擁至吧台前喝咖啡!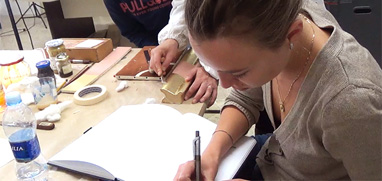 At Accademia Riaci, we are recruiting Course Reporters from our students. The students who are chosen to become Course Reporters are given 10 % of the tuition as their scholarship fee.
The Reporters who have submitted excellent reports will have his or her profile posted on our school website for the next 5 years as an alumnae and will be able to connect with their business chancesafter their graduation.