Accademia Riaci
Student Reports
Read all class reports from our students!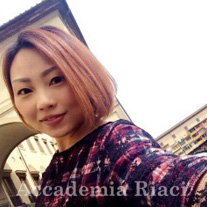 Reporter
JACQUELINE VONG
Nationality: Portugal
Course: Art Management
Program: Master Course
Period : Sep.7,2015-Apr.22,2016
I got a Bachelor Degree in English Communications in University of Macau. I'm a free-lance dancer and choreographer. I was facing a turning point in my artistic development, I would like to take a step forwards towards my career ambition, and furthermore I've been impressed and inspired by western influences while expanding my individual artistic practices. As a result I've decided to come to Italy to undertake the Art Management Master Course.
Apr. 21, 2016 | Posted in Reports, Art Management , Student Reporter | Tags:Jacqueline Vong, Art ManagementReporter: JACQUELINE VONG | Course: Art Management
Art Management Master Course: Cultural Entrepreneurship
Cultural Entrepreneurship is the focus in this week. Cultural Entrepreneurship is cultural change agents who organize cultural, financial, social and human capital, to generate incomes form a cultural and creative activity. Their innovations result in economically sustainable cultural enterprises that create cultural value and prosperity for both creative producers and consumers of cultural services and products.

文化創業是本週的焦點。文化創業是組織文化、財務、社會和人力資本的文化變革,從文化和創造性活動製造收入。他們的革新使經濟可持續發展的文化企業創造了創意生產者和文化服務及產品的消費者的文化價值及財富。

Entrepreneurial Formula, in which there are two systems:
1.Competitive system → positing operating section → placed on the right market
2.Stakeholder system → positioning of the company according to the economic,
political, and social context → look for resources

創業公式,其中有两制度:
1.競爭制度 → 運作部份定位 → 放到正確市場
2.企業制度 → 按經濟、政治、及社會背景定位公司→找資源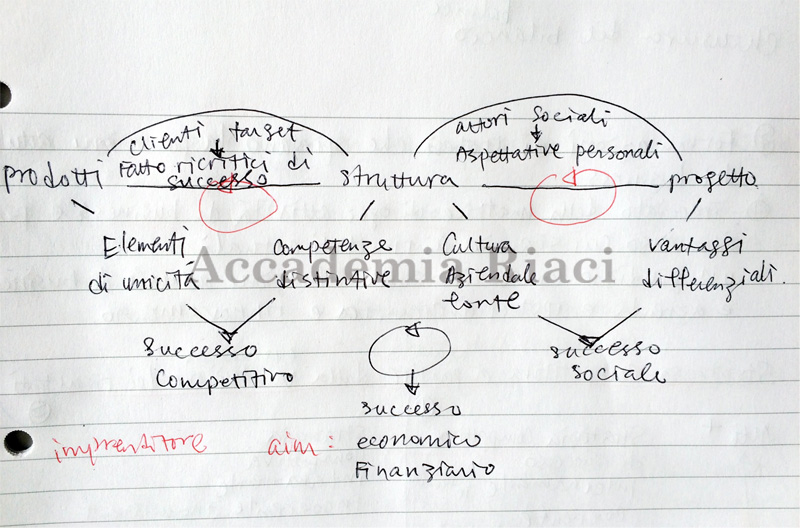 This photo is the lecture notes, a diagram of Entrepreneurial Success Formula. It indicates that under the competitive system, "Unique Elements" and "Distinctive Competencies" are the key success factors to achieve "Competitive Success". On the other hand, under the stakeholder system, "Strong Corporate Culture" and "Different Advantages" are the basic expectations to achieve "Social Success", when Success Competitive is consistent with Social Success, as a result enterprise gets "Financial Success".

此圖是課堂筆記,是創業成功方程式。這說明在競爭制度下,"獨有元素"和"獨特能力"是關鍵成功因素取得"競爭成功"。另一方面,企業制度下,"強大的企業文化"和"不同的優勢"是基本的期望取得"社會成就",當競爭成功與社會成就是一致,因此企業獲得"財務成功"。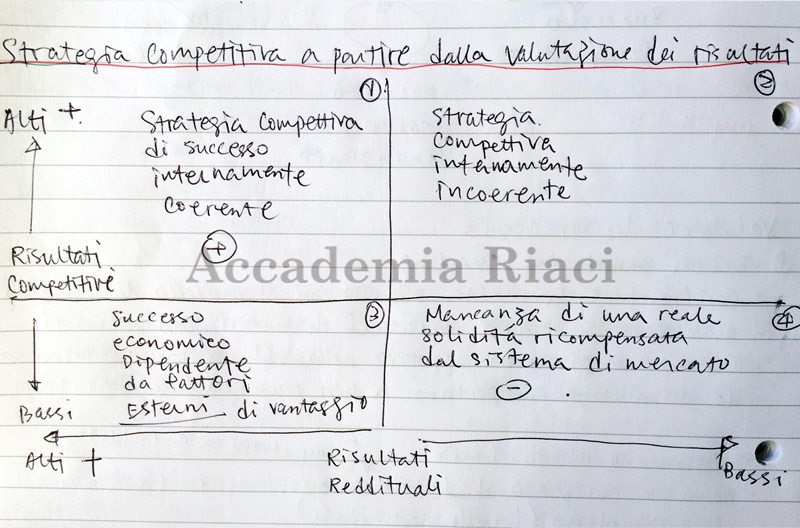 Here is another lecture notes, a diagram of the evaluation results of competitive strategy:
1.Competitive strategy of internally consistent success;
2.Competitive strategy internally inconsistent;
3.Economic success depends on the factors of external advantage;
4.Lack of a real solidity rewarded by the market system.

這是另一課堂筆記,競爭策略的評價結果圖:
1. 內部一致的成功競爭策略;
2. 競爭策略內部不一致;
3. 經濟的成功依賴於外在優勢因素;
4. 缺乏一個真正的市場制度的穩健回報。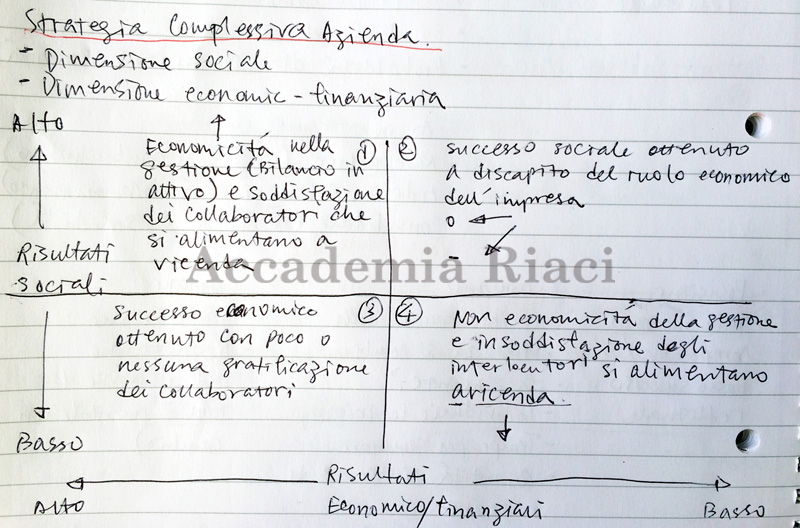 Also another lecture notes, the diagram of overall strategy of enterprise:
1.Good management and satisfaction of employee that feed off each other;
2.Social success obtains the detriment of economic of the company;
3.Economic success with little or no reward employee;
4.No good management and dissatisfaction of interlocutors that fuels each other.

也是課堂筆記,企業的總體戰略圖:
1. 良好的管理和員工的滿意度相互取得成功;
2. 社會成就取得公司的經濟損害;
3. 經濟成功,但很少或沒有獎勵員工;
4. 沒有良好的管理和對話者的不滿相互刺激。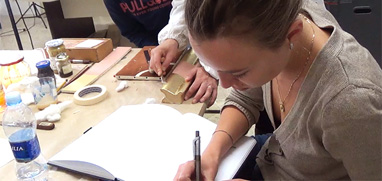 At Accademia Riaci, we are recruiting Course Reporters from our students. The students who are chosen to become Course Reporters are given 10 % of the tuition as their scholarship fee.
The Reporters who have submitted excellent reports will have his or her profile posted on our school website for the next 5 years as an alumnae and will be able to connect with their business chancesafter their graduation.