Accademia Riaci
Student Reports
Read all class reports from our students!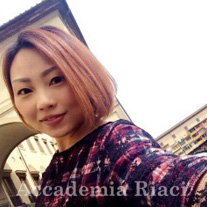 Reporter
JACQUELINE VONG
Nationality: Portugal
Course: Art Management
Program: Master Course
Period : Sep.7,2015-Apr.22,2016
I got a Bachelor Degree in English Communications in University of Macau. I'm a free-lance dancer and choreographer. I was facing a turning point in my artistic development, I would like to take a step forwards towards my career ambition, and furthermore I've been impressed and inspired by western influences while expanding my individual artistic practices. As a result I've decided to come to Italy to undertake the Art Management Master Course.
Feb. 04, 2016 | Posted in Reports, Art Management , Student Reporter | Tags:Jacqueline Vong, Art ManagementReporter: JACQUELINE VONG | Course: Art Management
Art Management Master Course: ART Innsbruck, Austria

Last week I have been to Innsbruck, Austria with Galleria D'arte Mentana to take part in the "ART Innsbruck", the 20th International Fair for Contemporary Art held from 28th to 31st of January at Messe Innsbruck. There were over 90 galleries and art dealers from 10 nations present the artworks of painting, sculpture, photography, furniture, video, installation, glass, and jewellery, etc.

上星期我和Galleria D'arte Mentana一起到了奧地利因斯布魯克參加由1月28日至30日舉行的"ART Innsbruck"第二十屆國際藝術博覽會。那裡有來自10個國家超過90家畫廊及藝品商展示畫、雕塑、攝影、傢俱、錄像、裝置、玻璃、及首飾等藝術品。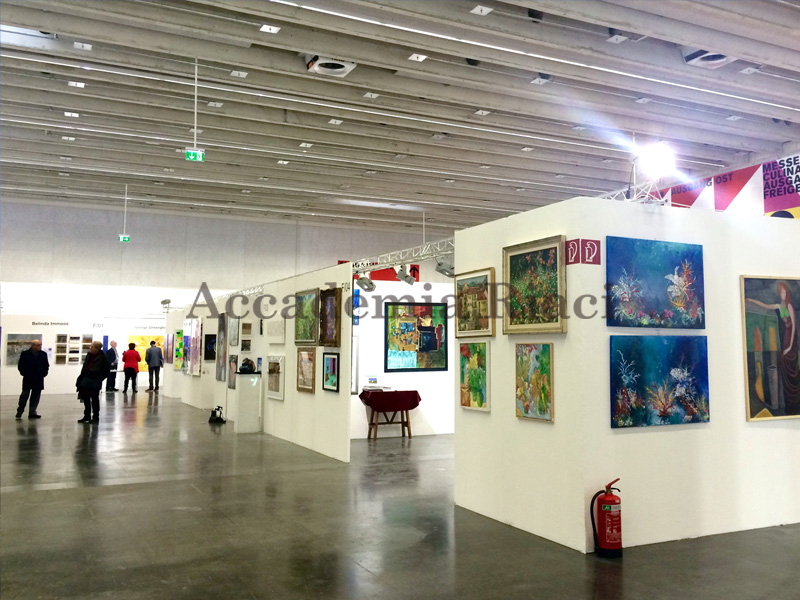 We arrived in Innsbruck on 26th January and started to set up the stand of Galleria D'arte Mentana. In this art fair, Galleria D'arte Mentana presents over 50 pieces of artworks of paintings, sculptures and photographs.

我們在1月26日到達因斯布魯克,接著開始放置畫廊展出的藝術品。是次藝術博覽會,Galleria D'arte Mentana 展示了超過50件畫、雕塑、及相片等作品。
I am glad to have this opportunity to take part in this international art fair, especially I could participate in their preparation work. This is a good chance to gain the practical working experience and to broaden the horizons. In addition, watching various artworks and talking with artists inspire me a lot, what a precious experience for my study and my art career!

很高興有這機會去參加這個國際藝術博覽會,特別是可以參與他們的準備工作。這是一個得到實際工作經驗及開闊眼界的好機會。此外,從觀賞各藝術作品及與藝術家交談亦令我得到很多啓發。對於我的學習及藝術事業來說,實在是一個難得的經歷!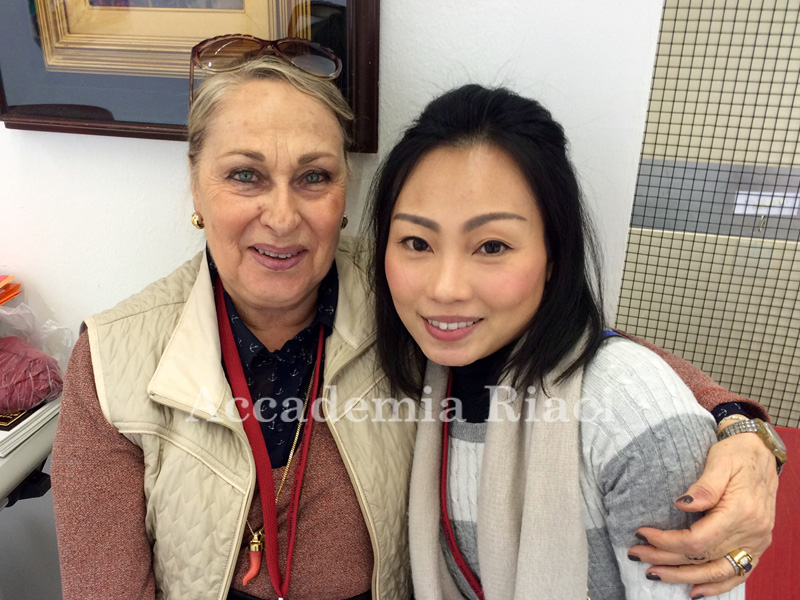 The Director of Galleria D'arte Mentana, Sig.ra Giovanna laura Adreani, thanks to her for asking me to go to take part in this art fair.

Galleria D'arte Mentana 館長 Giovanna laura Adreani,謝謝她邀請我一起去參加這藝術博覽會。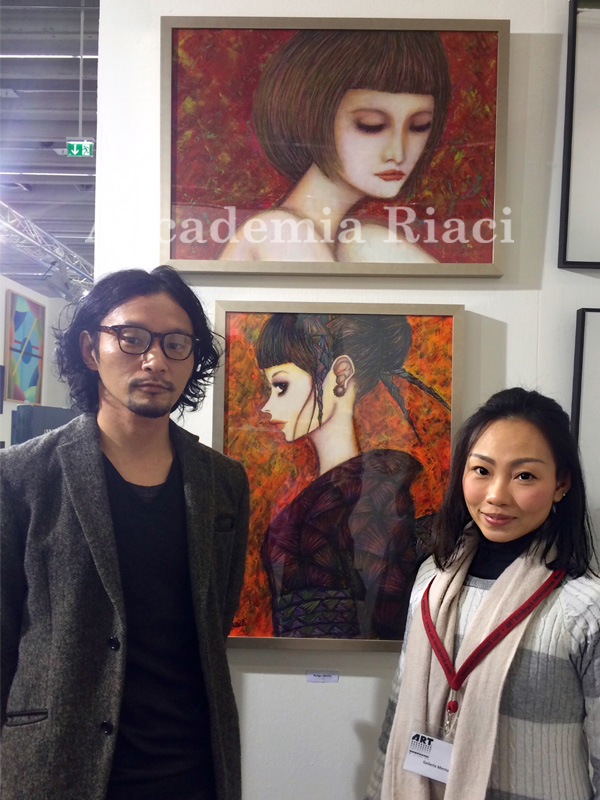 Bungo Morita, a Japanese artist who is one of the exhibited artists of Galleria D'arte Mentana. He is nice and full of emotions, we talked about his works, his ideas, the creation process, and inspiration. An inspirational exchange!

日本藝術家 Bungo Morita,是 Galleria D'arte Mentana 展出的其中一位藝術家。他很友善及充滿情感,我們談及他的作品、構思、及創作過程。一個啓發的交流!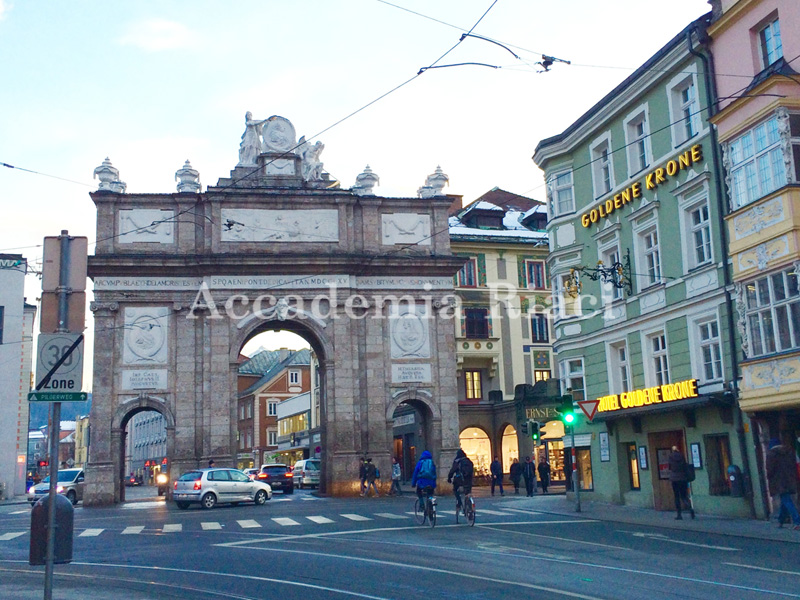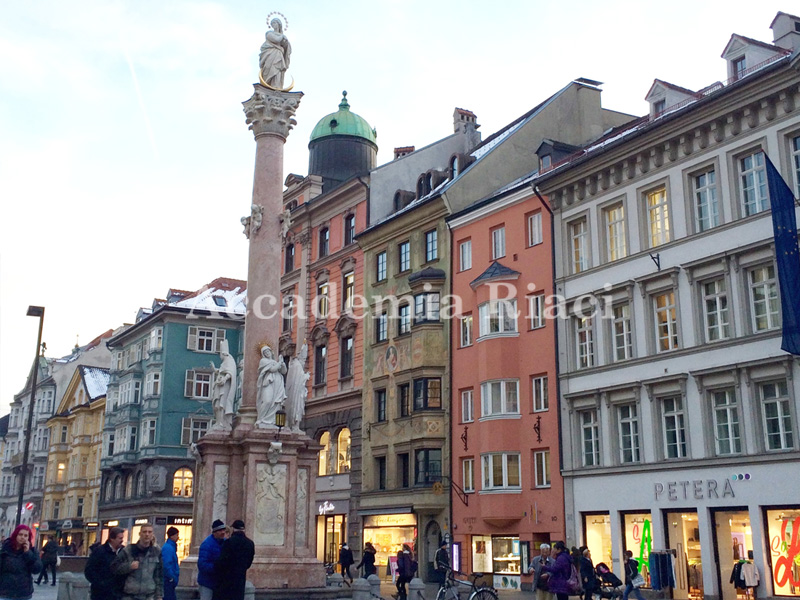 Besides taking part in the fair, I roamed around in the Innsbruck city. Two famous spots in the center, Triumphal Arch and St. Anna's Column.

除了參與博覽會,我也遊覽了因斯布魯克城市。市中心两個著名的景點,Triumphal Arch 及 St. Anna's Column。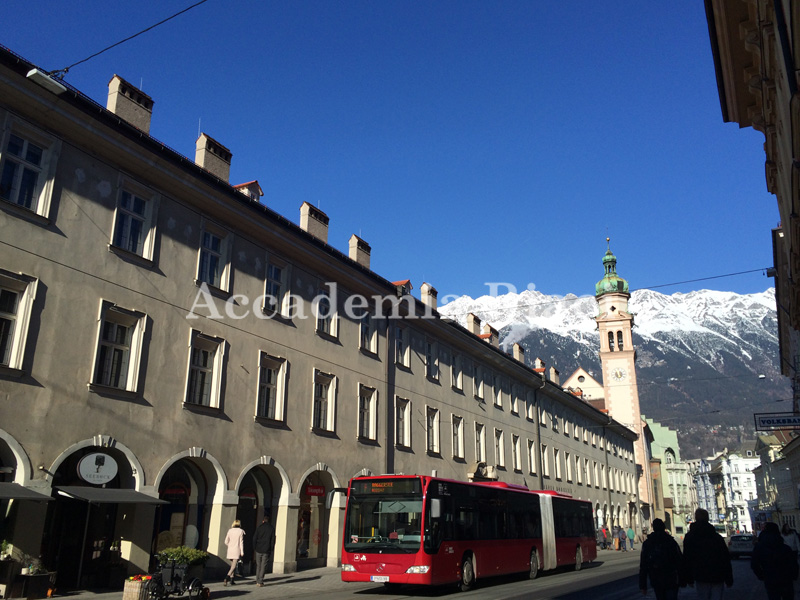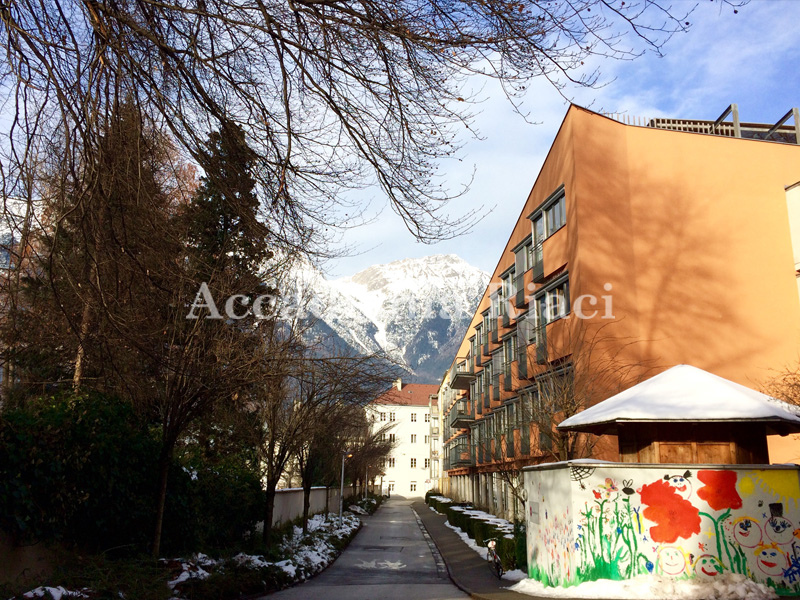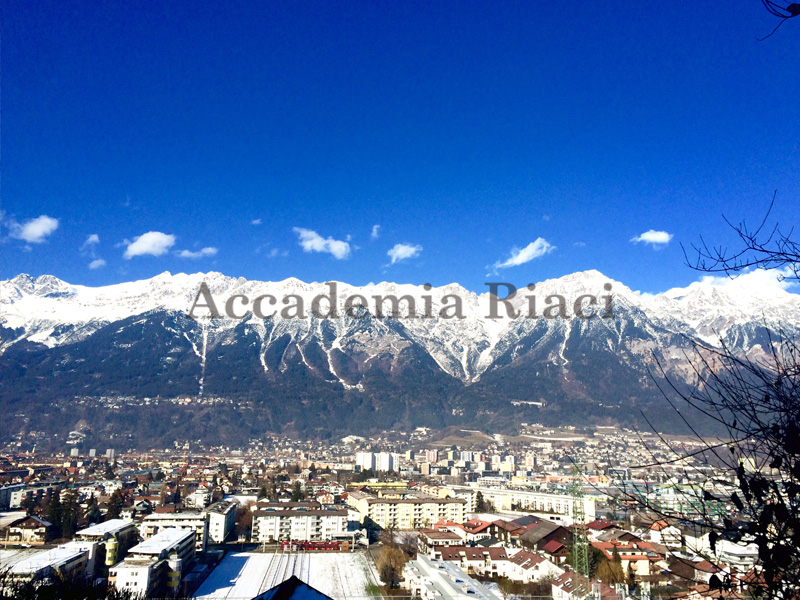 Innsbruck is a very beautiful city surrounded by Alps.

因斯布魯克是一個被阿爾卑斯山環繞的美麗城市。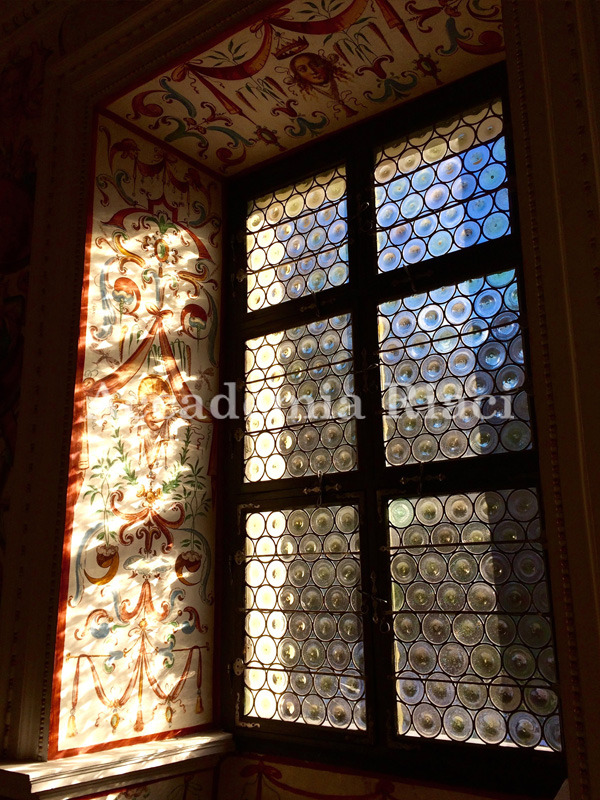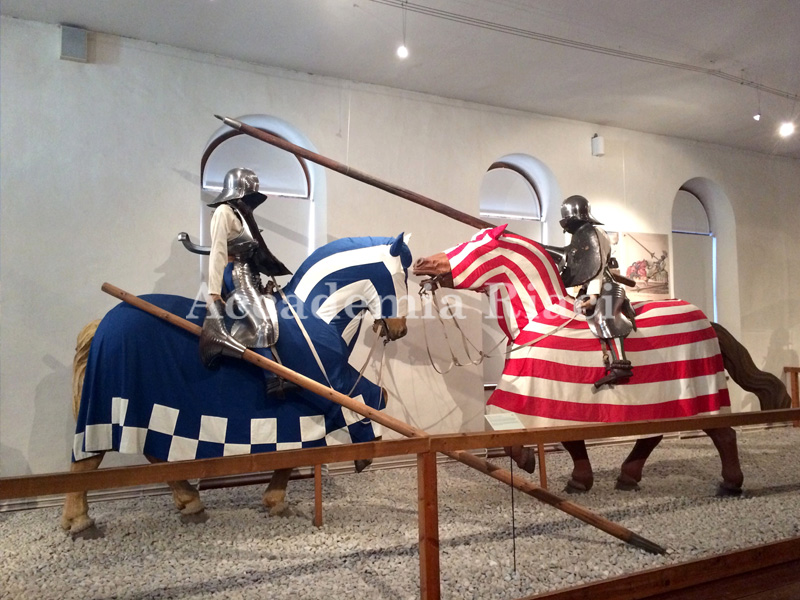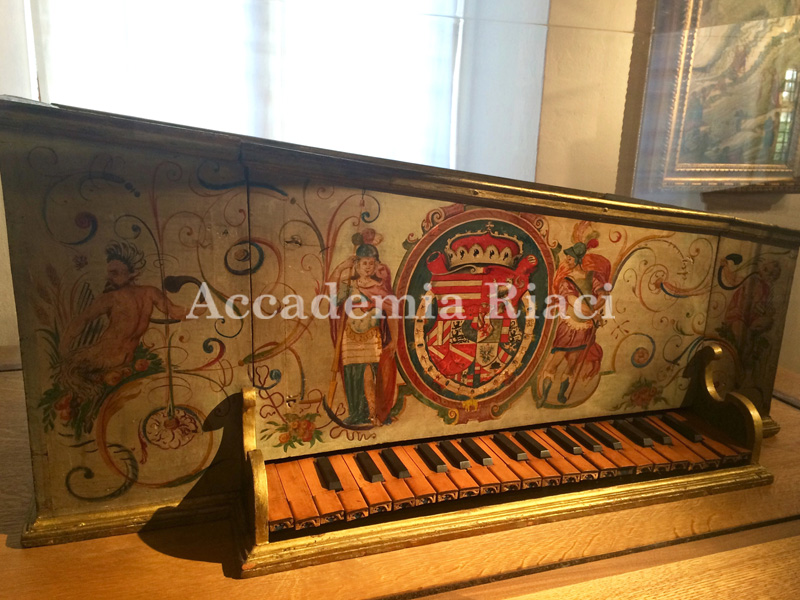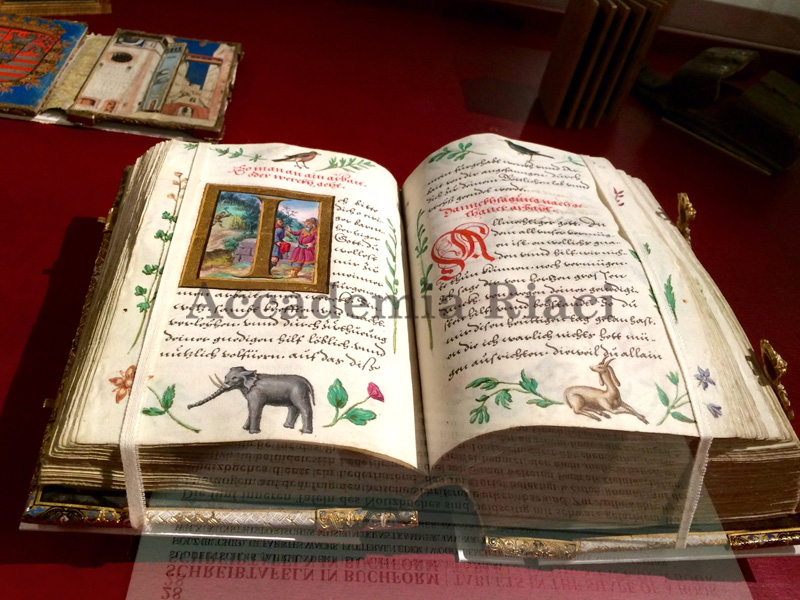 Then, I also visited Ambras Castle, a Renaissance castle and palace located in the hills above Innsbruck. In the castle, there are permanent exhibitions of 16th & 17th century armouries, antiquarian, painting, sculpture, and glass, etc.

接著我亦參觀了阿姆布拉斯宮,位於因斯布魯克山上,是文藝復興時期的城堡及宮殿。在城堡裡,有16和17世紀的軍械庫、文物、畫、雕塑、和玻璃等的長期展覽。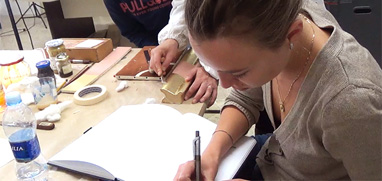 At Accademia Riaci, we are recruiting Course Reporters from our students. The students who are chosen to become Course Reporters are given 10 % of the tuition as their scholarship fee.
The Reporters who have submitted excellent reports will have his or her profile posted on our school website for the next 5 years as an alumnae and will be able to connect with their business chancesafter their graduation.