Accademia Riaci
Student Reports
Read all class reports from our students!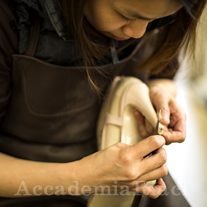 Reporter
Yi-Chen Chou
Nationality: Taiwan
Course: Shoe Making
Program: Master 1year Course
Period: Sept.8,2014-Apr. 24,2015
With medical background specializing in biomechanics of lower extremity, Yi-Chen Chou is interested in producing bespoke shoes for both general population and people with special needs. By taking the entry level of shoe making course last year at Florence, she has now equipped with the fundamental skills of shoemaking, and would like to learn more advanced shoemaking techniques as well as to integrate the gained knowledge onto prospective orthopedic shoes using customized lasts through her second year.
Mar. 06, 2015 | Posted in Reports, Shoemaking , Student Reporter | Tags:Yi-Chen Chou, ShoemakingReporter: Yi-Chen Chou | Course: Shoemaking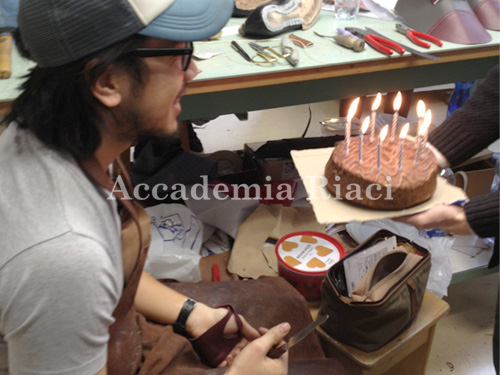 1) This Monday was Josh's birthday, as being his buddy, Luca has prepared a cake with some crazy candles to celebrate.

本週一是Josh的生日,身為死黨的Luca準備了一個蛋糕插上幾根怎麼吹都吹不熄的蠟燭來慶祝。

2) Back to the shoemaking class, Hyunjin has finished her shoes, and has moved on to the next one.

回到製鞋課程,Hyunjin已經完成了她的鞋並已經開始了下一雙的製作。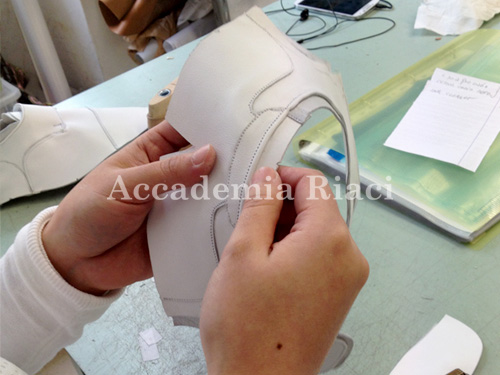 3) Wang Jia has finished the preparation on all upper pieces, and was working on the stitching this week.

Wang Jia已經完成了鞋面各分片的準備工作,並於本週開始著手車縫。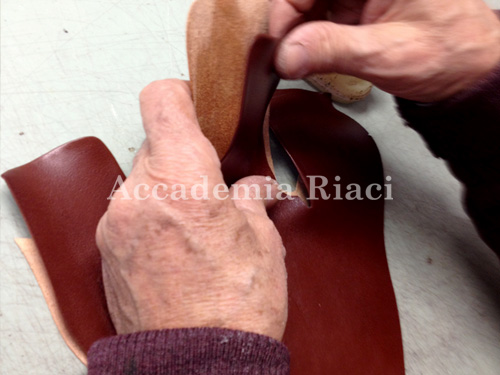 4) I am also working on the upper stitching, and the shoemaking master was showing me how to couple the upper and the lining.

我也同樣在進行鞋面的車縫,此外老師正在向我示範鞋面與內裡的貼合方式。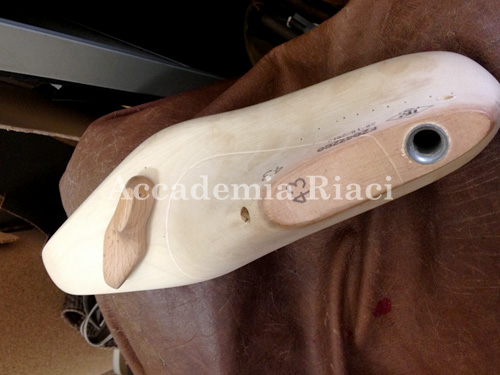 5) Masa, another TA of the class, was making couple small lasts using wood during the session of independent study. So cute!

班上的另一個助教Masa趁著課餘時間用木頭製作了些小楦頭,超可愛的!

6) Luca's business cards were ready just one day prior to his departure to lineapell exhibition in Milan. He was super excited.

Luca的名片剛好在他啟程要去米蘭皮革展前一天製作完成,他超興奮的。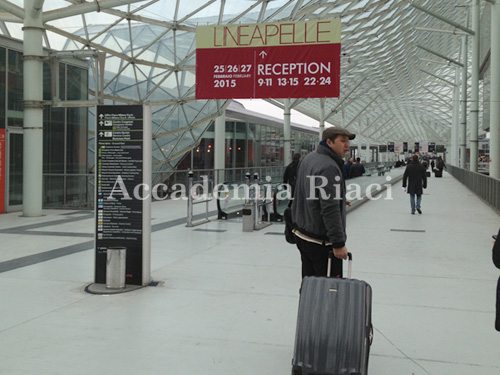 7) This week, the school was somehow quiet cause most students went to see lineapelle in Milan.

本週學校有點安靜因為多數學生們均啟程去米蘭參觀年度盛事皮革展。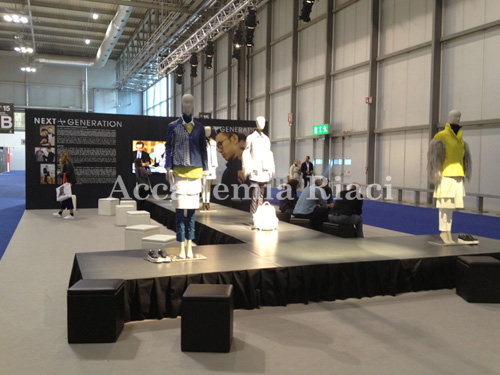 8) A corner of lineapelle, one of the greatest leather fair in the world, and generally takes place twice an year.

皮革展的一角,這個皮革展是全球最大的皮革展之一,一般而言一年舉辦兩次。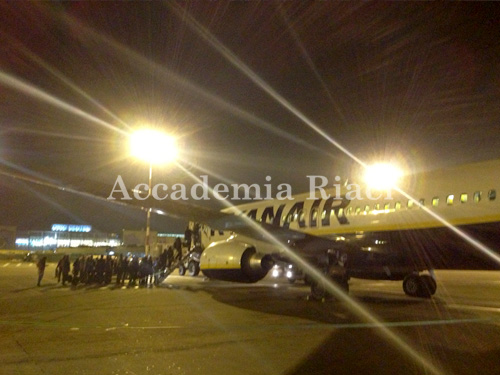 9) After lineapelle, I took a flight to Dublin to spend my weekend over there.

皮革展後,我搭了飛機去了趟都柏林旅行。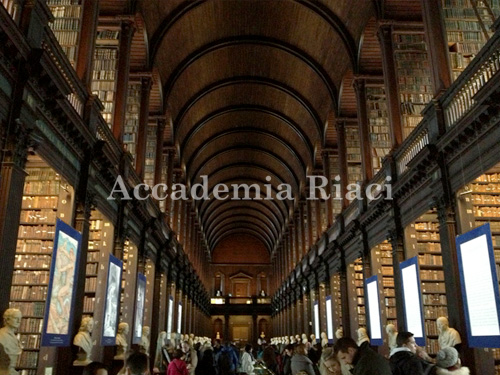 10) I like the book of Kells in Trinity College in particular. Really hard to imagine this thousand-year-old bible book still well preserved.

我尤其喜歡三一書院裡的凱爾斯聖書,真的很難想像這本千年古書竟然仍保存的相當良好。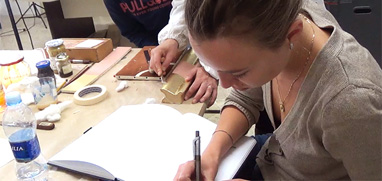 At Accademia Riaci, we are recruiting Course Reporters from our students. The students who are chosen to become Course Reporters are given 10 % of the tuition as their scholarship fee.
The Reporters who have submitted excellent reports will have his or her profile posted on our school website for the next 5 years as an alumnae and will be able to connect with their business chancesafter their graduation.