Accademia Riaci
Student Reports
Read all class reports from our students!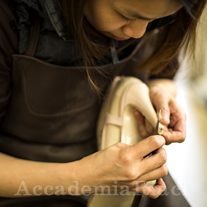 Reporter
Yi-Chen Chou
Nationality: Taiwan
Course: Shoe Making
Program: Master 1year Course
Period: Sept.8,2014-Apr. 24,2015
With medical background specializing in biomechanics of lower extremity, Yi-Chen Chou is interested in producing bespoke shoes for both general population and people with special needs. By taking the entry level of shoe making course last year at Florence, she has now equipped with the fundamental skills of shoemaking, and would like to learn more advanced shoemaking techniques as well as to integrate the gained knowledge onto prospective orthopedic shoes using customized lasts through her second year.
Feb. 19, 2015 | Posted in Reports, Shoemaking , Student Reporter | Tags:Yi-Chen Chou, ShoemakingReporter: Yi-Chen Chou | Course: Shoemaking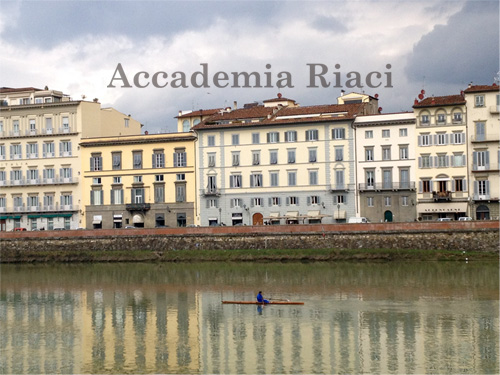 1) Every time when I see this scene, I always wish I could've paddled the canoe with him. It must be an unforgettable experience to row on the Arno river.

每每我看到這種場景,我都希望我能跟這個人一起划著獨木舟,能在阿諾河上泛舟一定很難忘。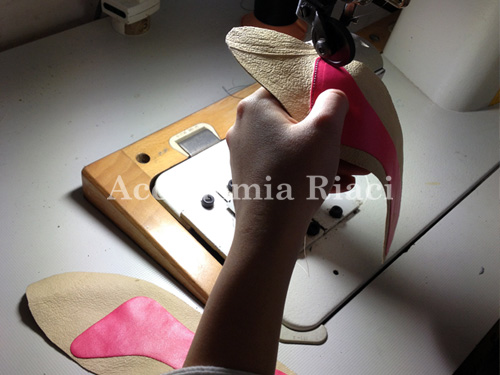 2) This week, several students have finished their shoes. This is Earlene who was stitching her brand logo on both insoles.

本週好幾個學生都完成了他們的鞋子,好比這是Earlene正在車縫她的品牌logo到鞋軟底上。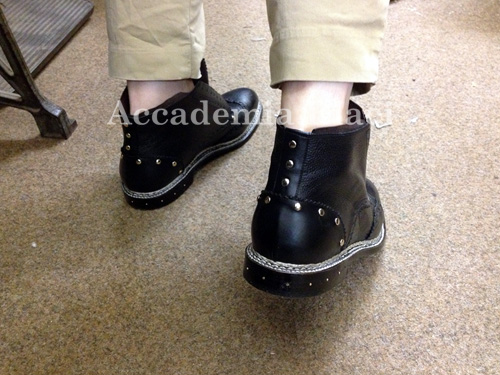 3) Amy has also completed her ankle boots with Norwegian construction. She loves the studs on the heels in particular.

Amy也完成了她挪威式工法的踝靴,她尤其喜愛鞋跟上的鉚釘裝飾。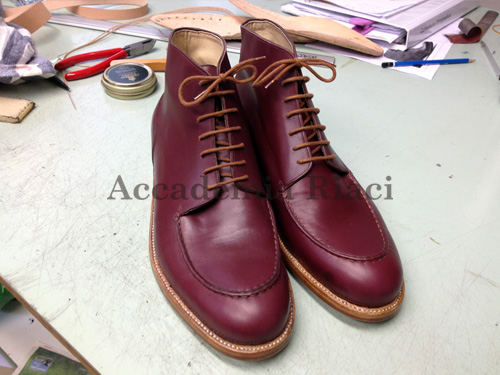 4) Josh has also done the very first pair of shoes for himself, and the most great thing is that it fits well!

Josh也完成了他做給自己的第一雙鞋,最棒的事是尺寸很合腳。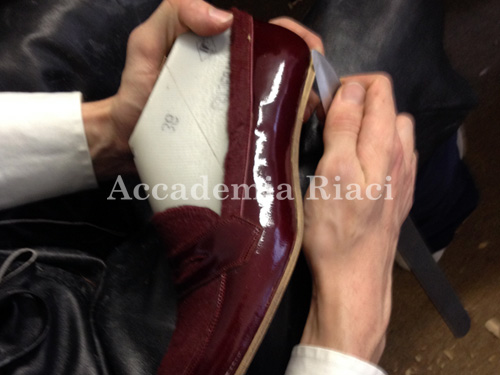 5) Luca was stacking the heels, and is almost there too.

Luca正在堆疊鞋跟,很快的也能完成這雙鞋。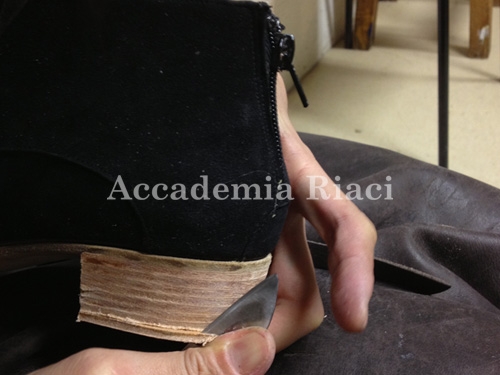 6) I was also stacking the heels just like Luca, but I need to sand them further down manually as my heels are high with a special shape.

我也像Luca一樣正在進行疊鞋跟的流程,但我需要再進一步手工磨跟,因為我的鞋跟是高跟款此外有特殊的形狀。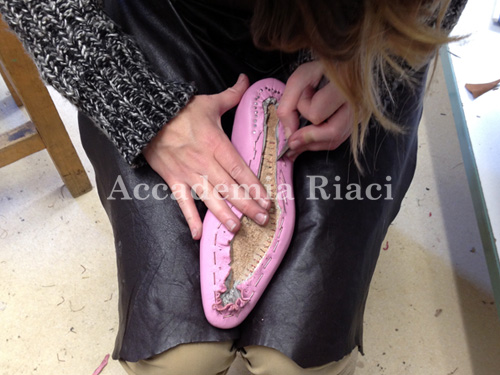 7) Amy was also working on her another pink/silver shoes. I bet it will be a super eye-catching shoes when she walks on the street with them.

Amy同時在進行另一雙粉紅/銀色鞋,我敢保證當她穿在街上時一定超級搶眼。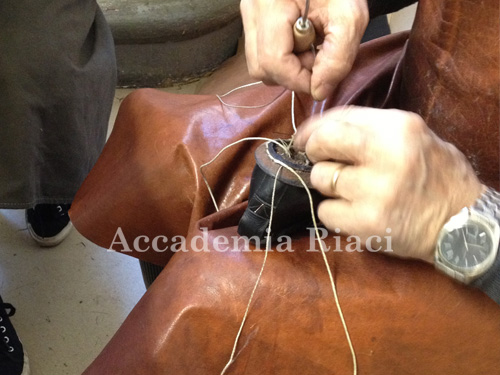 8) Hyunjin was not that lucky this week as she broke her threads twice, and the shoemaking master was teaching her how to do the repair.

Hyunjin本週就沒那麼幸運了,因為她斷線斷了兩次,而製鞋師傅正在教她如何做修繕。

9) Josh's next one is on. He is preparing the midsoles for a combined bottom construction with Goodyear and Blake concurrently.

Josh的下一雙已經開始動工了,他正在準備同時混合固特異及布萊克工法的中底。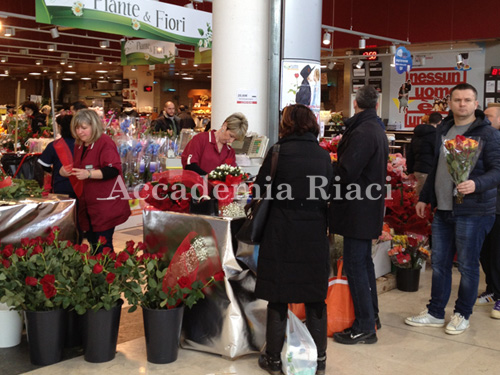 10) This Saturday was Valentine's Day. As being the most romantic race on earth, giving roses for their beloved ones is completely a must-do among Italian couples.

本週六是情人節,身為地球上最浪漫的種族,送花給另一半是義大利情侶間一定要做的事。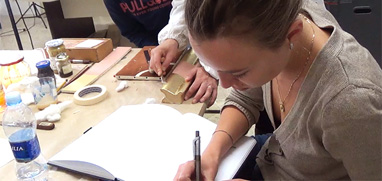 At Accademia Riaci, we are recruiting Course Reporters from our students. The students who are chosen to become Course Reporters are given 10 % of the tuition as their scholarship fee.
The Reporters who have submitted excellent reports will have his or her profile posted on our school website for the next 5 years as an alumnae and will be able to connect with their business chancesafter their graduation.