Accademia Riaci
Student Reports
Read all class reports from our students!
Mar. 20, 2014 | Posted in Reports, Shoemaking , Student Reporter | Tags:Hyunjin Kim, ShoemakingReporter: | Course: Shoemaking
1.Prima di fare le scrpe di cuoio, le posso provare altro materiale.
가죽으로 신발을 만들기 전에 다른 재료를 사용해서 신발을 만들어본다.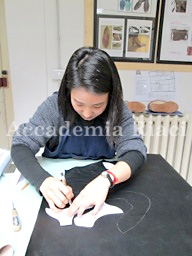 2.Primo deve praticare che fare le scarpe altro materiale e dopo posso fare le scarpe per pelle.
다른 재료로 연습해본 후에 가죽을 사용해서 신발을 만든다
3.Ho cucito la tomaia e la fodera per fare un mocasino e poi` ho fatto orlatura.
모카신을 만들기위해 upper와 lining을 같이 박음질 했다.
4.Imparavo a fare il Goodyear. Questo e` processo di fare il Goodyear.Deve tagliare li trameza come quella per cucire a mano.
Goodyear기법을 사용하기 위해서 먼저 밑창가죽을 저런 모양으로 잘라준다 왜냐하면 나중에 웰트.업퍼와 밑창을 함께 손으로 바느질을 해야하기 때문이다.
5.Sono andata alla Formificio per comprare le forme. Ha bisiogno la forma per fare le scarpe.
신발을 만들기 위해선 발 모형인 라스트가 필요한데 피렌체에 있는 라스트 공장에 가서 내가 원하는 모양과 사이즈를 골라서 샀다.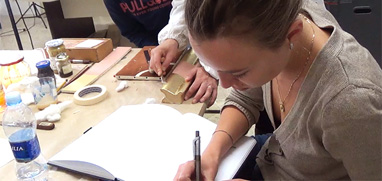 At Accademia Riaci, we are recruiting Course Reporters from our students. The students who are chosen to become Course Reporters are given 10 % of the tuition as their scholarship fee.
The Reporters who have submitted excellent reports will have his or her profile posted on our school website for the next 5 years as an alumnae and will be able to connect with their business chancesafter their graduation.