Accademia Riaci
Student Reports
Read all class reports from our students!
Reporter
Lara Blevi
Nationality: South-African
Course: Shoe Making
Program: One-Year Atelier Course
Period: Sept 5, 2016-April 25, 2017
After Studying a BA degree in Fashion Design in South Africa, Lara decided that she would love to study further and focus on a specific direction in the fashion industry. During her studies, she followed an internship at a company where she was taught how to make and design handbags out of leather and exotic leather skins.

She knew instantly that she would love to study further and learn more about shoes and decided to come to Firenze, Italy, the most famous city to learn more of leather art and shoes! She found Accademia Riaci and knew that the shoe making course that they had to offer was exactly was she was looking for.

Here she wishes to learn the highest level of shoe making techniques and to be able to follow her dream to become a designer with the knowledge of not only fashion, but also the art of shoe and handbag design.

南アフリカでファッションデザインの文学士号を取得後、ファッション業界で目指す方向を定めるためにもっと学びを深めたいと思いました。企業インターンを経験した際には、外国製の皮革を使用したカバン制作とデザインを学びました。

すぐに靴制作を学びたいと思うようになり、靴制作や革工芸を学べる世界で最も有名な都市・フィレンツェ行きを決意。検討の結果、自分が探し求めていた内容の靴制作コースを提供するアカデミアリアチへの入学を決めました。

ここで最高レベルの靴制作技術を身につけ、ファッションのみならず靴やカバンの知識も兼ね備えたデザイナーになることが夢です。
Nov. 22, 2016 | Posted in Reports, Shoemaking , Student Reporter | Tags:Lara Blevi, ShoemakingReporter: Lara Blevi | Course: Shoemaking
My shoes are well on its way, although I find myself working much slower now as I am making a real pair of shoes that I would actually like to be neat enough to wear.
This week I finished the insoles of my shoes that have to be left overnight to dry before they are de-nailed and shaped to the last. I also cut out all my pattern pieces from my leather, finished my decorations and finished my lining for my shoes as well.
Next week I will sew my pattern pieces together and will then start to finally last my shoes.

靴制作は順調に進んでいますが、さすがに仮靴ではなく本当に履く靴を作るとなると、丁寧に作りたいという気持ちから作業スピードが落ちます。
今週は中底制作を終えました。木型に付けた中底を一晩置いて乾かしたら留めていた釘を抜きます。それと同時に型紙に合わせて本番用の革を切り抜き、デコレーションを施し、ライニングも用意しました。
来週はこれらのパーツを縫い合わせ、いよいよ吊り込みを始める予定です。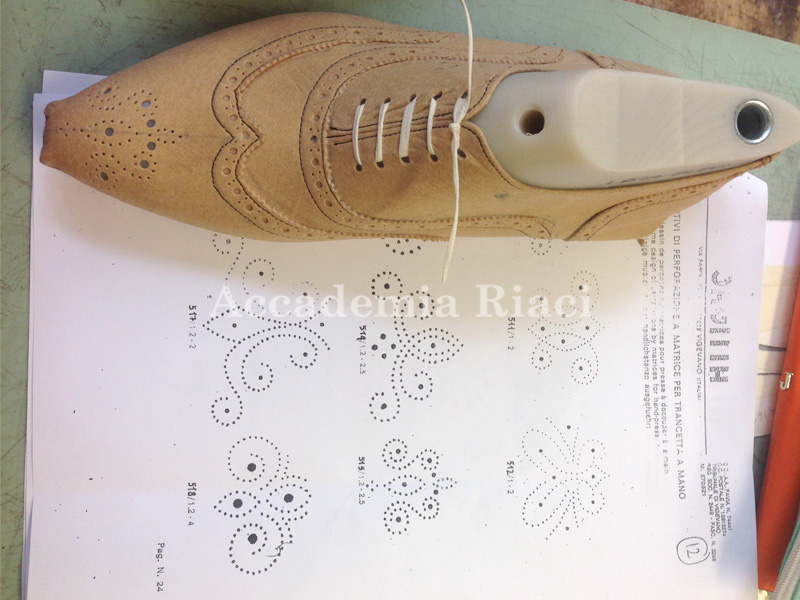 Here is my final mock up for my shoe with the decorations that I will be using. As you might notice the front toe decoration is a bit too far forward, so I will be changing this when it comes to decorating my actual shoes.

デコレーションを施した仮靴が完成しました。つま先のデコレーションが少し先端寄りなのが分かると思います。本番の靴ではきちんと修正する予定です。

When creating the insole for the shoe, you must cut out the size of the shoe sole roughly out of thick leather. These two pieces then gets wetted in water to become flexible and then dried a bit before attached to the sole of the last with needles.

中底を作る時は、厚い革を木型に合わせて大体の大きさに切り出します。両足分の中底を水に浸けて柔らかくしたら一旦少し乾かし、それから木型に釘で留めます。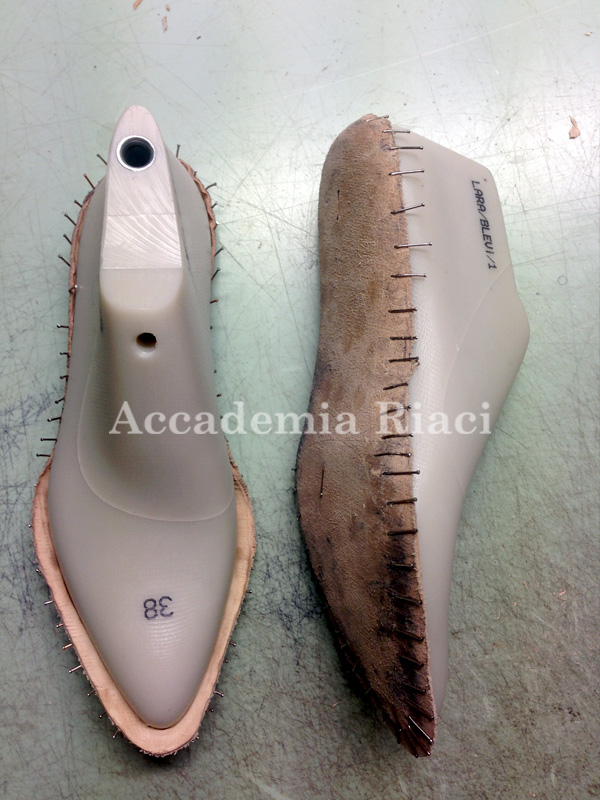 This is what the process looks like after mounting the insole to the shoe last. This now has to dry at least 8 hours before removing the needles and being cut to the right size of the sole of the last.

木型に取り付けられた中底はこんな感じです。最低8時間、乾くのを待ってから釘を抜き、正確な木型のサイズに合わせて端を切り落とします。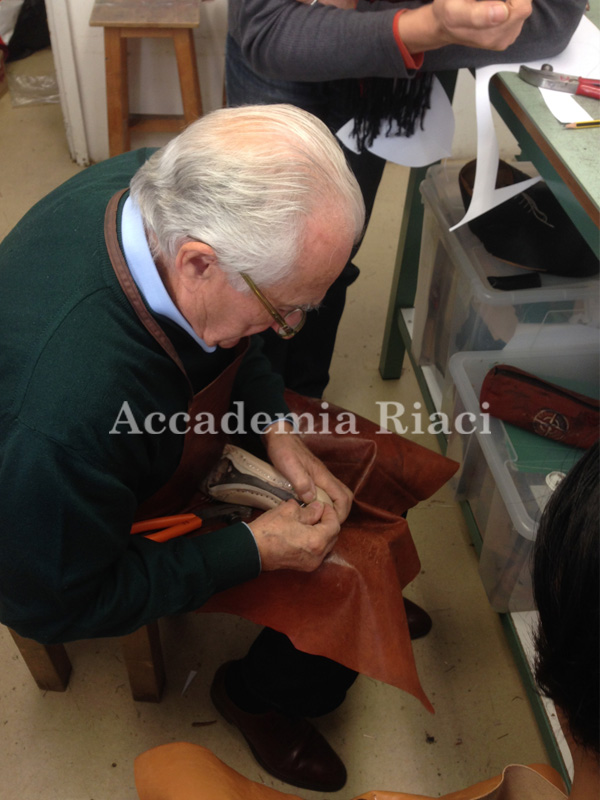 After the insole is mounted, a piece of metal shank is attached to the insole and heel of the shoe and then covered with another piece of leather that is used to keep the shape of the sole steady to walk in. Here, Prof Angelo is showing us the correct way to shape the metal shank to the insole.

中底を木型に付けたら、金属製のシャンク(補強材)を中底の中間からヒールの辺りに付け、革でカバーします。写真はシャンクの正しい取り付け方を見せてくださっているアンジェロ先生。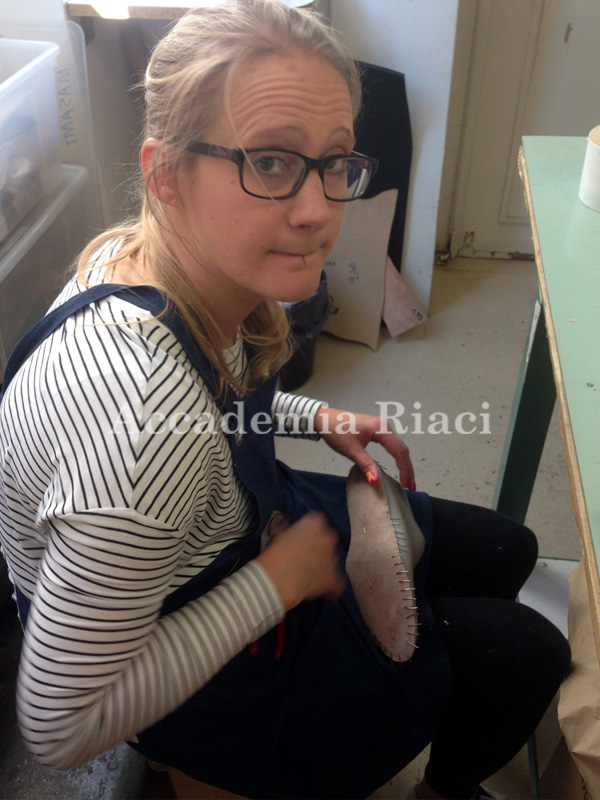 To last the insole takes quite some time and a lot of needles! To hammer the needles in correctly, sitting down is the best way, as you need your legs to help you balance your shoe last while hammering away.

中底を木型に取り付けるには、たくさんの時間と釘の数を要します。釘を正確に打ち込むには脚の上で木型のバランスをとりながら行う必要があるので、座って作業するのがベストです。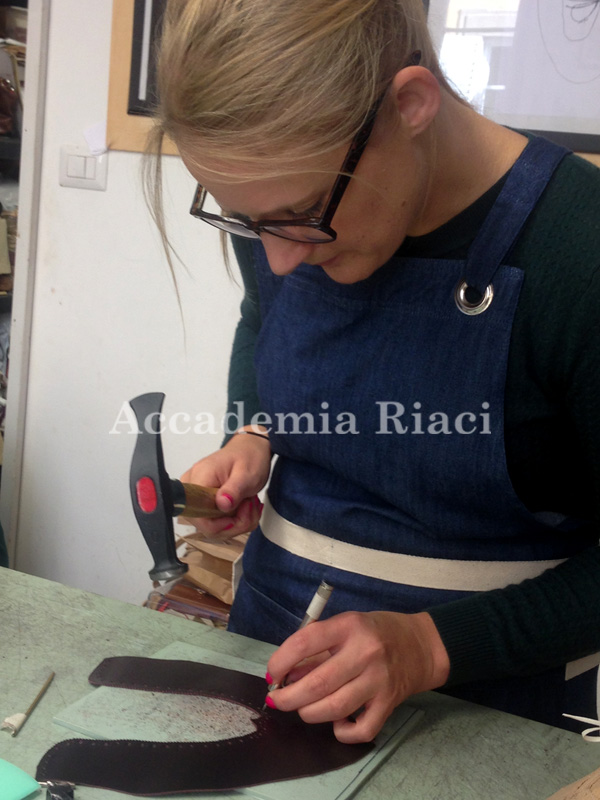 Decorating your lather patterns for your shoe is a somewhat stressful and very time-consuming task as you try to do anything is your power not to make a mistake!

デコレーションの穴を開ける作業中。ミスをしないよう全神経を集中して行うため、時間もかかるし疲れる作業です。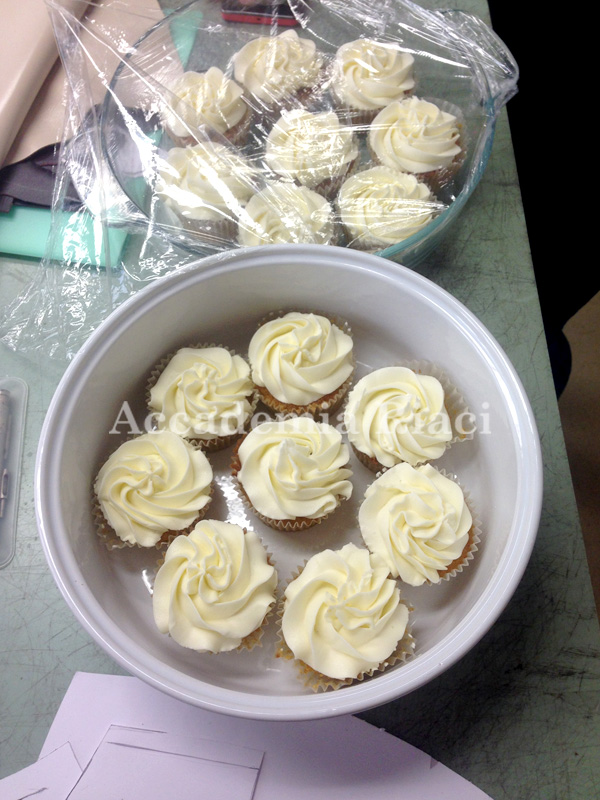 We were very lucky once again this week when Joanne made the most delicious carrot cake cupcakes for the class. I think we can all agree that her oven is working just fine.

今週は、またジョアンがとても美味しいキャロットカップケーキを作って学校に持ってきてくれました。彼女の家のオーブンもきっと素晴らしいに違いありません。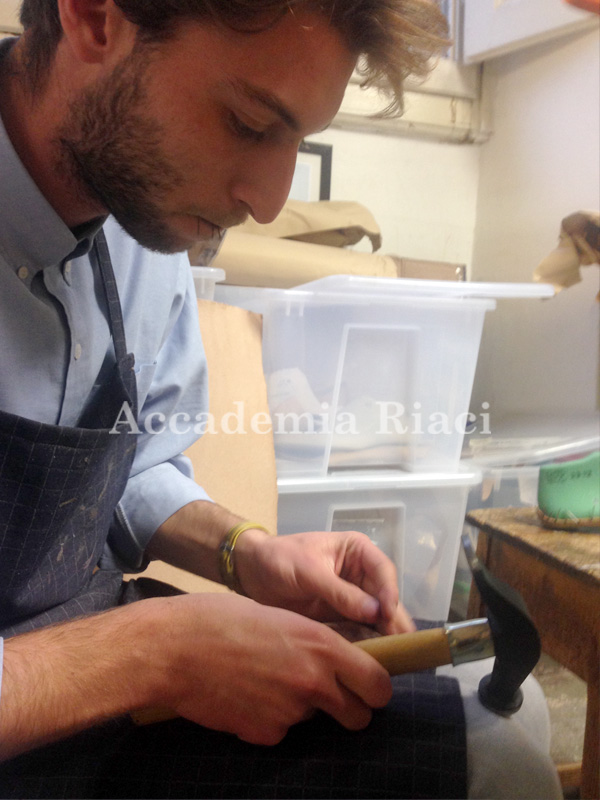 Bernardo giving me a quick hand with my insole lasting. I don't seem to get the hang of it just yet.

ベルナルドが慣れた手つきで私の中底を木型に留めるお手本を見せてくれました。私はまだコツを掴めずにいます。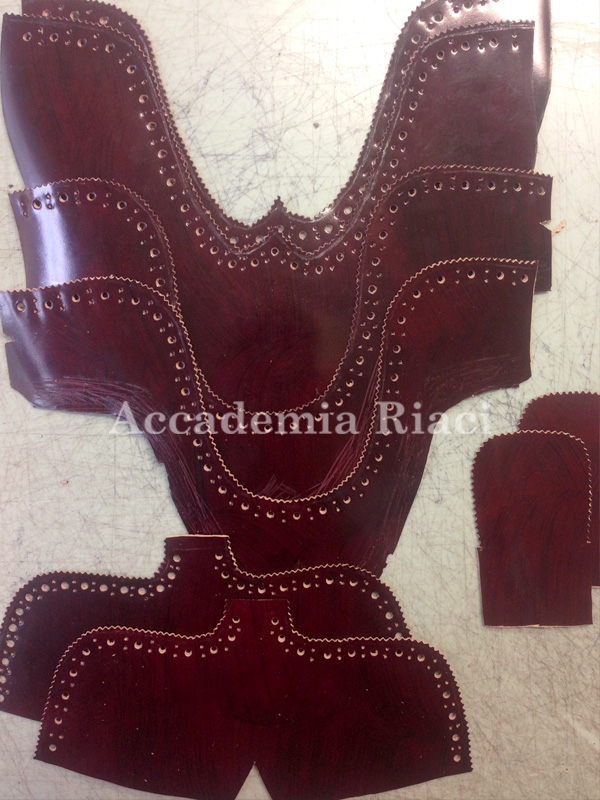 Here are all my pattern pieces out of my leather for the upper of my shoe and all my detailed decorations done with a lot blood, sweat and tears (maybe just a lot of sweat!). The only decoration left to do is my front toe decoration before I start gluing and sewing my upper together.

本番の靴用に切り出したアッパーのパーツ。デコレーションは私の血と汗と涙の結晶です。(実は汗だけかも・笑)つま先部分のデコレーションを終えたら、パーツを貼り合わせてアッパーを縫い上げます。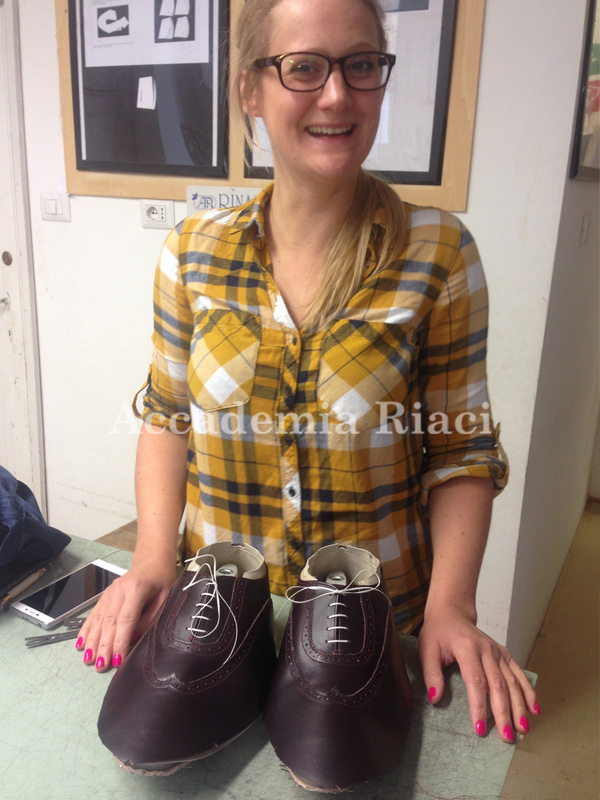 Joanne very chuffed and happy with the upper of her shoes finally finished and ready for lasting.

アッパーを仕上げて上機嫌なジョアン。次は吊り込み作業です。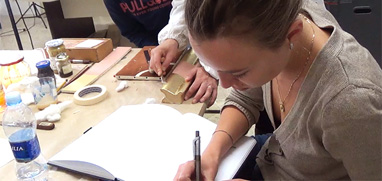 At Accademia Riaci, we are recruiting Course Reporters from our students. The students who are chosen to become Course Reporters are given 10 % of the tuition as their scholarship fee.
The Reporters who have submitted excellent reports will have his or her profile posted on our school website for the next 5 years as an alumnae and will be able to connect with their business chancesafter their graduation.