Accademia Riaci
Student Reports
Read all class reports from our students!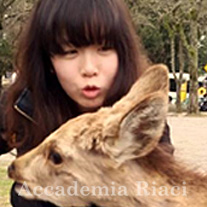 Reporter
Li SHIAU-TING
Nationality: Taiwan
Course: Shoe Making
Program: Atelier Course
Period: Sep. 4, 2017 – Apr. 27, 2018
Shiau-Ting, Li. Shoes designer from Taiwan.
After working in Taiwanese footwear industry for three and a half years, she came to Firenze to study shoes making course, the city which is famous for leather art and shoes.
Although she already has basic aesthetics and sketching technique background from university (B.A.), yet she hopes to extend her shoe-making skills here in Riaci. She believes designer can deliver their thoughts through their works, hoping to keep motivate people with her designs.

李曉婷,來自台灣的鞋類設計師。
在台灣鞋產業工作三年半之後,她決定到皮革之都-佛羅倫斯,學習製鞋技術。
大學主修產品工藝,擁有美學背景、好的品味及繪畫基礎。即便如此,仍期望到莉雅琪延伸自己在實作上的經驗。她相信,設計師能夠透過設計表達想法,希望能持續用創作感動身邊的人。

台湾の靴業界で靴デザイナーとして3年半経験を積んだ後、さらに学びを深めようと革工芸と靴で有名なここフィレンツェへやって来ました。
基本的な審美眼とスケッチ技術は大学(文学士号取得)で学んでいましたが、さらに靴制作の技術を磨くためにリアチ入学を決めました。「デザイナーの想いは、デザインを通して人々に届く」ことを信じ、自分のデザインで人々の心を動かしたいと願っています。
Nov. 21, 2016 | Posted in Reports, Shoemaking , Student Reporter | Tags:Li Shiau-Ting, ShoemakingReporter: Li SHIAU-TING | Course: Shoemaking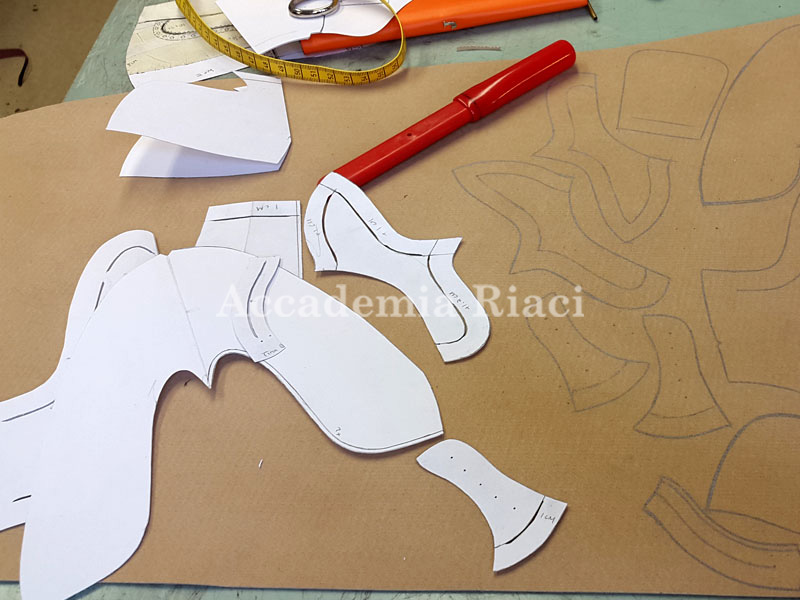 經過一個禮拜的休息,又充滿朝氣了,等不急要衝進教室繼續完成作品。現在的日子每天都覺得不夠用,好希望能有更多的時間可以做更多的鞋子。好,這禮拜就從製作試版鞋開始吧!

After one week break, I felt energized. Couldn't wait but keep going my shoes. Time is limited, I hope I could have more time to learn and continue more step. Okay, this week, let's start from fabric testing.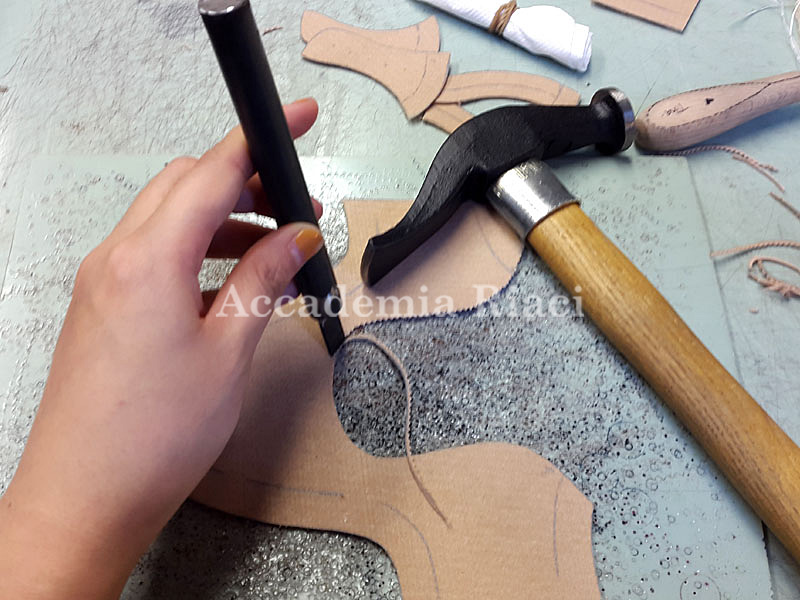 上回的牛津鞋使用較為簡單的線條設計,這次嘗試比較複雜的雕花鞋款,在細節上也使用了很多鋸齒的裝飾,開始學習使用鋸齒專用的工具敲出美麗的弧線。

A week before I use simple line for practicing first Francesina shoe. This time, I had tried more complicated design, using lots of zigzag along the edge for decoration.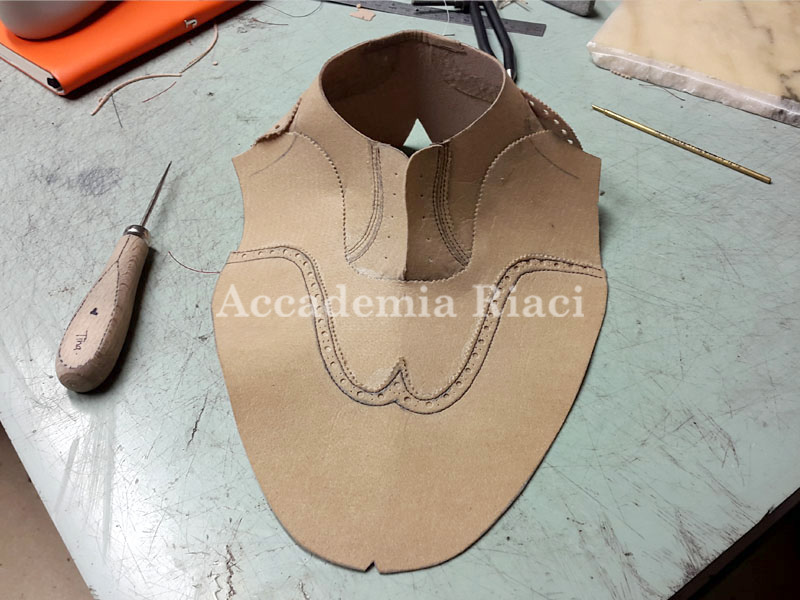 車縫組合後的樣子,這款的裁片也比上一款複雜許多,鞋面不含內裏總共有9片。

The look after join all pieces. There were 9 pieces in this upper.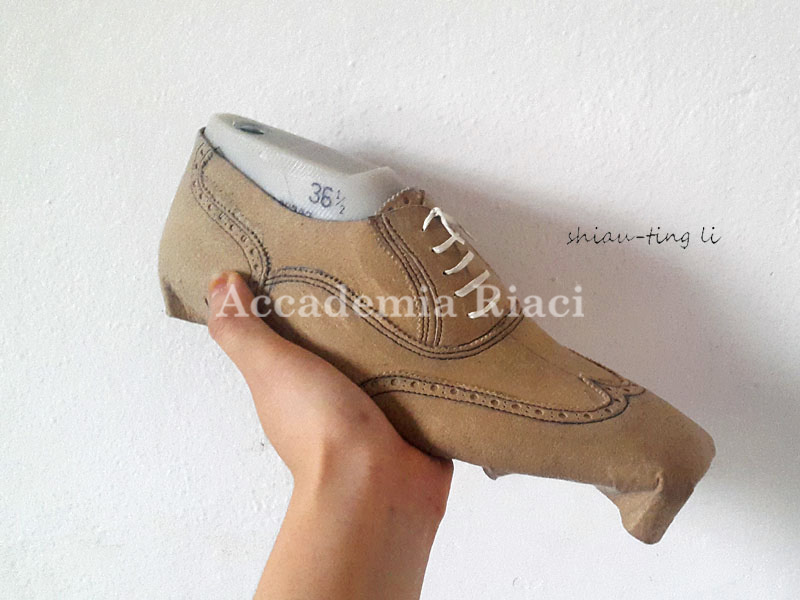 這是第一雙自己挑選的楦頭、自己的尺寸、自己的設計,因此即便只是試版,仍花了很多功夫在細節上。我很滿意這次的試版,試完版後更加期待穿在腳上的樣子了。

Because this was the first shoe in which I plan all the detail – from last to size, then pattern. Although this was not practical work, which means using only fabric, still, I wanted to do as best I can.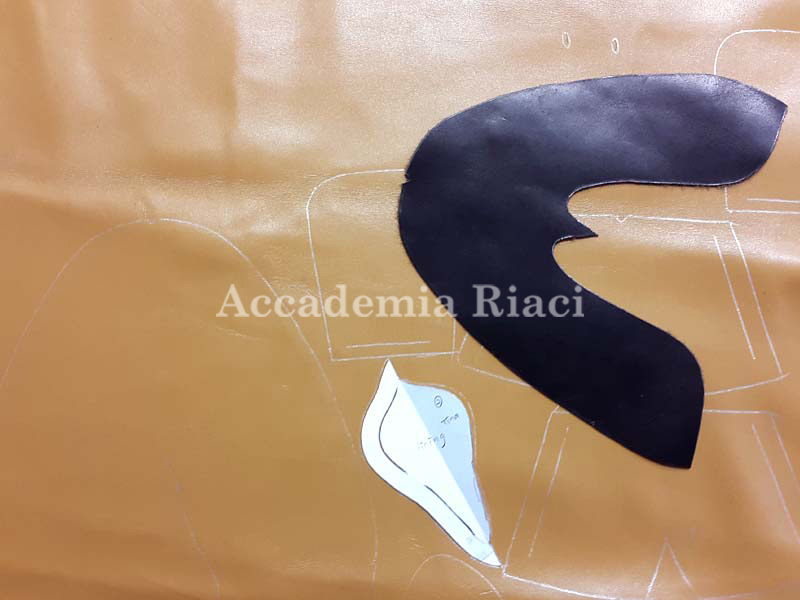 在試版確定版型之後,在助教的指導下,翼紋內側我稍微修改了一下線條。接著畫版,準備切割。

After making sure the pattern, it's time for cutting the leather.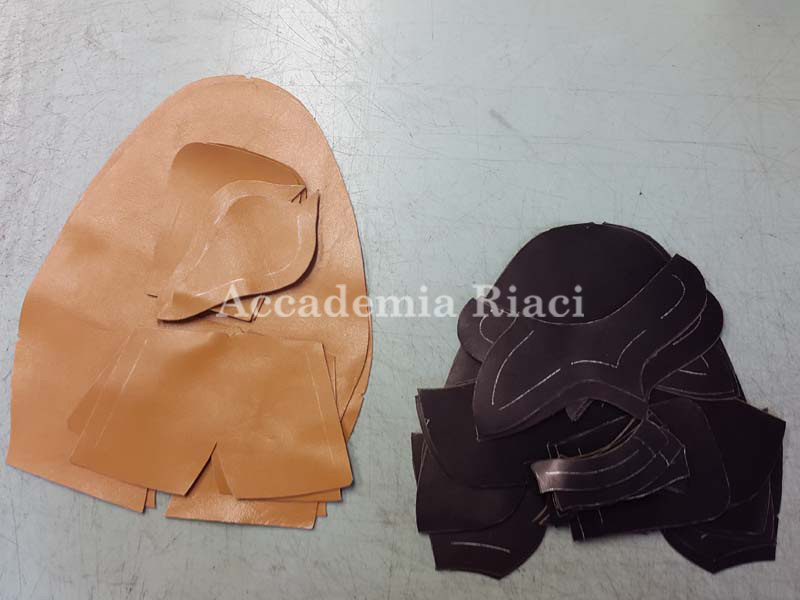 割完裁片後的樣貌,內裏加上鞋面疊起來頗有分量,割得手也很痛…

Photo shot after cutting all layer. Yellow one is lining, black one is upper.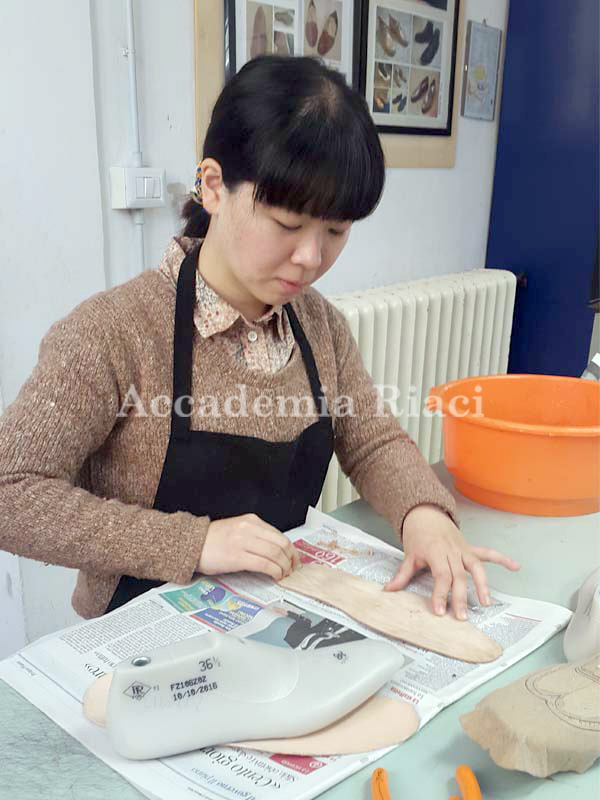 星期三,我開始準備攀幫要用的中底,我正在將切下來的中底皮進行加工-用玻璃將表面的油脂刮除。

One Wednesday, I start preparing insole for lasting. In this step, I was working my insole leather- using glasses to remove oil on surface.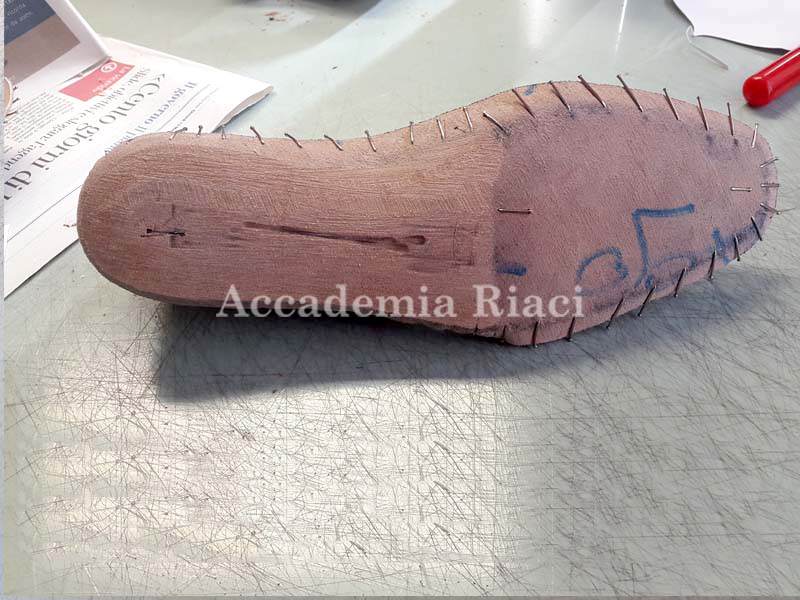 刮好後,開始將皮革釘在楦頭上,這個步驟很重要的是,要將楦頭下面的輪廓呈現出來,接著再將後方要放鐵心的地方用機器削平。

When skiving was done, we start putting nail into our last. This step is really important for shaping the bottom of last's outline. Then, skiving back a little bit with machine.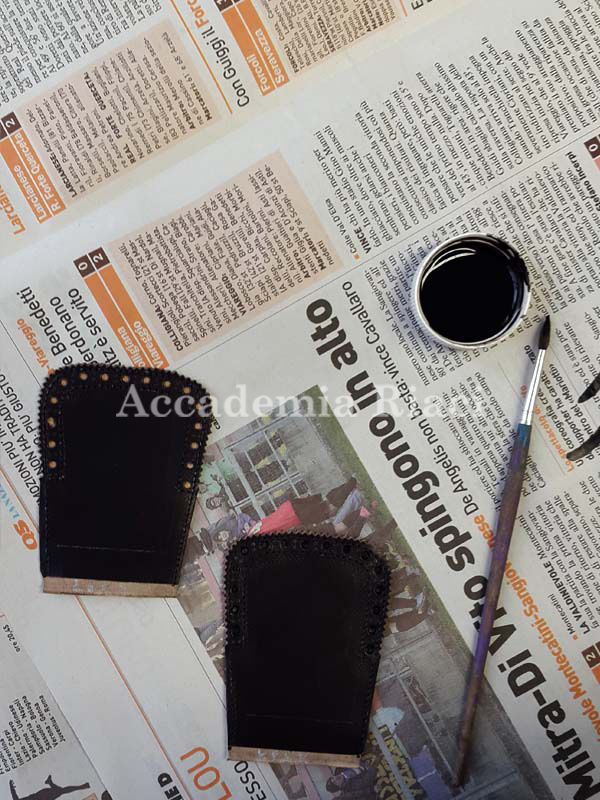 在等中底乾的同時,我將車好的鞋舌上色,必須用很細的筆小心的填入雕花孔內,免得溢出來。

When waiting for insole to dry, I stitched my tongue and start dyeing the decoration. I use super tiny pen incase over coloring.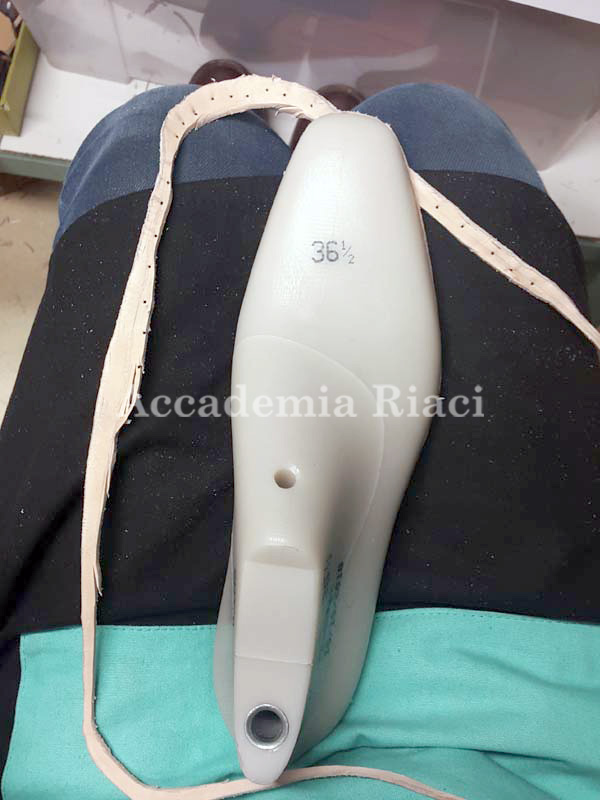 等中底差不多乾了,就可以拿刀子沿著輪廓切出合腳的形狀。不得不說,這個步驟好像在削蘋果啊,要技術好,才會削得漂亮,看來要多練練了。

I have to say, cutting insole leather is not easy. With good skills, need days of practice. I think I should practice more to make it perfact…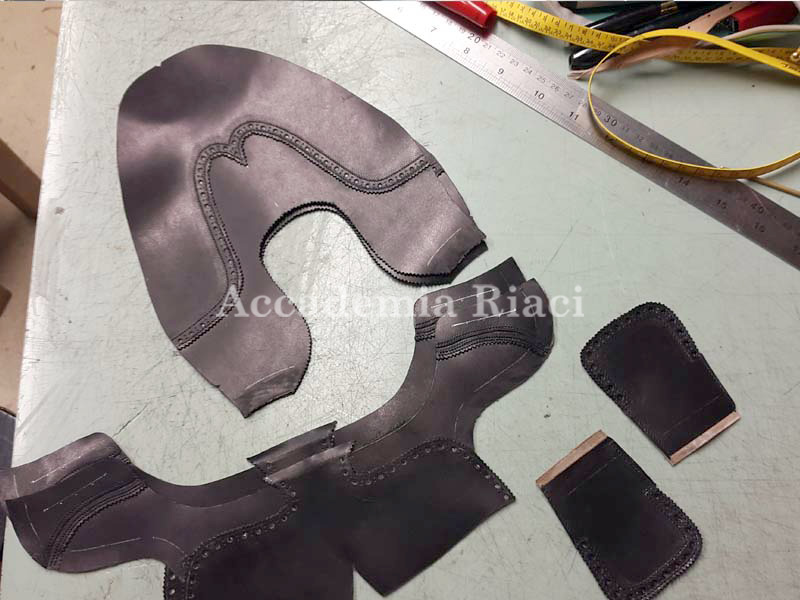 星期五,我終於將大致上的鞋面都組合好了,接著就等下禮拜上課繼續完成囉。
以上是這禮拜的報告分享,下週見!

Final day of this week, I approximately combined all pieces. Waiting for next week's class to keep going! This is weekly reports, see you next week!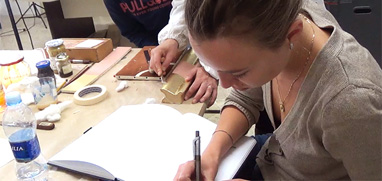 At Accademia Riaci, we are recruiting Course Reporters from our students. The students who are chosen to become Course Reporters are given 10 % of the tuition as their scholarship fee.
The Reporters who have submitted excellent reports will have his or her profile posted on our school website for the next 5 years as an alumnae and will be able to connect with their business chancesafter their graduation.