Accademia Riaci
Student Reports
Read all class reports from our students!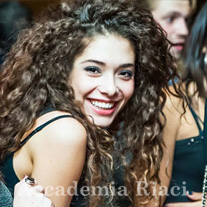 Reporter
Caterina Melidoni
Nationality: Italy
Course: Shoe Making
Program: Avanzata Course
Period: Sep. 4, 2017 – Apr. 28, 2018
After a BA degree in Industrial Design at ISIA in Rome, she decided to move to Florence to learn the ancient and valuable art of shoe making. She always has been interested in design and making shoes . So she found out that Florence and Accademia Riaci would have been the perfect place for learning about.
She wants to gain knowledge about one of the most Italian famous and worldwide appreciated handcraft art. The craft of shoe making deserves to be handed down from one generation to another, to survive as a prestigious art.

国立デザイン大学ローマ校で工業デザインの文学士号を取得後、昔ながらの貴重な技術である靴制作を学ぶためにフィレンツェ行きを決意。ずっと靴デザインと靴制作に興味があったので、フィレンツェにあるアカデミアリアチへの入学を決めました。
イタリアで最も有名で、世界中から愛されている手作りの靴に関する知識を学びたいと思っています。イタリアの靴制作は後世に引き継がれていくべき技術であり、一流の芸術として残すべき大事な文化です。
Mar. 24, 2017 | Posted in Reports, Shoemaking , Student Reporter | Tags:Caterina Melidoni, ShoemakingReporter: Caterina Melidoni | Course: Shoemaking
The spring break seemed so long to me. Spending time with my family and having some rest have been pleasant for sure, but I couldn't wait to turn back to Florence and to my shoemaking work!

So I almost finished my Oxford's model, just the sole's missing. The whole work is not perfect, but as the first pair I made, I can be happy with it. All the flaws I made will be fixed on the next model. A great job needs hard work on its back.

Anyway after work I deserved some relaxing time to share with friends but also just by myself. So during the weekend I went out with some friends to listen to some good live music, and on Sunday I dedicated all the day to drawing and making space to new design ideas.

春休みがとても長く感じました。もちろんお休みを家族と一緒に過ごすのは楽しいことには違いないのですが、早くフィレンツェに戻って靴制作を始めたい気持ちを抑えることができませんでした。

オックスフォード靴に関しては、あとは本底をつけるのみとなりました。完璧とは言えないけれど、1足目としては満足のいく出来栄えです。今回上手く出来なかったポイントは、次の靴に反省点として活かします。素晴らしい1足のためには努力あるのみです。

作業を終えると友人たちとリラックスするのが通常ですが、1人で過ごすこともあります。この週末は友人たちと一緒にライブを楽しんできました。日曜は1日中、1人で新しい靴のデザイン画を描いて過ごしました。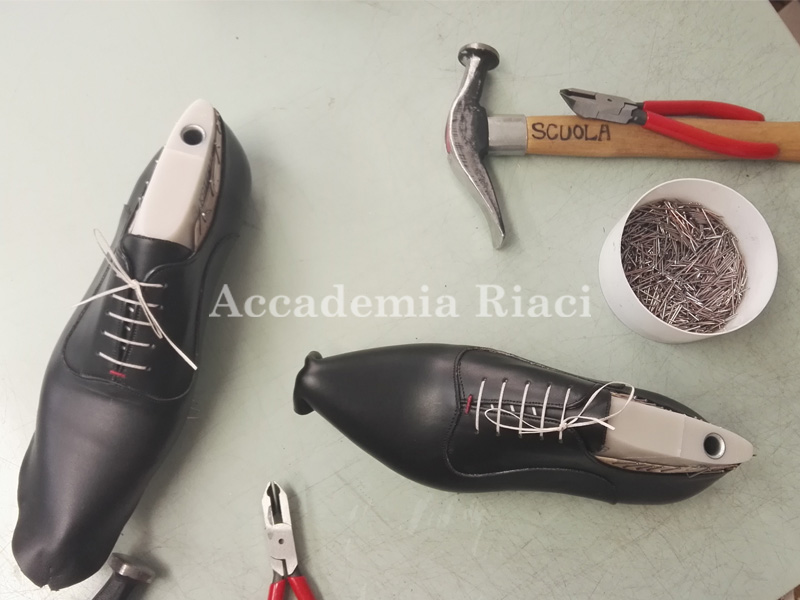 My first francesina's pair before the assembly.

最初の1足は内羽式。吊り込みの途中です。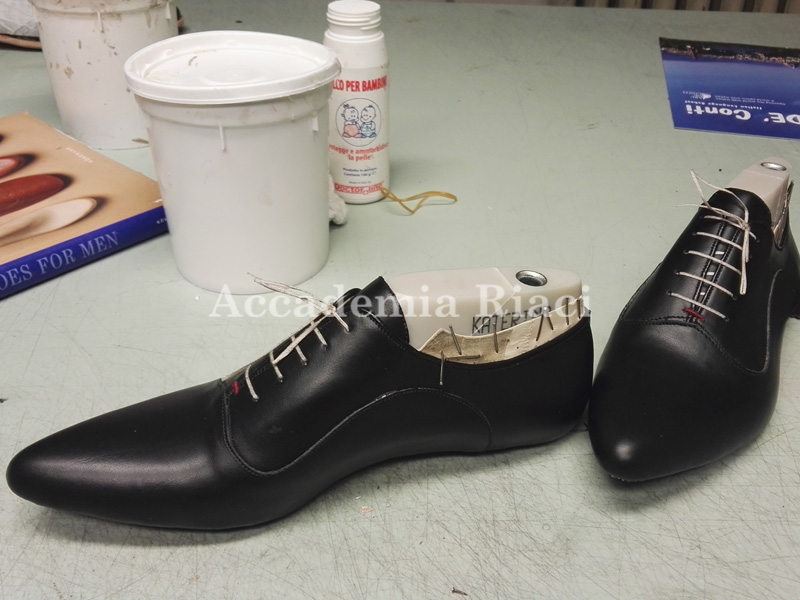 A good assembly needs an accurate stretching of both leather and lining.

革とライニングの両方を正確に伸ばさなければ、上手な吊り込みとは言えません。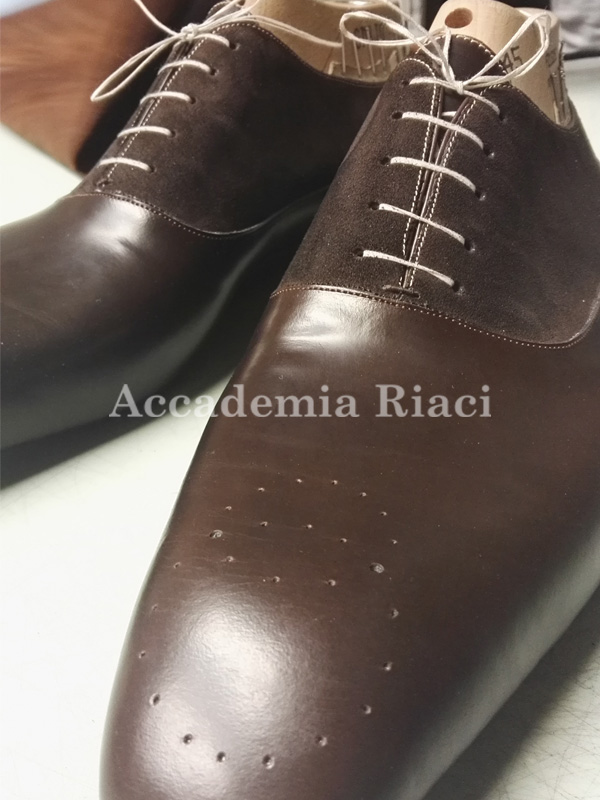 Giulio's francesine. He made unsual decorations.

ジューリオの内羽靴。変わったデコレーションが施されています。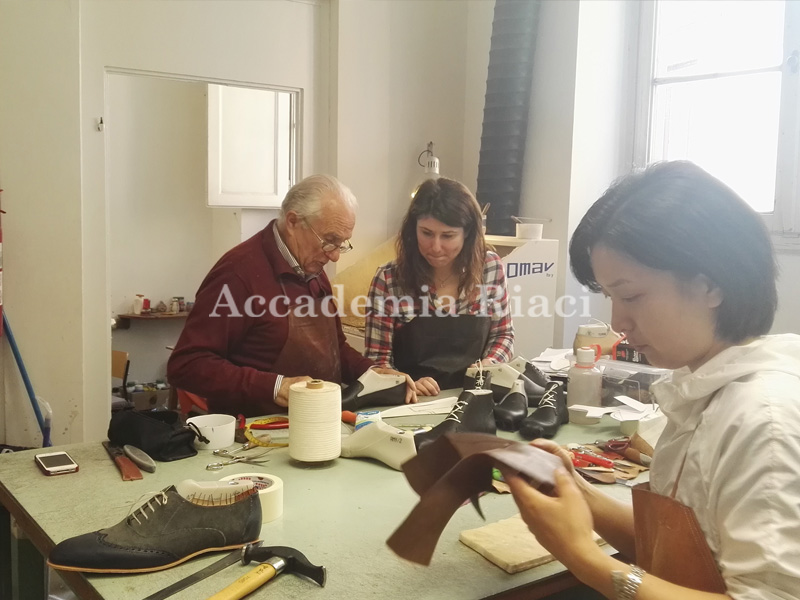 Angelo is omniscient (and omnipresent as well, he is a kind of superhero) . Also senior students are often still looking for his help.

アンジェロ先生は何でも知っています。(そして私たちが必要な時はいつでも助けてくださる、スーパーヒーローのような存在です。)
上級コースの学生ですら、アンジェロ先生の助言を求めてやってきます。

Preparing the model for the sole's assembly.

本底をつける準備をしているところ。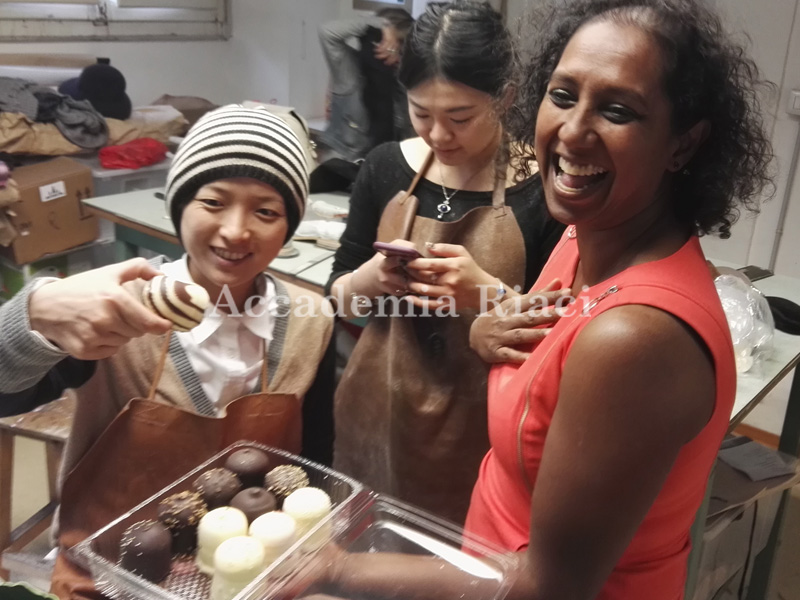 During the day we need help from Angelo but also from SUGAR. Kamla took some sweeties called 'Nigga's kisses' (ah) in Netherland.

作業に明け暮れる私たちを助けてくれるのはアンジェロ先生だけじゃなく、甘いお菓子。カミアが「Nigga's kisses」というオランダのお菓子を差し入れてくれました。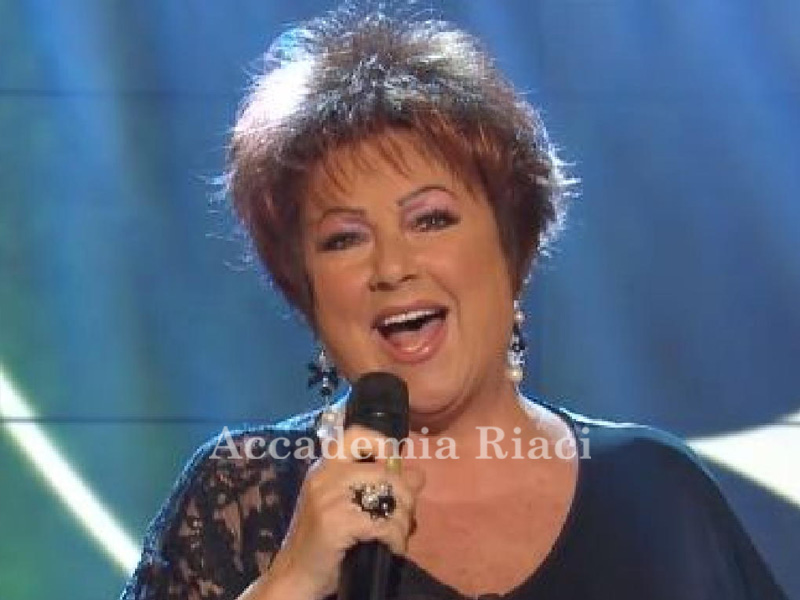 Orietta Berti makes my day.

オリエッタ・ベルティのライブは最高でした。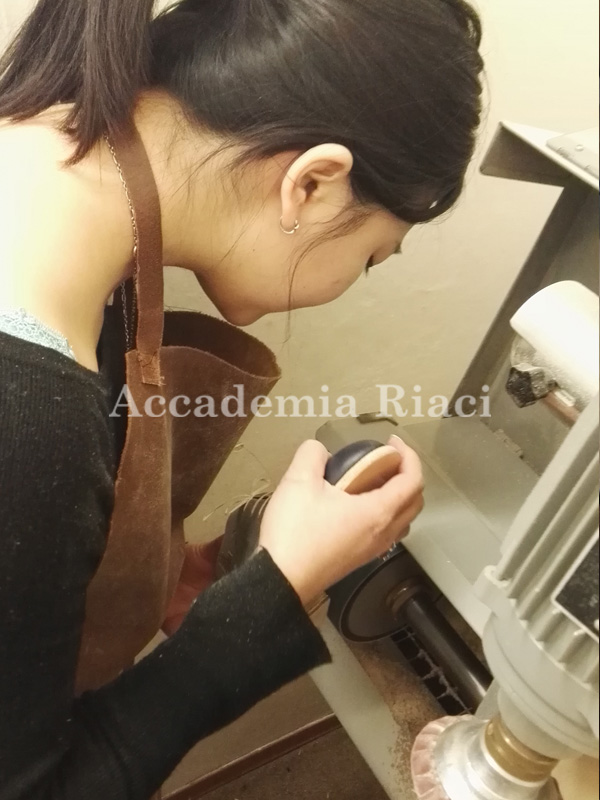 Yushih while is grinding her sole.

本底を削っているユーシー。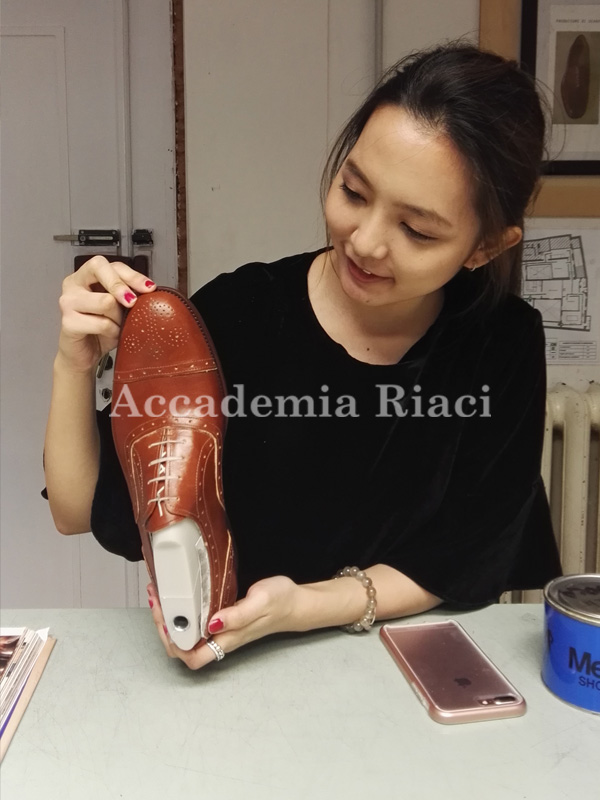 Mai (the sweetest girl on the Earth) looks really proud of her shoe!

自分の靴を誇らしげに見せてくれているマイ(地球上で一番素敵な女子!)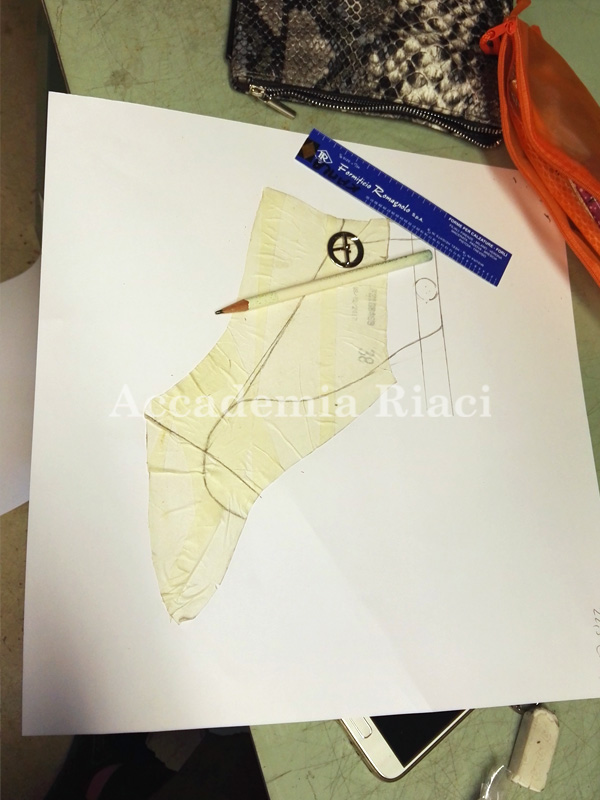 Kamla's new décolleté design.

カミアの新しいデコルテ靴のデザイン。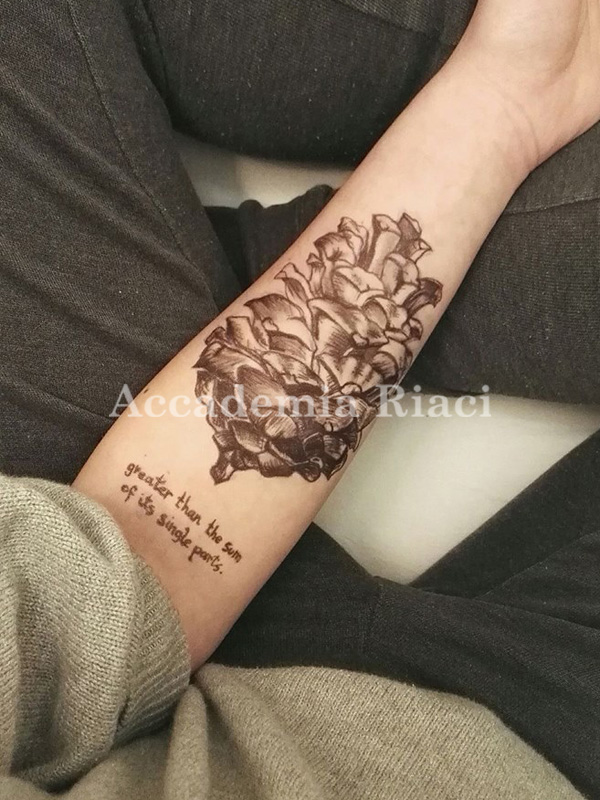 Since I was a child I liked to draw on my skin. Maybe in the next life I will be a tattoo artist.

子供の頃から自分の肌に絵を描くのが好きでした。生まれ変わったらタトゥーアーティストになるのかも。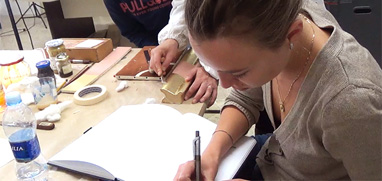 At Accademia Riaci, we are recruiting Course Reporters from our students. The students who are chosen to become Course Reporters are given 10 % of the tuition as their scholarship fee.
The Reporters who have submitted excellent reports will have his or her profile posted on our school website for the next 5 years as an alumnae and will be able to connect with their business chancesafter their graduation.