Accademia Riaci
Student Reports
Read all class reports from our students!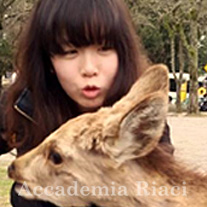 Reporter
Li SHIAU-TING
Nationality: Taiwan
Course: Shoe Making
Program: Atelier Course
Period: Sep. 4, 2017 – Apr. 27, 2018
Shiau-Ting, Li. Shoes designer from Taiwan.
After working in Taiwanese footwear industry for three and a half years, she came to Firenze to study shoes making course, the city which is famous for leather art and shoes.
Although she already has basic aesthetics and sketching technique background from university (B.A.), yet she hopes to extend her shoe-making skills here in Riaci. She believes designer can deliver their thoughts through their works, hoping to keep motivate people with her designs.

李曉婷,來自台灣的鞋類設計師。
在台灣鞋產業工作三年半之後,她決定到皮革之都-佛羅倫斯,學習製鞋技術。
大學主修產品工藝,擁有美學背景、好的品味及繪畫基礎。即便如此,仍期望到莉雅琪延伸自己在實作上的經驗。她相信,設計師能夠透過設計表達想法,希望能持續用創作感動身邊的人。

台湾の靴業界で靴デザイナーとして3年半経験を積んだ後、さらに学びを深めようと革工芸と靴で有名なここフィレンツェへやって来ました。
基本的な審美眼とスケッチ技術は大学(文学士号取得)で学んでいましたが、さらに靴制作の技術を磨くためにリアチ入学を決めました。「デザイナーの想いは、デザインを通して人々に届く」ことを信じ、自分のデザインで人々の心を動かしたいと願っています。
Oct. 04, 2016 | Posted in Reports, Shoemaking , Student Reporter | Tags:Li Shiau-Ting, ShoemakingReporter: Li SHIAU-TING | Course: Shoemaking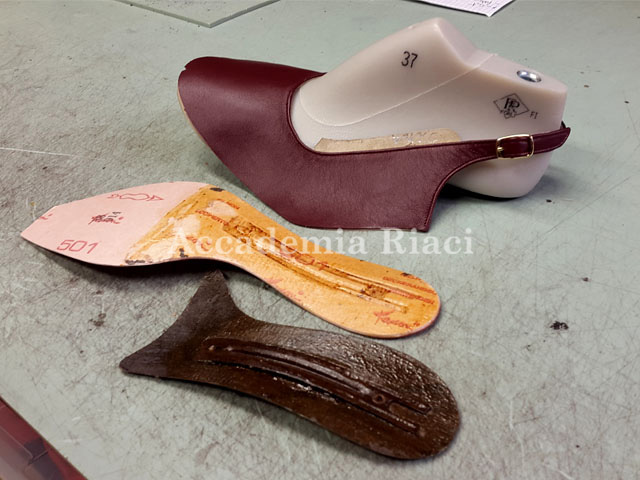 前幾個禮拜我們聚焦在紙版的製作、鞋面的製作,這個禮拜開始,我們著重在攀鞋上,攀鞋在手工製鞋步驟裡面扮演十分重要的腳色。在攀鞋前,我們要先放上中底,如果找不到合適的中底型,就必須用槌子敲出貼合的曲線。

After finishing our upper, this week we focus on lasting the shoes. First, we have to put up the insole, which is used to stable the shoe. We use hammer to punch a little bit in order to fit our last. When punching insole, the shape will changing, we glue it again to combine.

桌上這些是女鞋常見的組合式中底,它會有很多不同的形狀以符合各式各樣的楦頭樣式。

There are many shapes of shoe insole for different shape of shoes, our professor Angelo showed us different insole and their use.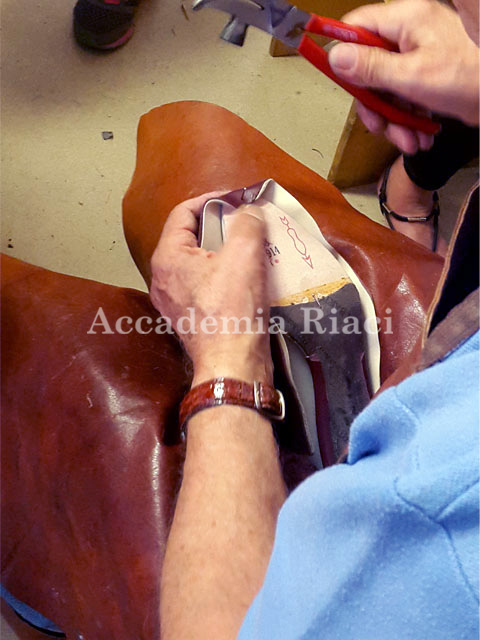 在開始攀鞋時,對準中心線是非常重要的。

When lasting, it is important to start from the middle line, which will keep the shoe-shape.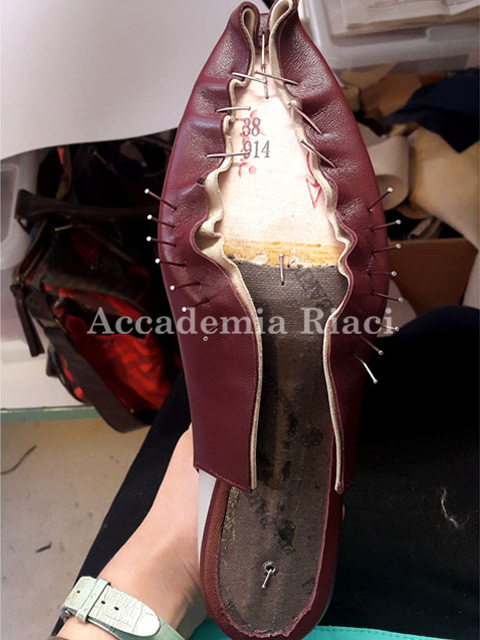 在正式進入攀鞋之前,我們將鞋頭的皮料先用幾根釘子固定住,這個步驟叫做pre-lasting,是為了之後密集的lasting做準備。攀鞋的目的是為了將皮料固定在楦頭上,是塑形成鞋子的重要步驟。

This is the step when I finish pre-lasting. Lasting is a technical word in shoe making that we put many tiny little nail through upper, lining into insole. The purpose of this step is to fit the leather on last before we use heavy glue to keep the shape.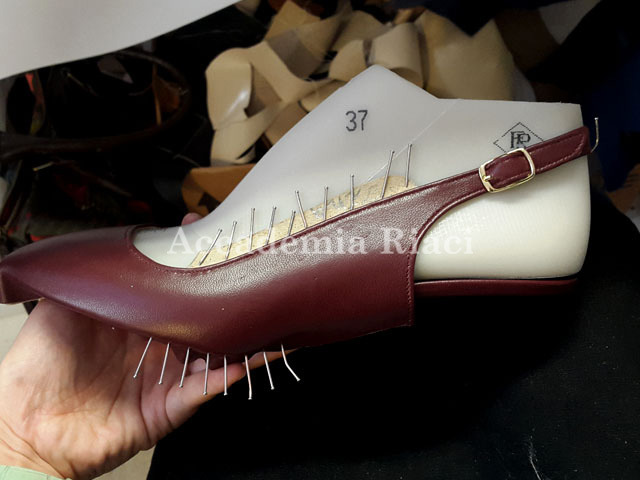 在內裡的地方我們預留一些些皮料在上方,這個步驟可以清楚看出來之前預留的皮料在攀鞋的時候大大派上用場。要讓鞋子不走型,就要靠這一點預留的內裡了。

Photo shot from my left side of shoe. We leave a little bit lining on the top also to prevent our shoe-shape changed when lasting it.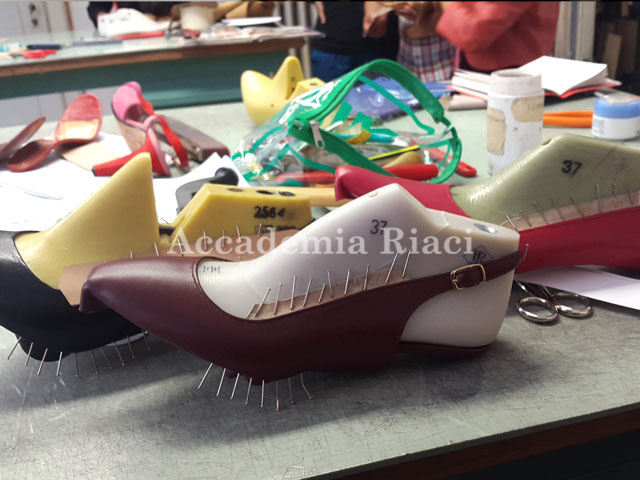 剛好我們幾個同學分別使用Decollete, Decollete Rovesciato and Aperto Dietro來攀鞋,教授同時教我們三種攀鞋技巧以符合不同鞋款。

Different style of pump shoes: Decollete, Decollete Rovesciato and Aperto Dietro. The techniques of lasting are different between these shoes, our professor Angelo show us the technique of lasting this week, next time we could make our own one.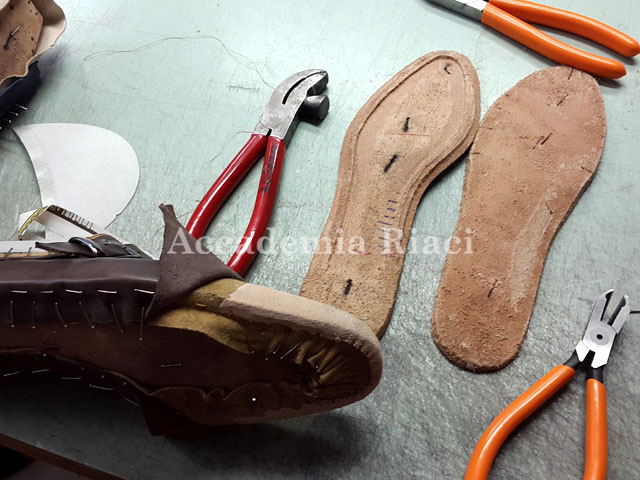 如果是製作男鞋,最好使用皮製中底,因為皮製的中底較為有彈性舒適。同時呢,因應不同縫製方式,需要不同的中底外型。

If making men shoe, it's better to use leather sole, because it is flexible and fit our feet. Meanwhile, different welting needs different insole-shape. On the left, the insole is for goodyear shoe. On the right, the insole is design for tirolese.

這個步驟在教導如何放入前港寶,放入前需烘熱軟化,以便港寶貼合楦頭。

In this step, professor showed us how to put top counter into shoes. Top counter is important for protecting the toe cap and shape. We use heating machine to melt it a little bit then fit the toe cap.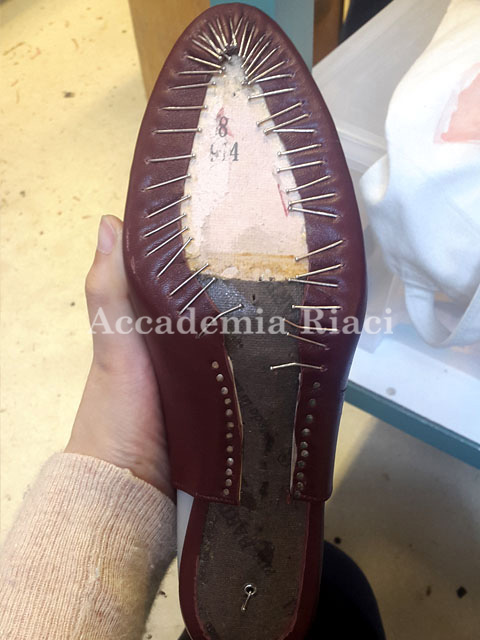 在放入鞋頭港寶前,我們必須將釘子敲扁讓皮料貼合楦頭,之後就可以拔掉釘子囉

This is the step after put the top counter into upper, we punch the nail curved then pull away the nail.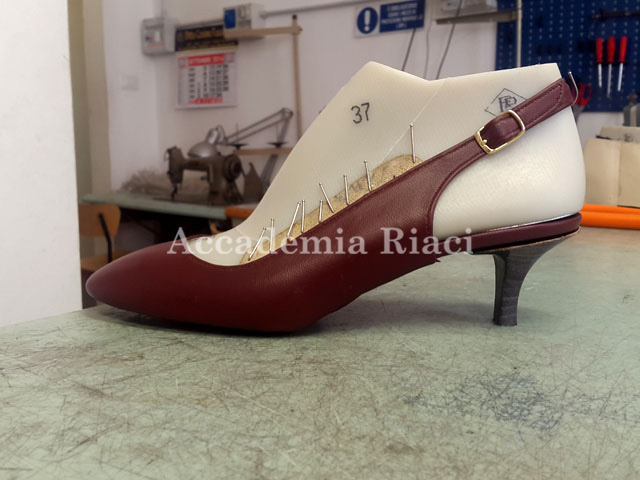 下一步,我們開始找合適的鞋跟。找了好久,終於找到適合我鞋楦鞋跟,我很滿意。

Next step, we have to find a suitable heel for our last. This is what I found, pretty gorgeous right?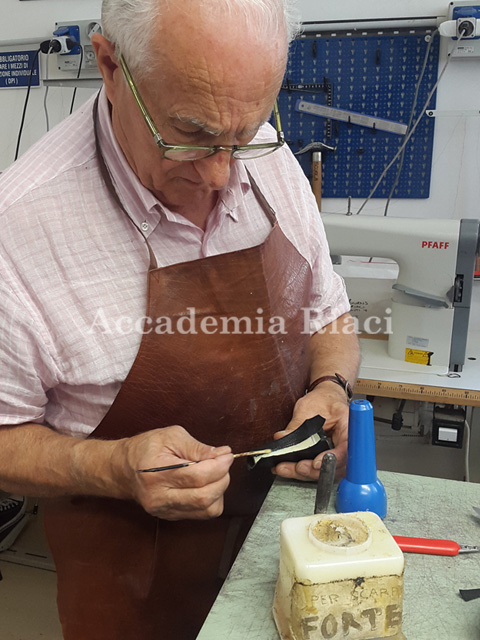 這週的進度我們結束在包跟這個步驟,希望下禮拜能完成這款鞋子。
這禮拜的報告到這邊囉,下週見!

This week we end up with heel lining, hope next week I could finish my chanel.

This is weekly reports, see you next week!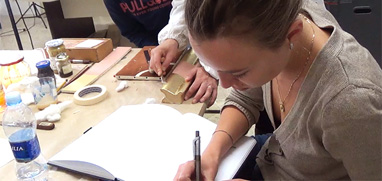 At Accademia Riaci, we are recruiting Course Reporters from our students. The students who are chosen to become Course Reporters are given 10 % of the tuition as their scholarship fee.
The Reporters who have submitted excellent reports will have his or her profile posted on our school website for the next 5 years as an alumnae and will be able to connect with their business chancesafter their graduation.