Accademia Riaci
Student Reports
Read all class reports from our students!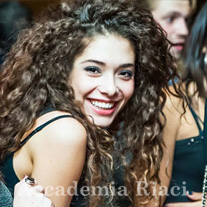 Reporter
Caterina Melidoni
Nationality: Italy
Course: Shoe Making
Program: Avanzata Course
Period: Sep. 4, 2017 – Apr. 28, 2018
After a BA degree in Industrial Design at ISIA in Rome, she decided to move to Florence to learn the ancient and valuable art of shoe making. She always has been interested in design and making shoes . So she found out that Florence and Accademia Riaci would have been the perfect place for learning about.
She wants to gain knowledge about one of the most Italian famous and worldwide appreciated handcraft art. The craft of shoe making deserves to be handed down from one generation to another, to survive as a prestigious art.

国立デザイン大学ローマ校で工業デザインの文学士号を取得後、昔ながらの貴重な技術である靴制作を学ぶためにフィレンツェ行きを決意。ずっと靴デザインと靴制作に興味があったので、フィレンツェにあるアカデミアリアチへの入学を決めました。
イタリアで最も有名で、世界中から愛されている手作りの靴に関する知識を学びたいと思っています。イタリアの靴制作は後世に引き継がれていくべき技術であり、一流の芸術として残すべき大事な文化です。
Feb. 14, 2017 | Posted in Reports, Shoemaking , Student Reporter | Tags:Caterina Melidoni, ShoemakingReporter: Caterina Melidoni | Course: Shoemaking
Finally our chanel models are taking shape. This week we made a lot, our first handmade shoe is almost finished. Shoe upper, lining and insole are ready to be assembled on the sole. Can't wait for it!
We also used new machineries, such as the grinding wheel, which is needed to smooth the imperfections on the model.
On Friday a friend of mine came from Milan to see me. Has been a wonderful weekend going around Florence like tourists. We visited the historical center and went to interesting exhibitions.

今制作中のシャネルモデルの靴がようやく形になってきました。今週はたくさん作業をしたので、最初の1足がほぼ出来上がりました。アッパーとライニング、そして中底もあとは組み立てて縫い付けるだけです。出来上がりが本当に待ち遠しいです。
新しい機械も使いました。研削砥石で革のでこぼこをスムーズにします。
金曜日は私に会いにミラノから友達がやってきました。フィレンツェの街を旅行客のように歩き回り、楽しい週末を過ごしました。歴史的地区を訪れた後、面白い展示を観に行きました。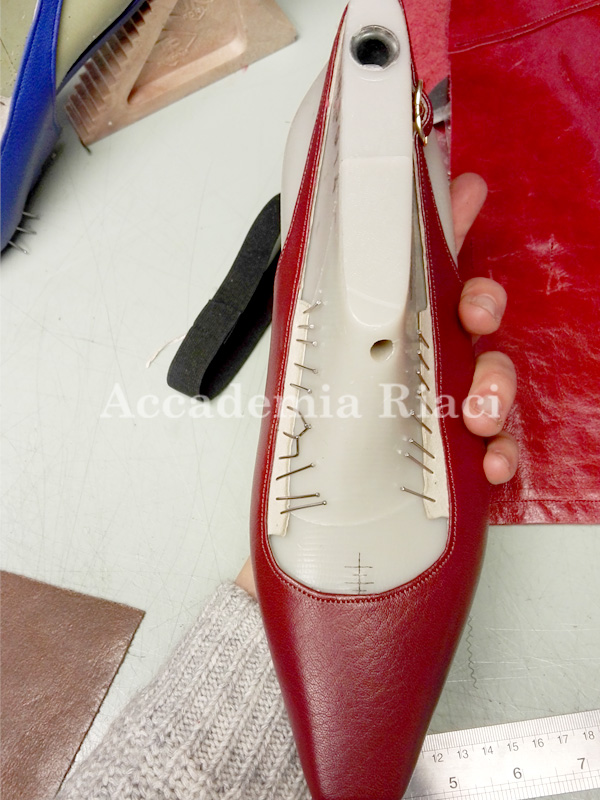 Firstly we tested the upper on the last, so we could choose to change something about shape and design.

まずアッパーをラスト(木型)にかぶせてみます。形やデザインの調整はこの段階で行います。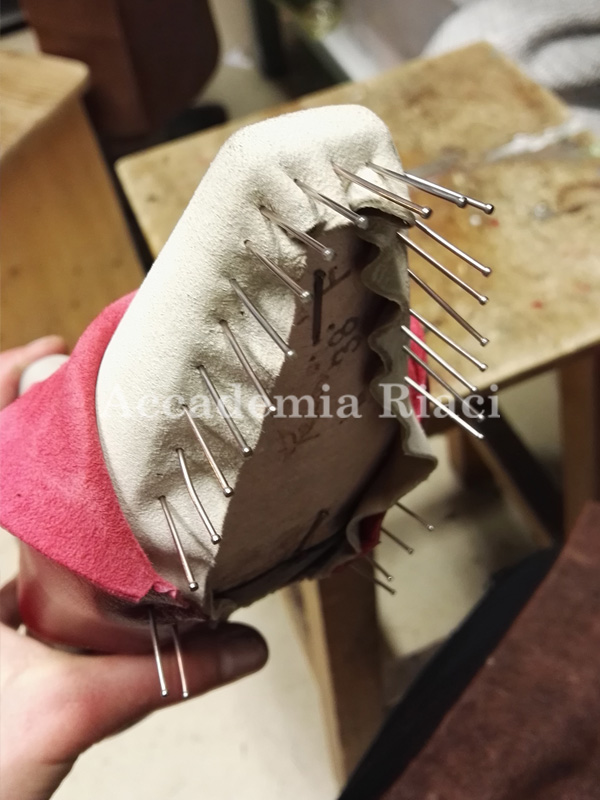 The assembly starts with nail the lining down.

まずはライニングを釘で止めることから始めます。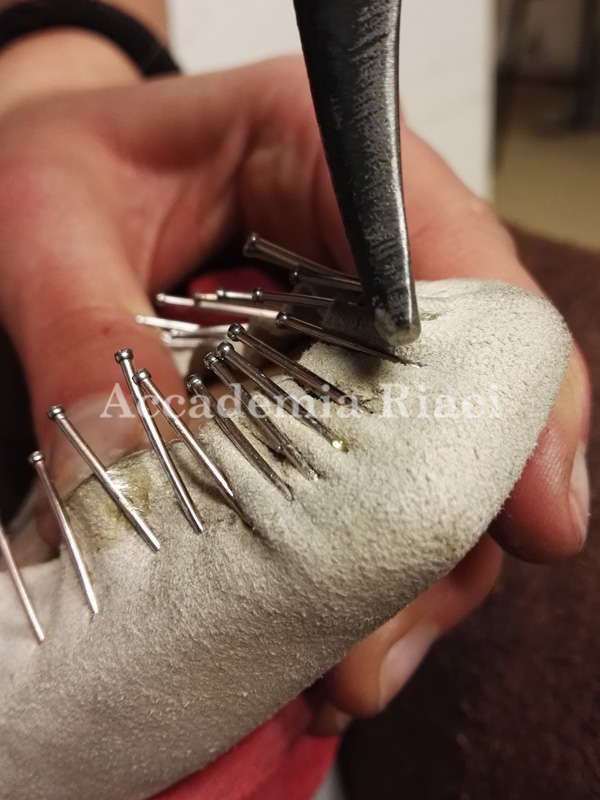 The lining needs to be well stretched, so no wrinkles will form.

シワが寄らないよう、ライニングをしっかり伸ばしながら作業します。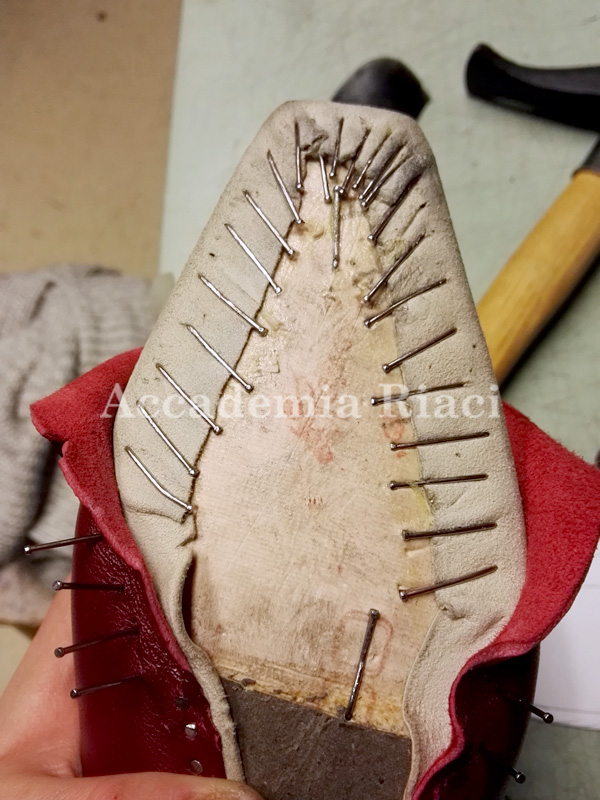 Glue and nails take control and stop the lining on the last.

接着剤と釘でライニングが留まります。

Then we made the same work with the upper. Stretched it and nailed it down.

次にアッパーでも同じ作業を行います。しっかり伸ばして釘を打っていきます。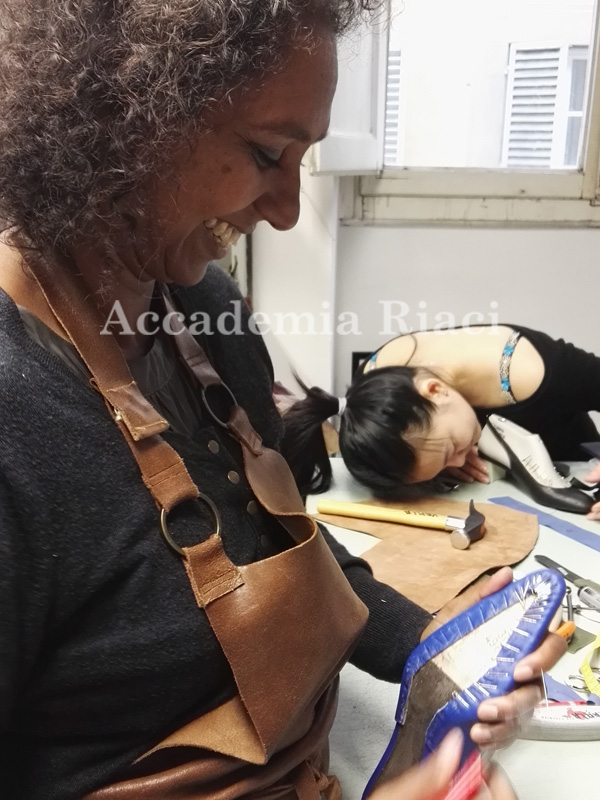 Kamla is really happy about her own model. The most fashionable one!

カムラはだんだん仕上がってくる自分の靴に大満足です。クラスで一番おしゃれな靴だそうです。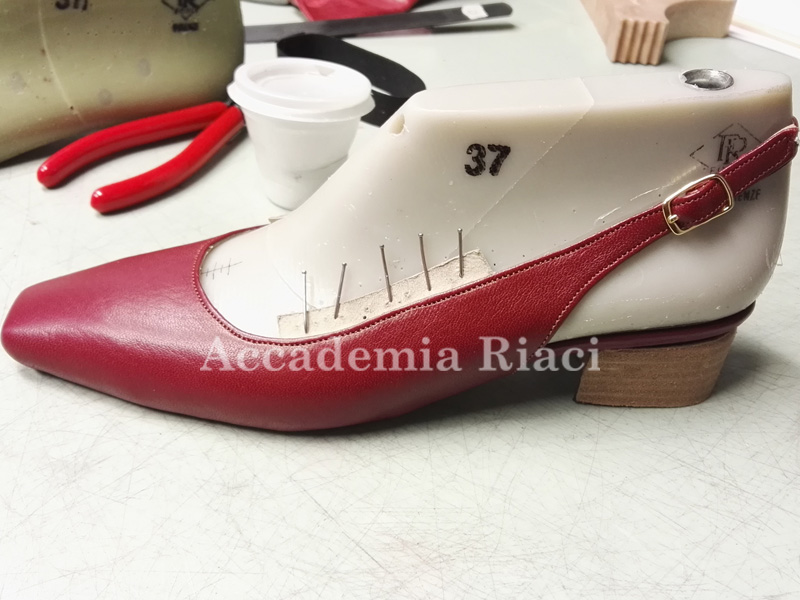 It is important to find the proper heel fitting on the last.

ラストを使ってちょうどいいヒールの高さを考えます。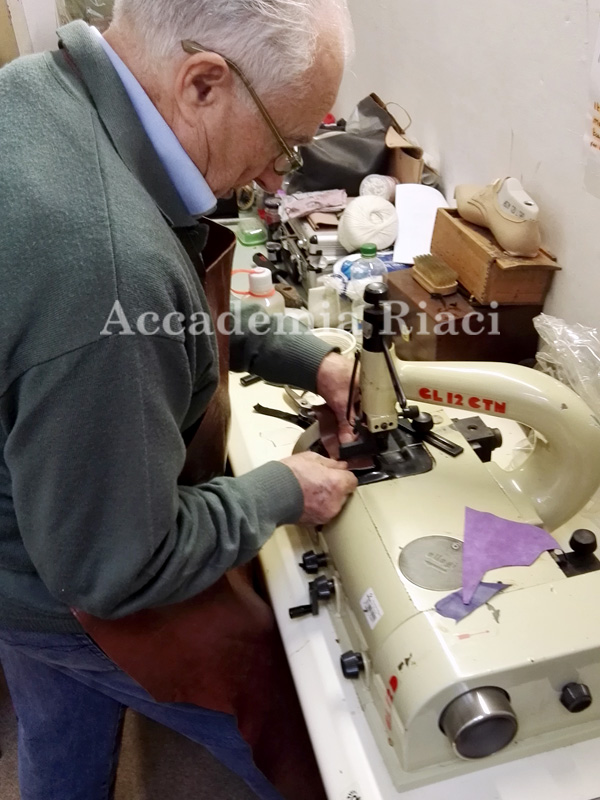 Angelo explaining us how to use the machinery that slims the leather down.

革を漉く機械の使用法を説明しているアンジェロ先生。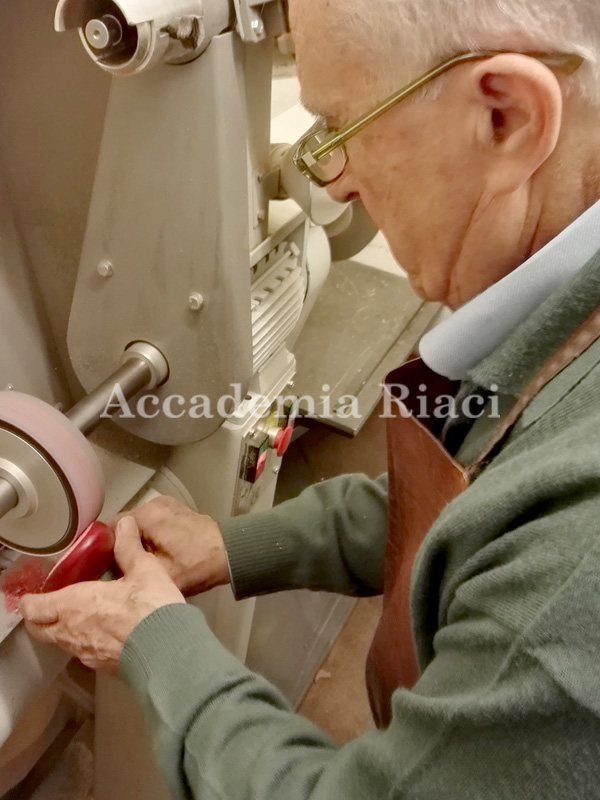 The grinding wheel smoothes all the imperfections under the shoe, shaped during the assembly

靴の組み立て作業中にできたでこぼこを研削砥石で平らにします。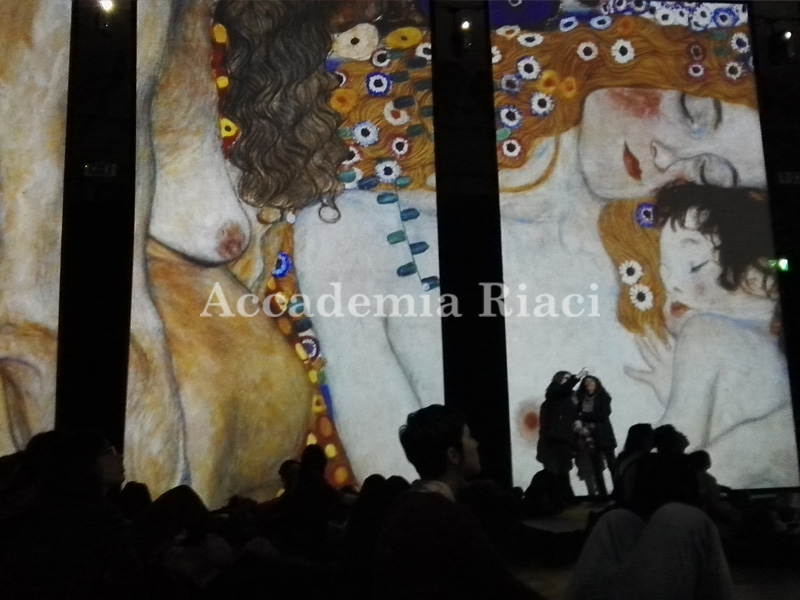 The 'Klimt experience' in Santo Stefano has been more than a common exhibition.

サント・ステファノ・アル・ポンテ博物館で開催されていた「クリムト・エクスペリエンス」はとても非凡な展示でした。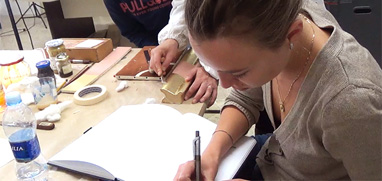 At Accademia Riaci, we are recruiting Course Reporters from our students. The students who are chosen to become Course Reporters are given 10 % of the tuition as their scholarship fee.
The Reporters who have submitted excellent reports will have his or her profile posted on our school website for the next 5 years as an alumnae and will be able to connect with their business chancesafter their graduation.