Accademia Riaci
Student Reports
Read all class reports from our students!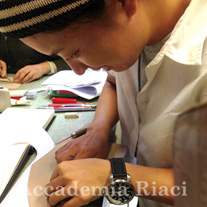 Reporter
Masami ISHIZUKA
Nationality: Japan
Course: Shoe Making
Program: Master Course
Period: Sept. 5,2016-Apr. 28,2017
日本では10年間ほど靴づくりとは関係のないお仕事をしていましたが、趣味としてずっと好きで続けていたのが革細工でした。休日には財布など小物をコツコツ作る毎日でした。そしてそこから派生して、この2年間は神戸にある靴学校に毎週通いました。自分が考えたものが形になっていくことが面白くて、休日は疲れていても靴作りが楽しくて仕方がありませんでした。とても時間がかかる作業ですが、出来上がりだけでなく、出来上がっていく様子がなんとも言えません。
一年ほど前から、思い切ってお仕事を辞め、本場イタリア・フィレンツェに革靴づくりを学びに行くことを決めました。今年の5月より4ヶ月間、語学学校でお世話になりイタリア語で何とか授業を受け始めました。まだまだ分からない事だらけですが、楽しみながら頑張りたいと思っています。

I worked in Japan for about 10 years but my former job had nothing to do with shoe making. I simply liked leather working as a hobby. I used to make small items such as leather wallets on my days off. For this past 2 years, I studied every week at a shoe making school in Kobe, Japan. I totally enjoyed the process of how my idea became actual shoes, so I kept making shoes on weekends even though I was tired from my weekday's work. It takes a long time to make 1 pair of shoes, but I just love the shoe making process itself.
I quit my job 1 year ago and decided to come to Florence to study shoe making. I took Italian lessons for 4 months from this May, and I am now taking shoe making lessons in Italian. There is so much I need to learn now, but I hope to enjoy this learning experience.
Apr. 27, 2017 | Posted in Reports, Shoemaking , Student Reporter | Tags:Masami Ishizuka, ShoemakingReporter: Masami ISHIZUKA | Course: Shoemaking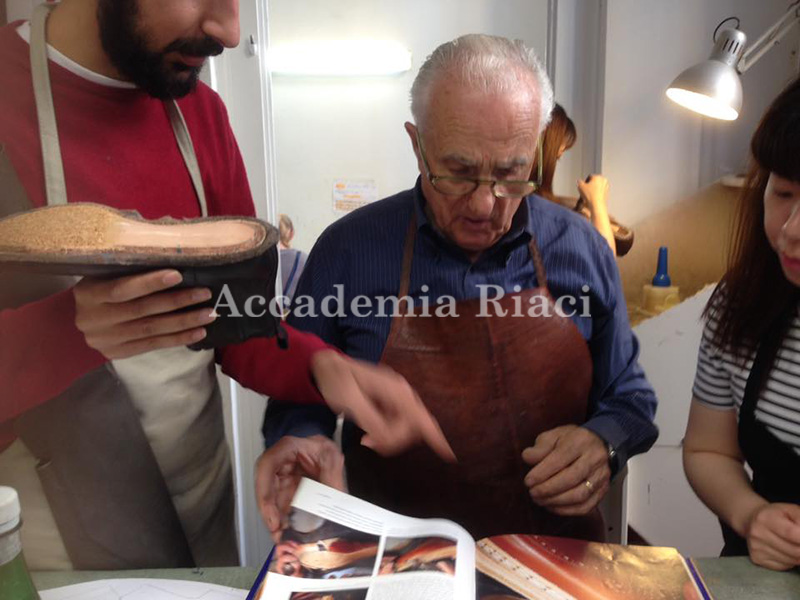 アンジェロ先生です。分かり易いように本を使って製法の仕上がり具合を説明して下さっています。

This is our teacher, Angelo. He is explaining with his book how to last the shoes depending on the method.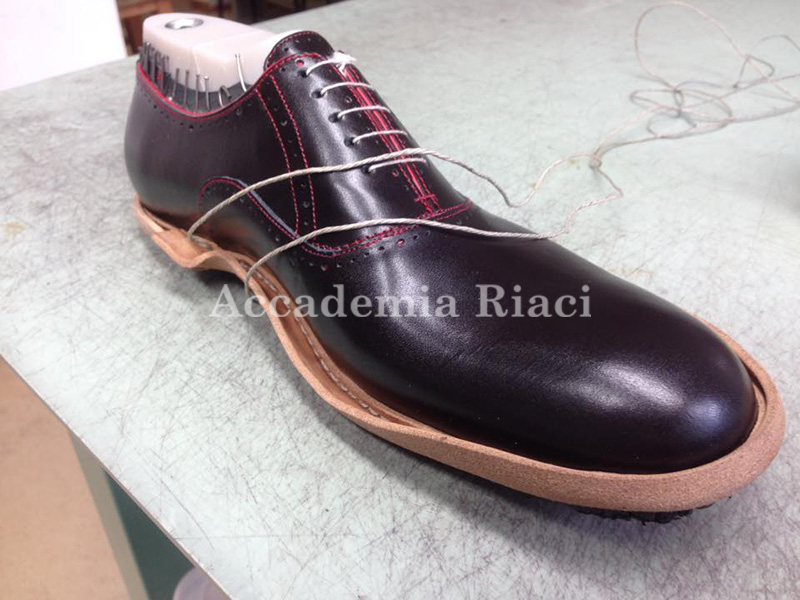 靴とウェルトとを縫い合わせて行きます。ここからが手縫い靴の見せ所です。時間はかかりますが、一目一目地道に丁寧に縫います。

I am going to stich the welt and upper. This is the main part of the procedures to make handmade shoes. It takes so much time, but I stich gently and steady.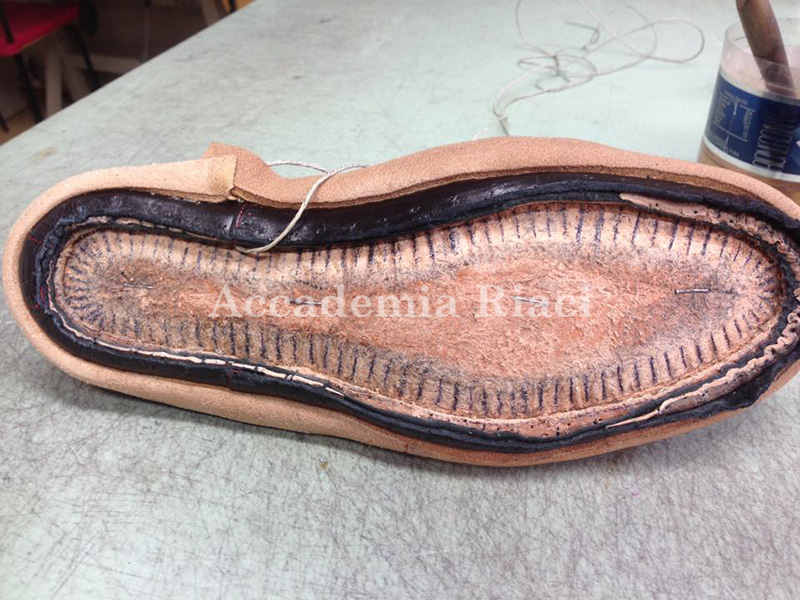 縫い終わるとこのようになります。

This is the picture I fished stiching.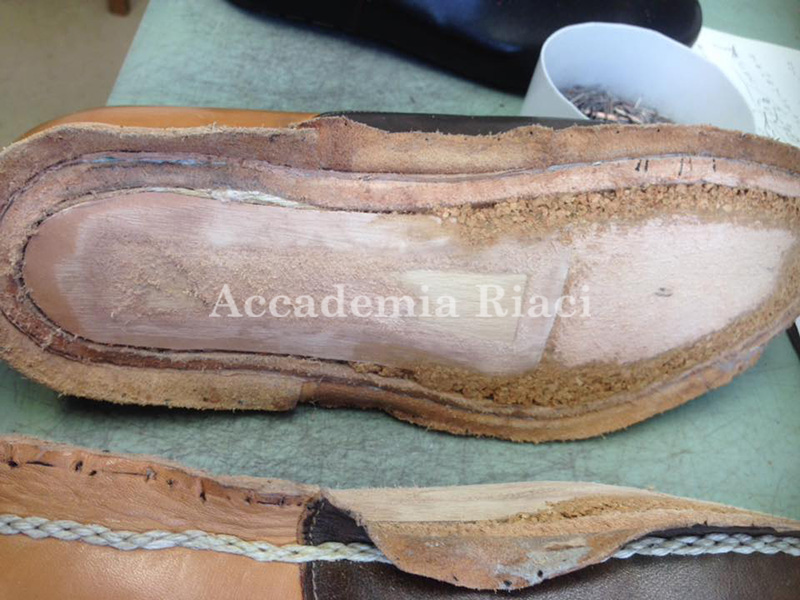 間にコルクなどを入れフラットにします。この後は本底と縫い合わせる行程が待っています。

I put some corks inside of shoes to make shoes flat. After this, I put another layer leather and stich again.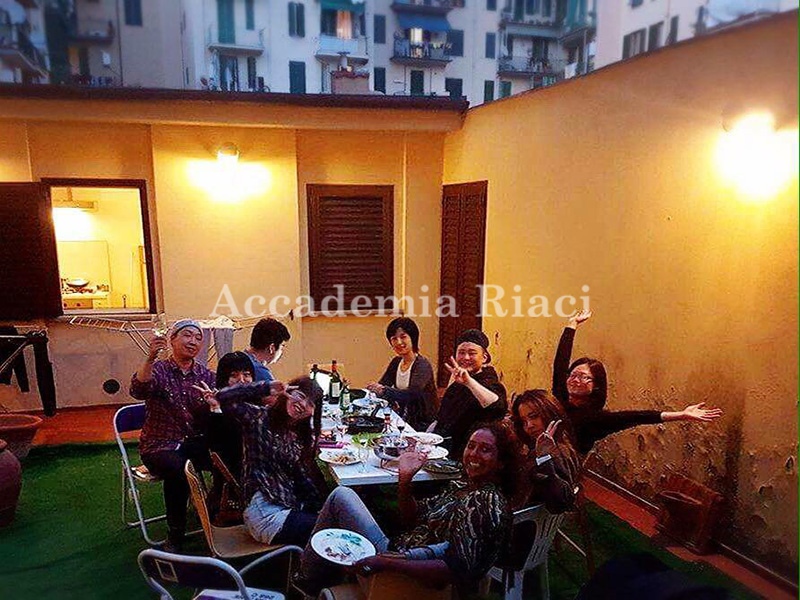 週末はホームパーティーがよくあります.夏に近づいて来たのでガーデンパーティーはとても気持ちがいいです。

We often have some parties on weekends. It is so nice to sit down outside in this season.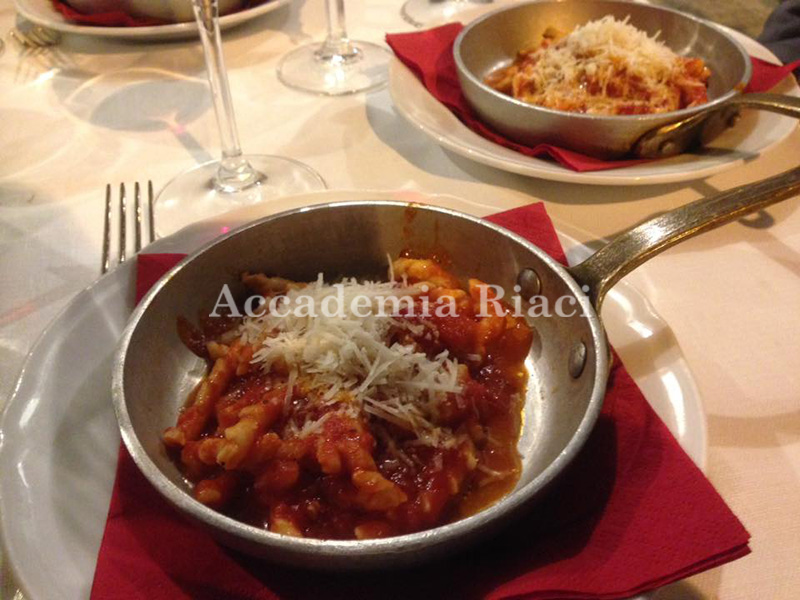 フィレンツェでの生活も終盤です。行ってみたかったレストランにもちょくちょく行っています。こちらはcibreoレストランです。

I am going to finish the life here in Firenze soon, so I decided to visit some restaurants that I wanted to try.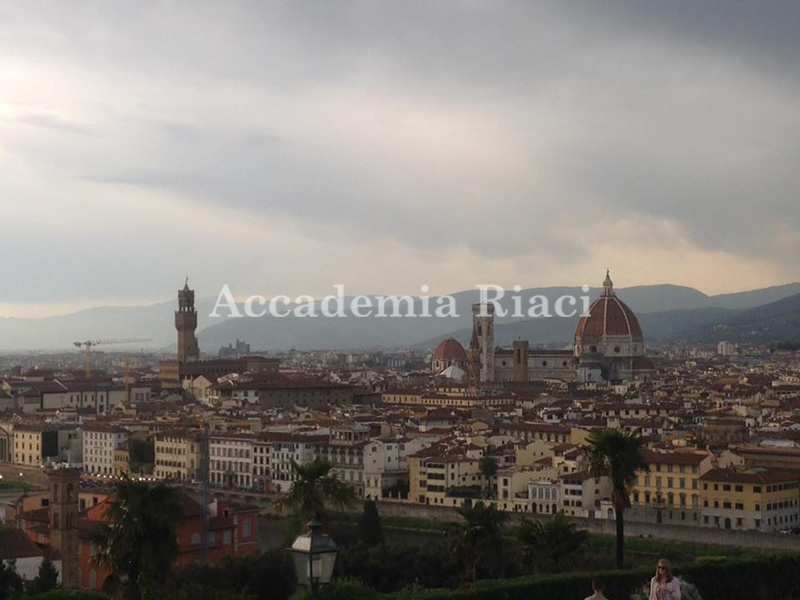 夜7時です。サマータイムが始まり、日の入りは8時を過ぎる様になりました。

It was around 7pm. Now sunset is around 8pm because summer time has come!!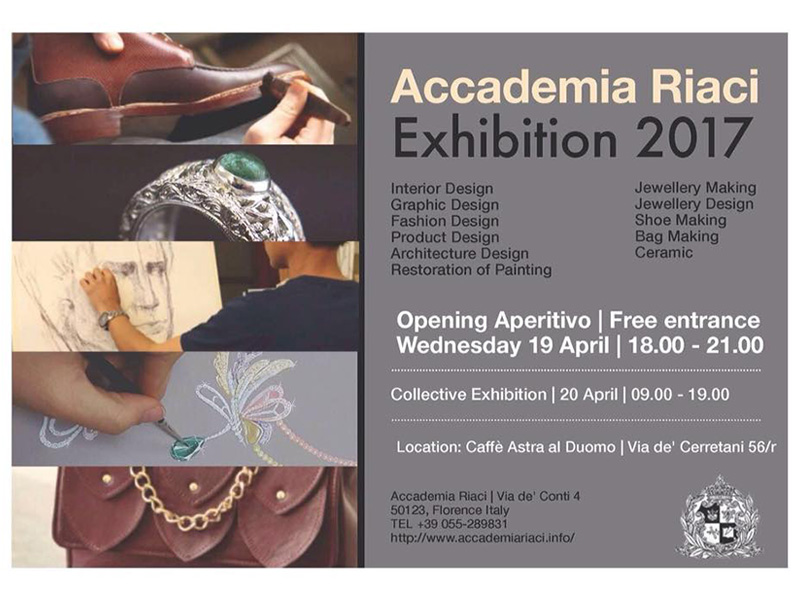 来週の4月19日・20日は、卒業制作発表会です。間に合わせないと!!

Next week, April 19 and 20 are our final exhibition. Have to hurry up!!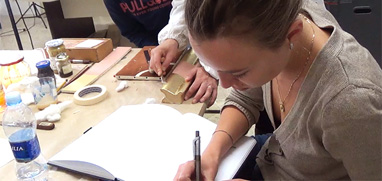 At Accademia Riaci, we are recruiting Course Reporters from our students. The students who are chosen to become Course Reporters are given 10 % of the tuition as their scholarship fee.
The Reporters who have submitted excellent reports will have his or her profile posted on our school website for the next 5 years as an alumnae and will be able to connect with their business chancesafter their graduation.