Accademia Riaci
Student Reports
Read all class reports from our students!
Reporter
Lara Blevi
Nationality: South-African
Course: Shoe Making
Program: One-Year Atelier Course
Period: Sept 5, 2016-April 25, 2017
After Studying a BA degree in Fashion Design in South Africa, Lara decided that she would love to study further and focus on a specific direction in the fashion industry. During her studies, she followed an internship at a company where she was taught how to make and design handbags out of leather and exotic leather skins.

She knew instantly that she would love to study further and learn more about shoes and decided to come to Firenze, Italy, the most famous city to learn more of leather art and shoes! She found Accademia Riaci and knew that the shoe making course that they had to offer was exactly was she was looking for.

Here she wishes to learn the highest level of shoe making techniques and to be able to follow her dream to become a designer with the knowledge of not only fashion, but also the art of shoe and handbag design.

南アフリカでファッションデザインの文学士号を取得後、ファッション業界で目指す方向を定めるためにもっと学びを深めたいと思いました。企業インターンを経験した際には、外国製の皮革を使用したカバン制作とデザインを学びました。

すぐに靴制作を学びたいと思うようになり、靴制作や革工芸を学べる世界で最も有名な都市・フィレンツェ行きを決意。検討の結果、自分が探し求めていた内容の靴制作コースを提供するアカデミアリアチへの入学を決めました。

ここで最高レベルの靴制作技術を身につけ、ファッションのみならず靴やカバンの知識も兼ね備えたデザイナーになることが夢です。
May. 12, 2017 | Posted in Reports, Shoemaking , Student Reporter | Tags:Lara Blevi, ShoemakingReporter: Lara Blevi | Course: Shoemaking
During this week I finally finished my brothers shoes. It's amazing how much longer the last few steps for rounding of a shoe can take, especially if you want it to look neat and professional. I am very impressed with the turnout though and so excited to give them to my brother.

I also carried on working on my dads shoe and finished a lot of work on the insole to prepare it for the Tirolese stitch.

今週、私はついに兄のための靴の制作を終えました。 靴に丸みをつけるための、特に素晴らしい、プロの作品に見えるように仕上げるための最後のいくつかのステップには驚くほどの時間がかかります。私は出来栄えにとても感動しています。兄に渡すのがとても楽しみです。

また、父の靴の作業を続けるとともに、チロレーゼ製法で使う内底を準備する作業を行いました。

The whole cut Derby shoe, with Blake stitching that I finally finished for my brother. I really think he is going to love them.

これが私が兄のために作った、ブレイクステッチを取り入れたダービー靴です。必ず気に入ってくれると思います。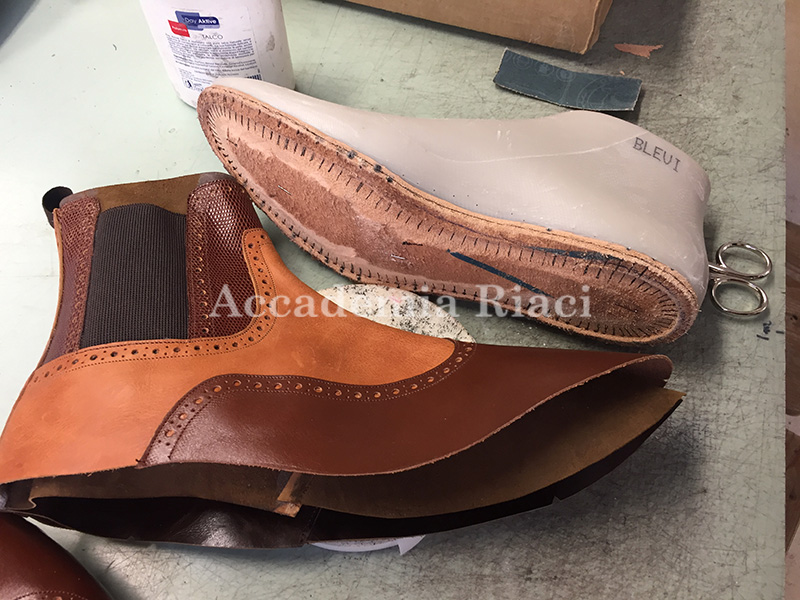 Before the mounting can be started, the insole and uppers for the shoes has to be perfectly prepared in order to make the following steps easier.

取り付けを開始する前に、靴の内底とアッパーを準備して、次のステップに入りやすくします。

After completely finishing the uppers for my dads shoes, I started mounting them to the last.

父の靴のためのアッパーを仕上げた後、靴型に取り付けます。

The mounting is slightly different, as you need to prepare the insole especially for the Tirelese stitch.

取り付け方は、チロレーゼ製法のために内底を準備する必要があるので、わずかに異なります。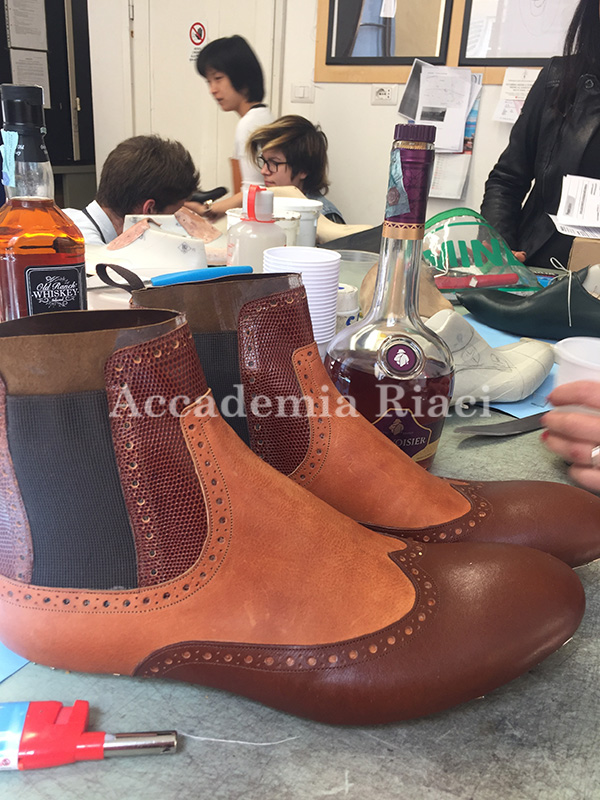 After the toecaps are inserted and the final mounting is complete, the next step is to start with the Tirolese stitch.

トウカップが挿入され、最終的な取り付けが完了したら、次はチロレーゼ製法を始めます。

On Wednesday it was Joe's birthday, and like always we arranged a super fun surprise party in class. For the evening we all went to a place called Colle Bereto for dinner and drinks.

水曜日はJoの誕生日でした。いつものようにクラスでとても楽しいサプライズパーティーをしました。
夜は、皆で食事するためにColle Beretoという場所に行きました。

The next day I travelled to Rome to meet up with my boyfriend who was travelling to the south of France for work. It was an unbelievably beautiful evening and we also had the best food.

翌日、私は出張で南フランスにいたボーイフレンドと会うためにローマに行きました。
信じられないほど素敵な夜で、おいしい料理も食べました。

The next day we travelled to Nice and then Antibes where we stayed for the weekend. It was incredible and we had such amazing weather too. We also went to Monaco for a day where we took the Hop on Hop off bus around and also walked along the docks and admired the beautiful yachts.

次の日、私たちはニースとアンティーブに行き、週末を過ごしました。天気にも恵まれました。
私たちはモナコにも行きました。そこでは、ホップ・オン・ホップ・オフバスを利用しました。港を歩いたり、美しいヨットを見ました。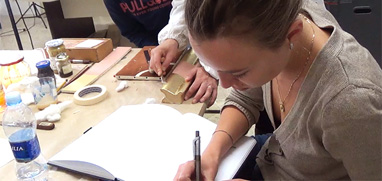 At Accademia Riaci, we are recruiting Course Reporters from our students. The students who are chosen to become Course Reporters are given 10 % of the tuition as their scholarship fee.
The Reporters who have submitted excellent reports will have his or her profile posted on our school website for the next 5 years as an alumnae and will be able to connect with their business chancesafter their graduation.