Accademia Riaci
Students' Blog
Up-to-date report from one of our students!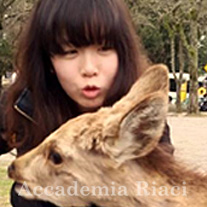 Reporter
Li SHIAU-TING
Nationality: Taiwan
Course: Shoe Making
Program: Atelier Course
Period: Sep. 4, 2017 – Apr. 27, 2018
Shiau-Ting, Li. Shoes designer from Taiwan.
After working in Taiwanese footwear industry for three and a half years, she came to Firenze to study shoes making course, the city which is famous for leather art and shoes.
Although she already has basic aesthetics and sketching technique background from university (B.A.), yet she hopes to extend her shoe-making skills here in Riaci. She believes designer can deliver their thoughts through their works, hoping to keep motivate people with her designs.

李曉婷,來自台灣的鞋類設計師。
在台灣鞋產業工作三年半之後,她決定到皮革之都-佛羅倫斯,學習製鞋技術。
大學主修產品工藝,擁有美學背景、好的品味及繪畫基礎。即便如此,仍期望到莉雅琪延伸自己在實作上的經驗。她相信,設計師能夠透過設計表達想法,希望能持續用創作感動身邊的人。

台湾の靴業界で靴デザイナーとして3年半経験を積んだ後、さらに学びを深めようと革工芸と靴で有名なここフィレンツェへやって来ました。
基本的な審美眼とスケッチ技術は大学(文学士号取得)で学んでいましたが、さらに靴制作の技術を磨くためにリアチ入学を決めました。「デザイナーの想いは、デザインを通して人々に届く」ことを信じ、自分のデザインで人々の心を動かしたいと願っています。
Oct. 30, 2018 | Posted in Blog, Shoemaking , Student Reporter | Tags:Li Shiau-Ting, Shoemaking | Language:



Reporter: Li SHIAU-TING | Course: Shoemaking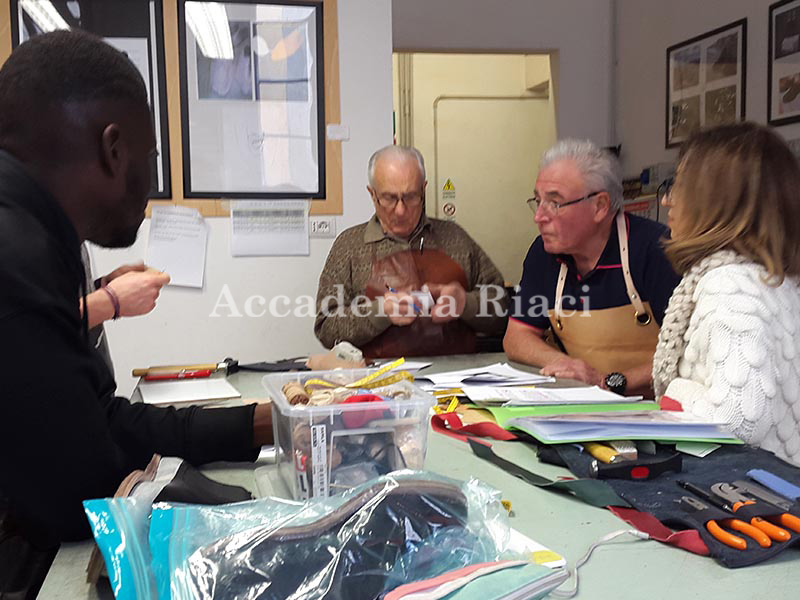 最近我們又新加入了一位新同學,左邊是在來自奈及利亞的Olaotan,第一次認識來自非洲的朋友覺得非常新鮮!

Recently we join a new classmate. His name is Olaotan, people in the right side of the picture, from Nigeria. It's fresh to get to know friend from African, kinda cool!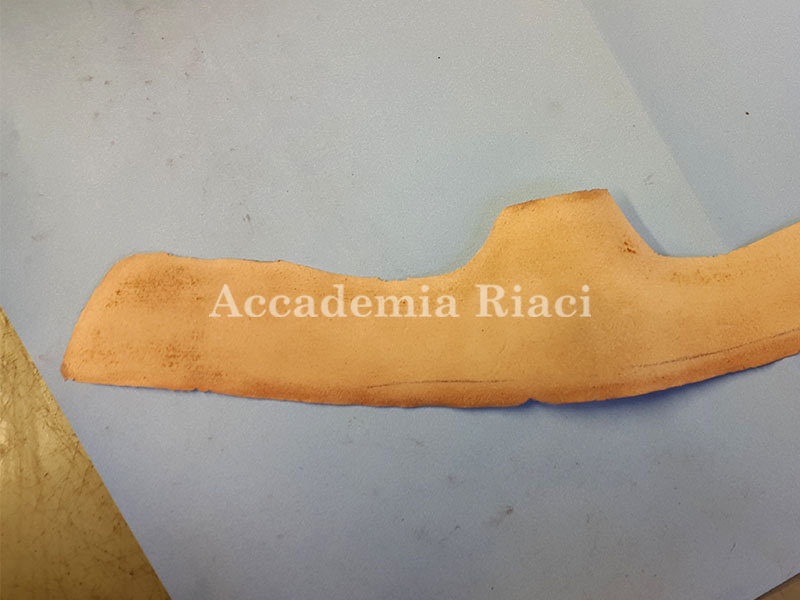 有趣的港寶實驗,用鞋匠刀把港寶切割成自己要的樣子。當我以為港寶只有特定的形狀時,老師解釋到,根據不同的鞋型可以雕塑港寶成特定形狀。至於什麼樣的形狀則是要根據經驗來判斷。

An interesting counter experiment, we cut counter into the shape we need. At first I thought, counter only have certain shape, but actually we could shape it into certain outlook.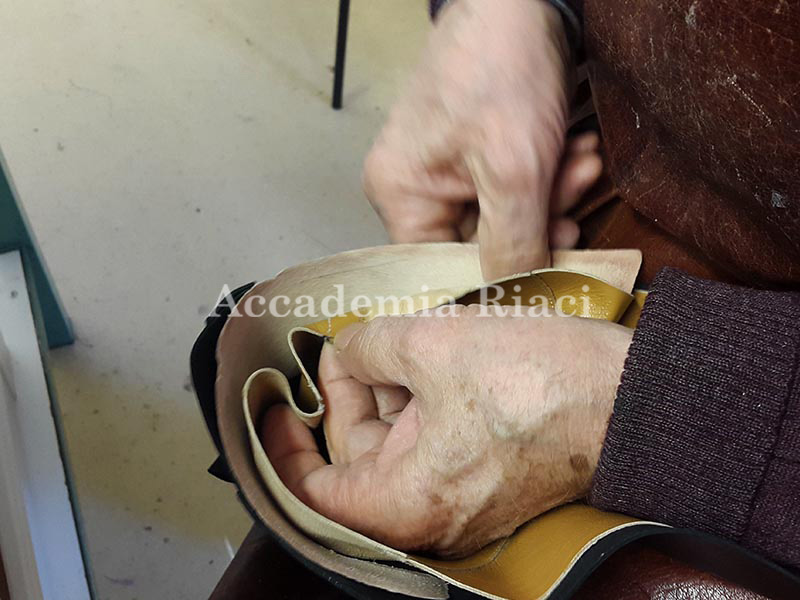 在放港寶時一樣是內側要多於外側一些。

Like usual, when putting back counter, internal side should be longer than external side.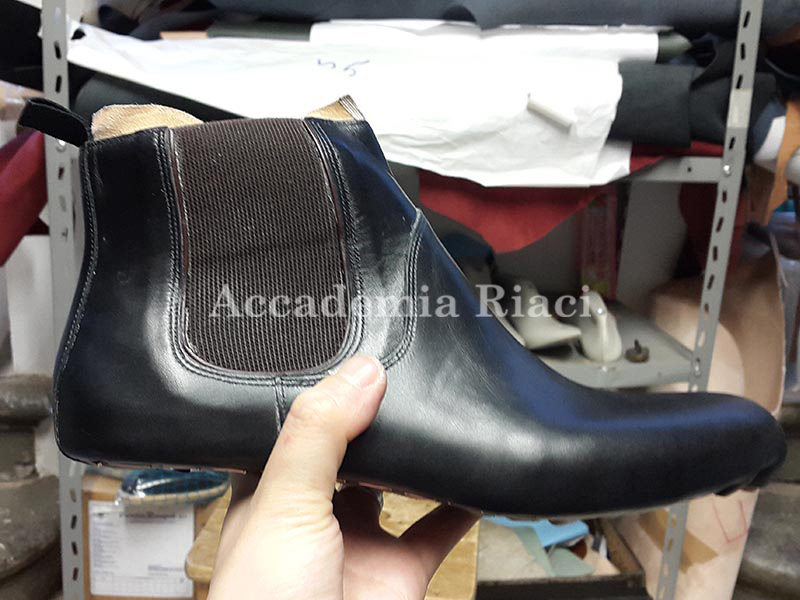 好啦,完成!最近練習了許多靴款,這次攀幫感覺頗得心應手。

Okay, done! Recently I practiced lasting many boot, I felt I kind of satisfied of what I had done.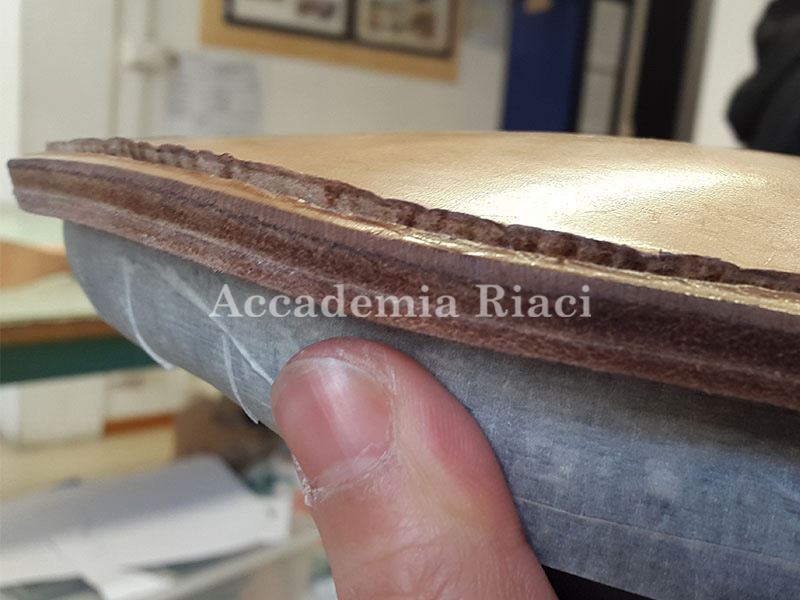 開溝後準備縫上第二道手縫線。

Ready for second hand-stitching.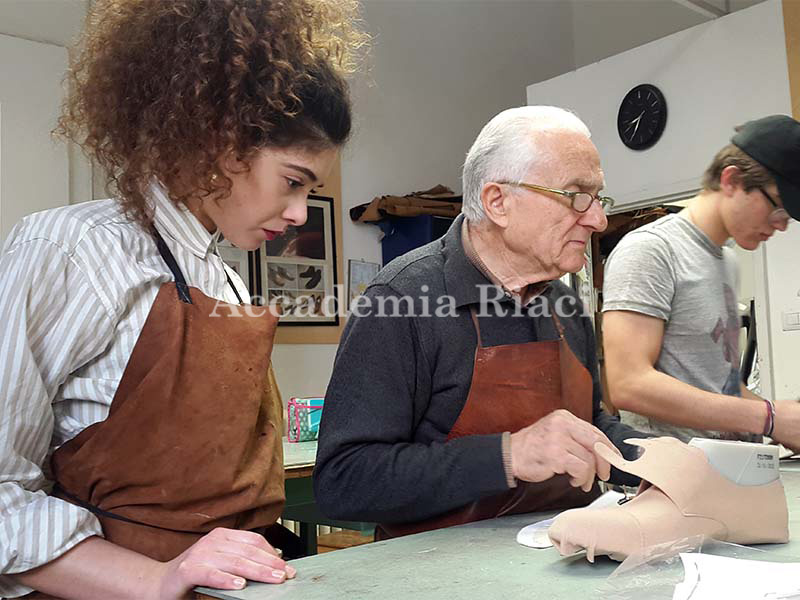 Caterina的新鞋款雙釦孟克靴已打好初版,圖片裡她與Angelo正在討論如何調整飾釦來貼和鞋楦。

Caterina and Prof. were discussing how to adjust pattern to perfect the buckle in right angle.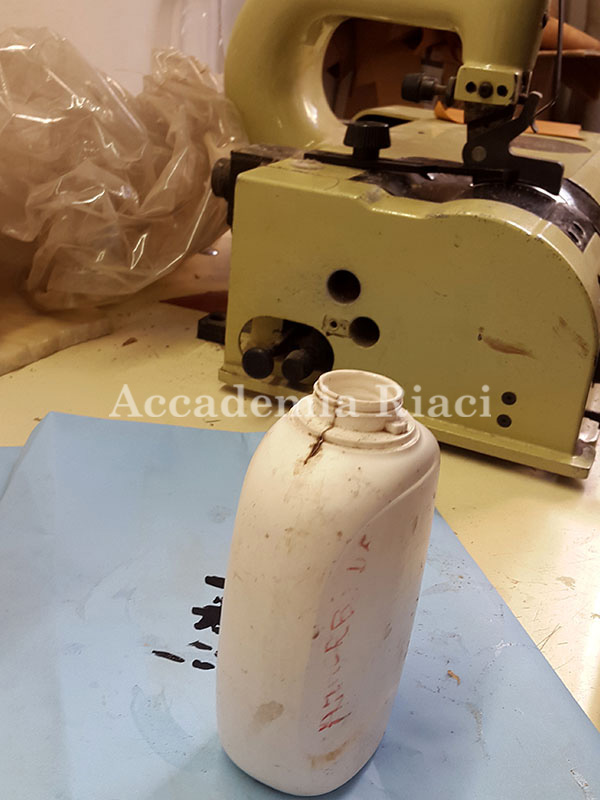 這個我稱它為神奇的化學劑,只要輕輕在皮革上塗一塗,就能輕鬆攀幫鞋子,服服貼貼。

This I called it: magic water. It's a special chemical that could soften leather, which make lasting process more easily.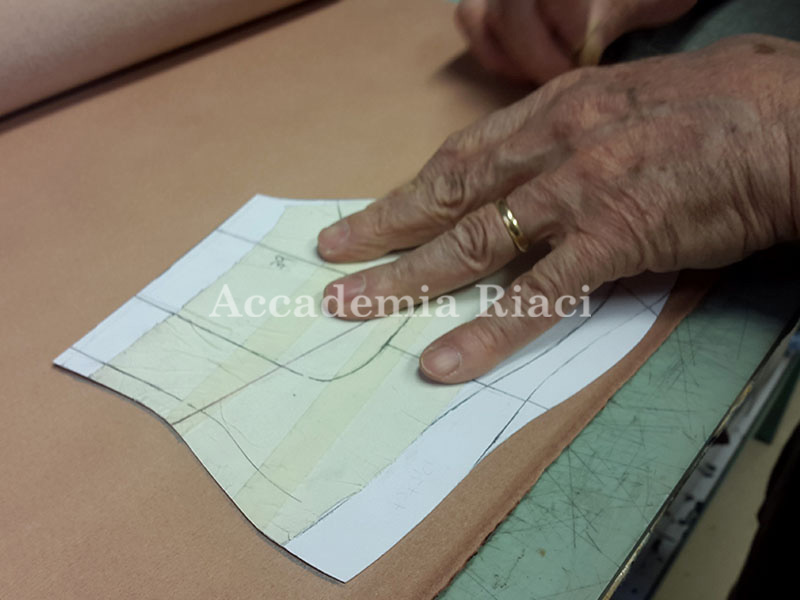 繼上次小尺寸放版,這次我挑戰靴子的大尺寸放版-39號尺寸。

Last time, I tried with small pattern grading, which I grading pattern 36.5 to 37.5. This time, I want to know how to grade into size 39.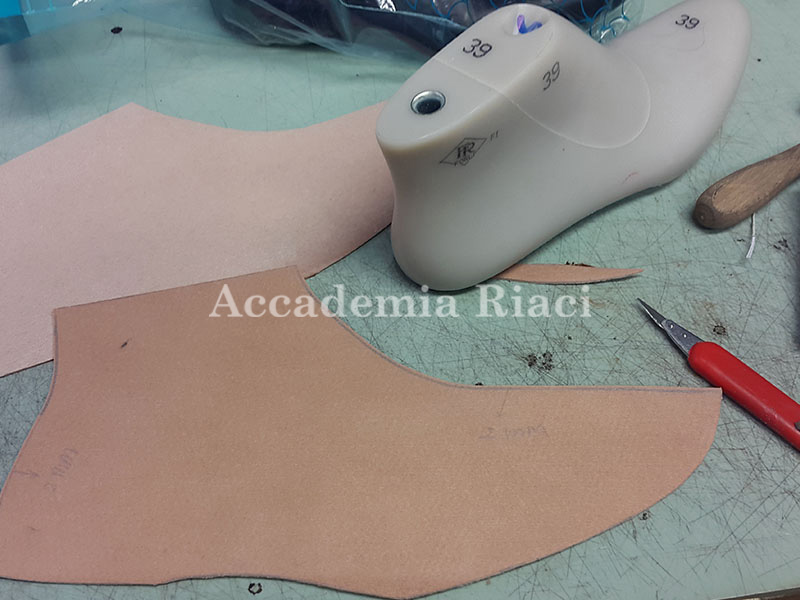 由於之前已確認過裁片的比例,教授這次教我另一種確認版型的方法。

In the beginning when my dear Prof. asking me to cut the trial likes this, to be honest, I was a bit hesitated. And then, I knew it.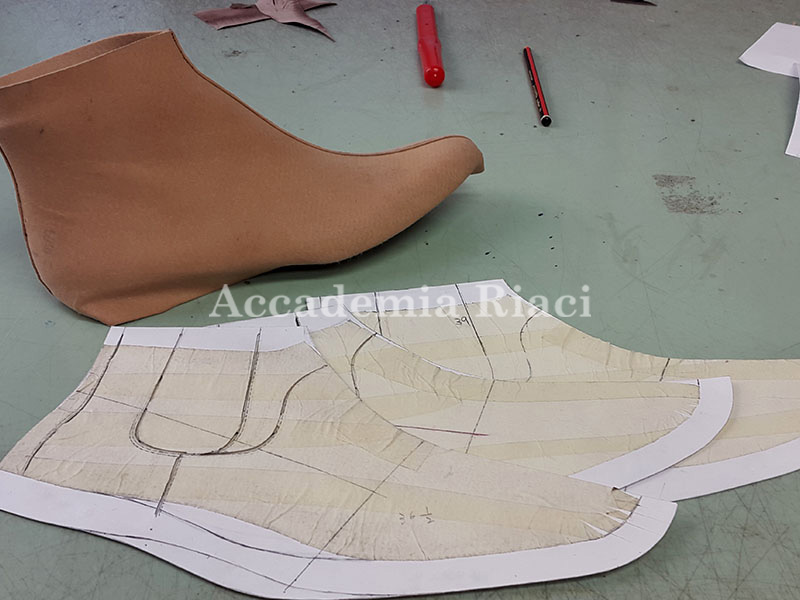 當Angelo只要我切割外輪廓時,我還以為溝通上有了落差…後來我理解了!這種方法能夠快速確認筒身、也節省不少時間。這禮拜就到這裡,下禮拜見。

Because I had made the same model before, so in this half pattern I can quickly check the possibility. We are in the end of the week, goodbye and see you next week!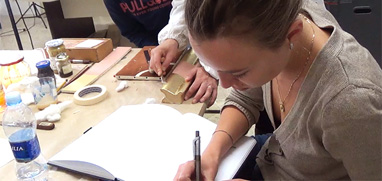 At Accademia Riaci, we are recruiting Course Reporters from our students. The students who are chosen to become Course Reporters are given 10 % of the tuition as their scholarship fee.
The Reporters who have submitted excellent reports will have his or her profile posted on our school website for the next 5 years as an alumnae and will be able to connect with their business chancesafter their graduation.