Accademia Riaci
Student Reports
Read all class reports from our students!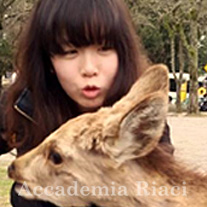 Reporter
Li SHIAU-TING
Nationality: Taiwan
Course: Shoe Making
Program: Atelier Course
Period: Sep. 4, 2017 – Apr. 27, 2018
Shiau-Ting, Li. Shoes designer from Taiwan.
After working in Taiwanese footwear industry for three and a half years, she came to Firenze to study shoes making course, the city which is famous for leather art and shoes.
Although she already has basic aesthetics and sketching technique background from university (B.A.), yet she hopes to extend her shoe-making skills here in Riaci. She believes designer can deliver their thoughts through their works, hoping to keep motivate people with her designs.

李曉婷,來自台灣的鞋類設計師。
在台灣鞋產業工作三年半之後,她決定到皮革之都-佛羅倫斯,學習製鞋技術。
大學主修產品工藝,擁有美學背景、好的品味及繪畫基礎。即便如此,仍期望到莉雅琪延伸自己在實作上的經驗。她相信,設計師能夠透過設計表達想法,希望能持續用創作感動身邊的人。

台湾の靴業界で靴デザイナーとして3年半経験を積んだ後、さらに学びを深めようと革工芸と靴で有名なここフィレンツェへやって来ました。
基本的な審美眼とスケッチ技術は大学(文学士号取得)で学んでいましたが、さらに靴制作の技術を磨くためにリアチ入学を決めました。「デザイナーの想いは、デザインを通して人々に届く」ことを信じ、自分のデザインで人々の心を動かしたいと願っています。
Mar. 02, 2017 | Posted in Reports, Shoemaking , Student Reporter | Tags:Li Shiau-Ting, ShoemakingReporter: Li SHIAU-TING | Course: Shoemaking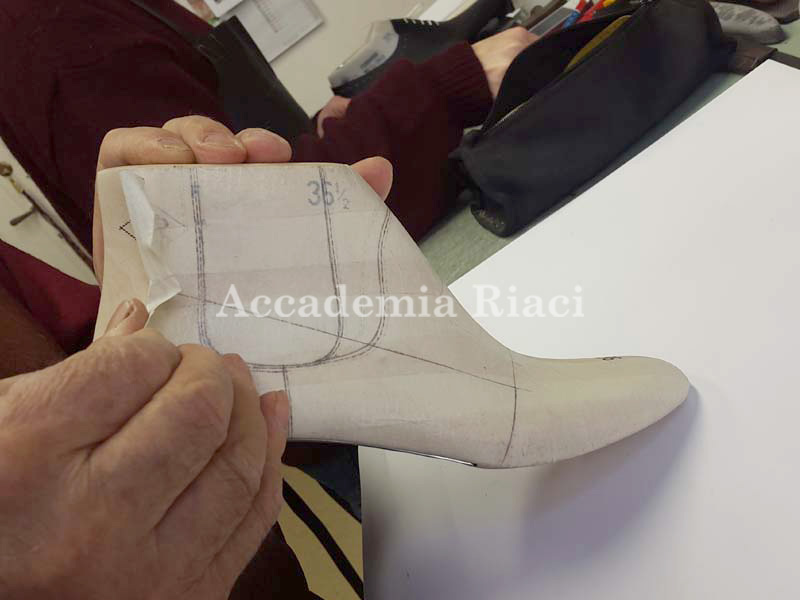 這個禮拜,我完成了我的布雷克縫牛津鞋,並且開始我的新設計。這回我嘗試靴子的設計,並挑選雀爾喜靴作為這次的挑戰主題。我一直想嘗試有筒高的鞋子,原因在於在台灣即便有好看的款式,卻總覺得沒有好看的筒身,我想,藉由這次的機會,會是一次很好的練習。圖片中我在楦頭上畫好設計圖,準備拆下來製作版子。

In this week, I finished my Oxford shoe for Blake construction as well as start my new design. This time, I would like to challenge boots that I picked Chelsea as my project. I always want to try heel boot, the reason for this is that, although there have good boots design in my country, the shape are usually bad looking. It's a great opportunity to practice, I told to myself.
Picture showing that I have drew my design and ready for making pattern.

今週はブレーク式のオックスフォード靴が完成したので、新しい靴のデザインに取り掛かりました。今回はブーツに挑戦したかったので、チェルシーブーツを制作することにしました。これまでずっとヒールの高いブーツが作りたかった理由は、母国で売っているブーツのデザインに満足できなかったからです。
写真は型紙を取るためのデザインを木型に貼ったテープに描いたもの。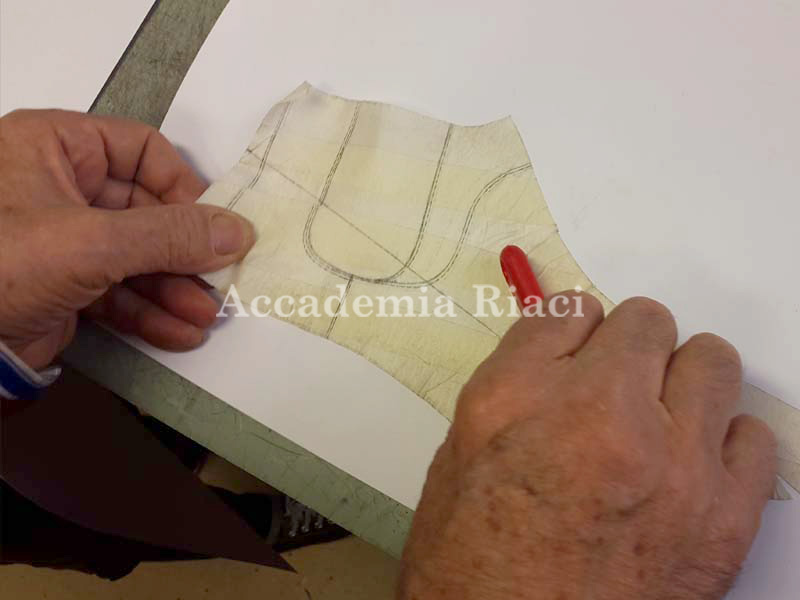 沿著楦頭重心線,教授Angelo幫我把拆下來的紙膠小心的貼在紙板上,接著用筆刀壓平四周,將皺褶撫平。

Along middle line of the last, Prof. Angelo helping me took away tapes carefully, after that, typing it on the paper and using tools to remove the wrinkle.

アンジェロ先生が、木型の真ん中からテープを剥がすのを手伝ってくださいました。その後、型紙用紙の上に貼り付け、シワを取る道具で伸ばします。

我驚訝的發現,靴子的鞋面版型並不如想像中的複雜。它不像德比鞋需要旋轉版子、也不像牛津鞋需要切開鞋舌,大部分的裁片只要複製模版就可以了!在完成鞋面版之後,就可以開始製作測試版囉。

I was surprised to find that, it was not as complicated as I thought for the boot's pattern. It did not need rotation liked derby shoe, did not need to divide upper and tongue into two part liked oxford. For boots, most of the divided pattern only needed to copy from model, then, the pattern could use for making test pieces.

ブーツの型紙が思ったほど複雑ではなかったのでビックリしました。ダービー靴の時のように回転させる必要もなく、オックスフォード靴の時のようにベロ革部分とアッパー部分を分ける必要もありません。

所謂的雀爾喜靴,是一種側邊有鬆緊帶、不需繫鞋帶的踝靴設計。因為方便及大方的設計,一直很受大家喜愛。圖片我正在模擬鞋子的樣子,中間白色的區域,就是之後鬆緊帶會放置的位置。

The so call Chelsea boot was a kind of boot without shoe laces, with two elastics in internal and external to fasten the shoe. It is a very popular type now for the smart design to easy take off. Picture shot when I making my test pieces. The white part in the middle was the position to put the elastic.

チェルシーブーツは靴紐ではなく、両サイドにゴムが付きます。着脱が簡単なので、現在人気があるタイプです。写真は仮靴を作っている私です。真ん中の白い部分がゴムを付ける部分です。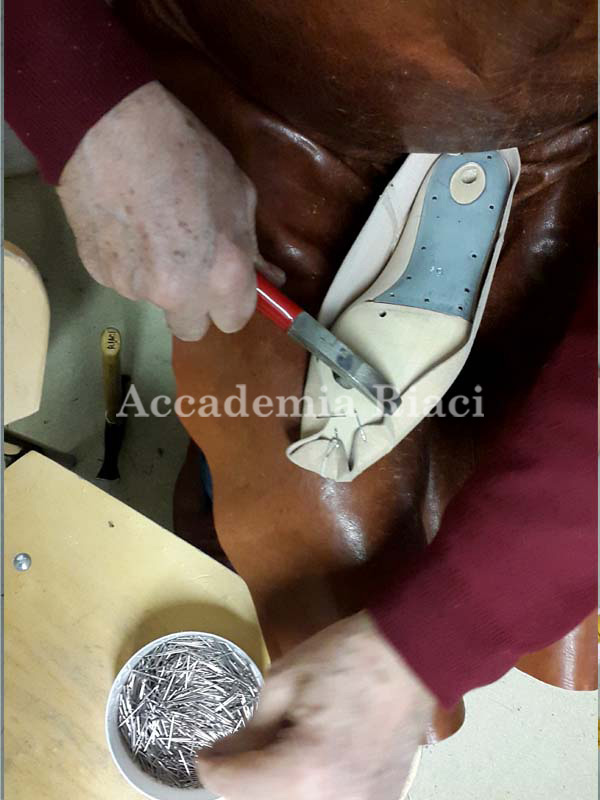 靴子跟一般紳士鞋在攀幫時有所不同。在完成鞋頭七根pre-lasting後,不需要把後踵向下拉。繼續沿著楦頭角攀幫即可。

The lasting for boots were a bit different from normal classic shoes. When finishing pre-lasting, the back part did not need to pull down.

ブーツの吊り込み作業は他の靴とは少し違います。仮吊り込みの後、後ろ側は引き下げる必要がありませんでした。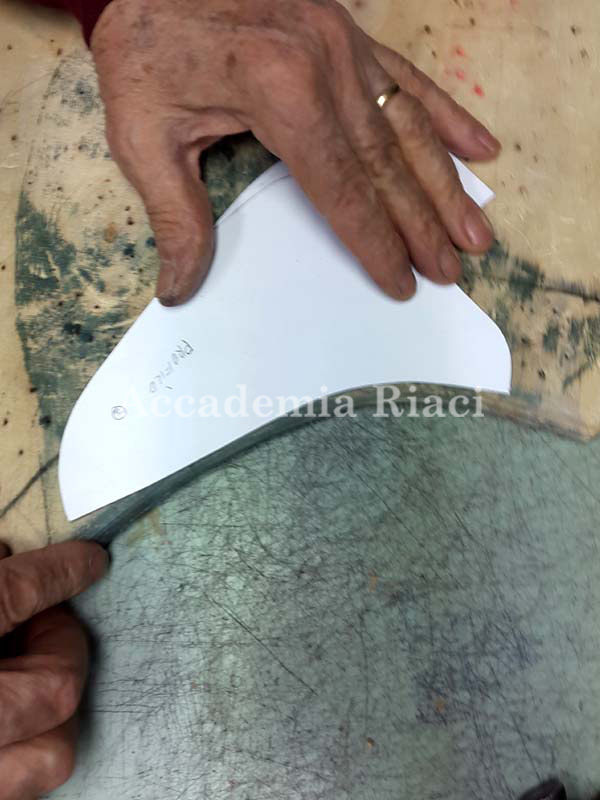 這個非常有趣,這是固定皮料用的木頭模板,根據不同楦頭形狀教授會磨出適當的角度給皮料伸縮,最後讓皮料定型,變成符合楦頭腳背的形狀。

I think this is the interesting part for making boots. Suddenly, Prof. Angelo gave this wood for me. This wood model is for shaping your leather, he said.

アンジェロ先生が渡してくださった木は革を整えるためのものだそうです。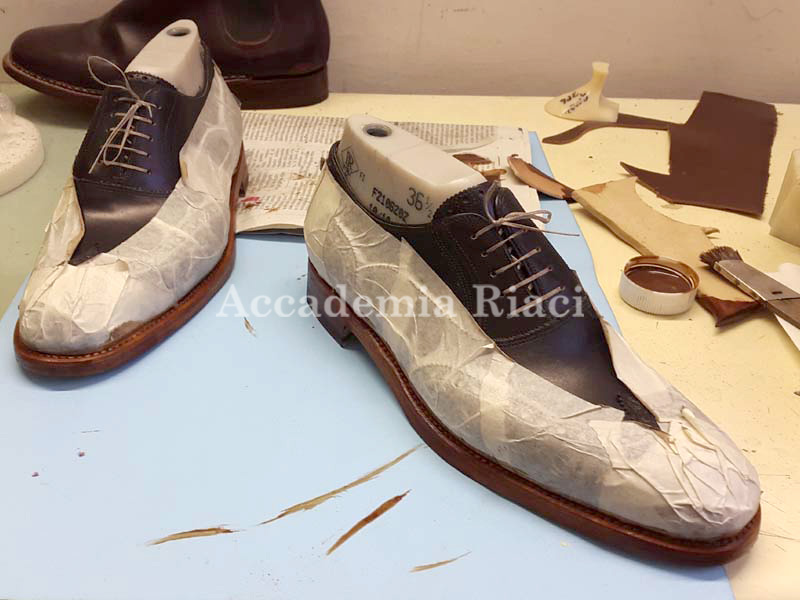 釘好跟之後,又來到我最期待的橋段-大底上色。我又補上了一些紙膠,為了避免在染色的時候弄髒鞋面。

At the same time, my oxford was about to finish! Before dying outsole, I put more tapes around the shoe in case I dirtied shoe upper.

オックスフォード靴の完成が近づいてきました。本底を染める前に、アッパーを保護するためのテープをしっかり貼ります。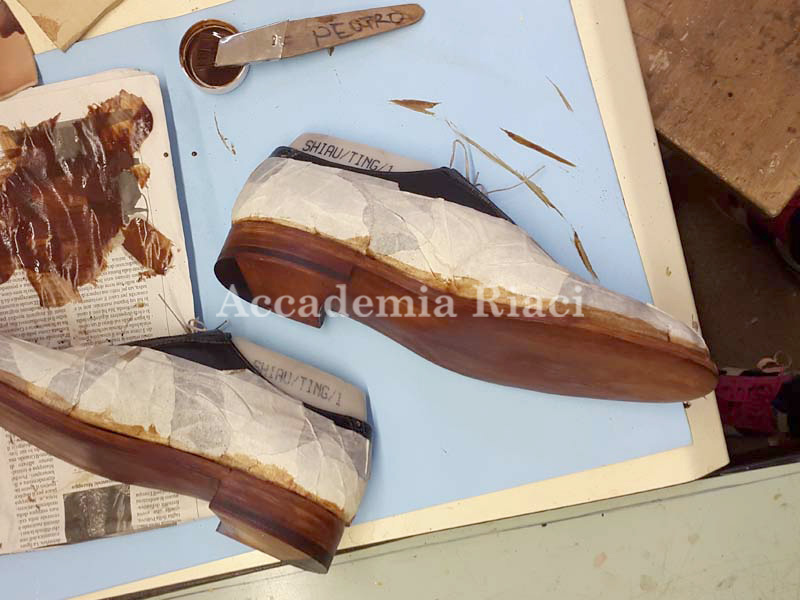 配上木頭色的大底漆,因為是給自己的鞋子,希望是一雙平日也能穿搭的正式卻帶有休閒味的款式。

Because this time, the shoe is a gift for me. I hope the shoe could be both casual and formal. For this reason, I picked light brown for this design.

この靴は自分のためのものです。カジュアルにもフォーマルにも履きこなしたいと思い、本底の色は明るい茶色にしました。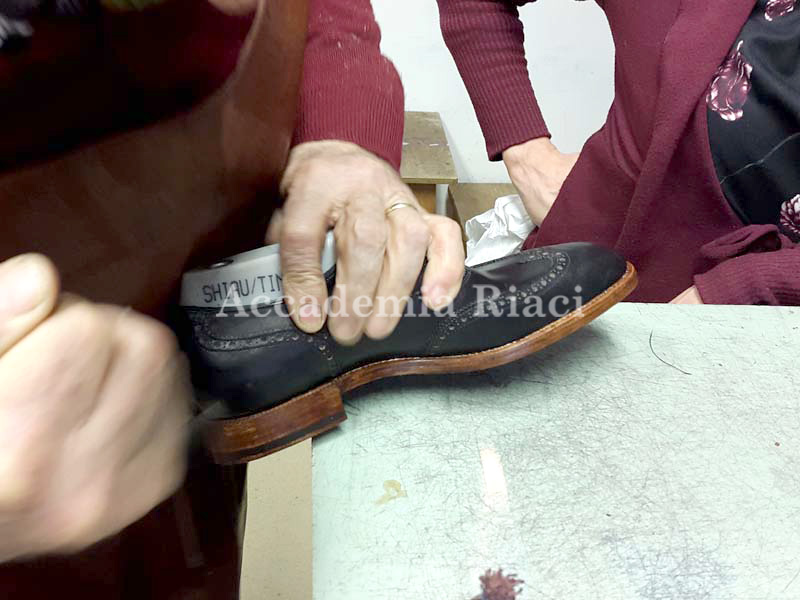 替壓輪加熱,教授Angelo幫我在後跟壓上裝飾刻紋,質感整個大提升。

My shoes level up after Prof. Angelo using wheel to make the decoration. I like it so much!

アンジェロ先生が開けてくださった飾り穴のおかげで一層おしゃれに。とっても気に入っています。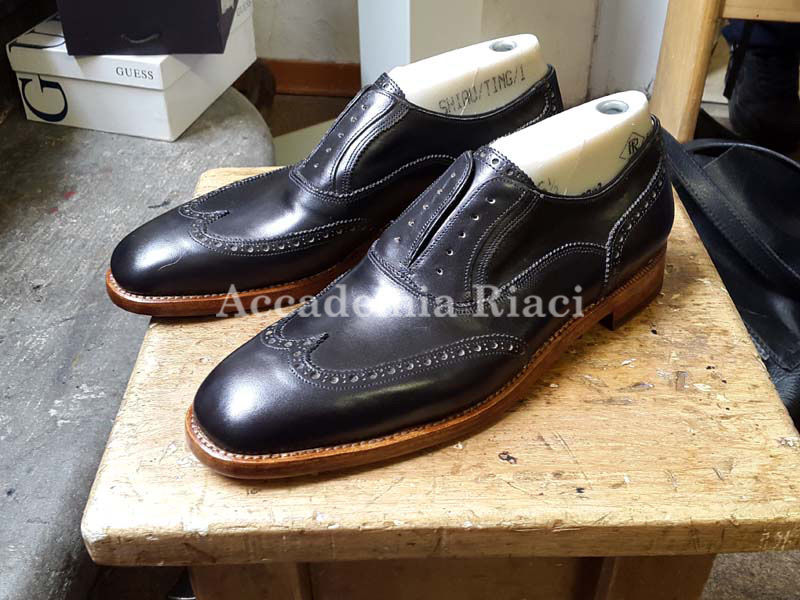 我的生日禮物終於完成了,結果超級滿意!花了很多時間在鞋面的後處理,希望每個細節都能夠盡量完美,做完後反而捨不得穿了,我想著…。

Finally, I have my birthday gift. The outcome is super gorgeous. Every detail I made lots of effort to make it perfect. Although this was a gift for me, now, I rather keep it in my cabinet rather than wearing it, I wondering…

自分のためのバースデープレゼントがようやく完成しました。素晴らしい仕上がりです。努力の甲斐があって完璧です。あまりに完璧すぎて、履かずに飾っておきたいような気もします(笑)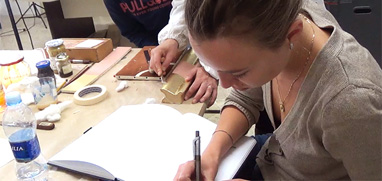 At Accademia Riaci, we are recruiting Course Reporters from our students. The students who are chosen to become Course Reporters are given 10 % of the tuition as their scholarship fee.
The Reporters who have submitted excellent reports will have his or her profile posted on our school website for the next 5 years as an alumnae and will be able to connect with their business chancesafter their graduation.