Accademia Riaci
Student Reports
Read all class reports from our students!
Reporter
Lara Blevi
Nationality: South-African
Course: Shoe Making
Program: One-Year Atelier Course
Period: Sept 5, 2016-April 25, 2017
After Studying a BA degree in Fashion Design in South Africa, Lara decided that she would love to study further and focus on a specific direction in the fashion industry. During her studies, she followed an internship at a company where she was taught how to make and design handbags out of leather and exotic leather skins.

She knew instantly that she would love to study further and learn more about shoes and decided to come to Firenze, Italy, the most famous city to learn more of leather art and shoes! She found Accademia Riaci and knew that the shoe making course that they had to offer was exactly was she was looking for.

Here she wishes to learn the highest level of shoe making techniques and to be able to follow her dream to become a designer with the knowledge of not only fashion, but also the art of shoe and handbag design.

南アフリカでファッションデザインの文学士号を取得後、ファッション業界で目指す方向を定めるためにもっと学びを深めたいと思いました。企業インターンを経験した際には、外国製の皮革を使用したカバン制作とデザインを学びました。

すぐに靴制作を学びたいと思うようになり、靴制作や革工芸を学べる世界で最も有名な都市・フィレンツェ行きを決意。検討の結果、自分が探し求めていた内容の靴制作コースを提供するアカデミアリアチへの入学を決めました。

ここで最高レベルの靴制作技術を身につけ、ファッションのみならず靴やカバンの知識も兼ね備えたデザイナーになることが夢です。
Feb. 24, 2017 | Posted in Reports, Shoemaking , Student Reporter | Tags:Lara Blevi, ShoemakingReporter: Lara Blevi | Course: Shoemaking
I was so impressed with how fast my boots were transforming during this week. I managed to finish all the mounting and the whole upper of the shoe. I even might have been able to finish them, but unfortunately prof Angelo got sick on Wednesday and wasn't able to come in for the rest of the week. Because I wasn't able to work further on by boots, I started another pair of shoes that I want to make for my brother.

今週は自分のブーツがあっという間に形になってきたことに興奮しっ放しでした。アッパーの吊り込みまで終え今週中に完成するかもと思ったのですが、残念なことにアンジェロ先生が水曜から病欠してしまい、完成させることはできませんでした。代わりに弟のためのブーツ制作をスタートしました。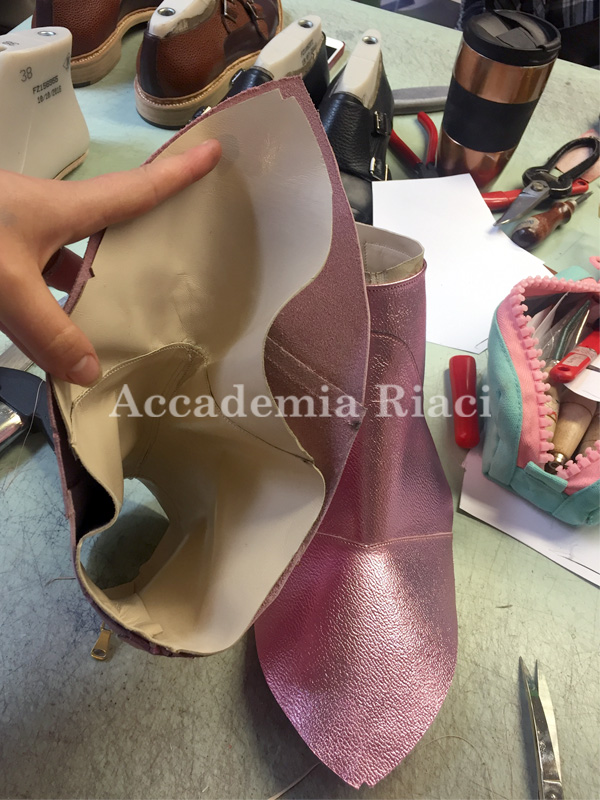 This is what the upper looks like after the lining of the shoe has been added. After this, the counter for the heel is added and the mounting process starts.

ライニングをつけた後のアッパー。この後、ヒールカウンターを取り付けたら吊り込み作業を始めます。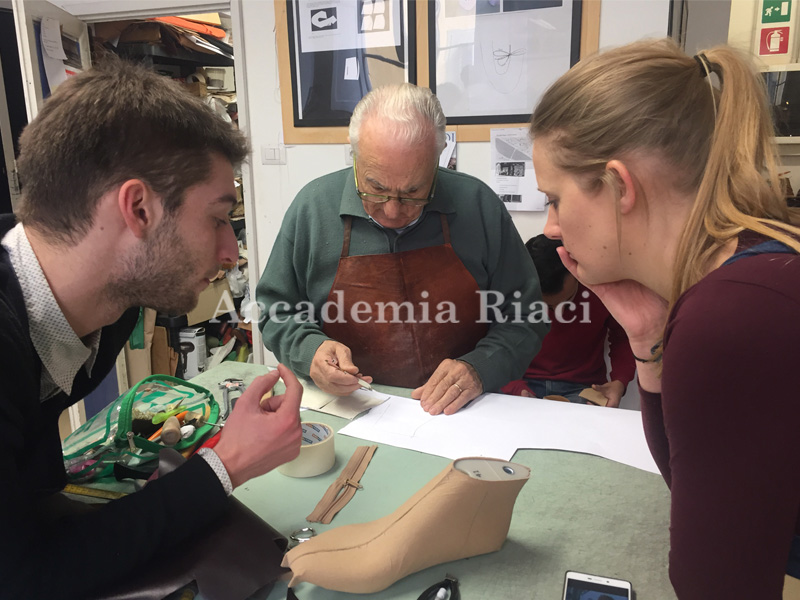 Jo also started with a boot, but because she had a different style, the pattern for her boot is much more complicated than the one I am doing, She also has to pre-stretch the leather before it is sewn up and mounted on the shoe last.

ジョーもブーツを作りますが、私のブーツとは違うスタイルで型紙はもっと複雑です。アッパーを縫い合わせる前に革を伸ばす作業が必要だそうです。

Prof Angelo had to help me to last my shoes, as I was too scared that I might ruin my beautiful leather. It is so amazing to watch him do this as he does it so elegantly and makes it looks so easy.

美しい革を傷つけないよう恐々と作業していた私に代わって、アンジェロ先生が吊り込み作業を手伝ってくださいました。アンジェロ先生がやるとスマートで簡単そうな作業に見えるから不思議です。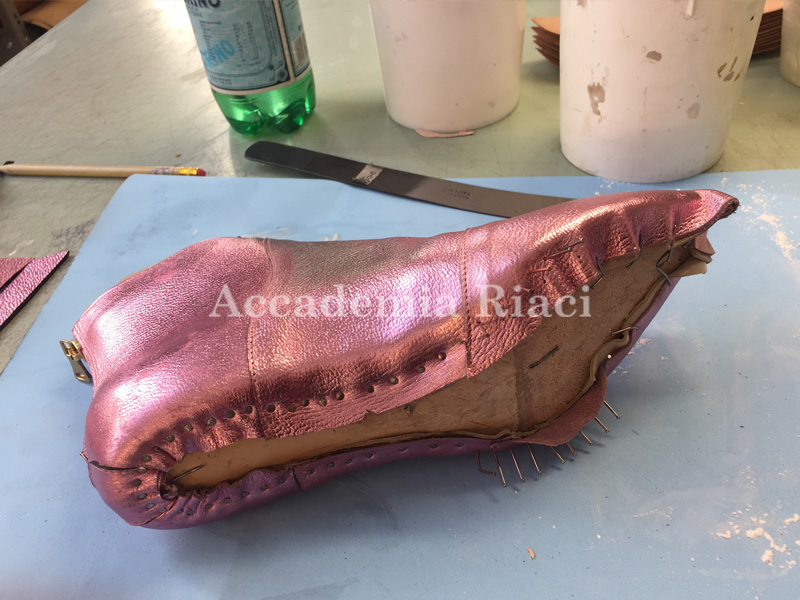 After the back of the shoe is finished lasting, the front toe counter has to be added before the rest of the shoe can be lasted and completed.

後ろ側の吊り込みが終わったら、先芯をつま先に入れてから残りの吊り込みを行います。

Only after the entire shoe is lasted, the buckles can be added before the under sole is added.

靴全体の吊り込みが終わったらバックル、そして本底の順番で付けていきます。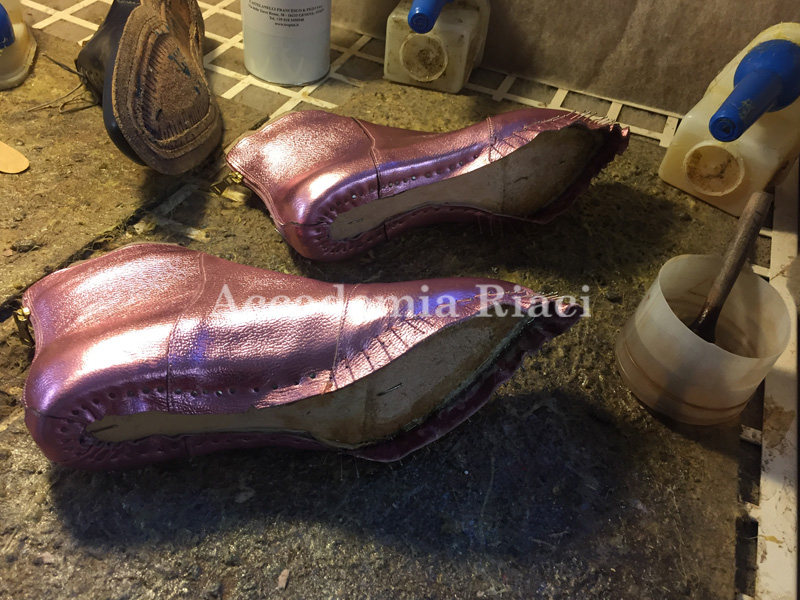 After the lining is glued and skived, the upper leather needs to be mounted and glued thoroughly to make sure that it is strong and secure before the under sole is added.

ライニングを貼って革を漉いたらアッパーを木型にかぶせて中底に接着します。本底を上からかぶせる前に、しっかりと接着されていることを確認しなければなりません。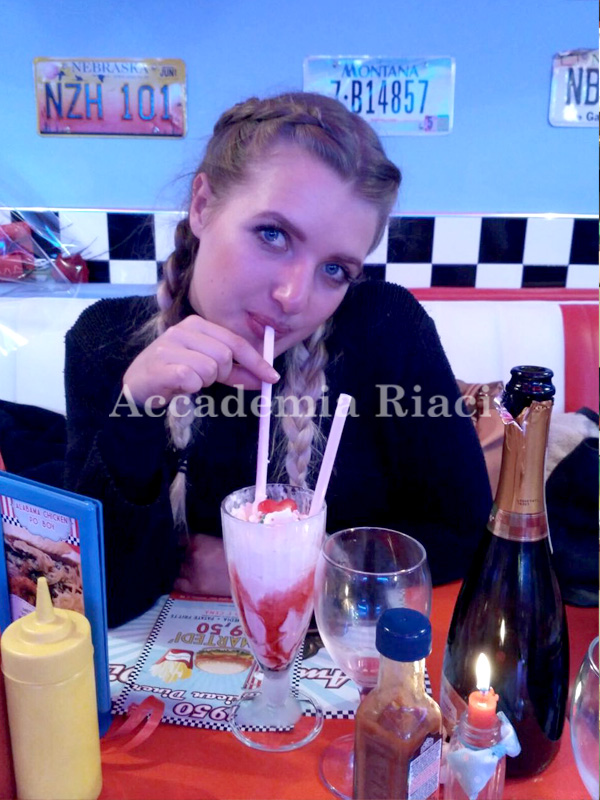 Tuesday was Valentines Day and Jo and I decided to go to an all American diner where we had great burgers and lots of fun.

火曜日はバレンタインデーでした。ジョーとふたりでアメリカンダイナーへ行き、美味しいハンバーガーを食べて楽しい時間を過ごしました。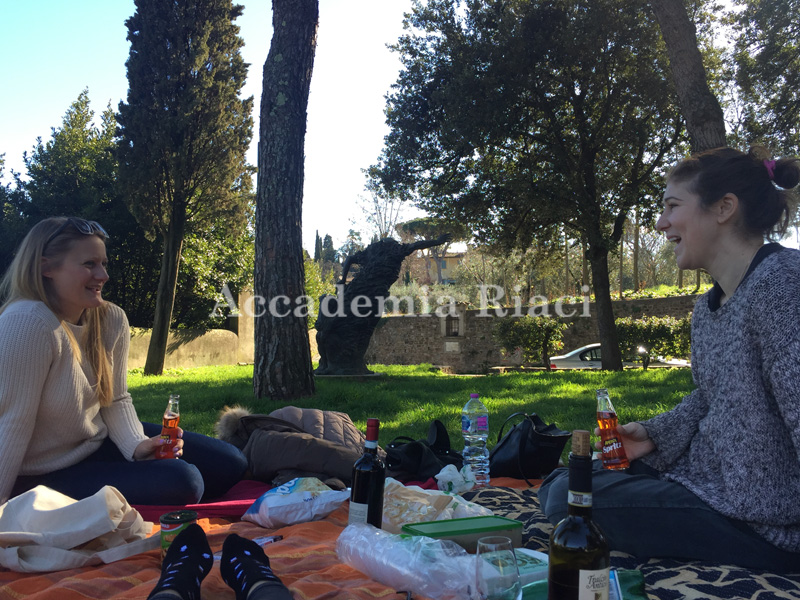 On Saturday the weather was amazing and we decided to go for a little picnic up on one of the small hills just next to Florence close to Porta Romana where we had wine with gorgeous views and was surrounded with massive ancient villas.

土曜日はあまりにいいお天気だったので、ポルタロマーナ近くの小さな丘へピクニックに行きました。美しい景色と古代からの建造物を愛でながらのワインは最高でした。

On Sunday the weather was just as great and Jo and I decided to do another picnic in the Boboli Gardens. We just took some blankets and our books and spent the day lying in the sun and taking naps.

日曜日もいいお天気だったので、ジョーと一緒にボーボリ庭園で2日連続のピクニックをすることにしました。ブランケットと本を持って行き、日差しを浴びながらゴロゴロしたり昼寝をして過ごしました。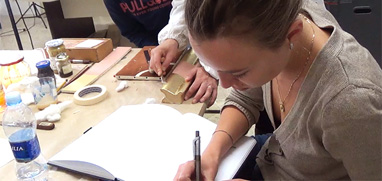 At Accademia Riaci, we are recruiting Course Reporters from our students. The students who are chosen to become Course Reporters are given 10 % of the tuition as their scholarship fee.
The Reporters who have submitted excellent reports will have his or her profile posted on our school website for the next 5 years as an alumnae and will be able to connect with their business chancesafter their graduation.