Accademia Riaci
Students' Blog
Up-to-date report from one of our students!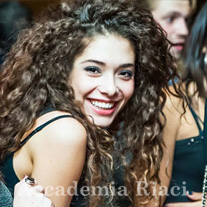 Reporter
Caterina Melidoni
Nationality: Italy
Course: Shoe Making
Program: Avanzata Course
Period: Sep. 4, 2017 – Apr. 28, 2018
After a BA degree in Industrial Design at ISIA in Rome, she decided to move to Florence to learn the ancient and valuable art of shoe making. She always has been interested in design and making shoes . So she found out that Florence and Accademia Riaci would have been the perfect place for learning about.
She wants to gain knowledge about one of the most Italian famous and worldwide appreciated handcraft art. The craft of shoe making deserves to be handed down from one generation to another, to survive as a prestigious art.

国立デザイン大学ローマ校で工業デザインの文学士号を取得後、昔ながらの貴重な技術である靴制作を学ぶためにフィレンツェ行きを決意。ずっと靴デザインと靴制作に興味があったので、フィレンツェにあるアカデミアリアチへの入学を決めました。
イタリアで最も有名で、世界中から愛されている手作りの靴に関する知識を学びたいと思っています。イタリアの靴制作は後世に引き継がれていくべき技術であり、一流の芸術として残すべき大事な文化です。
Feb. 06, 2017 | Posted in Blog, Shoemaking , Student Reporter | Tags:Caterina Melidoni, Shoemaking | Language:


Reporter: Caterina Melidoni | Course: Shoemaking
The second week has been focused on the different décolleté models. We practice a lot but also learn more about good leather and lasts as well. In fact we went both to some leather shops and the lasts factory, "Formificio Romagnoli", which is one of the well-known in Italy.

It is stimulating to discover everyday something new, and share this passion with different people of different cultures.

2週目の授業では違う種類のデコルテ靴を集中して学びました。実践的な練習もたくさん行いましたが、同時に良い革と木型についても学びを深めました。そのために幾つかの革のお店と「フォルミフィシオ・ロマグノリ」と言う、イタリアで最も有名といわれる木型の工房にも行きました。

毎日新しい発見があることも、靴制作への情熱を国も文化も違う人たちと共有できるのも、とても刺激的です。
The décolleté 'Rovesciato' consists of an hidden stitching.

「ロベスチアート」と言うデコルテ靴は、縫い目が隠れています。
Angelo is always looking after our work, in order to achieve the best results.

私たちが最高の靴を作れるよう、必ずみんなの作業をチェックしてくださるアンジェロ先生。

We can always count on the assistants help.

必要に応じてアシスタントの方に手伝っていただけます。

Inside the leather shop, it has been hard to make a decision on which one to take. A lot of wonderful colors and textures.

お店で革を選ぶのは大変です。色も手触りも様々なたくさんの革を見ると、中々決断できません。

A detail about how 'Rovesciato' is made with the additional support.

ロベスチアートの制作手順。補強部分も一緒に作ります。

On Thursday we went to 'Formificio Romagnoli' (lasts factory) and we ordered our own lasts.

木曜日はフォルミフィシオ・ロマグノリ(木型工房)へ行き、自分の木型を注文しました。

There were a lot of particular and well made lasts.

色々な変わった種類の木型や工夫された木型がたくさんありました。

On Friday evening Mai and Kamla appreciated Tuscan Schiacciata (a kind of filled sandwich).

金曜の夜、トスカーナ地方のサンドイッチ「スキアッチャータ」を楽しむマイとカミア。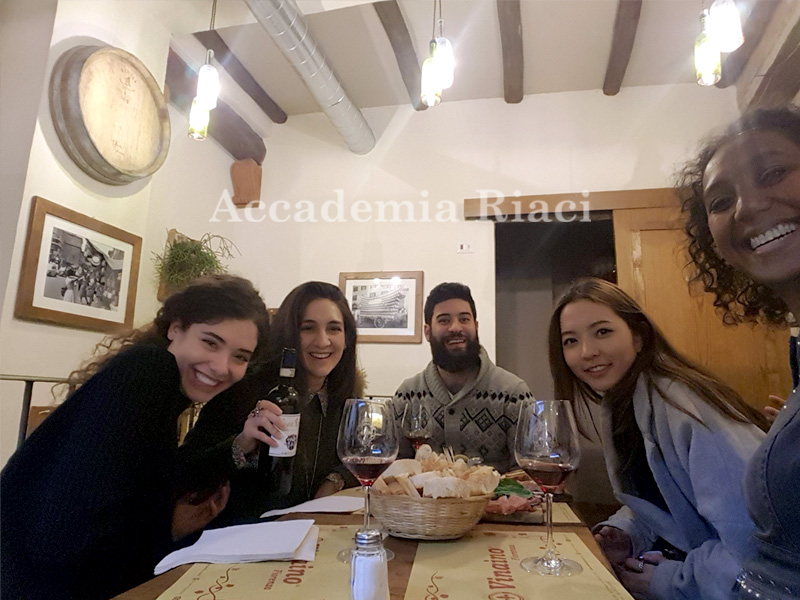 Sharing passion for shoe making and good wine is a perfect combo for making new friends.

靴制作への情熱を語りながら美味しいワインをいただけば、みんなあっという間に友達です。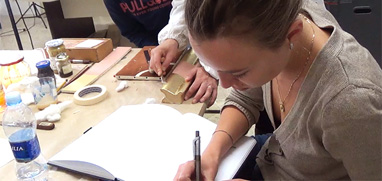 At Accademia Riaci, we are recruiting Course Reporters from our students. The students who are chosen to become Course Reporters are given 10 % of the tuition as their scholarship fee.
The Reporters who have submitted excellent reports will have his or her profile posted on our school website for the next 5 years as an alumnae and will be able to connect with their business chancesafter their graduation.