Accademia Riaci
Student Reports
Read all class reports from our students!
Reporter
Lara Blevi
Nationality: South-African
Course: Shoe Making
Program: One-Year Atelier Course
Period: Sept 5, 2016-April 25, 2017
After Studying a BA degree in Fashion Design in South Africa, Lara decided that she would love to study further and focus on a specific direction in the fashion industry. During her studies, she followed an internship at a company where she was taught how to make and design handbags out of leather and exotic leather skins.

She knew instantly that she would love to study further and learn more about shoes and decided to come to Firenze, Italy, the most famous city to learn more of leather art and shoes! She found Accademia Riaci and knew that the shoe making course that they had to offer was exactly was she was looking for.

Here she wishes to learn the highest level of shoe making techniques and to be able to follow her dream to become a designer with the knowledge of not only fashion, but also the art of shoe and handbag design.

南アフリカでファッションデザインの文学士号を取得後、ファッション業界で目指す方向を定めるためにもっと学びを深めたいと思いました。企業インターンを経験した際には、外国製の皮革を使用したカバン制作とデザインを学びました。

すぐに靴制作を学びたいと思うようになり、靴制作や革工芸を学べる世界で最も有名な都市・フィレンツェ行きを決意。検討の結果、自分が探し求めていた内容の靴制作コースを提供するアカデミアリアチへの入学を決めました。

ここで最高レベルの靴制作技術を身につけ、ファッションのみならず靴やカバンの知識も兼ね備えたデザイナーになることが夢です。
Feb. 16, 2017 | Posted in Reports, Shoemaking , Student Reporter | Tags:Lara Blevi, ShoemakingReporter: Lara Blevi | Course: Shoemaking
This week started on a high note and finished on one too! On Monday I went to Alpel to buy leather for my boots. I was planning on buying a camel color patent leather but fell in love with a stunning pink shiny patent leather instead. I decided to be risky and take a chance. I bought the leather and haven't regretted it for a second!

On Friday Jo and I started training for the half marathon and ran 11km all the way from the Pitti Palace to the end of the Cashine Park and back.

Over the weekend Joe and I travelled to Milan to visit the Micam shoe fair where shoe merchandisers from all over the world display the newest collections.

今週は始まりも終わりも絶好調でした。月曜日はアルペルにブーツ用の革を買いに行きました。キャメル色を買おうと思っていましたが、美しい光沢のあるピンク色の革に一目惚れしてしまいました。派手になりすぎるリスクもありましたが、買った後も後悔することはありませんでした。

金曜日、ジョーと私はハーフマラソンのトレーニングを始めました。ピッティ宮殿からカッシーネ公園までの往復、計11キロの道のりです。

週末はジョーとふたりでミラノへ出かけ、世界中の有名ブランドの最新コレクションが集まるミカム国際靴見本市を訪れました。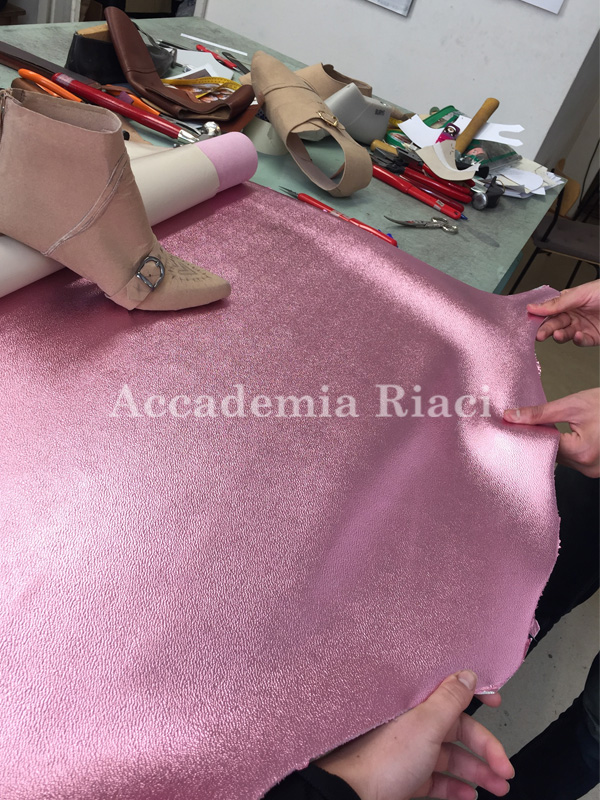 The gorgeous pink leather that I bought! We are calling it the Unicorn boot.

私が買った美しいピンクの革。これでユニコーンブーツを作ります。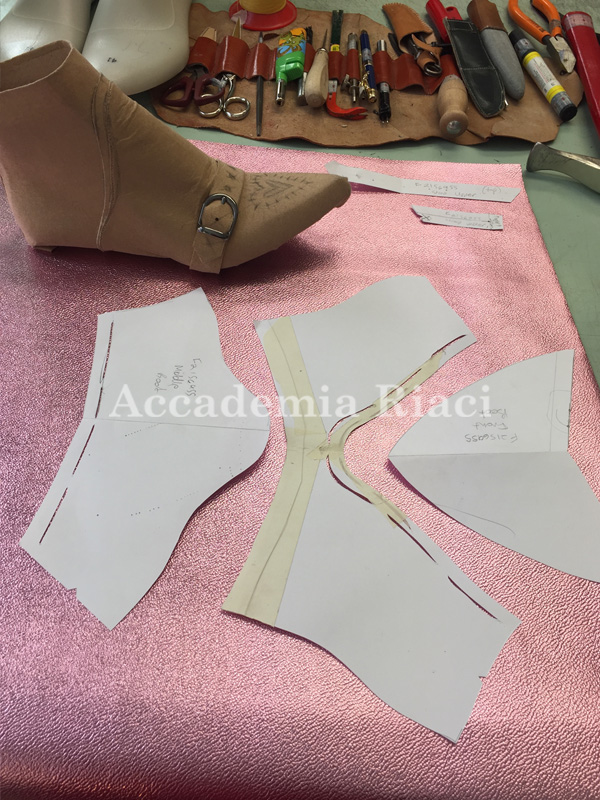 After completing the pattern, I placed it on the leather and cut it out carefully, making sure not to make any mistakes and waste any leather.

作り終えた型紙を革の上に置いて、ミスで革を無駄にしないよう慎重に切り抜いていきます。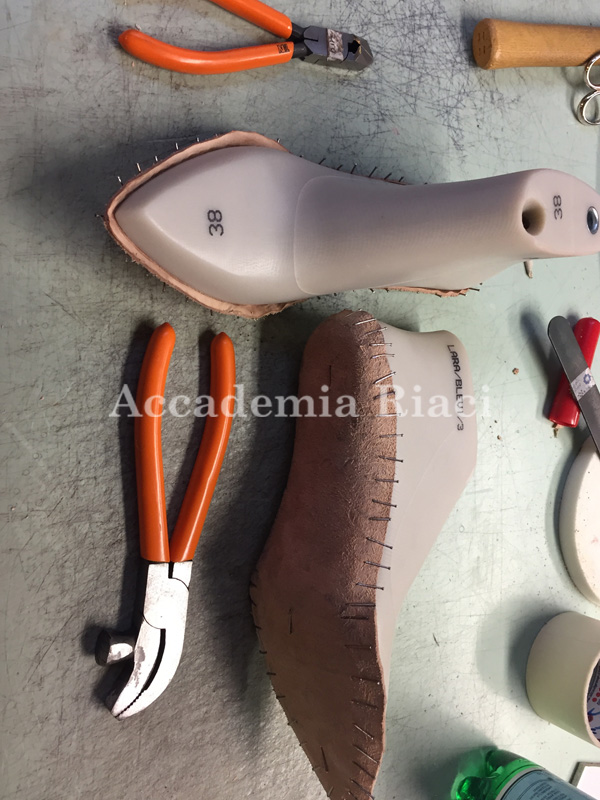 After cutting the leather I started to construct the insole of the shoe, as it needs about 12hours to set before you can continue to work on it.

革を切り抜いたらまず中底を作ります。この作業を終えて12時間おかないと次の作業に進めません。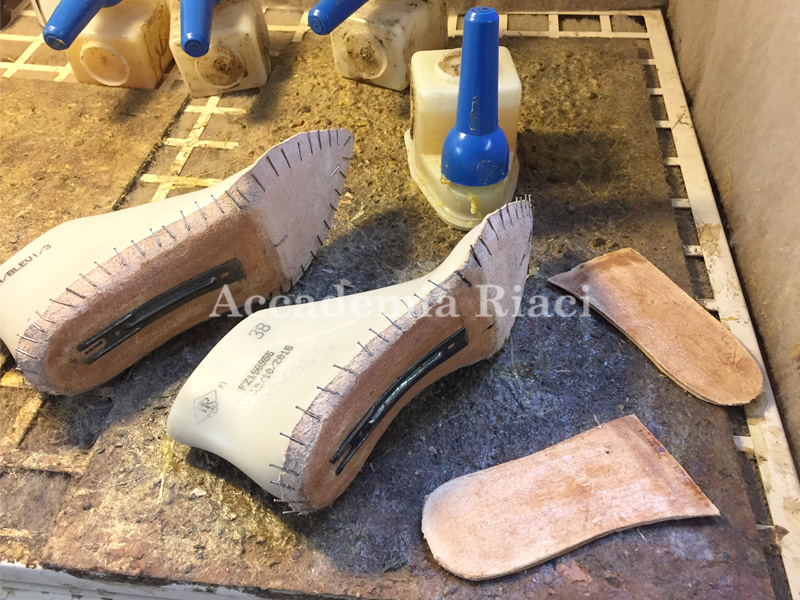 After the sole has rested over night, the shank is formed and added to the insole and then covered by another piece of leather.

一晩置いた中底にシャンクを付けて、上から別の革を被せます。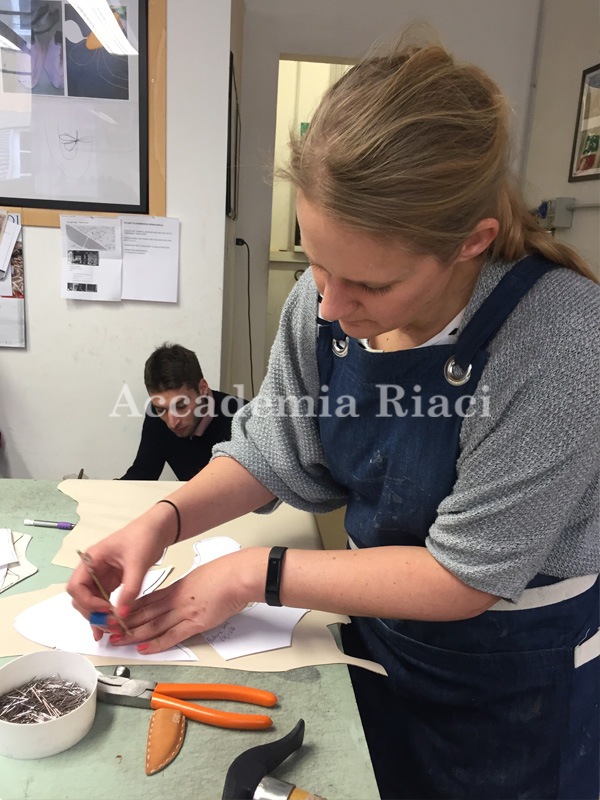 Jo is making a shoe for her boyfriend and makes the mock up of the shoe to make sure she liked the style and proportions before she carried on to cut the leather.

ボーイフレンドの靴を製作中のジョー。まず仮靴を作ってスタイルやバランスが好みに合っているか確認してから革を切るそうです。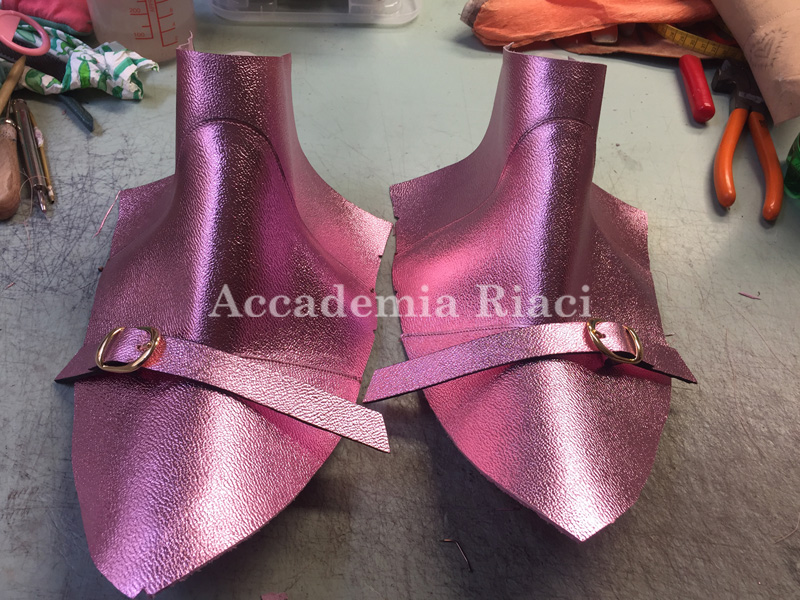 Here you can see most of the upper part of my shoe sewn together. All that still needs to be added here is the zip at the back so that I can add the lining inside and start mounting the shoe.

アッパーが縫い終わりました。あとは後ろ側にファスナーを付けるだけなので、ライニングを貼って靴を底に付けていきたいと思います。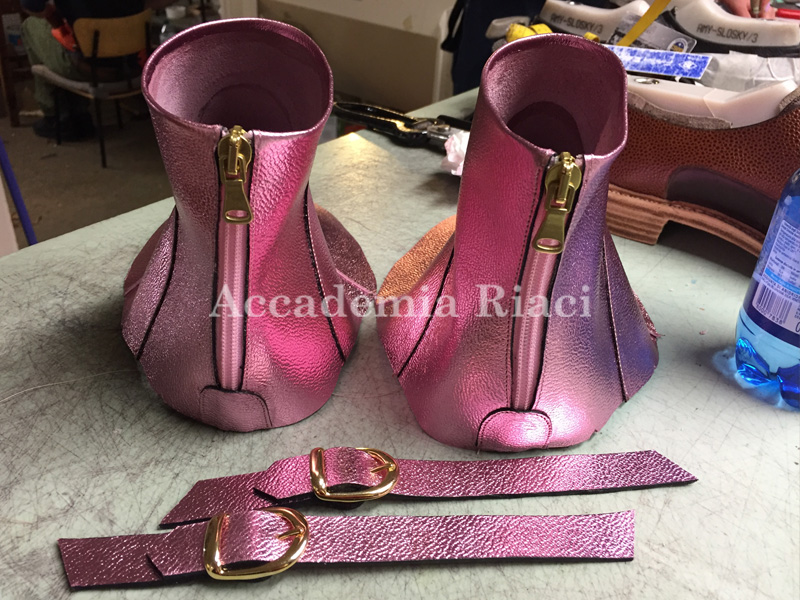 I added the zips and as you can also see I painted the edges of the leather black. I did this to add just a little contrast so that the shoe is not too overwhelmingly pink.

後ろ側にファスナーが付きました。革のエッジを黒く染めることでデザインにコントラストが生まれ、ピンクすぎない仕上がりになりました。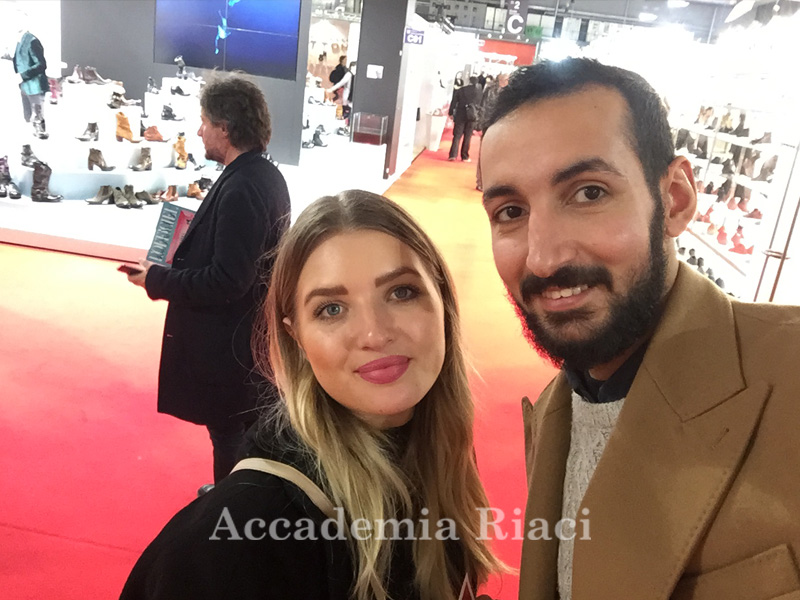 Joe and I on Sunday at the Micam fair in Milan. We had such a great and inspiring day seeing all the newest collections of so many stunning brands from all over the world.

日曜日はジョーと一緒にミラノで開催中のミカム国際靴見本市を訪れました。世界中から一堂に会した有名ブランドの最新コレクションに大きな刺激を受けた1日となりました。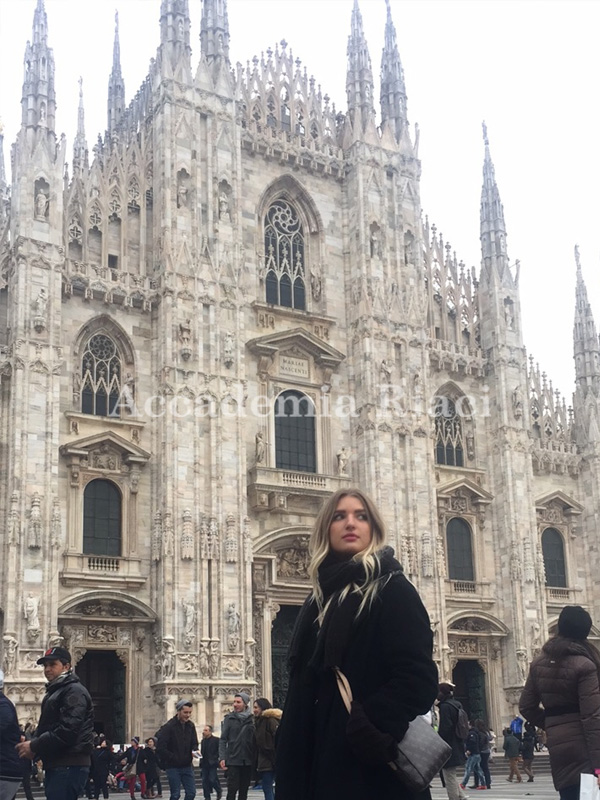 After the fair we had some extra time and decided to visit Milan central with its gorgeous Duomo. We had pizza for dinner and waffles for dessert.

見本市のあと、少し時間があったのでミラノの中心街に寄ってドゥオーモを見てきました。夕食にはピザを食べ、デザートのワッフルも美味しくいただきました。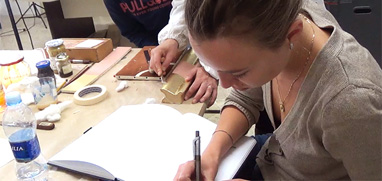 At Accademia Riaci, we are recruiting Course Reporters from our students. The students who are chosen to become Course Reporters are given 10 % of the tuition as their scholarship fee.
The Reporters who have submitted excellent reports will have his or her profile posted on our school website for the next 5 years as an alumnae and will be able to connect with their business chancesafter their graduation.