Accademia Riaci
Students' Blog
Up-to-date report from one of our students!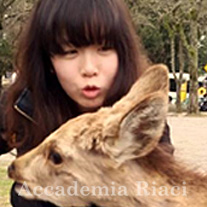 Reporter
Li SHIAU-TING
Nationality: Taiwan
Course: Shoe Making
Program: Atelier Course
Period: Sep. 4, 2017 – Apr. 27, 2018
Shiau-Ting, Li. Shoes designer from Taiwan.
After working in Taiwanese footwear industry for three and a half years, she came to Firenze to study shoes making course, the city which is famous for leather art and shoes.
Although she already has basic aesthetics and sketching technique background from university (B.A.), yet she hopes to extend her shoe-making skills here in Riaci. She believes designer can deliver their thoughts through their works, hoping to keep motivate people with her designs.

李曉婷,來自台灣的鞋類設計師。
在台灣鞋產業工作三年半之後,她決定到皮革之都-佛羅倫斯,學習製鞋技術。
大學主修產品工藝,擁有美學背景、好的品味及繪畫基礎。即便如此,仍期望到莉雅琪延伸自己在實作上的經驗。她相信,設計師能夠透過設計表達想法,希望能持續用創作感動身邊的人。

台湾の靴業界で靴デザイナーとして3年半経験を積んだ後、さらに学びを深めようと革工芸と靴で有名なここフィレンツェへやって来ました。
基本的な審美眼とスケッチ技術は大学(文学士号取得)で学んでいましたが、さらに靴制作の技術を磨くためにリアチ入学を決めました。「デザイナーの想いは、デザインを通して人々に届く」ことを信じ、自分のデザインで人々の心を動かしたいと願っています。
Sep. 21, 2018 | Posted in Blog, Shoemaking , Student Reporter | Tags:Li Shiau-Ting, Shoemaking | Language:



Reporter: Li SHIAU-TING | Course: Shoemaking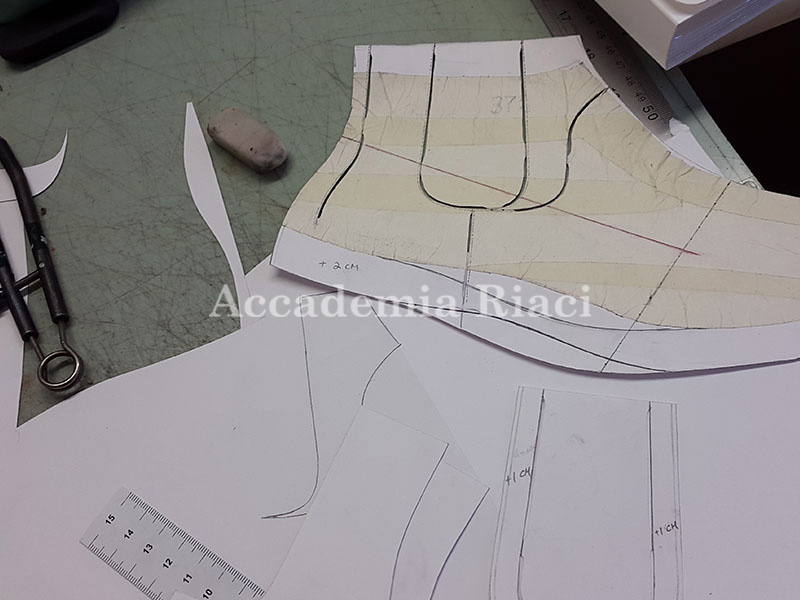 所謂級放,意思是在維持同樣設計的情況下,放大縮小版型,以符合各種尺寸。如何解決不同尺寸的問題,在第一年就讀Riaci時,這個疑問就一直在腦海裡。有幸在這個學期,一解心中的疑惑,跟著教授Angelo的腳步,學習如何級放尺寸。

Shoe pattern grading, which means, increase or reduce the pattern to fit different size, but, how to make shoe pattern grading? I had this question in my head since the first year I'm here in Riaci. And now, it would be grateful that I had solved it out these days, follow Prof. Angelo's step, learning the knowledge of Shoe pattern grading.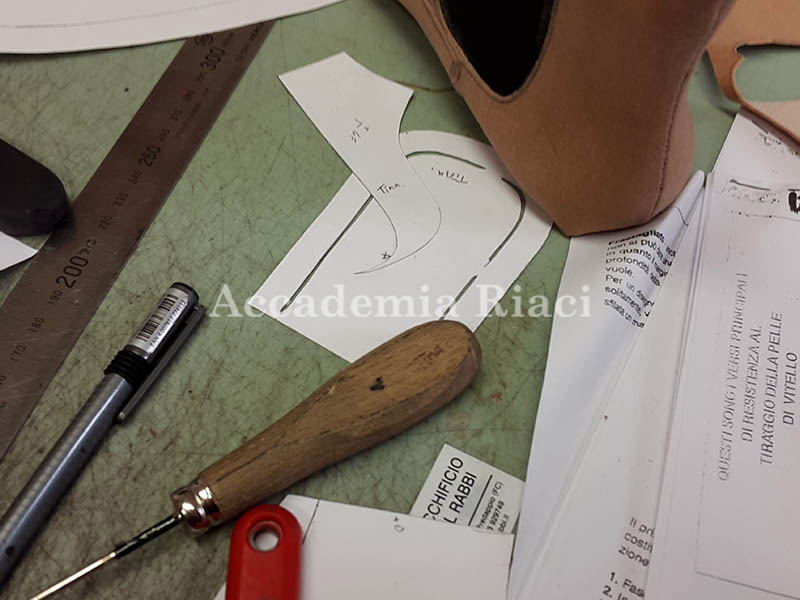 去年製作的這一款雀爾喜靴,尺寸是歐碼36號半,這次要挑戰的是37號半的尺寸級放。教授說,在工廠裡,有專門的師傅負責級放工作,使用Camicia計算級放尺寸;另一個方法則是使用Modello來級放,這也是今天我要教妳的方式。

This is the Chelsea boot I made last year. It's a 36 and a half boots. This time, I am going to make a 37 and a half. "There is a special guy who works for the pattern grading."- Angelo said. "I'm going to show you another way that started from Modello."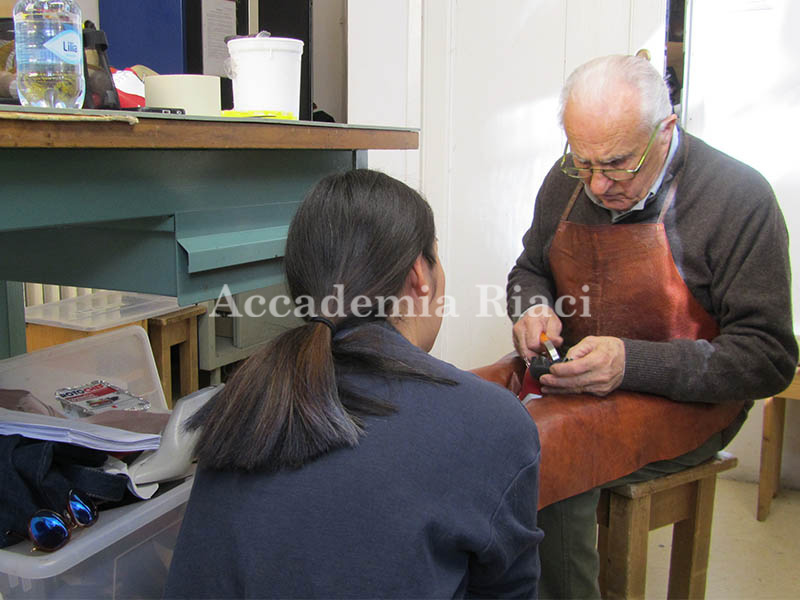 在加入了新生之後,教室每天都非常的熱鬧和忙碌,此起彼落的針車聲跟鎚子敲打的聲響,教室有如一個小型工作坊,每天都有創意在發生。教室一角,教授Angelo正在攀幫Emma的布雷克女鞋。

After new guys join, our classroom was so busy and crowded every day. It looks like a little workshop in our classroom and creations happened every single moment. Insight the picture, Prof. Angelo was demonstrating how to lasting shoes.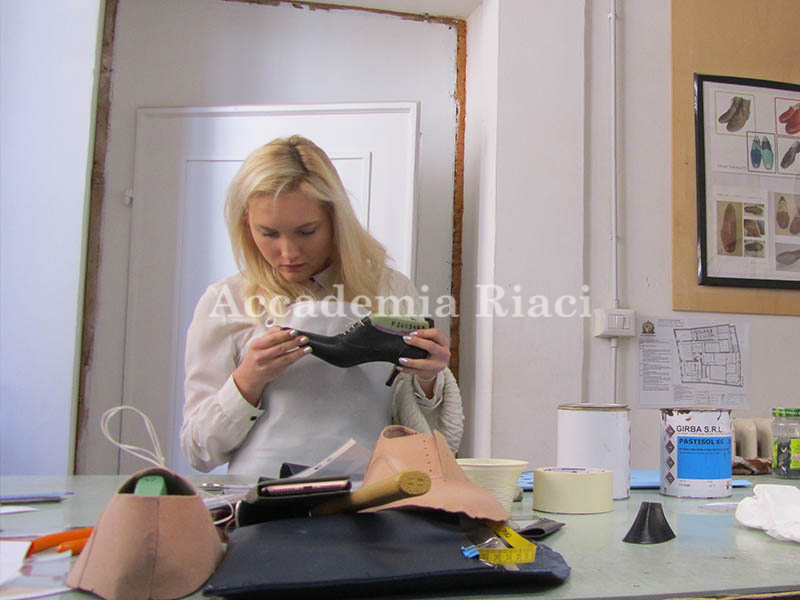 此時Tara正在端詳著她的短跟女鞋,似乎快要做好了!

Meanwhile, Tara was looking at her low heel Decollete. Her pairs were almost done!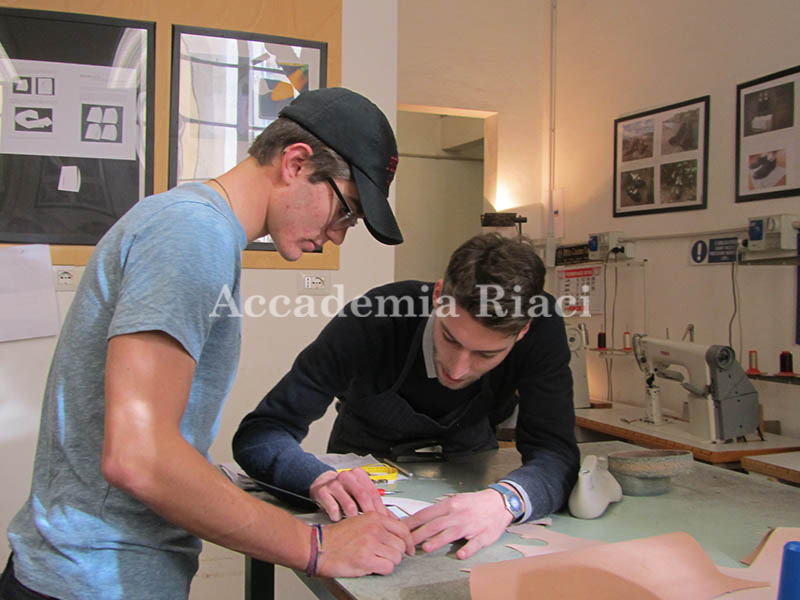 這禮拜加入了來自美國的新同學-Max,助教Bernardo正在教他如何正確使用刀子削薄邊緣。

In this week, we join a new classmate, Max, who is from America. Assistant Bernardo was teaching him how to use shoemaker knife properly.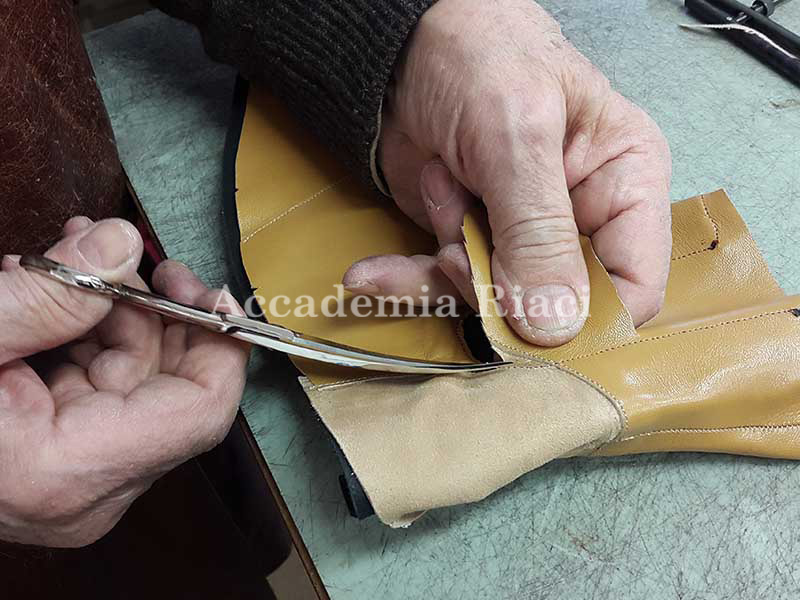 這雙已經車縫好,要做給我男朋友的靴子,在剪去內裏後,可以開始攀幫了!

The upper for this boots is prepared. This pair will be a black Goodyear Chelsea for my boyfriend. After cutting the lining in a half at the elastic part, I was ready for the lasting process!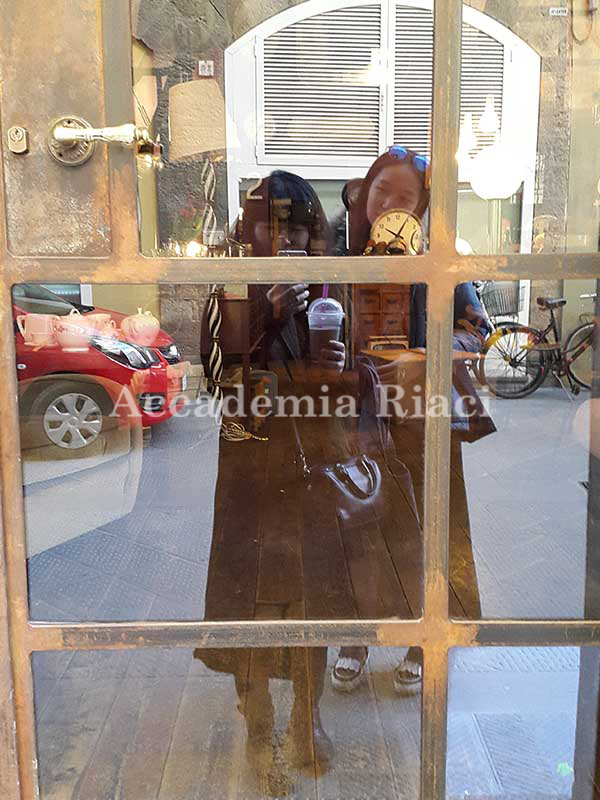 難得星期三午餐後的小愜意,買了想念許久的珍珠奶茶,配上久未露面的自拍。

Chill Wednesday after lunch with a cup of bubble tea. We also took a selfie that I never did for a long time…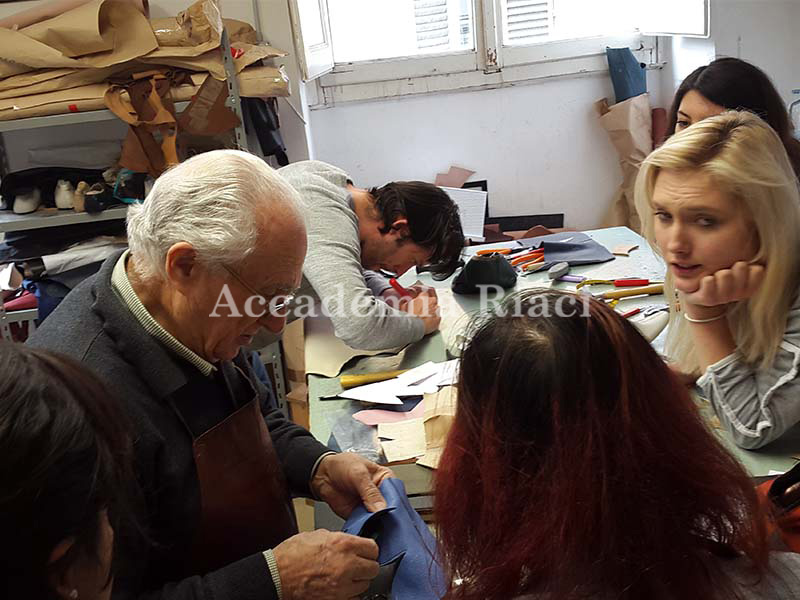 星期四的早晨,教授Angelo開始教新生們製作新的版型-德比鞋。圖片中鞋子的皮色我十分喜歡,害我心動得想去皮革店逛逛,似乎進了不少新貨。

On Thursday morning, Angelo started to teach new student making new pattern- Derby shoes. I really like the color they hold in their hand. I might need to check It out the leather shop.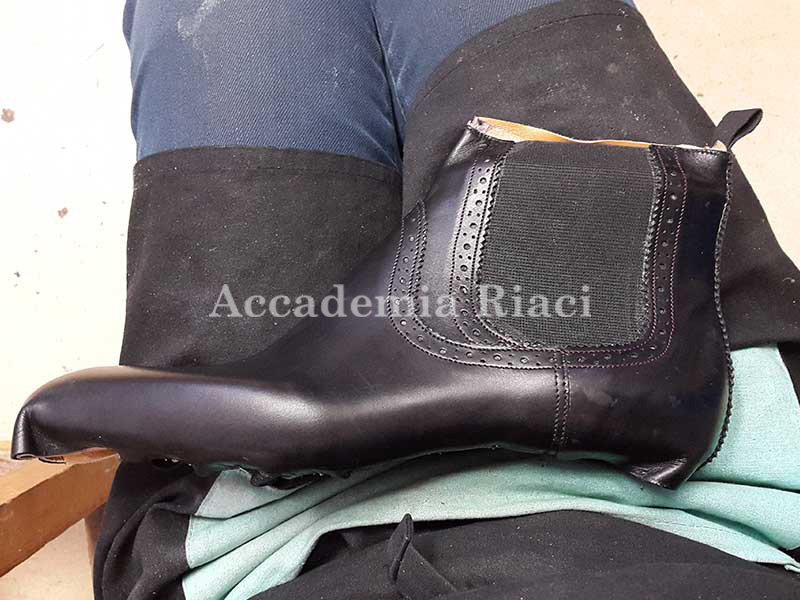 完成後港寶的攀幫作業。由於這款楦頭的腳背弧度比較大,為了讓皮料貼楦,花了不少功夫與助教研究,當初因為美麗的腳背線條而選擇了這雙楦頭,沒想到在攀幫時也增加了不少難度阿…

Photo shot when I finished pre-lasting. Though the shape in this last is quite elegant, it made it more difficult when doing the lasting…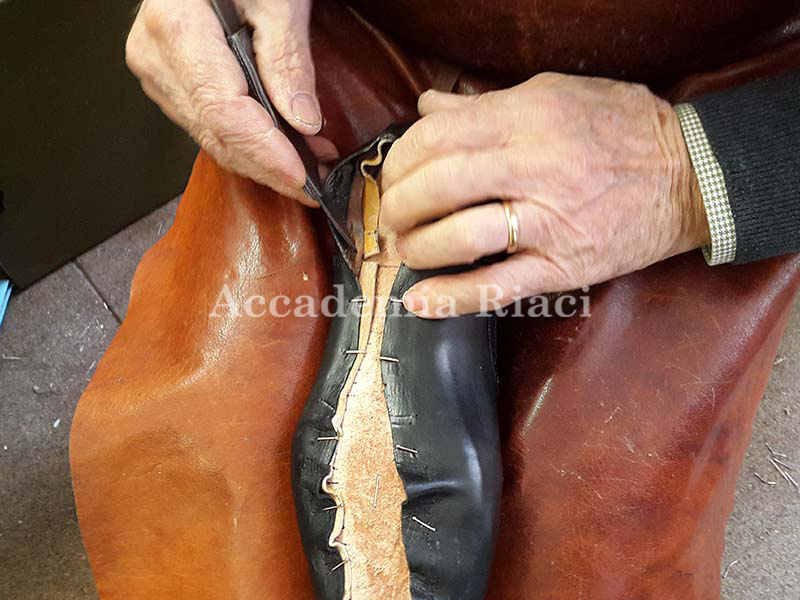 這款雀爾喜靴我決定挑戰不一樣的固特異縫製法,有別於之前的作法,這次需要將後踵處的內裏跟港寶去除,為後方的手縫做準備。

In this case, I decided to challenge different Goodyear stitching construction. Depart from the one we learnt before, the method needed to remove lining and counter on the back. For the purpose of stitching as well.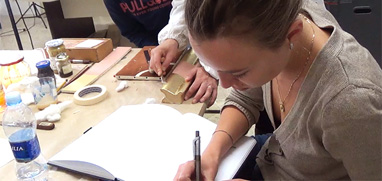 At Accademia Riaci, we are recruiting Course Reporters from our students. The students who are chosen to become Course Reporters are given 10 % of the tuition as their scholarship fee.
The Reporters who have submitted excellent reports will have his or her profile posted on our school website for the next 5 years as an alumnae and will be able to connect with their business chancesafter their graduation.