Accademia Riaci
Students' Blog
Up-to-date report from one of our students!
Reporter
Lara Blevi
Nationality: South-African
Course: Shoe Making
Program: One-Year Atelier Course
Period: Sept 5, 2016-April 25, 2017
After Studying a BA degree in Fashion Design in South Africa, Lara decided that she would love to study further and focus on a specific direction in the fashion industry. During her studies, she followed an internship at a company where she was taught how to make and design handbags out of leather and exotic leather skins.

She knew instantly that she would love to study further and learn more about shoes and decided to come to Firenze, Italy, the most famous city to learn more of leather art and shoes! She found Accademia Riaci and knew that the shoe making course that they had to offer was exactly was she was looking for.

Here she wishes to learn the highest level of shoe making techniques and to be able to follow her dream to become a designer with the knowledge of not only fashion, but also the art of shoe and handbag design.

南アフリカでファッションデザインの文学士号を取得後、ファッション業界で目指す方向を定めるためにもっと学びを深めたいと思いました。企業インターンを経験した際には、外国製の皮革を使用したカバン制作とデザインを学びました。

すぐに靴制作を学びたいと思うようになり、靴制作や革工芸を学べる世界で最も有名な都市・フィレンツェ行きを決意。検討の結果、自分が探し求めていた内容の靴制作コースを提供するアカデミアリアチへの入学を決めました。

ここで最高レベルの靴制作技術を身につけ、ファッションのみならず靴やカバンの知識も兼ね備えたデザイナーになることが夢です。
Feb. 13, 2017 | Posted in Blog, Shoemaking , Student Reporter | Tags:Lara Blevi, Shoemaking | Language:


Reporter: Lara Blevi | Course: Shoemaking
In the beginning of this week I finished of all my last details for my black shoe. I deiced to make it somewhat different and painted the sole of the shoe red. It came out so beautifully and looks really professional. Once I finished my shoes I went on to design my next pair of shoes, which will be an ankle boot for myself. I had a few ideas and by Friday I knew exactly what I was going to do.

今週の初めには自分の黒い靴をほぼ作り終えました。人と違った靴にしたくて靴底を赤く染めたのですが、とても美しいプロ並みの仕上がりになりました。その靴を作り終えてすぐに次の靴、自分のための足首丈のブーツのデザインを始めました。幾つかの案がありましたが、金曜にはどんな靴にするか決めました。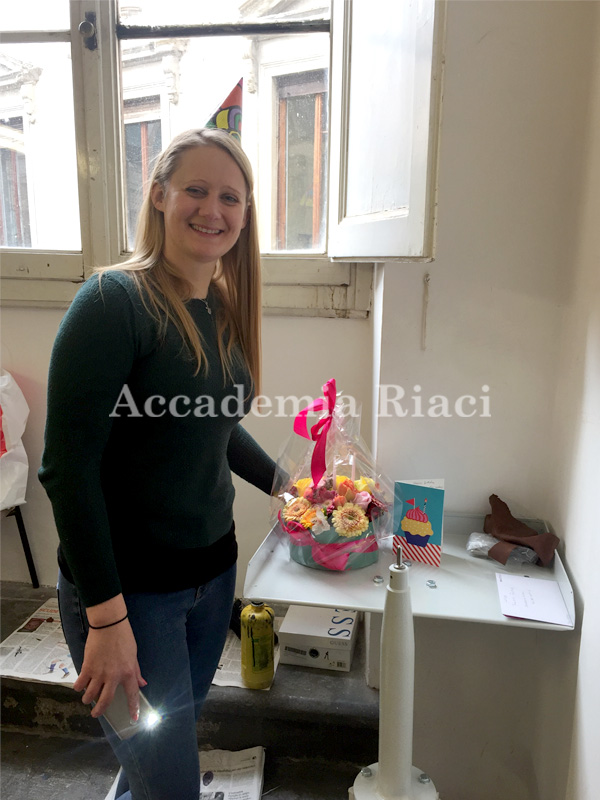 On Monday we celebrated Jo's Birthday and had a great little party with the class with lots of cake and champagne. It is always so fun when someone has they're birthday as the whole class is always in such great spirit.

月曜日、私たちはクラスでジョーの誕生日のためのちょっとした、でも素敵なパーティーを開き、ケーキとシャンパンでお祝いしました。クラス全体がお祝い事が大好きなので、誰かの誕生日はいつも楽しことだらけです。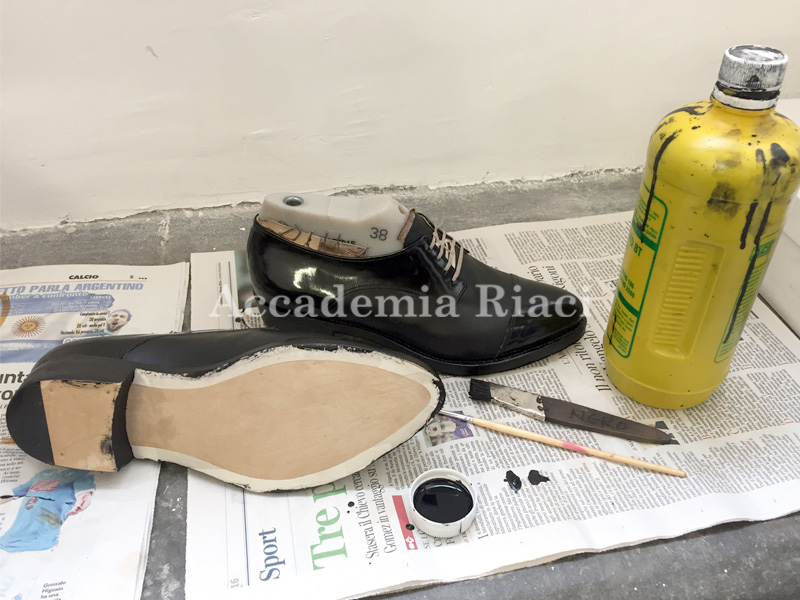 Here you can see the process where I painted the side of my sole black. It's a tricky step, as you cannot mess any of the black paint on your shoe. I taped the bottom of the shoe to prevent any mistakes and to keep it precise.

まずは本底の横を黒く染めました。他のところに黒が付いてはならないので、とても難しいステップです。正確に間違いなく染めるため、靴底はテープでマスキングします。

After I finished the black paint, I painted the inside of the under sole red. This was so messy and had to wear cloves to prevent my hands from staining. We all joked that I looked like I was doing surgery on my shoes!

黒い部分が終わってから、本底の中心を赤く染めました。この作業はとても手が汚れる作業だったのでゴム手袋を着けて行いました。クラスメイトたちと一緒に「靴の手術をしているみたい」と冗談を言い合いました。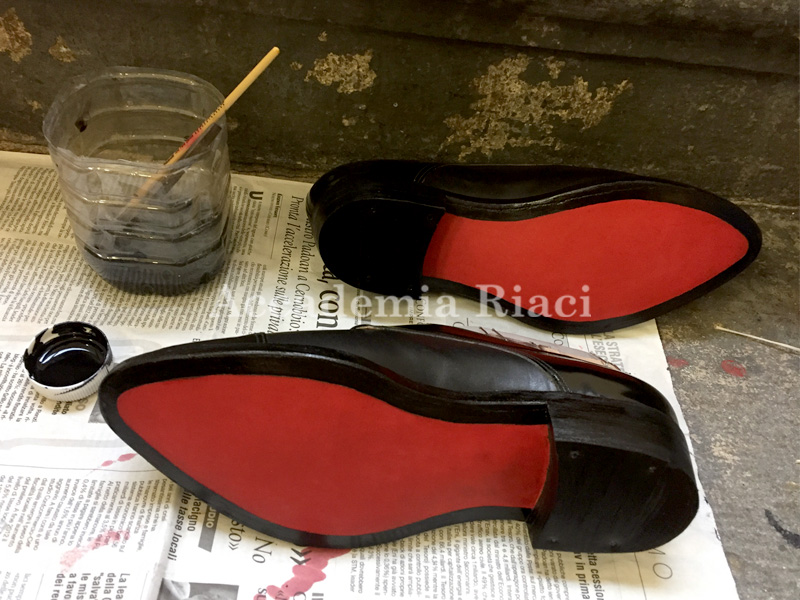 After I finished with the red, I painted the final rim of the under sole black. After the paint is done, all they need to do is dry.

赤い染料を塗り終わったところ。底の周りの縁は黒で染めました。終わったらあとは乾かすだけです。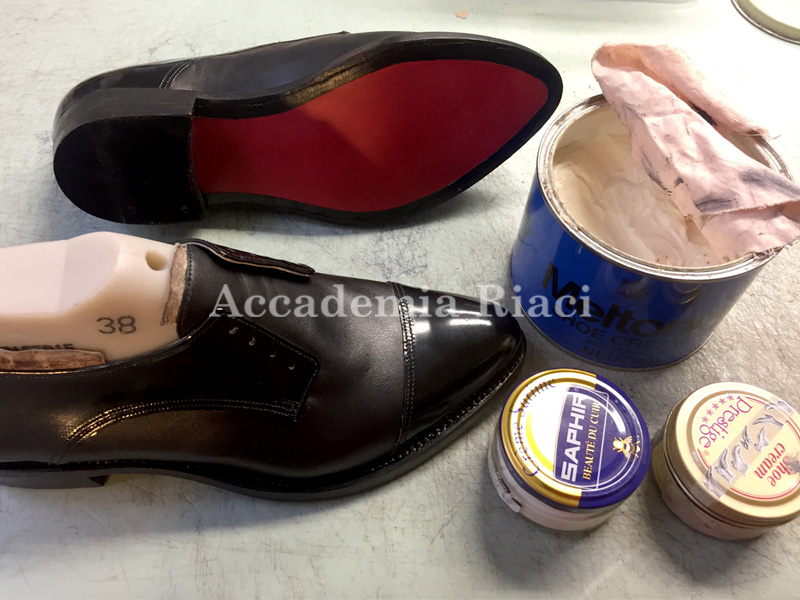 Once all the paint is dry the final waxing and cleaning processes takes place. Special creams and fats are used for the leather and wax on the sole to make it extra shiny and add that final touch.

染料が乾いたら最後のワックスがけと磨きのみです。本底には特別なクリームと油脂が使われ、さらなる輝きと最高の仕上がりを約束します。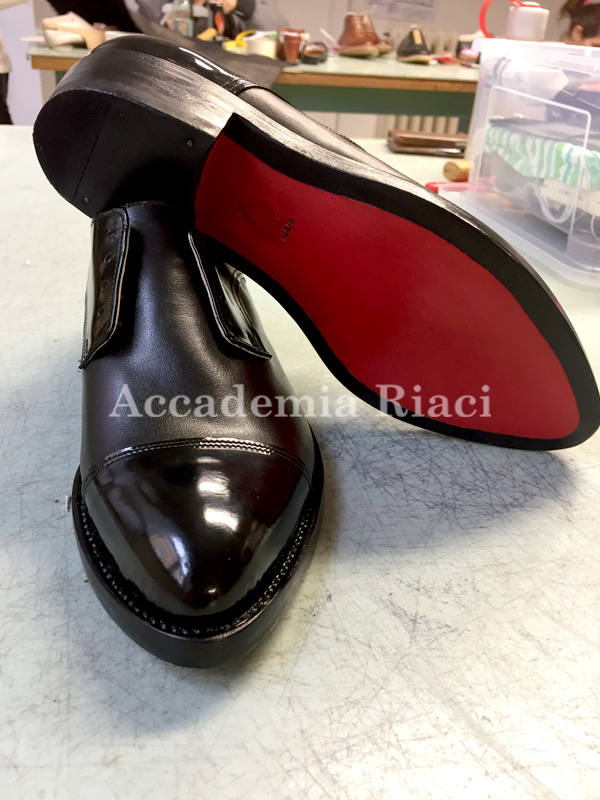 I also added a Firenze stand to the bottom of my shoe. I loved it so much and will be designing my own stamp for my next pair of shoes.

靴底にフィレンツェのマークを判子で押しました。すごく出来上がりが気に入ったので、次の靴のために自分自身の判子をデザインしようと思います。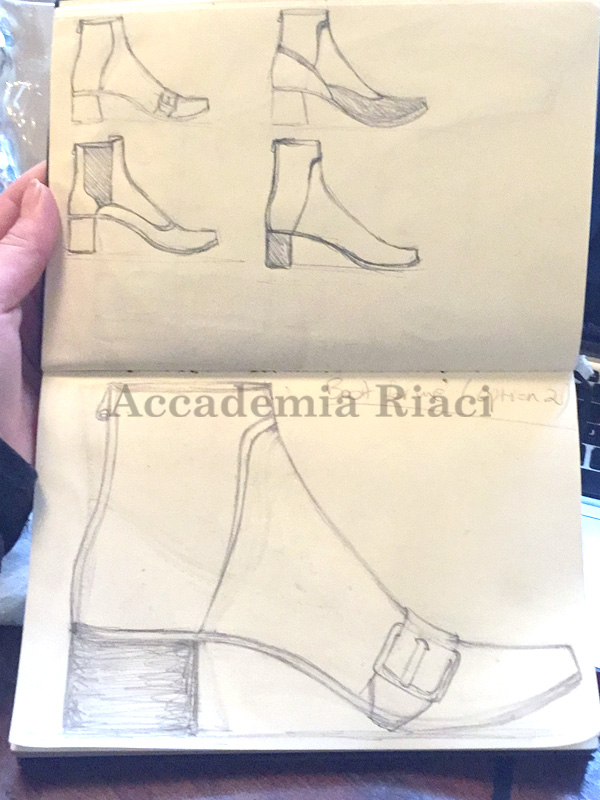 Here are all my design for my boots. The biggest drawing is my final design and I am so excited to get started on them! I will go to Alpel next week Monday to buy my leather.

これが次に作るブーツのデザイン画です。一番大きなデザイン画が最終案です。ようやく作り始められると思うとワクワクします。早速来週月曜にアルペルに行って、革を買ってこようと思います。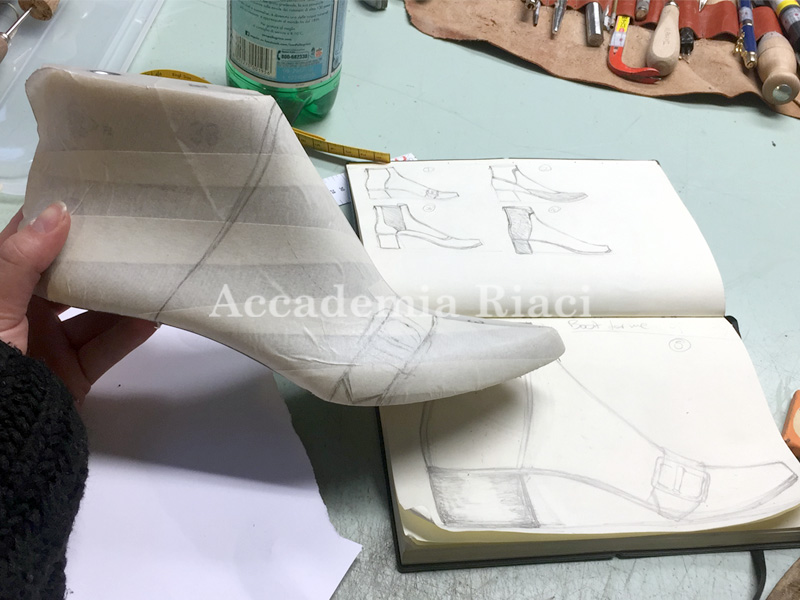 Here is my shoe last after it has been taped to make the pattern. The tape will be pulled off the last and placed onto cardboard where the pattern is traced off.

私の靴の木型。型紙を取るためにテープを貼った状態です。テープは木型から剥がされ、型紙用紙の上に置かれ、その形が書き写されます。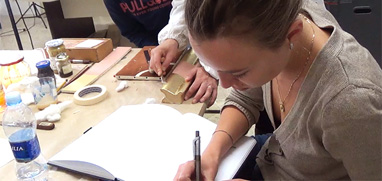 At Accademia Riaci, we are recruiting Course Reporters from our students. The students who are chosen to become Course Reporters are given 10 % of the tuition as their scholarship fee.
The Reporters who have submitted excellent reports will have his or her profile posted on our school website for the next 5 years as an alumnae and will be able to connect with their business chancesafter their graduation.