Accademia Riaci
Students' Blog
Up-to-date report from one of our students!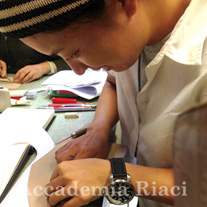 Reporter
Masami ISHIZUKA
Nationality: Japan
Course: Shoe Making
Program: Master Course
Period: Sept. 5,2016-Apr. 28,2017
日本では10年間ほど靴づくりとは関係のないお仕事をしていましたが、趣味としてずっと好きで続けていたのが革細工でした。休日には財布など小物をコツコツ作る毎日でした。そしてそこから派生して、この2年間は神戸にある靴学校に毎週通いました。自分が考えたものが形になっていくことが面白くて、休日は疲れていても靴作りが楽しくて仕方がありませんでした。とても時間がかかる作業ですが、出来上がりだけでなく、出来上がっていく様子がなんとも言えません。
一年ほど前から、思い切ってお仕事を辞め、本場イタリア・フィレンツェに革靴づくりを学びに行くことを決めました。今年の5月より4ヶ月間、語学学校でお世話になりイタリア語で何とか授業を受け始めました。まだまだ分からない事だらけですが、楽しみながら頑張りたいと思っています。

I worked in Japan for about 10 years but my former job had nothing to do with shoe making. I simply liked leather working as a hobby. I used to make small items such as leather wallets on my days off. For this past 2 years, I studied every week at a shoe making school in Kobe, Japan. I totally enjoyed the process of how my idea became actual shoes, so I kept making shoes on weekends even though I was tired from my weekday's work. It takes a long time to make 1 pair of shoes, but I just love the shoe making process itself.
I quit my job 1 year ago and decided to come to Florence to study shoe making. I took Italian lessons for 4 months from this May, and I am now taking shoe making lessons in Italian. There is so much I need to learn now, but I hope to enjoy this learning experience.
Feb. 09, 2017 | Posted in Blog, Shoemaking , Student Reporter | Tags:Masami Ishizuka, Shoemaking | Language:


Reporter: Masami ISHIZUKA | Course: Shoemaking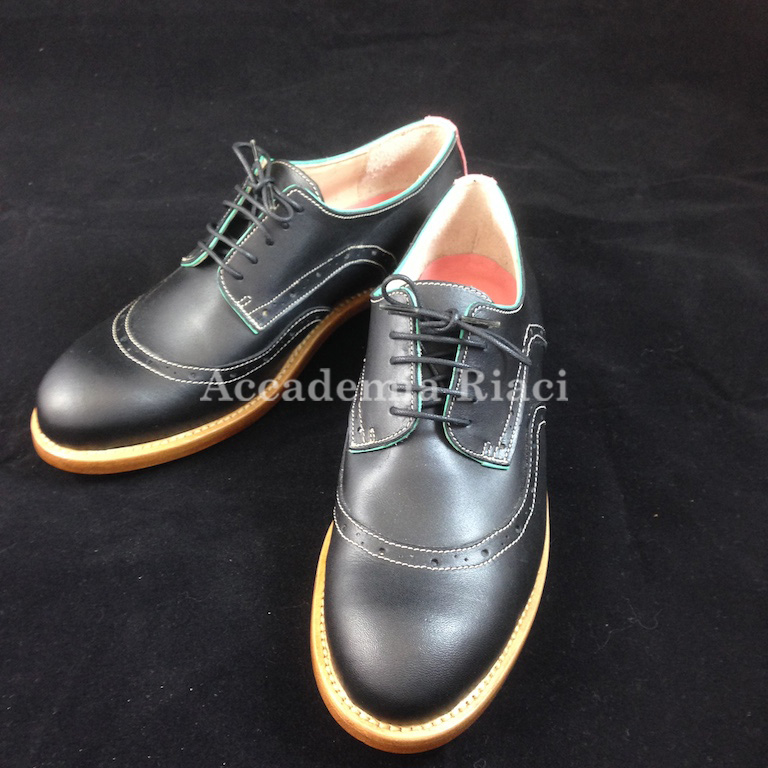 より良く写メが取れる様、フォト教室に参加しました。講師の方はこちらの元生徒さんで、とてもよく教えて下さいます。Derbyの黒靴です。履き口をミントカラーにしてみました。

I attended a photo lesson for taking better photos with the smartphone cameras. The instructor used to be a student here, and she was an excellent teacher. I took a picture of my black Derby shoes with mint green pipings.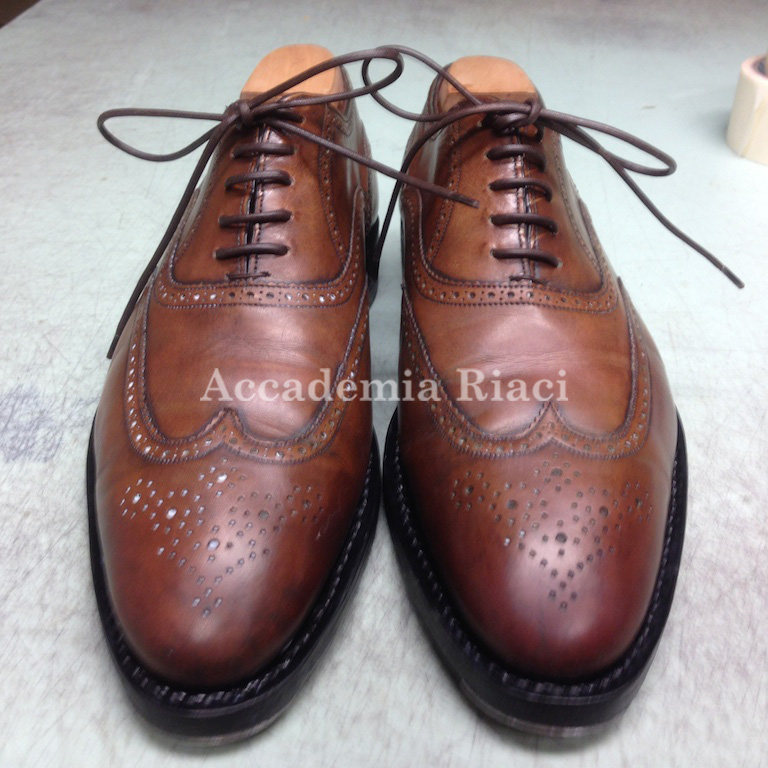 友達の靴を修理しました。グッドイヤー製法なのでやり方は知っていたものの、意外と苦戦しました。でも、また長く履いてもらえるなら嬉しいです。

I fixed my friend's shoes. Although I knew how Goodyear shoes were constructed, I had a hard time fixing these. I hope my friend will be wearing them for a longer period of time with my work.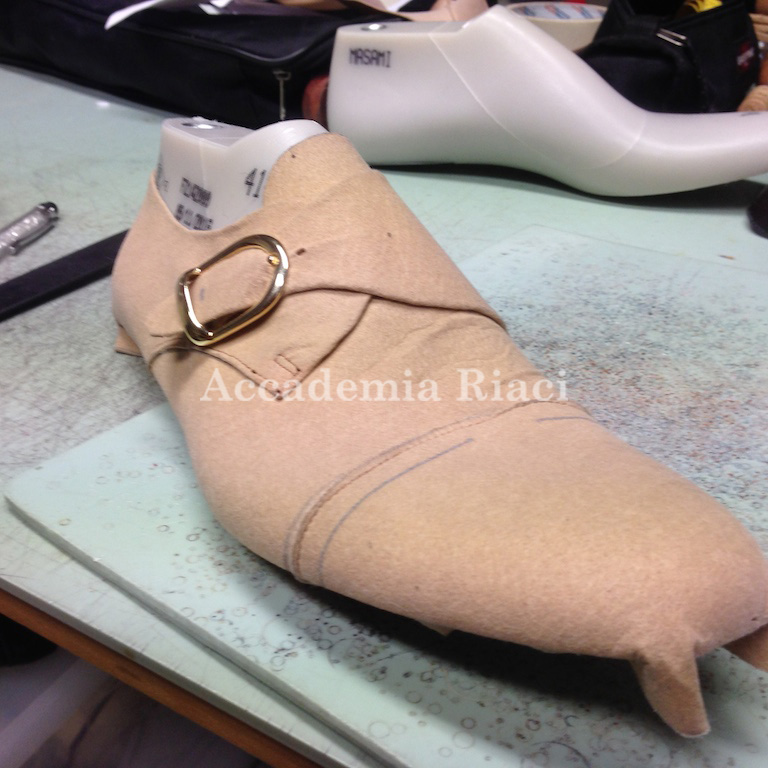 来週からはモンクシューズに取りかかります。ノルウィージャン製法でやってみたいと思います。

I will be working on monk shoes from next week. They will be made by the Norwegian method.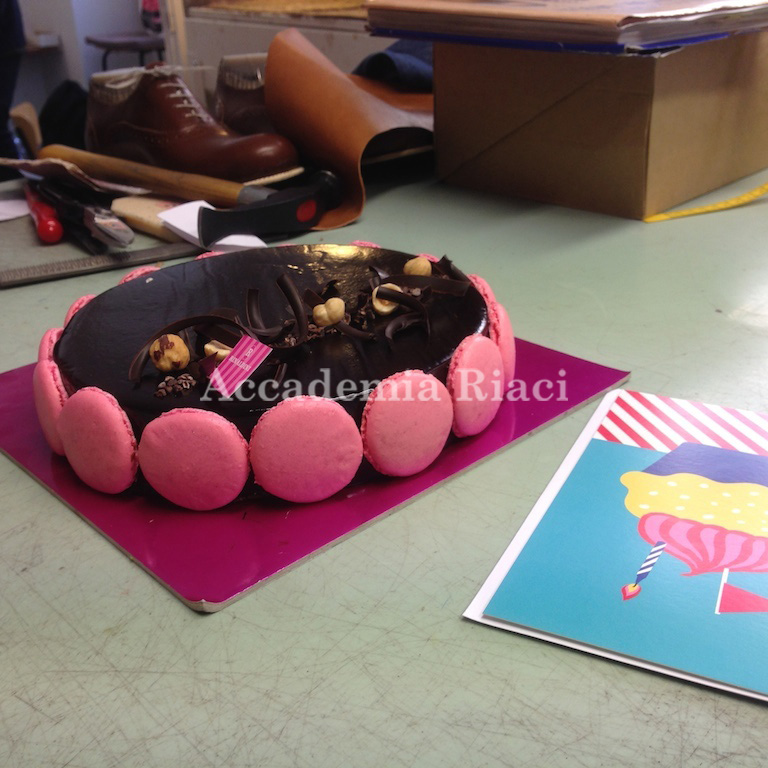 今週の月曜日はクラスメイトのJoさんのお誕生日でした。彼女のカラーであるピンク色のケーキでお祝いです。

This Monday was Jo's birthday. We celebrated with a birthday cake in pink, which is her color.

アンジェロ先生もシャンパンを差し入れてくれました。いつもケーキを焼いて来てくれるJoさんだけに、みんなからも色んな贈り物がありました。

Prof. Angelo brought a bottle of Champaign for us. Because Jo always bakes sweets for us, she got many presents from the classmates.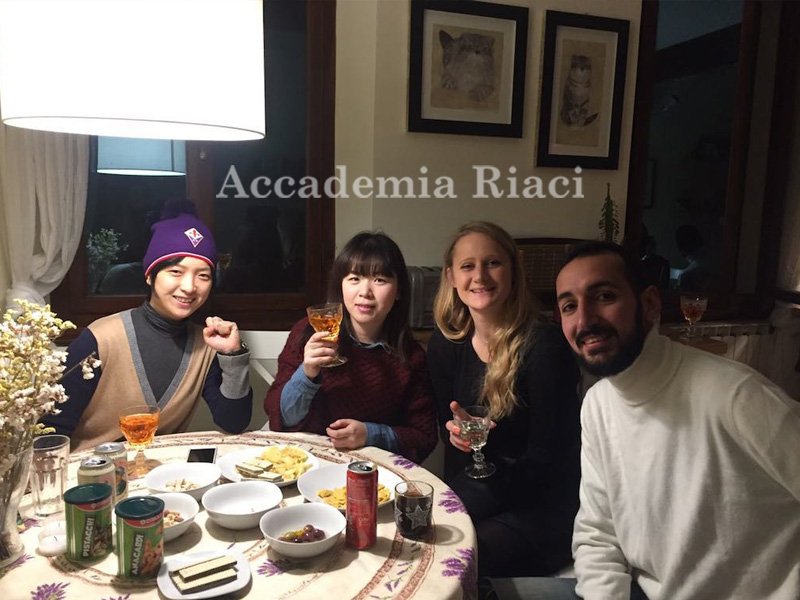 クラスメイトのお家にお邪魔しました。スペインタパスのレストランに行く前に一杯飲みます。

We visited one of the classmates' flat. We enjoyed a drink before going to a Spanish tapas restaurant.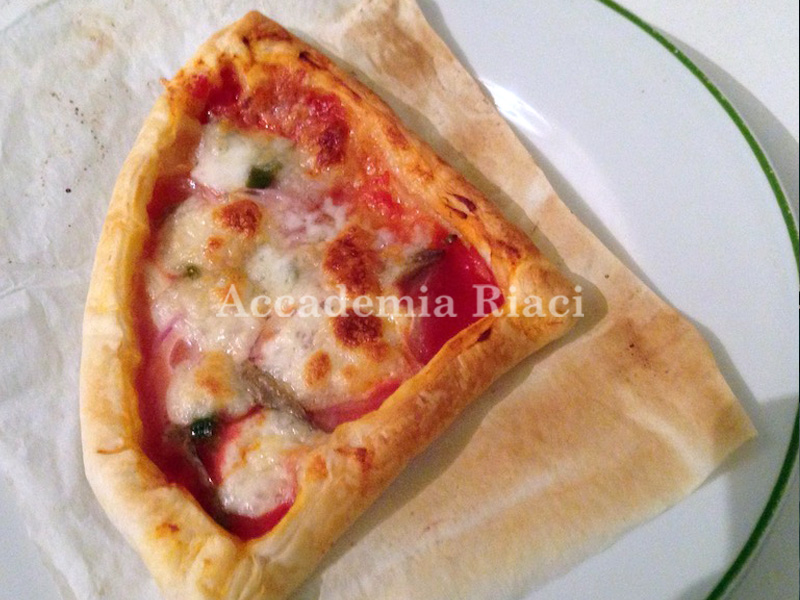 Pizzaを作ってみました。生地は既製のパイ生地ですが、もちっとして大好評でした。
写真のものはマルゲリータですが、ハムや野菜などをのせても美味しかったです。

I cooked a pizza. Although the dough was ready-made, it was chewy and delicious.
This photo is a margarita pizza. The one with ham and veggies were good, too.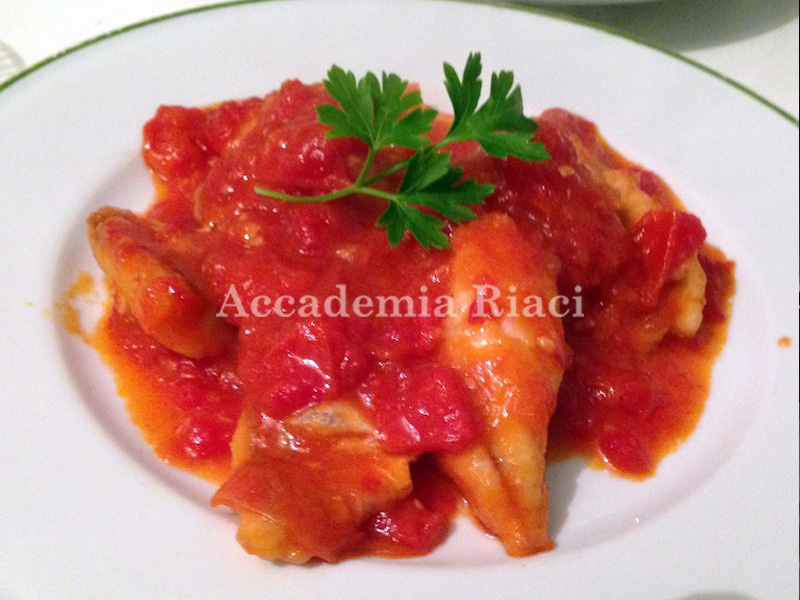 フィレンツェにいるとあまり魚を食べません。という事で、油で揚げた魚をトマトソースでソテーした料理です。久々に魚を食べたせいか、絶品でした。

Florence is not a seafood city. Because I missed fish, I sautéed deep fried fish with tomato sauce. I totally enjoyed this dish after a long time of life without eating fish.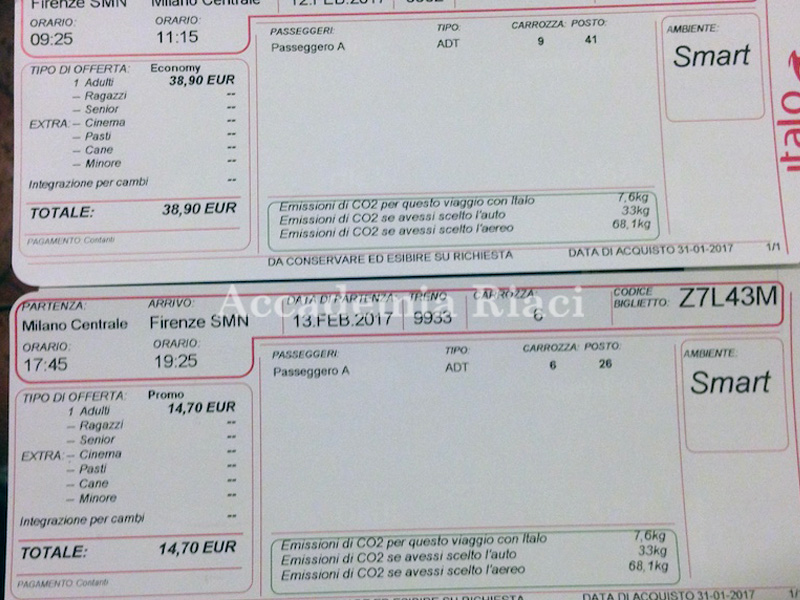 2月12日にミラノにある靴の展示会に行く事にしました。日本で言う新幹線のチケットです。行きが38ユーロで帰りが15ユーロです。イタリアでは早期割引チケットがとてもお得です。

I decided to go to the shoe fair in Milan on February 12. These are tickets for the express train. Departing ticket costs 38 Euro, and return ticket costs 15 Euro. Early bird discount is always a good deal in Italy.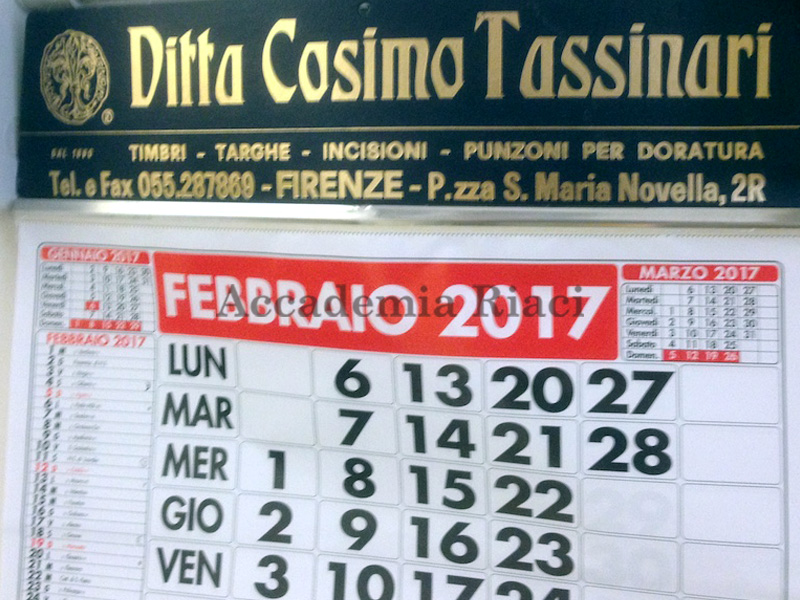 イタリアのカレンダーです。日本は横に見ますが、こちらのは縦です。これも文化の違いなのですが、未だに慣れません。

This is a calendar in Italy. Dates are printed vertically, something I still have a hard time getting used to.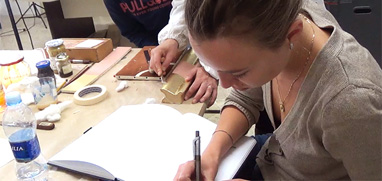 At Accademia Riaci, we are recruiting Course Reporters from our students. The students who are chosen to become Course Reporters are given 10 % of the tuition as their scholarship fee.
The Reporters who have submitted excellent reports will have his or her profile posted on our school website for the next 5 years as an alumnae and will be able to connect with their business chancesafter their graduation.