Accademia Riaci
Student Reports
Read all class reports from our students!
Reporter
Lara Blevi
Nationality: South-African
Course: Shoe Making
Program: One-Year Atelier Course
Period: Sept 5, 2016-April 25, 2017
After Studying a BA degree in Fashion Design in South Africa, Lara decided that she would love to study further and focus on a specific direction in the fashion industry. During her studies, she followed an internship at a company where she was taught how to make and design handbags out of leather and exotic leather skins.

She knew instantly that she would love to study further and learn more about shoes and decided to come to Firenze, Italy, the most famous city to learn more of leather art and shoes! She found Accademia Riaci and knew that the shoe making course that they had to offer was exactly was she was looking for.

Here she wishes to learn the highest level of shoe making techniques and to be able to follow her dream to become a designer with the knowledge of not only fashion, but also the art of shoe and handbag design.

南アフリカでファッションデザインの文学士号を取得後、ファッション業界で目指す方向を定めるためにもっと学びを深めたいと思いました。企業インターンを経験した際には、外国製の皮革を使用したカバン制作とデザインを学びました。

すぐに靴制作を学びたいと思うようになり、靴制作や革工芸を学べる世界で最も有名な都市・フィレンツェ行きを決意。検討の結果、自分が探し求めていた内容の靴制作コースを提供するアカデミアリアチへの入学を決めました。

ここで最高レベルの靴制作技術を身につけ、ファッションのみならず靴やカバンの知識も兼ね備えたデザイナーになることが夢です。
Feb. 03, 2017 | Posted in Reports, Shoemaking , Student Reporter | Tags:Lara Blevi, ShoemakingReporter: Lara Blevi | Course: Shoemaking
What a productive week! I managed to finish so much work on my shoe this week. I completed the Goodyear construction sewing, the hand sewing through the upper and under sole, and I finished my heels. I am so almost finished. All I need to do on Monday is paint my sole black and do the finishing polish.

I am thinking to add red laces o my shoes, but will also buy a black pair If I would want to change it to a complete black look.

今週はたくさんの作業を終えることができました。グッドイヤー靴の底の手縫いを終えヒールも作ったので、もうすぐ完成です。来週の月曜に底を黒く塗り、最後に全体を磨くだけです。

今回の靴は赤い紐にしようと思いますが、黒も買っておいて黒一色でも履けるようにします。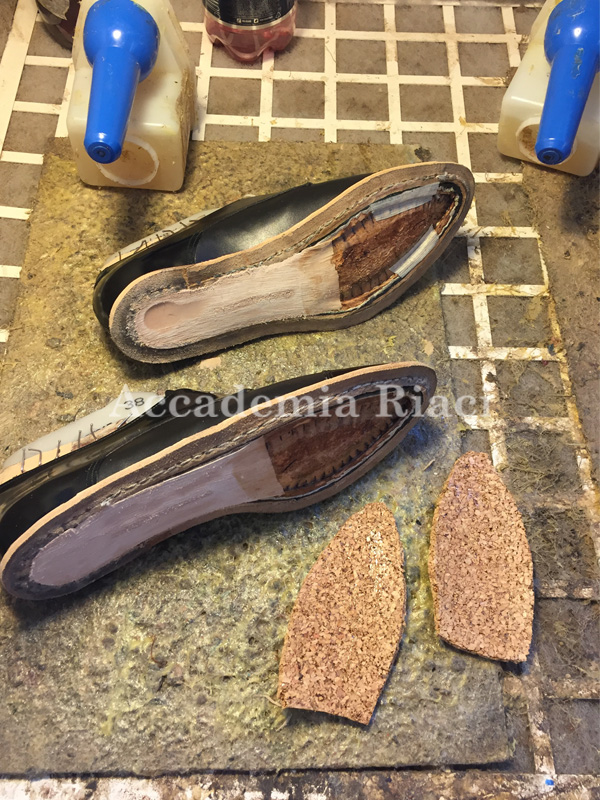 After the Goodyear construction to the insole of the shoe, the open areas under the shoe is filled up with a material out of cork.

グッドイヤーウェルトを中底に付けたら、中底の真ん中のスペースにコルクを貼ります。

Once the cork filling in glued on, we use the rasp tool to even out the surface perfectly before adding the under sole.

コルクを接着したらその上からヤスリで削り、本底を付ける前に完全に平らにします。

The under sole is cut out of very thick and hard leather. Its quite a workout just to cut it out! It is then glued onto the shoes and hammered until the sole is perfectly stuck.

本底はとても厚くて固い革を使うので、切り出すだけで一苦労です。本底を靴に接着したら完全に着くまでハンマーで叩きます。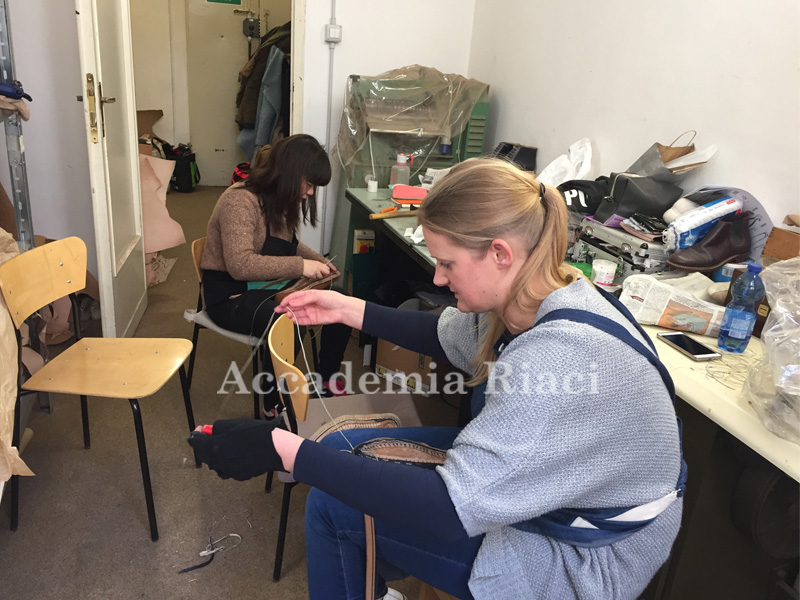 Tine and Jo while they are doing their Goodyear constructions. Sitting on a low chair is very important as it allows you to hold the shoe in between you legs while pulling the thread through the holes.

グッドイヤーの手縫い作業中のティナとジョー。脚の間に靴を挟んで押さえながら穴に通した糸を引っ張るので、低い椅子に座って作業する必要があります。

After the out sole is glued on the sole then needs to be prepared in order to start the stitching that goes around the shoe from the upper sole through the under sole.

本底を接着したら、靴の外周を中底から本底まで針を通しながら縫い付ける準備をします。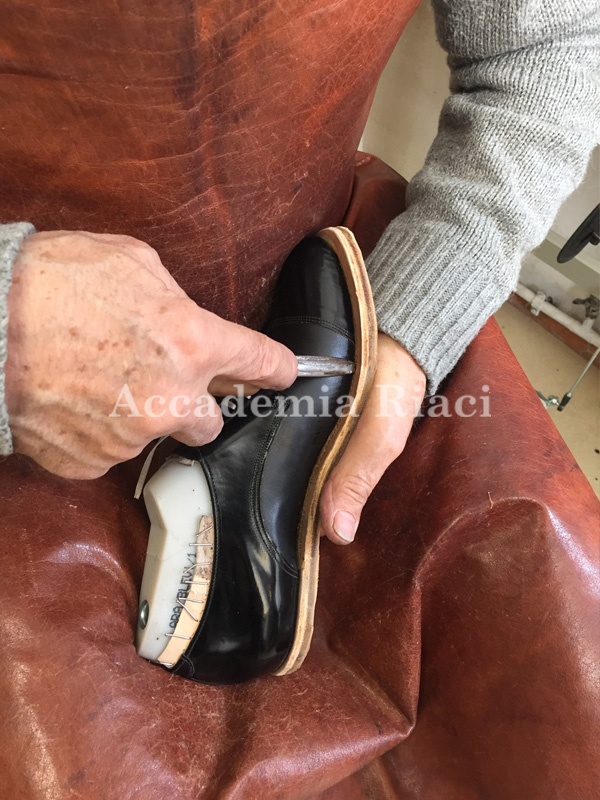 A special tool is used to mark where the holes need to be made for the stitching.

手縫いの穴を開ける場所に印をつける道具。

Here you can see the holes that are made on the upper soles. The next step it to prepare the channels on the under sole for the stitching to go in.

糸を通す穴を開けた中底。次は本底に縫い目用の溝を掘ります。

Here Angelo is showing us how to do the stitching and how to work the tool that is used to make the holes where the needle and thread needs to go trough. This is quite a stressful process as any mistake can be seen on the outer sole of your shoe.

手縫いのお手本と穴を開ける道具の使い方を見せてくださっているアンジェロ先生。綺麗に仕上げないと目立つ場所なので、とても気を使います。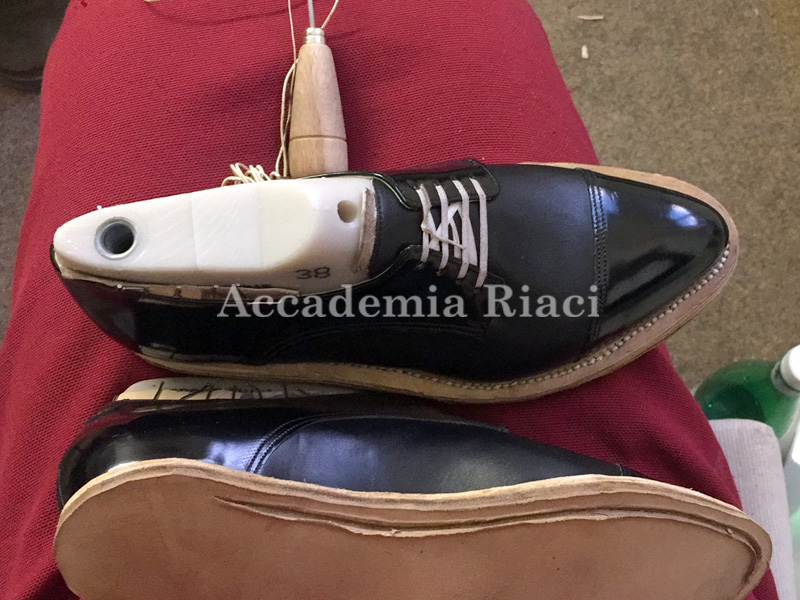 Here you can see my stitching on the outer sole of my shoe.

作業中の私の靴の縫い目。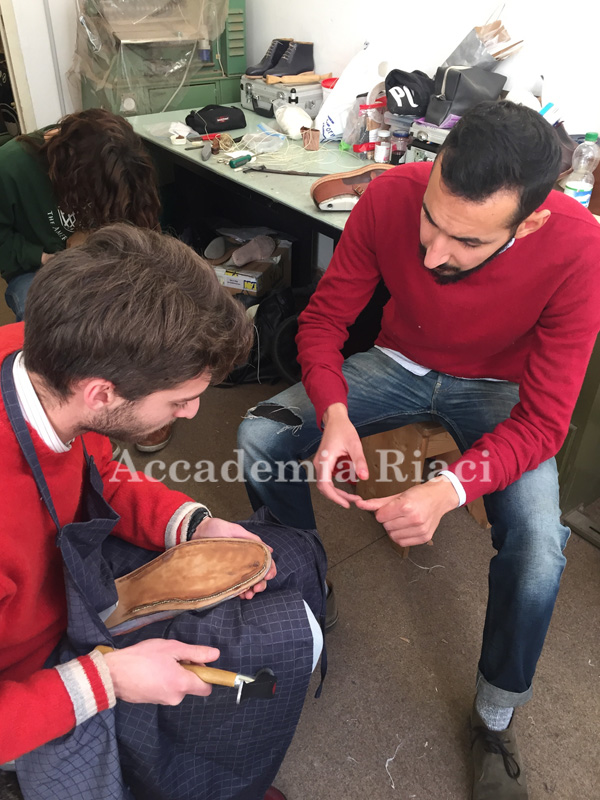 After you completed the stitching the channels on the under sole is closed with strong glue and hammered thoroughly before the heel building process begins.

縫い終わったら本底の下の溝は強力な接着剤で閉じられ、ハンマーで十分に叩いた後、ヒールを付ける作業に入ります。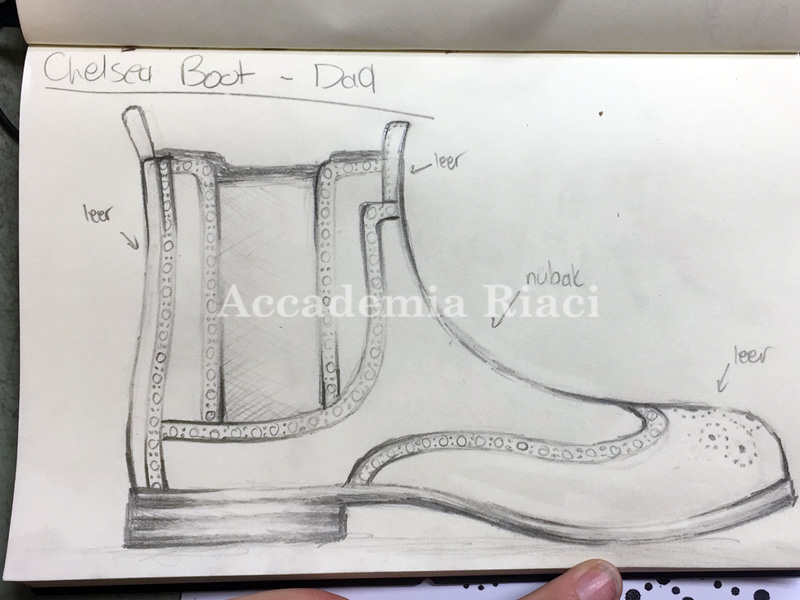 The next shoe that I will be doing is a Chelsea boot for my dad. Here is the design that I drew and designed during this week. I am thing of doing it with beautiful brown leather, not too dark, with decorations and different panels.

次は父のチェルシーブーツを作る予定です。今週そのデザイン画を描きました。暗すぎない綺麗な茶色の革を使って、飾りとパネル使いで華やかにします。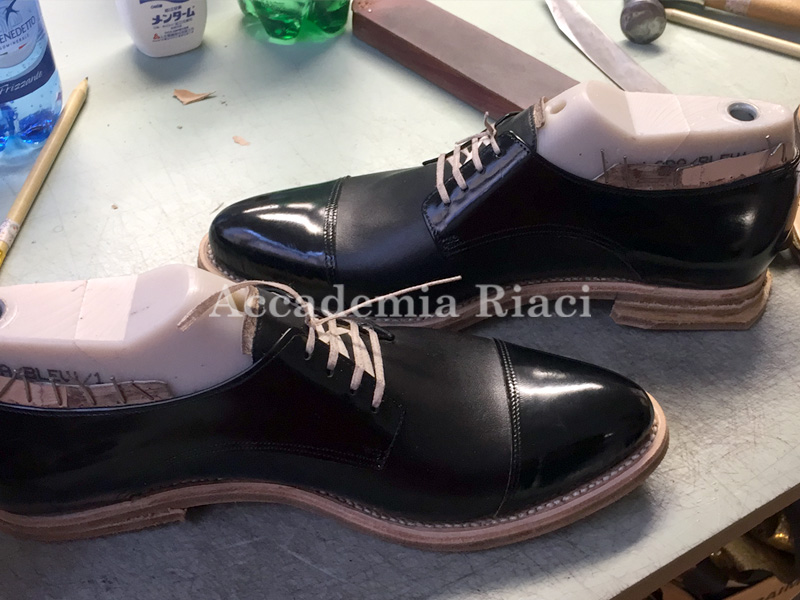 Here are my shoes after completing the heels. I am so excited to see what they will look like when they are finally finished.

ヒールを付けた私の靴。もうすぐの仕上がりを想像するとワクワクします。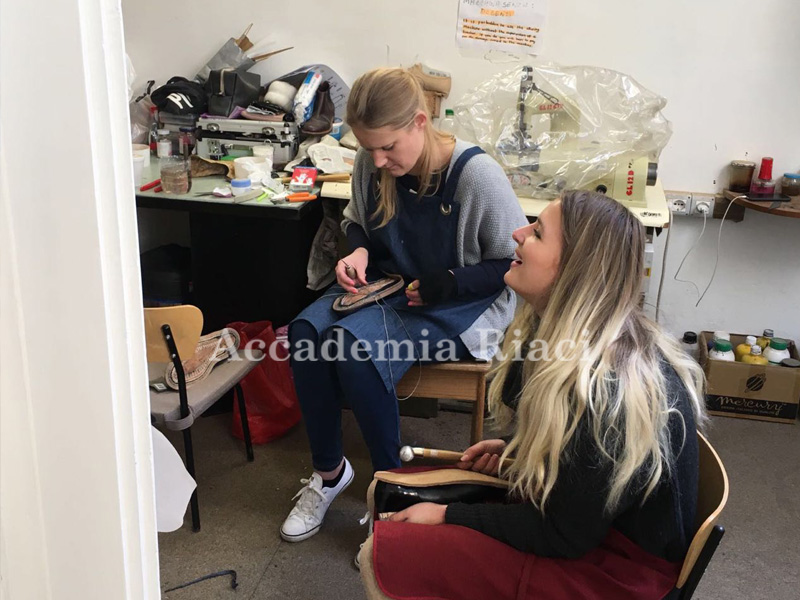 We always have great conversations and laughs during class. I am really grateful for having such amazing and fun people in my shoe making class.

授業中、クラスは楽しい会話と笑いで溢れています。こんなに才能豊かで楽しいクラスメイトに恵まれた私は本当に幸せ者です。

On Saturday night we celebrated Jo's birthday which is this coming Monday! We all went to a great Italian Tapas bar and then went to go play darts at a cozy little bar.

土曜の夜、来週月曜に迫ったジョーのバースデーパーティーをしました。美味しいイタリアンタパスのバールで食事を楽しんだ後は、小さいけれど素敵なバールへ移動してダーツを楽しみました。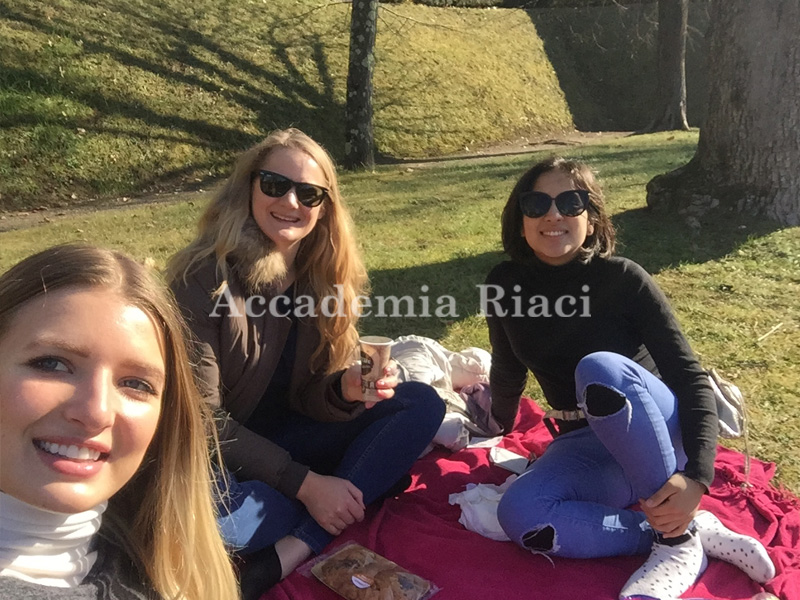 On Sunday me, Jo and Andrea went for a nice relaxed picnic in the Boboli Gardens. It was such a gorgeous day and we all quickly fell asleep in the sun.

日曜はジョーとアンドレアと一緒にボーボリ庭園でゆっくりとピクニックを楽しみました。あまりにいい天気だったので、みんなでお日様を浴びながら昼寝してしまいました。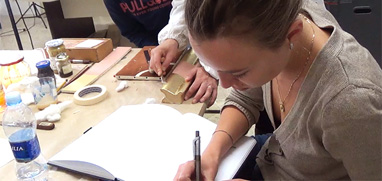 At Accademia Riaci, we are recruiting Course Reporters from our students. The students who are chosen to become Course Reporters are given 10 % of the tuition as their scholarship fee.
The Reporters who have submitted excellent reports will have his or her profile posted on our school website for the next 5 years as an alumnae and will be able to connect with their business chancesafter their graduation.