Accademia Riaci
Student Reports
Read all class reports from our students!
Reporter
Lara Blevi
Nationality: South-African
Course: Shoe Making
Program: One-Year Atelier Course
Period: Sept 5, 2016-April 25, 2017
After Studying a BA degree in Fashion Design in South Africa, Lara decided that she would love to study further and focus on a specific direction in the fashion industry. During her studies, she followed an internship at a company where she was taught how to make and design handbags out of leather and exotic leather skins.

She knew instantly that she would love to study further and learn more about shoes and decided to come to Firenze, Italy, the most famous city to learn more of leather art and shoes! She found Accademia Riaci and knew that the shoe making course that they had to offer was exactly was she was looking for.

Here she wishes to learn the highest level of shoe making techniques and to be able to follow her dream to become a designer with the knowledge of not only fashion, but also the art of shoe and handbag design.

南アフリカでファッションデザインの文学士号を取得後、ファッション業界で目指す方向を定めるためにもっと学びを深めたいと思いました。企業インターンを経験した際には、外国製の皮革を使用したカバン制作とデザインを学びました。

すぐに靴制作を学びたいと思うようになり、靴制作や革工芸を学べる世界で最も有名な都市・フィレンツェ行きを決意。検討の結果、自分が探し求めていた内容の靴制作コースを提供するアカデミアリアチへの入学を決めました。

ここで最高レベルの靴制作技術を身につけ、ファッションのみならず靴やカバンの知識も兼ね備えたデザイナーになることが夢です。
Jan. 27, 2017 | Posted in Reports, Shoemaking , Student Reporter | Tags:Lara Blevi, ShoemakingReporter: Lara Blevi | Course: Shoemaking
The first week back in class was really great. It was so good to see everyone again and hear of everyone's adventures of the holiday and it felt great to be working on my shoes again.

During this week we finished the Goodyear construction of the shoe. This was one of the most satisfying feelings ever as it is such a process to prepare and sew the Goodyear construction that when it comes together it is such a beautiful thing.

On Friday some of us went to go see a movie at the Odeon Theatre. We saw a movie called Silence and had loads of popcorn and even some wine!

冬休み明け最初の週は楽しく過ごせました。クラスメイトたちと久しぶりに再会し、それぞれの土産話に花を咲かせました。また、靴制作の作業を再開できたことがとても嬉しかったです。

今週はグッドイヤー靴のパーツを縫い合わせる作業を終えました。すごく美しい形になり、縫い合わせの作業が大変だっただけにこれまでで一番満足しました。

金曜は何人かでオデオンで映画を観ました。大量のポップコーンとワインをお供に、「Silence」という映画を楽しみました。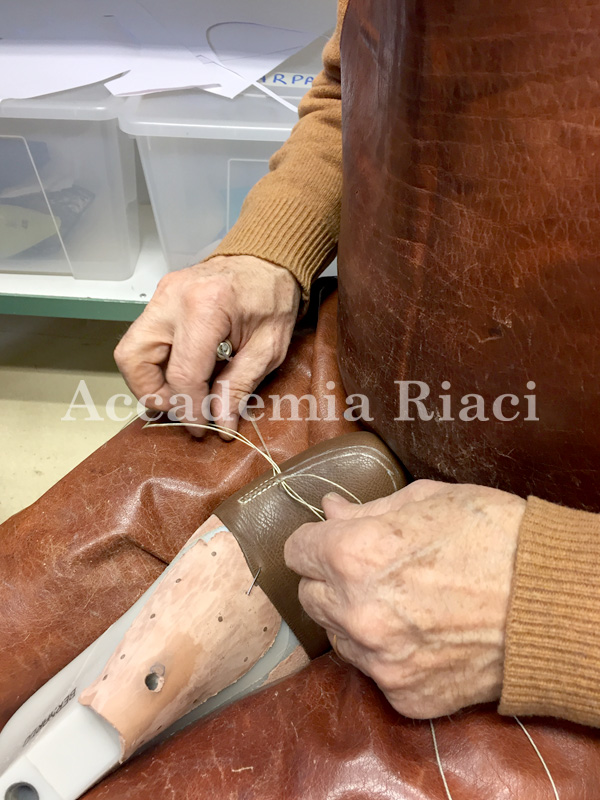 Before we started the Goodyear construction, we all had to practice the stitching first. This form of stitching can also be used for the moccasin style shoe. There is a twist in the technique that enables the stitch to be stronger.

グッドイヤー靴を縫い始める前に、全員この縫いを練習する必要があります。この縫い方はモカシン靴にも使えます。糸を捻ることで縫い目を強くする技術も学びます。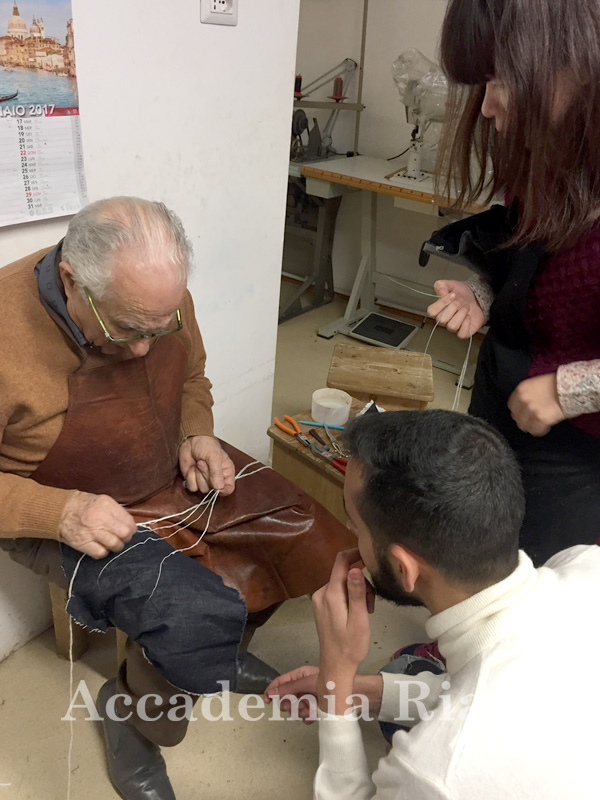 Angelo showing us how to prepare the thread for the Goodyear construction. The thread is made by twisting six strings together and waxing it together so that it is strong enough to use.

アンジェロ先生がグッドイヤー製法の糸の準備の仕方を教えてくださっています。6本の糸を撚り、ワックスで固めることで十分な強度を備えた糸にします。

The beginning of the Goodyear construction. The welt is hand sewn to the insole of the shoe through the holes and channels that we prepared while making the insole.

これがグッドイヤー製法の縫い始めです。中底作成時に準備した穴と溝を使ってウェルトを縫い付けていきます。

My Goodyear construction just before finishing it of.

もうすぐ終わりの段階まで来た私のグッドイヤー靴。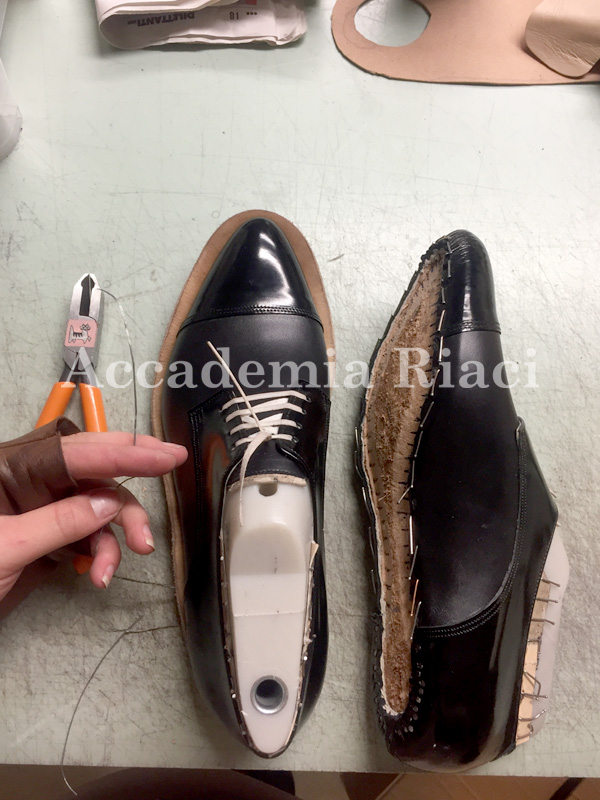 What my shoe looks like with the welt sewn on and without. The needle that we use is really long and flexible to easily push is through the made holes

ウェルトありの私の靴と、まだ縫い付けていない靴。縫い針はとても長くフレキシブルなので、開けておいた穴に簡単に通せます。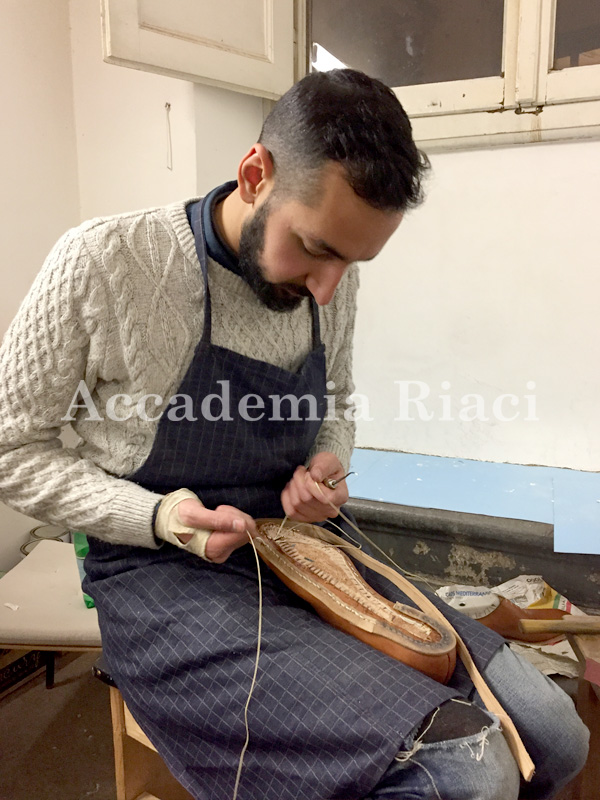 Jo working really had while constructing his Goodyear. Wearing a leather glove on your left hand is important to protect your hand from hurting while doing the process, as you need to pull the thread really hard while tightening it.

グッドイヤー靴を一生懸命縫い合わせているジョー。この作業は丈夫な糸を思い切り締めながら行う必要があり、手を怪我しないよう左手に革の手袋をつけるのが大事です。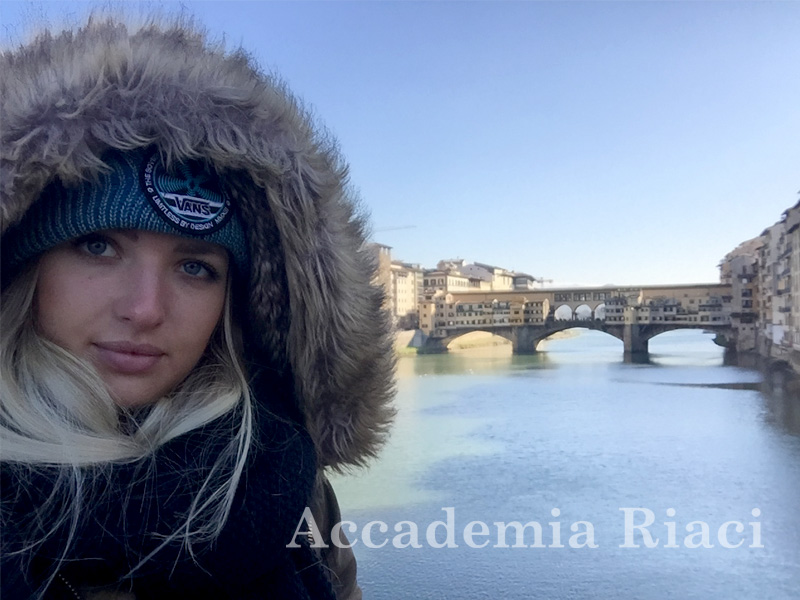 It was a really cold week in Florence even though the sun was shining. I can't wait for the weather to get a bit better. I am not a big winter person!

先週のフィレンツェは晴れていたけれど本当に寒かったです。自分は冬が大好きというわけではないので、もう少し暖かくなる日が待ち遠しいです。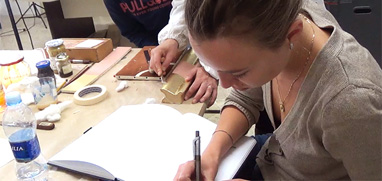 At Accademia Riaci, we are recruiting Course Reporters from our students. The students who are chosen to become Course Reporters are given 10 % of the tuition as their scholarship fee.
The Reporters who have submitted excellent reports will have his or her profile posted on our school website for the next 5 years as an alumnae and will be able to connect with their business chancesafter their graduation.