Accademia Riaci
Student Reports
Read all class reports from our students!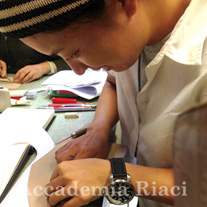 Reporter
Masami ISHIZUKA
Nationality: Japan
Course: Shoe Making
Program: Master Course
Period: Sept. 5,2016-Apr. 28,2017
日本では10年間ほど靴づくりとは関係のないお仕事をしていましたが、趣味としてずっと好きで続けていたのが革細工でした。休日には財布など小物をコツコツ作る毎日でした。そしてそこから派生して、この2年間は神戸にある靴学校に毎週通いました。自分が考えたものが形になっていくことが面白くて、休日は疲れていても靴作りが楽しくて仕方がありませんでした。とても時間がかかる作業ですが、出来上がりだけでなく、出来上がっていく様子がなんとも言えません。
一年ほど前から、思い切ってお仕事を辞め、本場イタリア・フィレンツェに革靴づくりを学びに行くことを決めました。今年の5月より4ヶ月間、語学学校でお世話になりイタリア語で何とか授業を受け始めました。まだまだ分からない事だらけですが、楽しみながら頑張りたいと思っています。

I worked in Japan for about 10 years but my former job had nothing to do with shoe making. I simply liked leather working as a hobby. I used to make small items such as leather wallets on my days off. For this past 2 years, I studied every week at a shoe making school in Kobe, Japan. I totally enjoyed the process of how my idea became actual shoes, so I kept making shoes on weekends even though I was tired from my weekday's work. It takes a long time to make 1 pair of shoes, but I just love the shoe making process itself.
I quit my job 1 year ago and decided to come to Florence to study shoe making. I took Italian lessons for 4 months from this May, and I am now taking shoe making lessons in Italian. There is so much I need to learn now, but I hope to enjoy this learning experience.
Jan. 16, 2017 | Posted in Reports, Shoemaking , Student Reporter | Tags:Masami Ishizuka, ShoemakingReporter: Masami ISHIZUKA | Course: Shoemaking

この冬休み中に日本で作った靴です。姫路や竜野は革の産地として有名なのですが、今回は竜野の革で靴を作ってほしいというお話を頂き作りました。丈夫でしなやかな革靴になりました。

Two pairs of shoes I made while my stay back in Japan during this winter vacation. Himeji and Tastuno are very famous for producing good leather, and this time I had a request for shoes made with Tatsuno leather. They turned out really tough yet supple.

久々に日本に帰り、まず食べたくなったのが、やはりソースもんでした。たこ焼きは関西に帰って来たと実感出来るふるさとの味です。美味しかったですが、熱かった。

The first thing I wanted to eat back in Japan was food with Okonomiyaki-sauce (kind of like thickened Worcestershire sauce). Especially Takoyaki (octopus ball) made me feel that I was back in Kansai, my home. They were so delicious but very hot inside.

うなぎがとてつもなく食べたくなり、YOSHINOYAなのに牛丼ではなく、うな丼を注文。この味は本当に海外ではなかなか食べる事ができないことに今回気付いたので食べました。

Eel was another food I was dying to eat, so I ordered eel bowl. The taste is so uniquely good that it's hard to find the same flavor overseas.

イタリアのクリスマスケーキは日本のものとは全く違っていて、またそれはそれで美味しかったです。今回は日本のクリスマスケーキを頂きました。イチゴが乗ると雰囲気が出ます。

Christmas cakes in Italy are very different compared to the Japanese ones, and I like them both. This one is a Japanese Christmas cake. Strawberries on the top are very typical of Japanese cakes.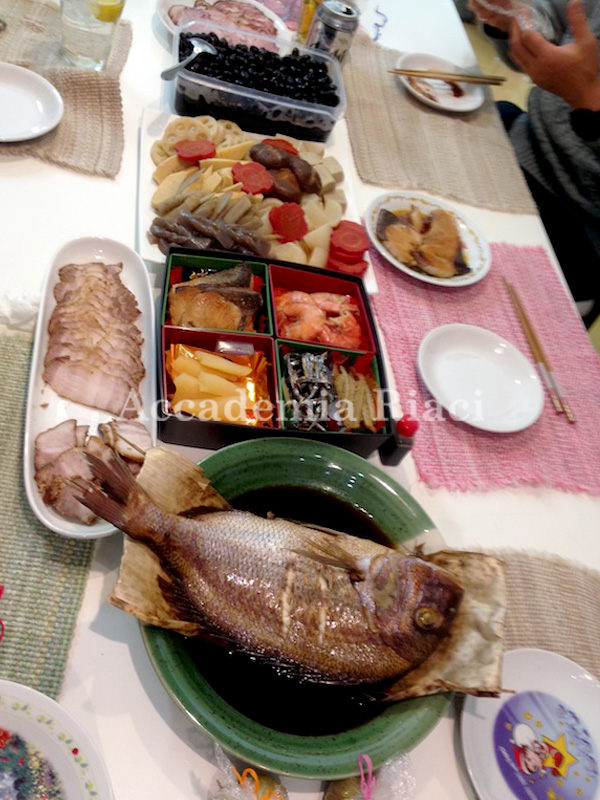 ここ何年もおせちなんてお目にかかっていませんでしたが、久々に帰国したので有り難く頂きました。日本の正月を満喫です。

I had Osechi, Japanese traditional New Year cuisine. I enjoyed spending Japanese New Year I had been missing for some years being out of Japan.

居酒屋さんで変わった鍋を食べました。さらに年末年始はやはり飲み会が多く、久々の居酒屋さんにはテンションがとても上がってしまいました。

I had a very interesting looking hot pot at a tavern in Japan. There were many parties at the end and the beginning of the year, which I enjoyed a lot.

12月30日は帰国して始めて雪が降りました。日本の冬はやはりイタリアのものとは違います。底冷えします。でもイタリアの冬もこれからもっと寒くなるに違いありませんが。。。

On December 30, it snowed for the first time since I came back to Japan. The winter in Japan is much colder than Italy. I'm sure it will get much colder in Italy, too.

初詣は姫路にある書写山に行きました。山の上にあり、ロープウェーで登ります。

I went to Shoshazan in Himeji for the New Year shrine visit. We took a ropeway because the shrine was on the top of the mountain.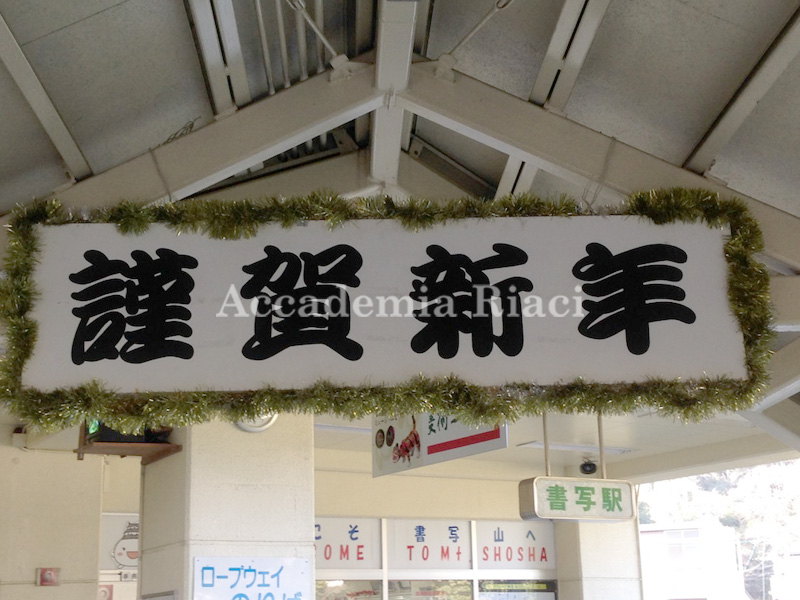 書写山のふもとには大きな「謹賀新年」の看板がありました。お正月の雰囲気です。

At the bottom of mountain, there was a big signboard saying "Happy New Year". It created a typical Japanese New Year holiday atmosphere.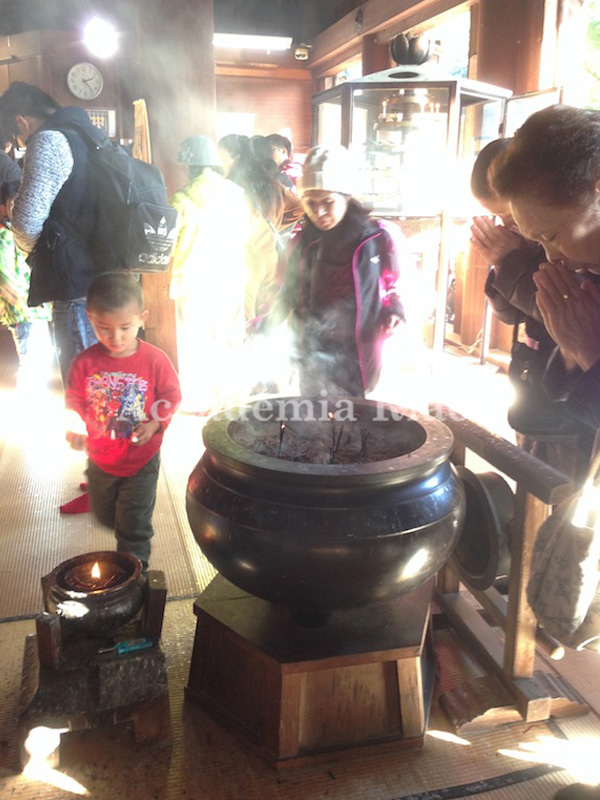 お参りをしている人の中には外国人の人もちらほらいました。

There were some foreign tourists enjoying the shrine visit.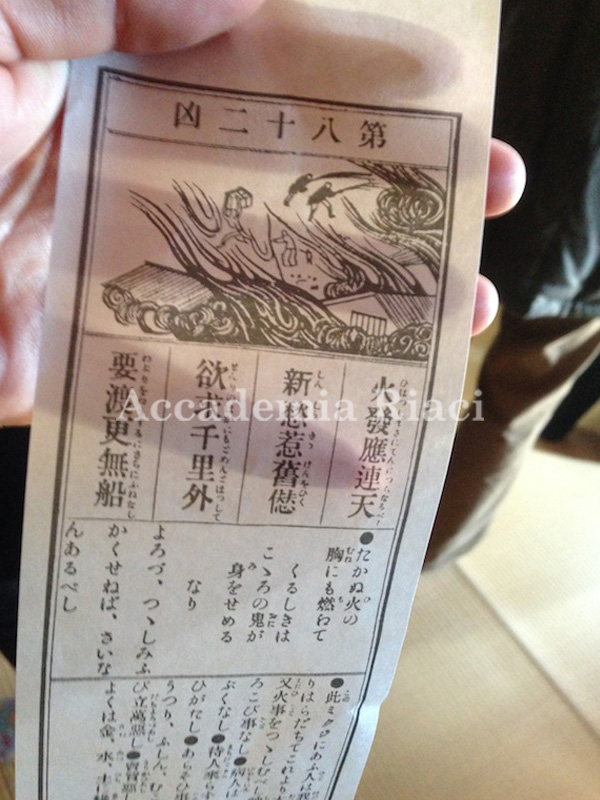 おみくじを引きました。書写山はおみくじが厳しいことで有名だそうで、例外無く私も「凶」がでました。一緒に行った友人も「凶」。二人ともやや凹んでしまいましたが、逆に気をつければ運気も回復する?らしいので、2017年も前向きに頑張りたいです。

I drew an Omikuji (a fortune slip). Shoshazan is very famous for its harsh fortune slips, so I drew "bad luck" slip. My friend who went with me also drew a "bad luck" slip. We got depressed at first, but we found out that by being careful the fortune would come. I shall be positive and work hard this year.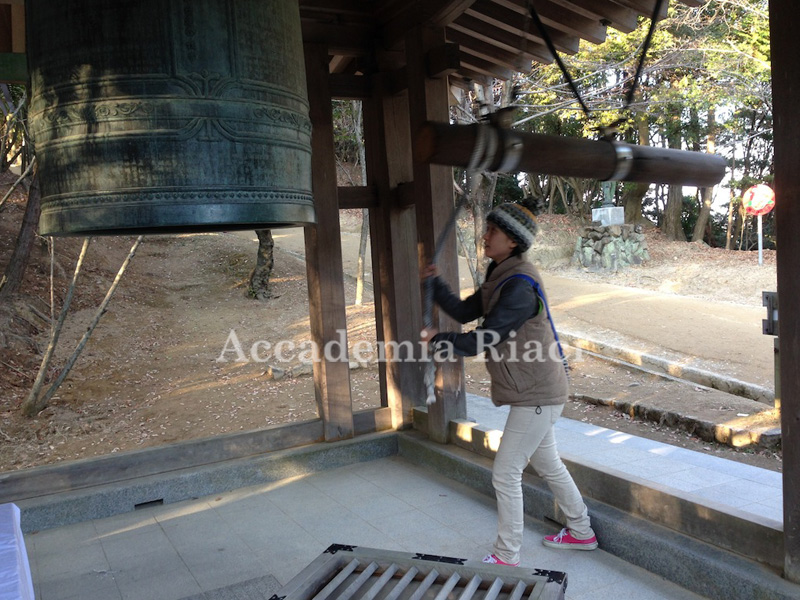 おみくじの「凶」を払拭するかの勢いで鐘をつきました。今年も宜しくお願いします。

I rang the temple bell wishing to chase off the bad luck.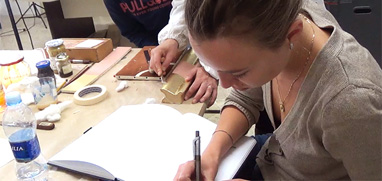 At Accademia Riaci, we are recruiting Course Reporters from our students. The students who are chosen to become Course Reporters are given 10 % of the tuition as their scholarship fee.
The Reporters who have submitted excellent reports will have his or her profile posted on our school website for the next 5 years as an alumnae and will be able to connect with their business chancesafter their graduation.