Accademia Riaci
Student Reports
Read all class reports from our students!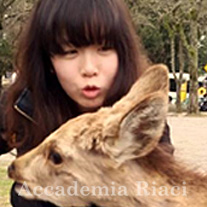 Reporter
Li SHIAU-TING
Nationality: Taiwan
Course: Shoe Making
Program: Atelier Course
Period: Sep. 4, 2017 – Apr. 27, 2018
Shiau-Ting, Li. Shoes designer from Taiwan.
After working in Taiwanese footwear industry for three and a half years, she came to Firenze to study shoes making course, the city which is famous for leather art and shoes.
Although she already has basic aesthetics and sketching technique background from university (B.A.), yet she hopes to extend her shoe-making skills here in Riaci. She believes designer can deliver their thoughts through their works, hoping to keep motivate people with her designs.

李曉婷,來自台灣的鞋類設計師。
在台灣鞋產業工作三年半之後,她決定到皮革之都-佛羅倫斯,學習製鞋技術。
大學主修產品工藝,擁有美學背景、好的品味及繪畫基礎。即便如此,仍期望到莉雅琪延伸自己在實作上的經驗。她相信,設計師能夠透過設計表達想法,希望能持續用創作感動身邊的人。

台湾の靴業界で靴デザイナーとして3年半経験を積んだ後、さらに学びを深めようと革工芸と靴で有名なここフィレンツェへやって来ました。
基本的な審美眼とスケッチ技術は大学(文学士号取得)で学んでいましたが、さらに靴制作の技術を磨くためにリアチ入学を決めました。「デザイナーの想いは、デザインを通して人々に届く」ことを信じ、自分のデザインで人々の心を動かしたいと願っています。
Jan. 20, 2017 | Posted in Reports, Shoemaking , Student Reporter | Tags:Li Shiau-Ting, ShoemakingReporter: Li SHIAU-TING | Course: Shoemaking
從17th December,2016~15th January, 2017是我們的聖誕假期,一個月的時間雖然無法繼續完成作品覺得有點可惜,但給了自己一點時間能夠更認識義大利這個美麗的國家。這次的旅程,我安排了幾個景點旅遊,分別是:同樣在托斯卡尼區的古都錫耶納、義大利北邊的浪漫城市維羅納、大學城波隆那,當然也少不了體驗佛羅倫斯更多的城市面貌。

From 17th December, 2016~15th January, 2017 was our Christmas break. I feel a bit pity that we could not progressing our works, but it's fine, now I had more time to get to know this beautiful country. I arranged some places for visiting, which was: Siena, Verona, Bologna.

12月17日から1月15日までは学校の冬休みでした。靴制作が進められないのは少し残念でしたが、ようやく自由な時間ができたので美しいイタリアを楽しむことにしました。というわけでシエナ、ヴェローナ、そしてボローニャを旅してきました。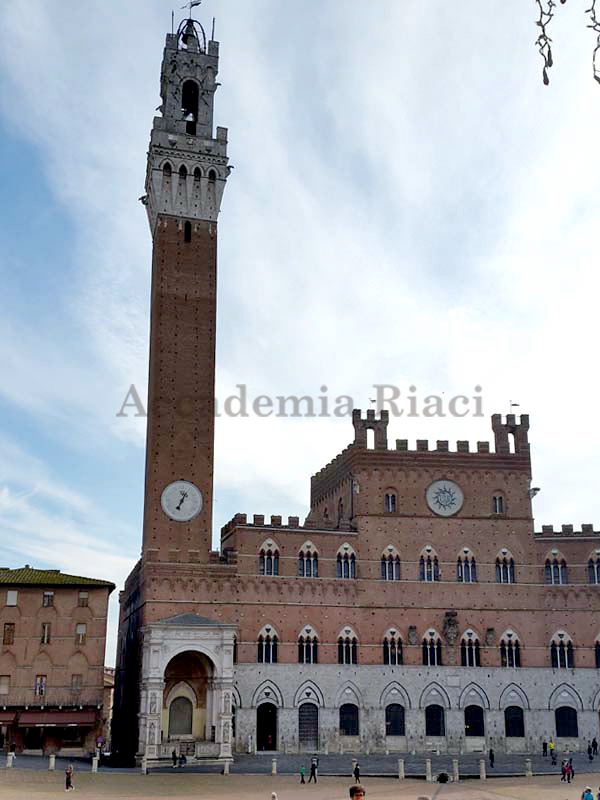 錫耶納城是我一直想去的義大利城市之一,雖然在來到義大利前對這個城市沒有太多的了解,了解後發現錫耶納城同樣被列為文化保護區,且比起佛羅倫斯城保留了更多原始的中世紀建築。身邊的朋友都很推薦我去錫耶納,直稱讚其美景完全不輸佛羅倫斯城。我喜歡錫耶納的古老、喜歡它比起佛羅倫斯有更多的寧靜。當我走在巷子、坐在田野廣場上,好像可以理解為什麼當地人會這麼地喜歡錫耶納。圖片為錫耶納廣場前的市政廳。

Siena city was a place I wanted to go for a long time. Though lots of my friends said it was a very beautiful place, I didn't know much about it. I googled Siena city and I was surprised. Actually, Siena has preserved more middle age buildings than Firenze. I like the architecture there, I like it's calm. When I sitting in front of Palazzo Pubblico, I understood why people here love this place so much.

シエナは私がずっと行きたかった街です。多くの友人からとても美しい場所だと聞いてはいたものの、それほど知識はなかったのでリサーチをしてみました。驚いたことに、シエナに現存する中世からの建造物はフィレンツェより多いそうです。とても静かな感じのこの街の建物が私は好きです。プブリコ宮殿の前に座ってみて、なぜここの人たちがこの場所をそれほど愛しているかが分かった気がしました。

從市政廳內向外看出的風景,錫耶納城坐落於山坡上,鳥瞰遠方有美麗的山巒景色。

Sight views from top of Palazzo Pubblico. The city of Siena is located on the top of a hill so, it was gorgeous when seeing views outside Siena city.

プブリコ宮殿の上から見た街の景色。シエナは丘の上の街なので、周辺の街の素晴らしい景色が堪能できます。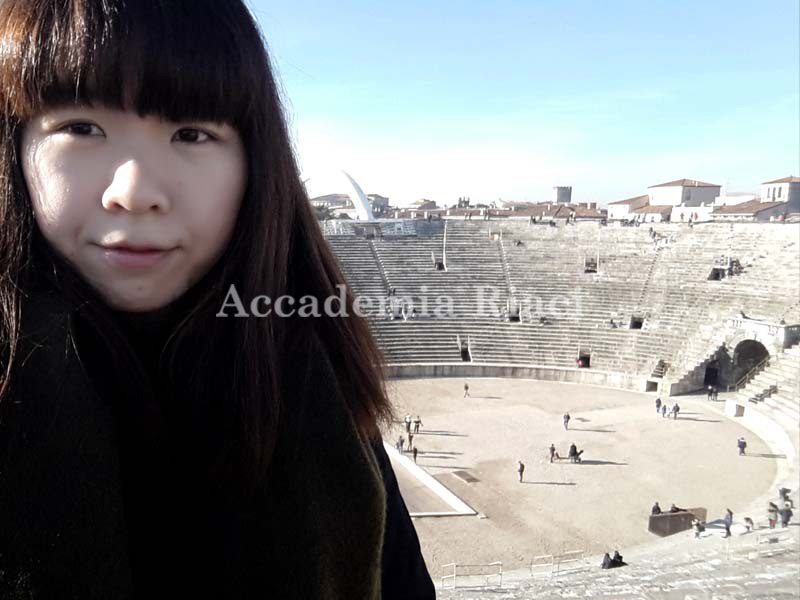 維羅納城的旅行是送給自己聖誕節的禮物,三天兩夜其實沒有太多的規劃,訂好車票、飯店、一只後背包就出門了。我非常喜歡維羅納城,除了它是劇作羅密歐與茱麗葉的發源地外,我喜歡這座城市的顏色、每個巷道內優美的櫥窗擺飾、陽光灑下來的氣氛,尤其到了傍晚時分,整個城市蓋上了一層淡紫色的布幕。一個瞬間,我也微醺了。圖片為維羅納廣場旁的小型競技場。

A trip to Verona is a Christmas gift for me. I did not have much plan for this trip actually because I preferred a cozy journey. The only things I prepared were: transport tickets, hotel reservation and one bag. I like Verona city very much. Not only because it was the place where "Romeo and Julia" was inspired, but also the color of this city, the atmosphere, the decoration of every corner.
Photo shot from Arena di Verona.

ヴェローナへの旅は私へのクリスマスプレゼントでした。こじんまりとした旅がしたかったのであまり計画は立てませんでした。なので事前に用意したのは交通費(チケット)とホテル予約にバッグ1つだけでした。ヴェローナは私のお気に入りの街です。ロミオとジュリエットの舞台になったからという理由だけでなく、この街の色合いや雰囲気、街角を彩る装飾に心惹かれます。
これはアリーナ・ディ・ヴェローナでの1枚。

從市中心的河岸遠眺Punto panoramico Castel,一個你可以鳥瞰整個維羅納城的拍照好地方。

A place where you could see whole Verona city from the top: Punto Panoramico Castel.

ヴェローナの街が一望できるプント・パラノミコ・カステル。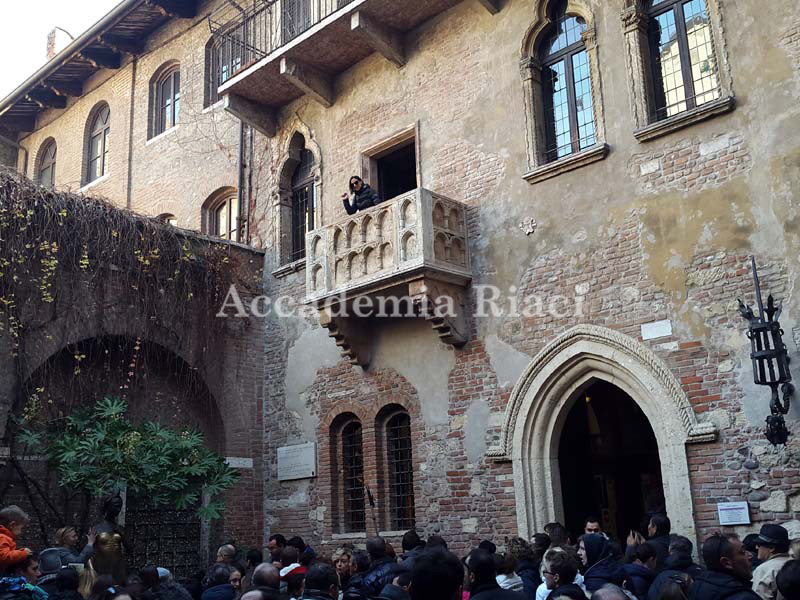 傳說中的羅密歐與茱麗葉之牆,劇中茱麗葉就是在此等待愛人羅密歐與他相見。

Here, famous for the legendary literature "Romeo and Julia". "Casa of Julia", is a place where Julia waiting for Romeo to see him again.

ここがかの有名な「ロミオとジュリエット」の舞台、ジュリエットが愛しのロミオを待った彼女の家です。

仔細觀察會發現義大利每個城鎮的聖誕樹都有些不同。這是維羅納的聖誕樹,白色的燈泡配上紅色的蝴蝶結,看起來好似女孩穿上白裙繫上了紅色的蝴蝶結,連聖誕樹也浪漫了起來。

If you clearly see, you will find that every Christmas tree looks little different in each city. And this, according to the picture, was a Christmas tree from Verona, with the white shining light and red bow-tie. It looked like a girl wearing a beautiful skirt. How romantic!

イタリアのクリスマスツリーは街によって違いがあります。このヴェローナのツリーは真っ白な電飾に真っ赤なリボンの電飾が巻かれたようになっていて、まるで白いドレス姿の少女のようでした。ロマンチックですね。

這是在波隆那的街角,街頭藝人正吹起薩克斯風,很是熱鬧。我很努力捕捉他們的畫面,而這是我最滿意的一張。很替他們感到開心,一群朋友即便有了點年紀,卻還是能一起做喜歡、開心的事,這樣,就足夠了!

In this picture, a band was playing saxophone on the street in Bologna. I tried to catch their image when playing and, this is the one I really satisfied. I am happy for them. Although they were not young anymore, they still could do something they were happy with. It's good.

ボローニャの街角で演奏していたサックス隊。演奏中のいい写真が撮れたので満足です。少し年齢のいったおじさんたちでしたが、とても楽しそうに演奏していたので、こちらまで幸せな気分になりました。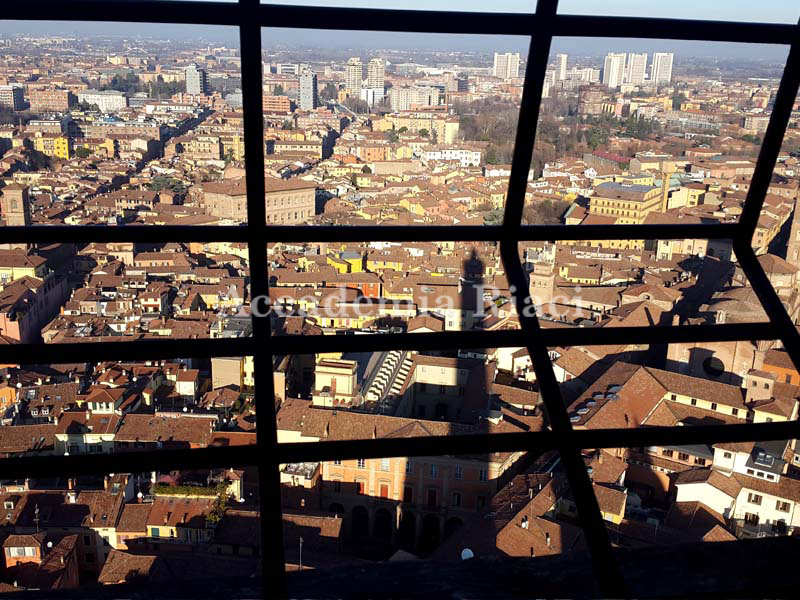 沒有太多的人物入境,因為窗外的景色實在太美麗了。恩,迎接2017的第一天,我跟遠方而來的男友一起爬上了波隆那的高塔,塔很高爬起來很艱辛,但當看到美麗的景色一切都值得了。希望新的一年,也能跟爬塔一般,有美麗的成果。

Because the view outside window was much more beautiful, I did not took much photo of ourselves. During break time, my boyfriend came visiting me in Bologna. For the first day of 2017, we climbed up the tower of Bologna. Though it was not easy to climb up, it was worth when seeing the beautiful view. I made a wish, hoping this year will be as beautiful as this memory.

ここは窓の外の眺めが良すぎて自分たちの写真を撮るのを忘れるほどでした。冬休みを利用してボーイフレンドとボローニャで合流し、元日に一緒にボローニャの斜塔(ガリセンダの塔)に登りました。とても大変でしたが、景色が美しかったので登った価値はありました。この景色と同じくらい素晴らしい1年になるよう、願掛けをしました。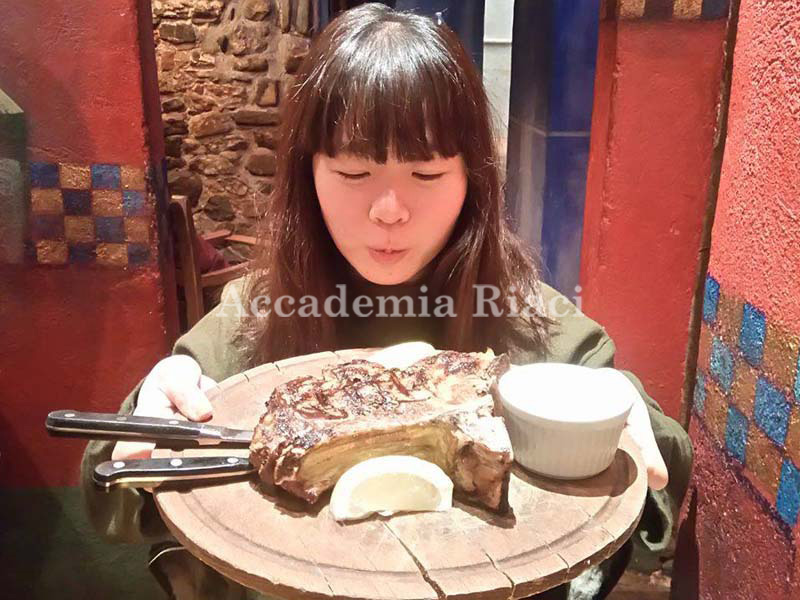 跨年後的某一天,跑去吃了傳說中的佛羅倫斯大牛排,這大概是我吃過最好吃的牛排了吧!雖然中間半生卻不會有任何腥味,肉質非常嫩。當我看到朋友幫我拍的照片,很難想像我們兩人能夠吃掉這麼大一個牛排,它比我臉還大啊…

Celebration for 2017 new year's come, we went to eat the famous "ZAZA super big steak" in Firenze. Inside steak the meat is raw but still very juicy and delicious. When I saw the picture my friends took to me, I was astonished that we ate such a big meat. Even bigger than my face!

新年を祝って、フィレンツェの有名店「ザザ Zaza」で大きなステーキを食べました。中はレアでしたがとてもジューシーで美味しかったです。友達が撮ってくれたこの写真を見て、自分の顔より大きいお肉を食べたことに改めてビックリしてしまいました。

一年一度的巫婆節遊行,當地居民穿起中世紀或文藝復興時期的華服,作為假期的落幕和緬懷過去美好時光。

La Befana day parade. People wore traditional clothes to memorize and celebrate for the old good time.

魔女ベファーナの日を祝うパレード。伝統衣装に身を包んだ人々がお祝いに繰り出します。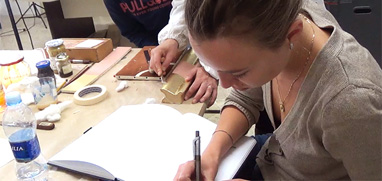 At Accademia Riaci, we are recruiting Course Reporters from our students. The students who are chosen to become Course Reporters are given 10 % of the tuition as their scholarship fee.
The Reporters who have submitted excellent reports will have his or her profile posted on our school website for the next 5 years as an alumnae and will be able to connect with their business chancesafter their graduation.