Accademia Riaci
Student Reports
Read all class reports from our students!
Reporter
Lara Blevi
Nationality: South-African
Course: Shoe Making
Program: One-Year Atelier Course
Period: Sept 5, 2016-April 25, 2017
After Studying a BA degree in Fashion Design in South Africa, Lara decided that she would love to study further and focus on a specific direction in the fashion industry. During her studies, she followed an internship at a company where she was taught how to make and design handbags out of leather and exotic leather skins.

She knew instantly that she would love to study further and learn more about shoes and decided to come to Firenze, Italy, the most famous city to learn more of leather art and shoes! She found Accademia Riaci and knew that the shoe making course that they had to offer was exactly was she was looking for.

Here she wishes to learn the highest level of shoe making techniques and to be able to follow her dream to become a designer with the knowledge of not only fashion, but also the art of shoe and handbag design.

南アフリカでファッションデザインの文学士号を取得後、ファッション業界で目指す方向を定めるためにもっと学びを深めたいと思いました。企業インターンを経験した際には、外国製の皮革を使用したカバン制作とデザインを学びました。

すぐに靴制作を学びたいと思うようになり、靴制作や革工芸を学べる世界で最も有名な都市・フィレンツェ行きを決意。検討の結果、自分が探し求めていた内容の靴制作コースを提供するアカデミアリアチへの入学を決めました。

ここで最高レベルの靴制作技術を身につけ、ファッションのみならず靴やカバンの知識も兼ね備えたデザイナーになることが夢です。
Jan. 19, 2017 | Posted in Reports, Shoemaking , Student Reporter | Tags:Lara Blevi, ShoemakingReporter: Lara Blevi | Course: Shoemaking
As the last week of the year came upon us there was a lot of excitement for the holidays, but that also meant crunch time for some of us that still wanted to finish one of our pairs of shoes to take back home. Luckily I managed to finish my pair of shoes that I made my boyfriend for Christmas. I am so excited for him to try them on. I just really hope they fit!

1年を締めくくる週を迎え、間近に迫った冬休みへの期待が膨らみます。と同時に、まだ1足も仕上げていない学生は、冬休みの帰省に間に合わせるため必死に頑張らなければなりません。私はボーイフレンドのクリスマスプレゼント用の靴が間に合ってホッとしています。実際に履いている姿を想像するだけでワクワクします。どうか彼の足にピッタリ合いますように。

During the week I also finished my last Christmas shopping and cleaned my flat for my brother and his friend that came to visit me on the Friday. We had a great weekend as I showed them around Florence as well as some great bars and clubs. I also made sure to take them to some tasty Tuscan restaurants. They left on Sunday morning and I started packing most of my thing as I was flying back to South Africa the next day.

今週はクリスマスの買い出しを終え、金曜に遊びに来る弟とその友人のために部屋の掃除をしました。フィレンツェ案内はもちろん、バールやクラブにも行ってとても楽しい週末でした。もちろん美味しいトスカーナ料理のお店で食事も楽しみました。日曜の朝に彼らが帰った後から荷造りを始め、翌日に南アフリカに帰省する飛行機に乗りました。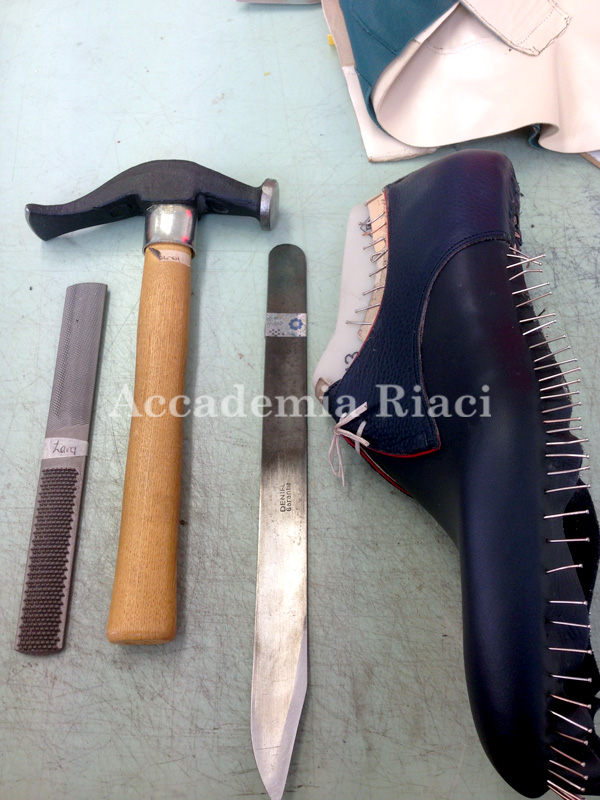 Here are the shoes I made for my boyfriend while I was on the lasting stage. This was how far I was on the Monday and needed to work really fast to be able to finish them by the Friday.

吊り込み作業中のボーイフレンド用の靴。これが月曜日時点での写真なので、金曜までに完成させるためにもっと作業スピードを上げなければなりませんでした。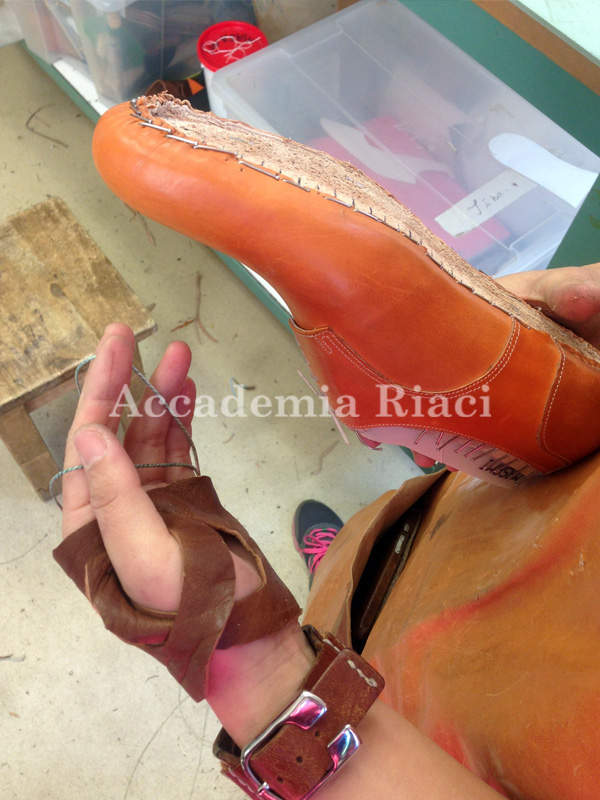 Masami was already hand sewing her shoes for the Goodyear technique. The process is quite harsh on your hands, so wearing a form of leather glove could help a lot.

すでにグッドイヤー靴の手縫い作業に入っているマサミ。この作業は手がとても痛くなるので、革のグローブがあると助かります。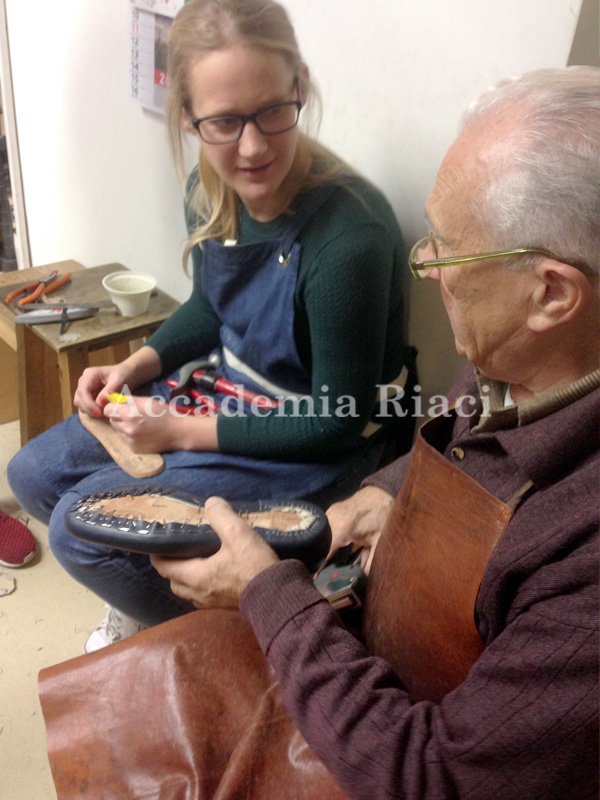 Prof Angelo showed us a quick and easy way to last your shoe with a staple gun. We were all so stunned how much faster it went. I think we all might just get a staple gun to make life easier!

ガンタッカーを使用しての早く簡単な吊り込み作業を見せているアンジェロ先生。釘を打つよりものすごく早く出来上がってビックリしました。私たち全員、時間短縮のためにガンタッカーを買った方がいいかも(笑)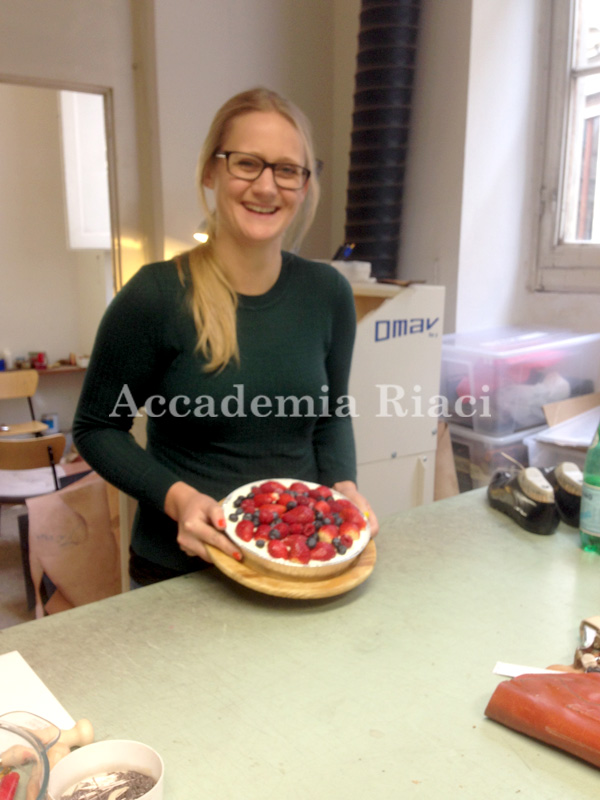 Joanne made a gorgeous and delicious cheesecake for our little farewell Christmas party.

ジョアンがクリスマスを兼ねたしばしのお別れの会のために、こんなに豪華で美味しいチーズケーキを作って来てくれました。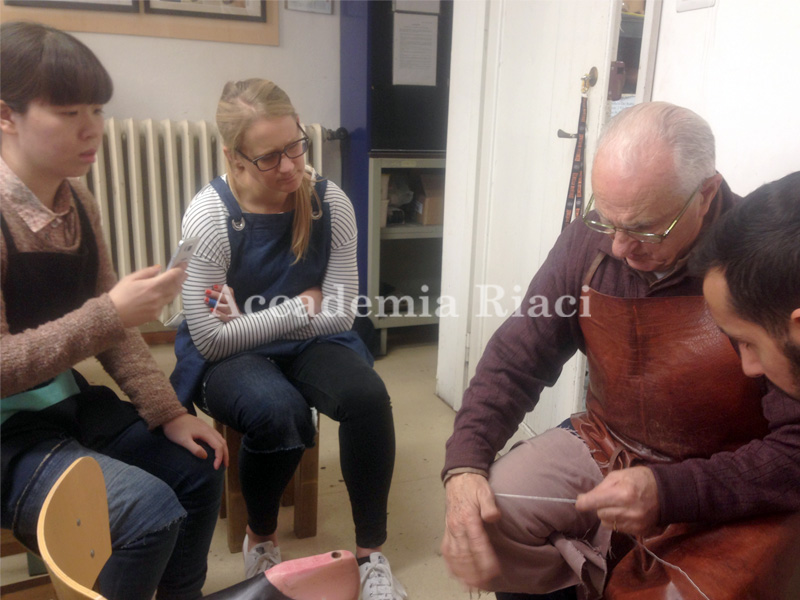 Angelo explaining and showing us the very special technique on how to prepare your thread to be able to use it for the Goodyear sewing technique.

グッドイヤー靴の縫いに使えるよう、特別な糸の準備の仕方を教えてくださっているアンジェロ先生。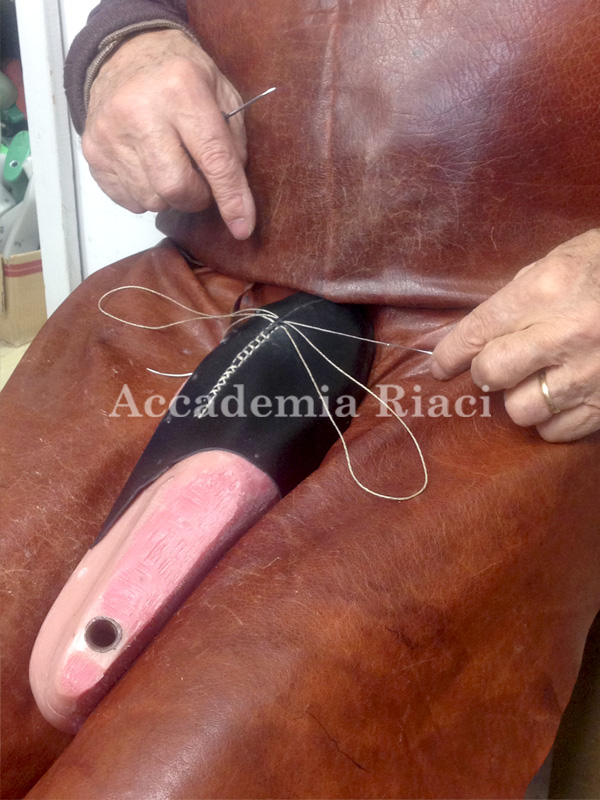 Here he also explained to us all the different hand-sewing styles that you can use on shoes, some of then even only for decorative use.

他にもいくつかの手縫い方法を教えてくださいました。その中には飾り縫いも含まれていました。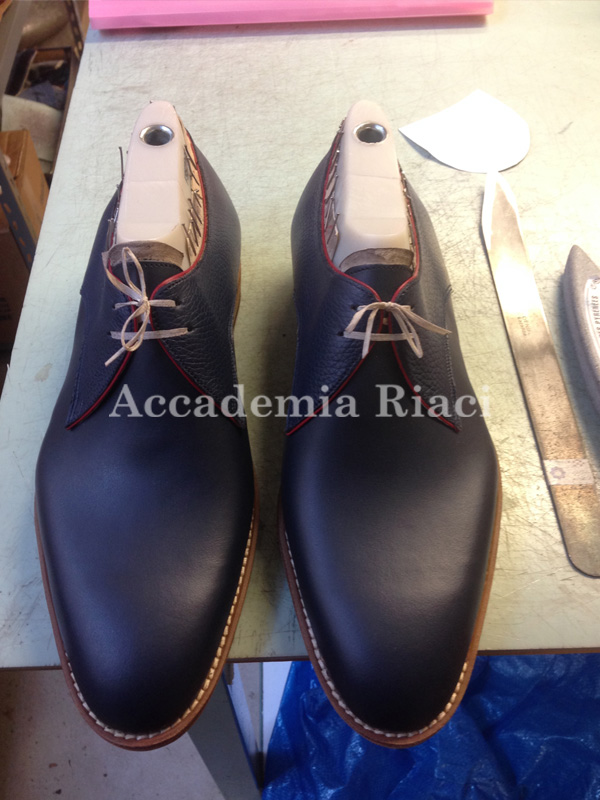 My boyfriend's shoes with the soles finished and the leather polished. After this the last gets taken out and you get to add your own choice of laces. I wanted to add red laces, but used navy instead as I wasn't able to find the right color red.

底をつけて革を磨いたボーイフレンド用の靴。この後靴ひもを選びに行きましたが、探していた感じの赤が見つからなかったので紺色の靴ひもにしました。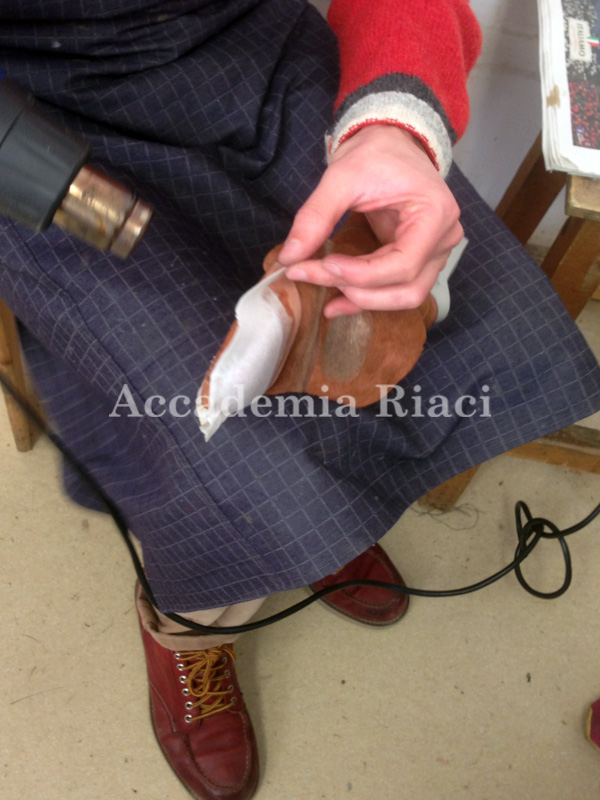 Bernardo showing us again on Joe's shoe how to add the toe reinforcement onto the shoe the right and perfect way without any creases or folds.

ジョーの靴を使ってつま先に補強材を入れるお手本を見せているベルナルド。でこぼこも全くなく、完璧な仕上がりです。

Me, my brother and his friend that came to visit me on the Friday. I showed them around Florence and we went for sundowners on piazzale Michelangelo. Here you have the most beautiful view of the whole of Florence.

金曜に遊びに来た弟とその友達にフィレンツェを観光案内。ミケランジェロ広場からの夕焼けを楽しみました。ここはフィレンツェで一番美しい景色が見られる場所です。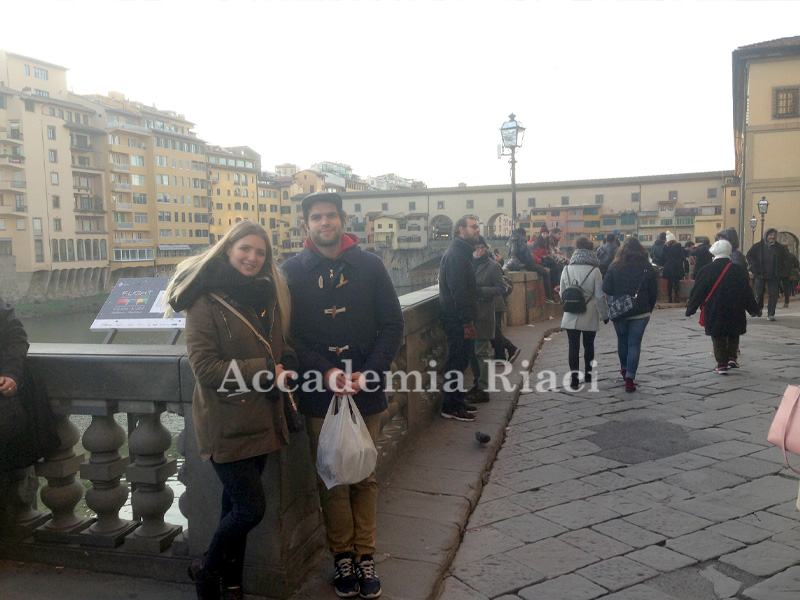 Me and my brother in front of Ponte Vecchio.

ポンテヴェキオ(ヴェッキオ橋)にて弟と。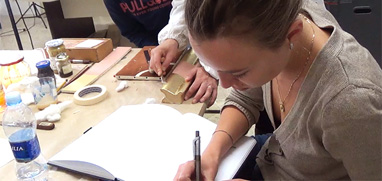 At Accademia Riaci, we are recruiting Course Reporters from our students. The students who are chosen to become Course Reporters are given 10 % of the tuition as their scholarship fee.
The Reporters who have submitted excellent reports will have his or her profile posted on our school website for the next 5 years as an alumnae and will be able to connect with their business chancesafter their graduation.