Accademia Riaci
Student Reports
Read all class reports from our students!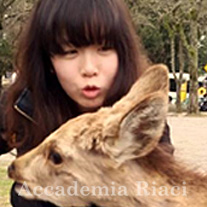 Reporter
Li SHIAU-TING
Nationality: Taiwan
Course: Shoe Making
Program: Atelier Course
Period: Sep. 4, 2017 – Apr. 27, 2018
Shiau-Ting, Li. Shoes designer from Taiwan.
After working in Taiwanese footwear industry for three and a half years, she came to Firenze to study shoes making course, the city which is famous for leather art and shoes.
Although she already has basic aesthetics and sketching technique background from university (B.A.), yet she hopes to extend her shoe-making skills here in Riaci. She believes designer can deliver their thoughts through their works, hoping to keep motivate people with her designs.

李曉婷,來自台灣的鞋類設計師。
在台灣鞋產業工作三年半之後,她決定到皮革之都-佛羅倫斯,學習製鞋技術。
大學主修產品工藝,擁有美學背景、好的品味及繪畫基礎。即便如此,仍期望到莉雅琪延伸自己在實作上的經驗。她相信,設計師能夠透過設計表達想法,希望能持續用創作感動身邊的人。

台湾の靴業界で靴デザイナーとして3年半経験を積んだ後、さらに学びを深めようと革工芸と靴で有名なここフィレンツェへやって来ました。
基本的な審美眼とスケッチ技術は大学(文学士号取得)で学んでいましたが、さらに靴制作の技術を磨くためにリアチ入学を決めました。「デザイナーの想いは、デザインを通して人々に届く」ことを信じ、自分のデザインで人々の心を動かしたいと願っています。
Dec. 23, 2016 | Posted in Reports, Shoemaking , Student Reporter | Tags:Li Shiau-Ting, ShoemakingReporter: Li SHIAU-TING | Course: Shoemaking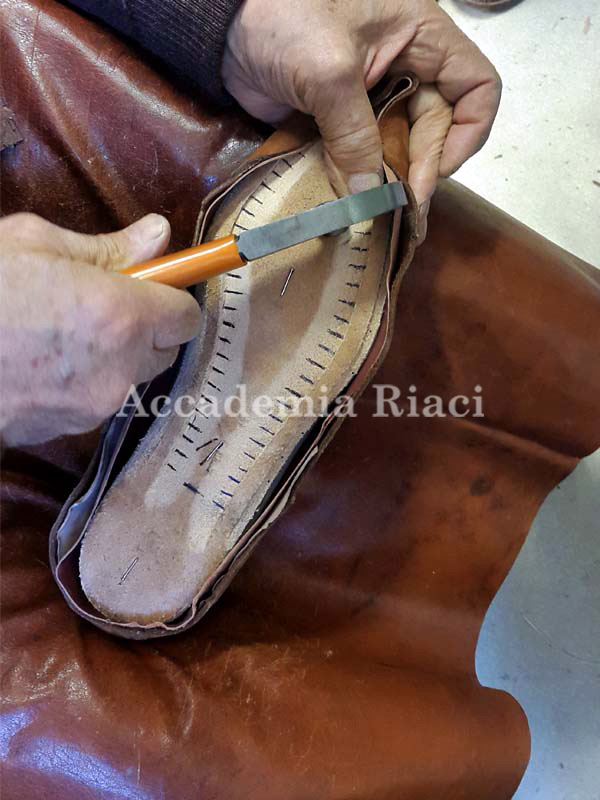 在製作好固特異的中底後,我們開始繼續攀幫的過程。Angelo正在示範固特異的攀幫技巧。好的攀幫技巧將會影響鞋子的成形,固特異的攀幫做法也與以往的不同,需要使用更多的力氣配合正確的角度,將釘子釘在牆內。

When finishing insole for Goodyear shoe, we started the process for lasting. Angelo was demonstrating method for lasting Goodyear shoe. A good lasting skill is really important, because, it would affect how it looks. The method for lasting Goodyear construction also differ from the way we used to learn, this one needed more strength and rights angle to pull. Meanwhile, nails should be nailed inside the wall.

グッドイヤー靴の中底を仕上げるのと同時に吊り込み作業を始めました。それにあたり、アンジェロ先生がグッドイヤー靴の吊り込み方のお手本を見せてくださいました。仕上がりの外観を左右するので、正確な吊り込み技術はとても大事です。 グッドイヤー製法の吊り込みはこれまで学んだ製法とは違い、革を正しい角度に引っ張るのに力が必要です。それ以外にも、釘を壁の内側に打ち込まないといけません。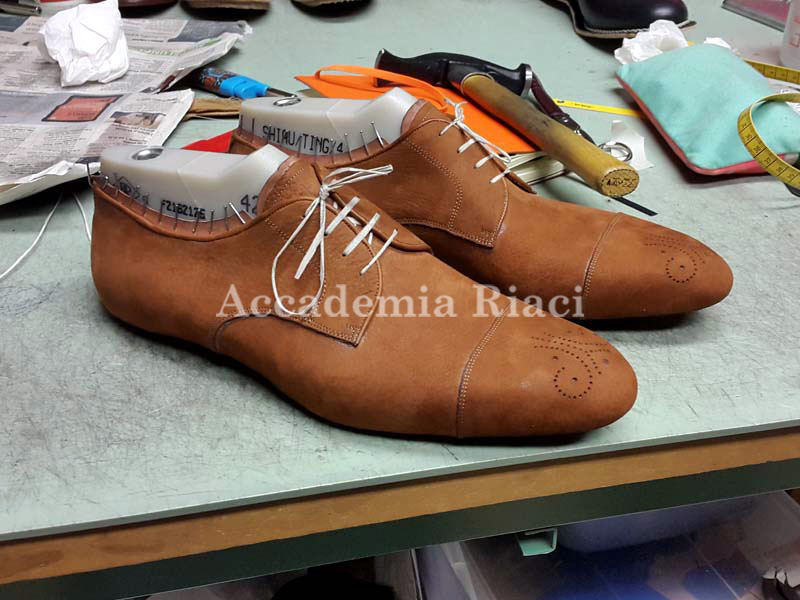 我花了一整天的時間,完成整個攀幫的過程。經過前面幾款鞋子的練習,漸漸能掌握攀幫的技巧,速度也快多了。漸進式的教學,好似只要跟著Angelo的腳步,從簡單的女鞋製作到複雜的男鞋都不成問題,十分紮實的訓練。

I spent almost whole day completed lasting. After couple of practice, I felt that I could gradually master my lasting skill as well as getting fast. From simple women's shoe to more complicated designs, it seemed that following prof. Angelo step by step, nothing will be the problem.

この吊り込み作業の完成にほぼ丸1日を要しました。数回練習を重ね、ようやく徐々にですが慣れてきて作業スピードも上がってきました。シンプルな婦人靴から複雑なデザインのものまで、アンジェロ先生の丁寧な指導の通りに行えば、作れない靴はないように思えます。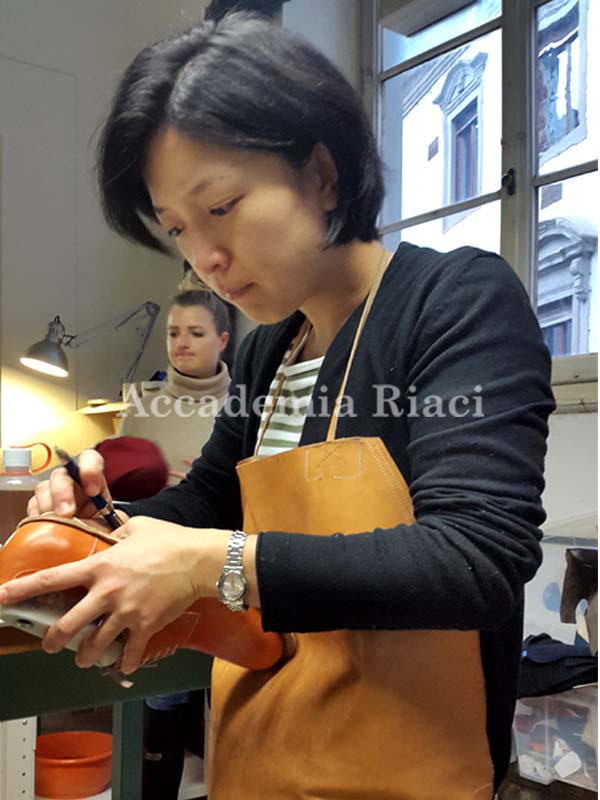 Masami正在以飛快的速度製作她的固特異德比鞋,她正在專注地量測沿條的距離,準備手縫沿條與中底。

Masami was ahead from others. Now, she was measuring distance for welting.

他のみんなより作業が進んでいるマサミ。ウエルトの長さを測っているところです。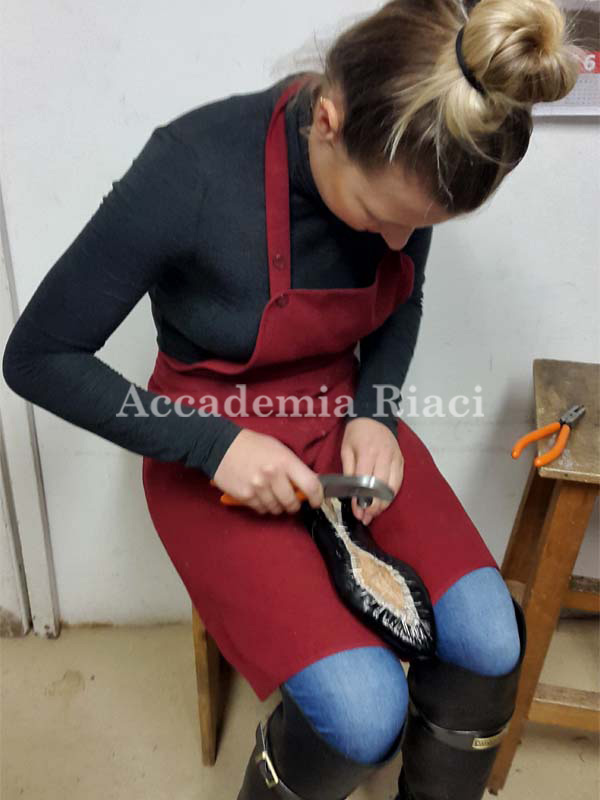 我拍攝了一系列大家正在專注攀幫的照片,希望能在學期結束前紀錄大家最後努力的樣子。這是Lara。

I took a series of photo when everybody were lasting their shoes, in order to record last shot before this semester ended. Hi, this is Lara.

今日は全員の吊り込み作業の様子を写真に収めました。これが今学期最後の授業中の写真となります。これはクラスメートのララ。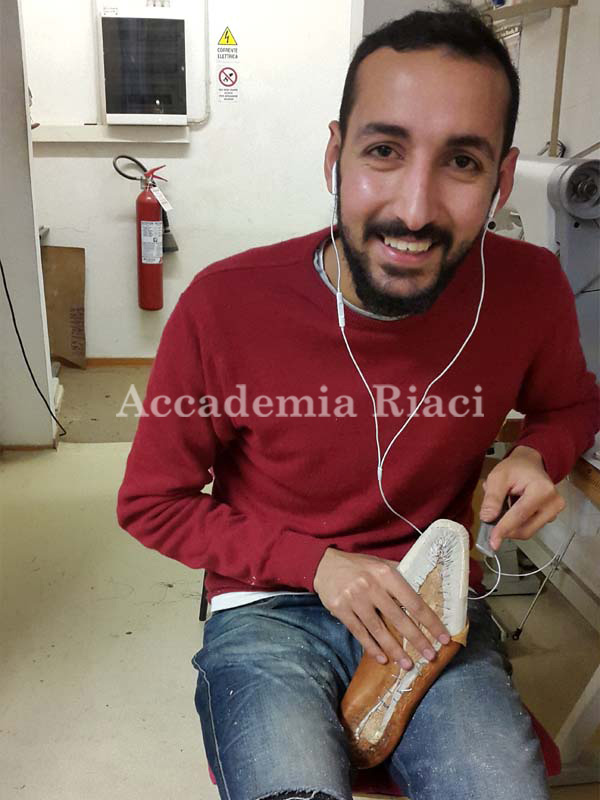 這是Joe,他正在開心的拿銼刀磨他剛放好的前港寶。如果要讓鞋頭在攀幫後能夠平順沒有痕跡,除了皮要拉緊外、再來就是要用銼刀把港寶接縫處磨平。我想工藝的最高境界大概就是,凡事自己來、小細節也不放過吧!

This is Joe, now he was happily use his file to smooth toe-counter. A method to shape a beautiful toe-cap was not just fastened leather on your last, but also the counter inside needed to be smoothed as possible.

楽しそうに靴のつま先芯をなめらかに整えるジョー。美しい飾り革はただ吊り込んだつま先の上に巻きつければいいものではなく、中のつま先芯がなめらかに整えられている必要があるのです。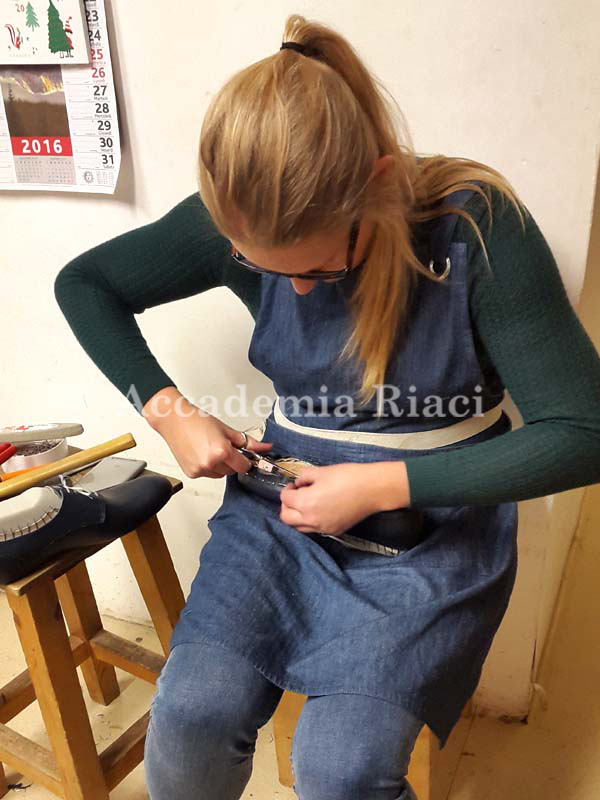 Joanne正在剪去攀幫後多餘的皮料,這個步驟的目的在於放便後續手縫沿條跟大底時能夠清楚看到洞的位置。在鞋面、內裏、港寶層層堆疊後,在鞋頭會產生很多的皮料需要切除,偏偏鞋頭處角度又特別小,大家都費了好一番功夫在這上面…

Joanne was cutting leather which was unnecessary, this step was to clean insole and see holes inside.

余分な革を切り落としているジョアン。この作業で中底を綺麗に整え、中の穴が見えるようにします。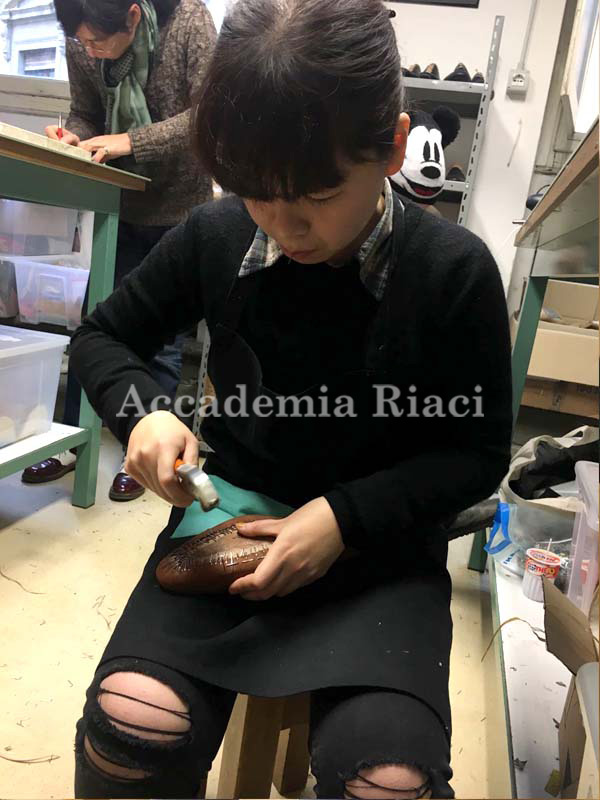 同時間我也正在跟我的鞋子奮鬥,這時候我差不多完成我的攀幫過程了,正在補上更多的釘子並且把有皺褶的地方敲平。

This is me. I was working hard with my shoe and almost done. I put more nails where the wrinkle was and flatten it.

私は必死に自分の靴を作り、ほぼ完成というところまで仕上げました。シワが寄っている部分に釘を打ち、そのシワを伸ばしました。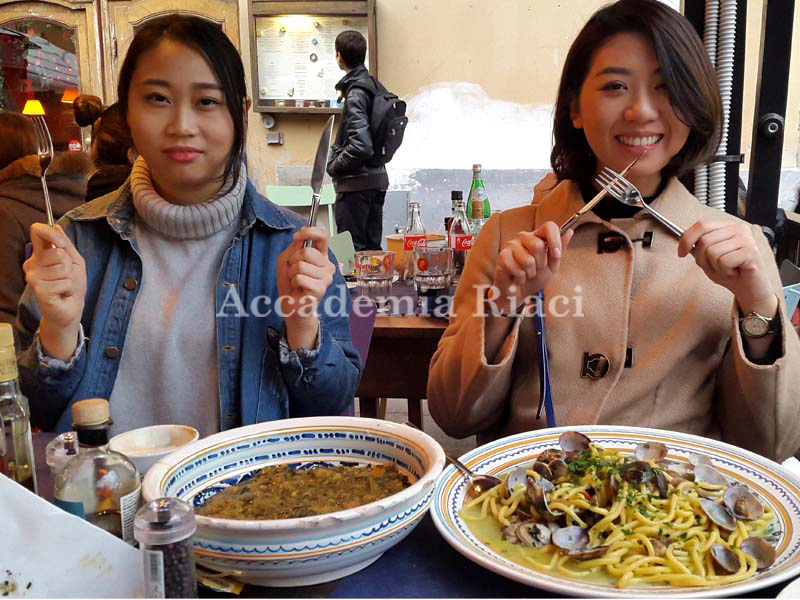 在周末逛完古物市集後,我與朋友們來到位於Santo Spirito附近的餐廳享受當地美食。這家餐廳的餐點十分新鮮美味、但份量大得嚇人。圖片是Yi-Ying的餐點,一人份的海鮮義大利麵跟蔬菜湯,怎麼看都像是三人份。開動囉!

We went to vintage market near Santo Spirito, after that, we had a wonderful Italian meal in one restaurant. Meals were super delicious and the portions were very generous in this restaurant. Picture shot when Yi-Ying's order was coming, including a portion of pasta and one soup. Really big isn't it?

みんなでサント・スピリト聖堂近くのアンティーク市場に行きました。その後、レストランで素晴らしいイタリア料理を楽しみました。とても美味しくて、量も多めでした。写真のお料理はイ・インが注文したパスタとスープ。どうです、この大きさ!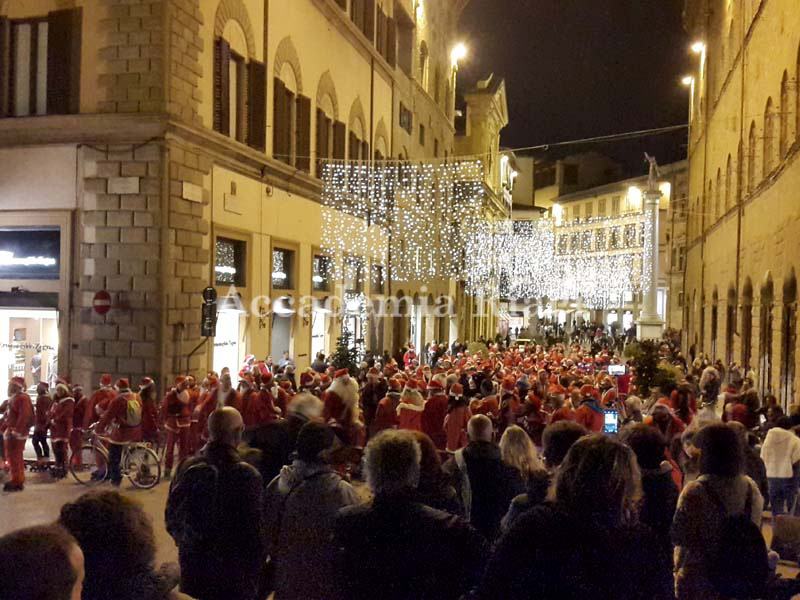 接近聖誕節的佛羅倫斯,夜晚開始熱鬧起來。這天,一群人扮起聖誕老人,在天主聖三橋的街道上或騎腳踏車、或腳踩溜冰鞋,沿著街道遊行。

Florence city was lively these days. On Saturday, which was near Tornabuoni street, a group of people wore Santa Claus clothe, having a parade on the street.

今フィレンツェの街は活気にあふれています。土曜にはトルナブオーニ通りの近くで大勢の人々がサンタのコスプレ姿で集まり、パレードをしていました。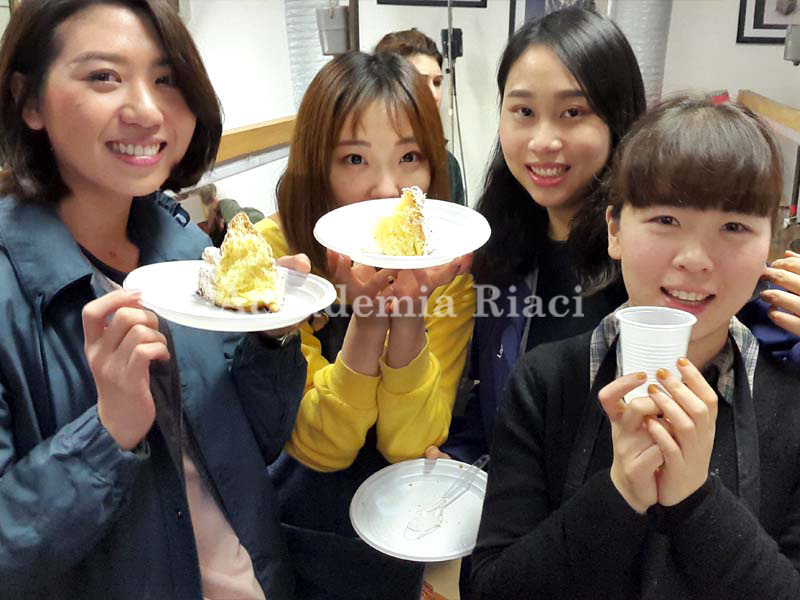 星期四是聖誕假期前最後一天上課,學校小小舉辦了一場歲末年終派對,大家齊聚一堂寒暄問暖,配上蛋糕與香檳,好不熱鬧啊!漸感覺這裡就像一個大家庭,每個人都很親切可愛。上學期就這樣悄悄地結束了,希望新的一年在這裡的學習能更加的突飛猛進,假期快樂!

Thursday was the last day before Christmas break, Accademia Riaci held a little party for celebration. What a joyful time with cakes and bottles of champagne. I felt that students getting closer to each other and was like a big family. This was the end of this semester, next semester, would be more vivid! Happy New Year!

木曜は冬休み前の最後の授業日でした。リアチでささやかなお祝いのパーティーが開かれました。ケーキとシャンパンをいただき、とても楽しいひと時を過ごしました。学生同士の距離が縮まり、まるで大きな1つの家族になったように感じました。今学期はここまで、新学期はさらに楽しくなるでしょう。
では良いお年を!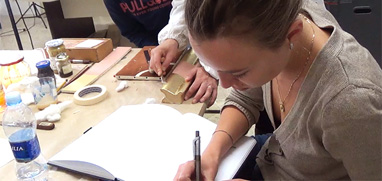 At Accademia Riaci, we are recruiting Course Reporters from our students. The students who are chosen to become Course Reporters are given 10 % of the tuition as their scholarship fee.
The Reporters who have submitted excellent reports will have his or her profile posted on our school website for the next 5 years as an alumnae and will be able to connect with their business chancesafter their graduation.