Accademia Riaci
Student Reports
Read all class reports from our students!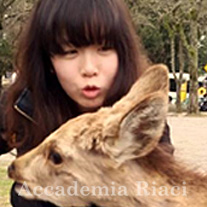 Reporter
Li SHIAU-TING
Nationality: Taiwan
Course: Shoe Making
Program: Atelier Course
Period: Sep. 4, 2017 – Apr. 27, 2018
Shiau-Ting, Li. Shoes designer from Taiwan.
After working in Taiwanese footwear industry for three and a half years, she came to Firenze to study shoes making course, the city which is famous for leather art and shoes.
Although she already has basic aesthetics and sketching technique background from university (B.A.), yet she hopes to extend her shoe-making skills here in Riaci. She believes designer can deliver their thoughts through their works, hoping to keep motivate people with her designs.

李曉婷,來自台灣的鞋類設計師。
在台灣鞋產業工作三年半之後,她決定到皮革之都-佛羅倫斯,學習製鞋技術。
大學主修產品工藝,擁有美學背景、好的品味及繪畫基礎。即便如此,仍期望到莉雅琪延伸自己在實作上的經驗。她相信,設計師能夠透過設計表達想法,希望能持續用創作感動身邊的人。

台湾の靴業界で靴デザイナーとして3年半経験を積んだ後、さらに学びを深めようと革工芸と靴で有名なここフィレンツェへやって来ました。
基本的な審美眼とスケッチ技術は大学(文学士号取得)で学んでいましたが、さらに靴制作の技術を磨くためにリアチ入学を決めました。「デザイナーの想いは、デザインを通して人々に届く」ことを信じ、自分のデザインで人々の心を動かしたいと願っています。
May. 11, 2018 | Posted in Reports, Shoemaking , Student Reporter | Tags:Li Shiau-Ting, ShoemakingReporter: Li SHIAU-TING | Course: Shoemaking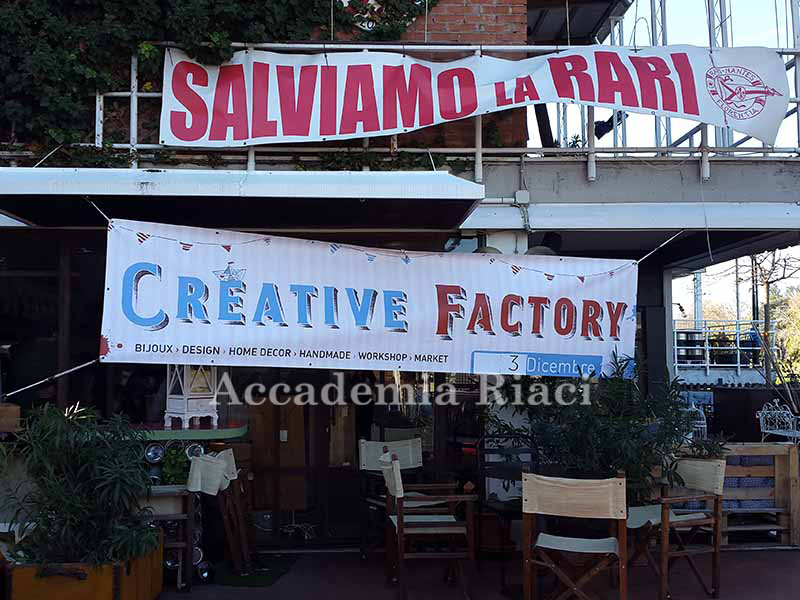 接近聖誕節的週末,佛羅倫斯舉辦了好幾場大大小小的市集,我參加了其中一場舉辦在阿諾河畔,稱為-Creative Factory.

When the day coming closer to Christmas, there are lots of Christmas market held in the city. I participated in one which was near Arno river, which is called-Creative Factory.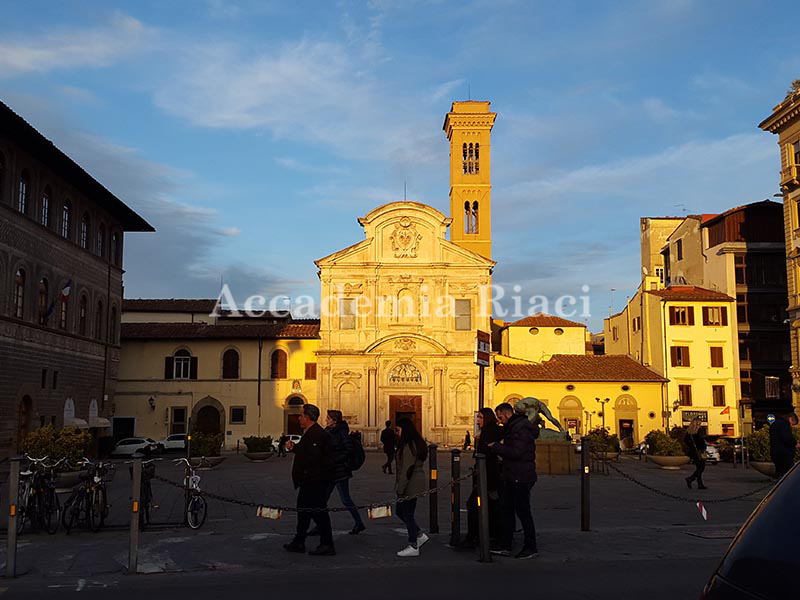 愛上這個城市的其中一個原因,除了漂亮的街角,另外就是,這裡總會有許多藝術活動,是一個藝術非常活耀的城市。每每參加類似活動,能夠與來自不同領域的藝術工作者對談,是一件令人享受的事情。這次的Creative Factory,認識了位當地的插畫家,當我看到她的作品,立刻被她豐富的筆觸及復古繪畫手法給吸引了。在閒聊之際,我跟她聊到我想要刺青的想法,並約定未來光顧她的刺青店…

One of the reasons why I love Florence city is that here has lots of lots of art and craft activity. it is really enjoyable that every times when I join this kind of activities, I could meet and get to know more people, who filled with passion with arts and designs.

經過上禮拜的開版與第一次測試版試做,這禮拜我終於完成滿意的版型。鞋頭的比例還需要調整一下,但大致上完成,這雙設計將會是雙固特異筒靴,敬請期待。

After making pattern and making test during last week, I finally have my decision with satisfaction. The toe part still needed to adjust a bit but, this is how it looks from now. It will be a derby boot in Goodyear construction. Stay tuned…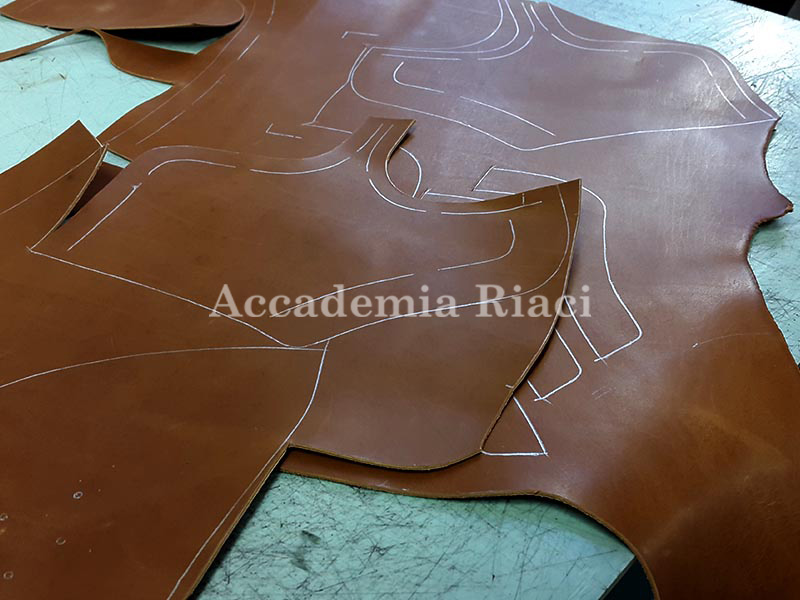 版型確定後,就可以開始裁皮料、製作鞋面了! 這次也是選用焦糖色,經過上次莫卡辛的經驗,這塊皮在製作上可能要更加小心…(是塊許要好好呵護的顏色啊)

When the pattern was done, I could start cutting the upper. In this time, I also choose the caramel brown for this pair. Another challenge for using bright color leather, should pay more attention on it.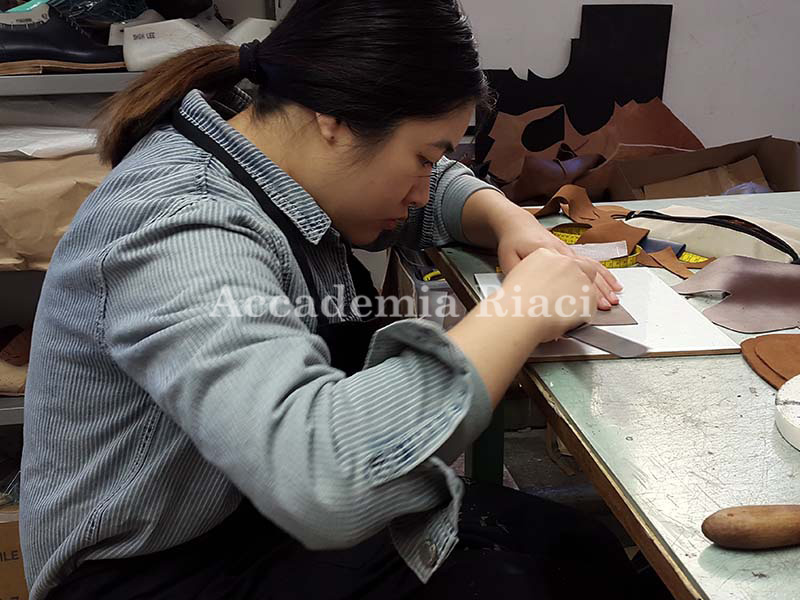 此時Monica正在製作她的下一雙設計,在製作完牛津鞋後,她直接挑戰孟克的款式。

Monica was making her next design, a monk-shoe.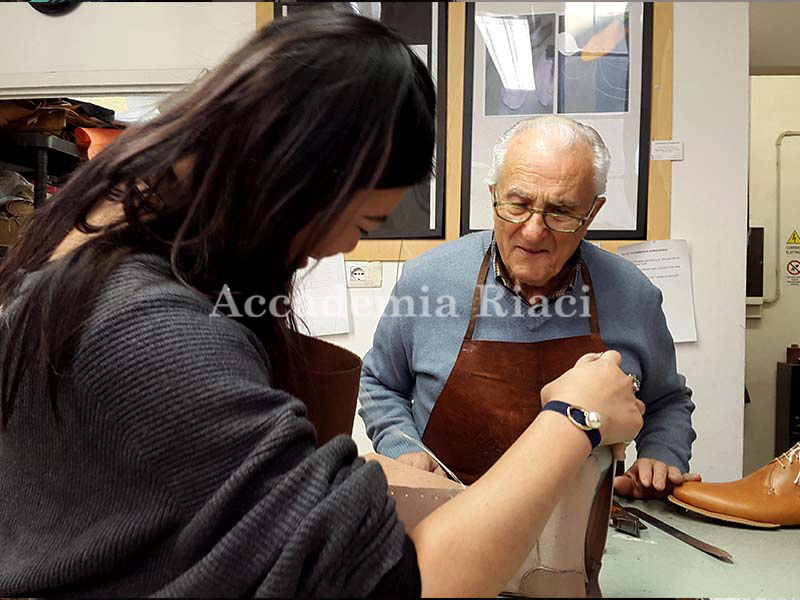 Yushih也完成了她的長靴試版,正在跟教授Angelo討論試版的細節。這大概是久久一次的長靴挑戰吧!看他們討論時教授露出逗趣的表情,連我都覺得有趣。很期待做出來的樣子喔,Yushih加油~

Yushih had done her long boot test and now discussing details with Prof. Angelo. It was really funny to see how Angelo reacted when he looking at Yushih's long boots. The reason probably because, not much student tried to make long boots like this. Well done, Yushih! You can make it~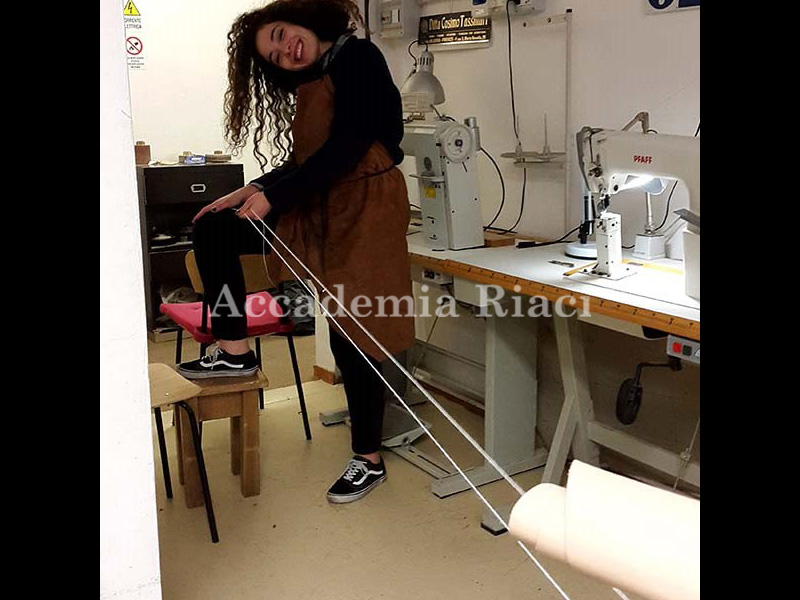 冬天到了,大家都開始做靴子,可愛的Caterina妹妹也製作了一雙查卡靴準備送她哥哥。圖片裡她正在準備縫製用的線。很長很長很長。

Many people start to make boots because the winter is coming. Our dear Caterina was making a pair of chukka boot for her brother. Picture shot when she making the thread for stitching, it looks like she made a very very long length.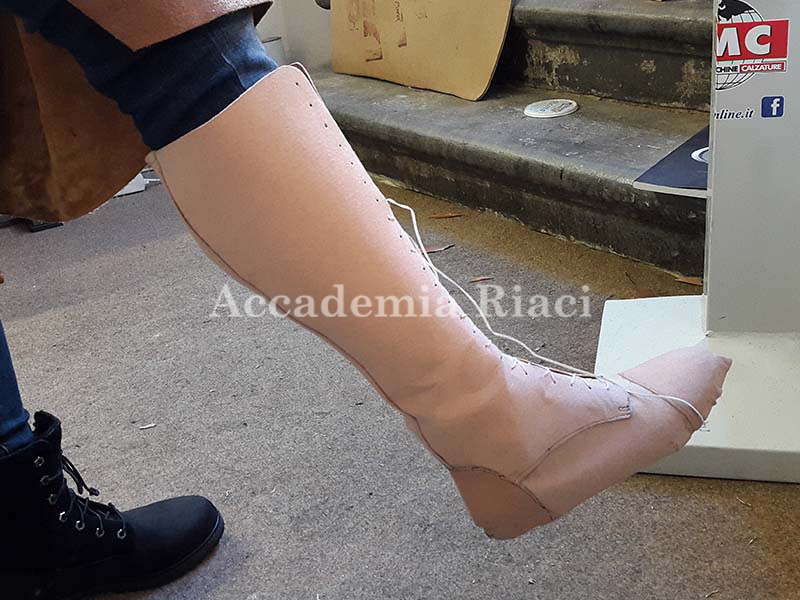 Yushih的第二支測試版,為了要讓筒身服貼,她花了不少工夫。"我穿了一支小精靈的鞋子",我們開玩笑地說著。

This was second test for her long boots. In order to make a confortable boots, she spent a lot of times on it. It looks like a shoe for elves! We said it jokingly.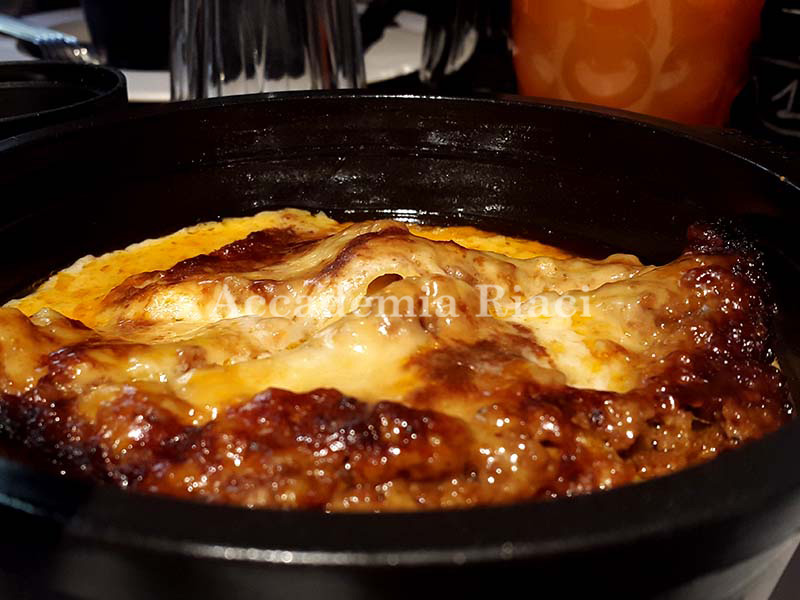 與同學見面的週末,意外在住家附近挖掘到一家很有氣氛的咖啡店,而且菜單內有我最喜歡的千層麵!!決定納入我的佛羅倫斯口袋名單。

What a lovely weekend with lovely coffee and Lasagna. I found a very nice restaurant just near my home. I will put it in my pocket list!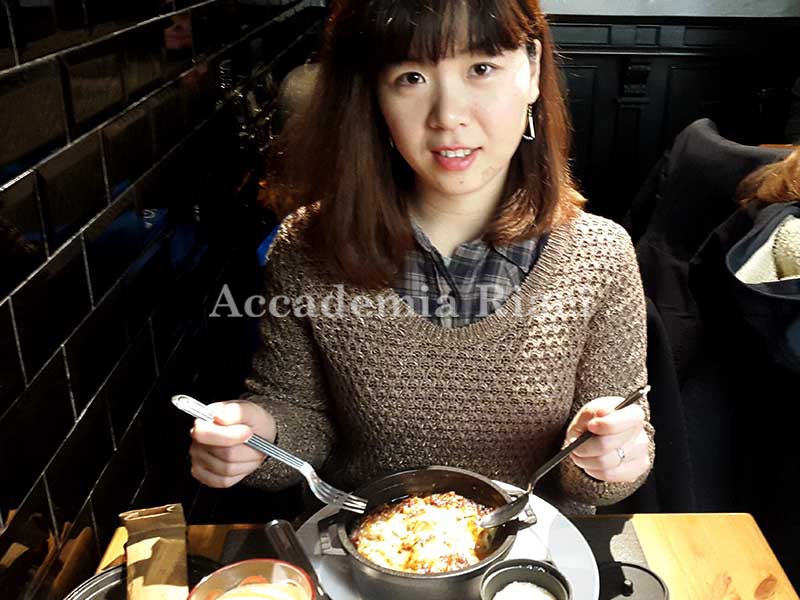 最近義大利越來越冷了,週日時還短暫飄了小雪,大家要注意保暖喔!那麼我們下週見囉

Italy getting cold these days, even snowing on Sunday! Take care and keep warm guys. See you next week.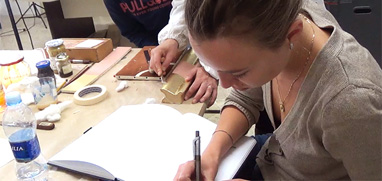 At Accademia Riaci, we are recruiting Course Reporters from our students. The students who are chosen to become Course Reporters are given 10 % of the tuition as their scholarship fee.
The Reporters who have submitted excellent reports will have his or her profile posted on our school website for the next 5 years as an alumnae and will be able to connect with their business chancesafter their graduation.