Accademia Riaci
Student Reports
Read all class reports from our students!
Reporter
Lara Blevi
Nationality: South-African
Course: Shoe Making
Program: One-Year Atelier Course
Period: Sept 5, 2016-April 25, 2017
After Studying a BA degree in Fashion Design in South Africa, Lara decided that she would love to study further and focus on a specific direction in the fashion industry. During her studies, she followed an internship at a company where she was taught how to make and design handbags out of leather and exotic leather skins.

She knew instantly that she would love to study further and learn more about shoes and decided to come to Firenze, Italy, the most famous city to learn more of leather art and shoes! She found Accademia Riaci and knew that the shoe making course that they had to offer was exactly was she was looking for.

Here she wishes to learn the highest level of shoe making techniques and to be able to follow her dream to become a designer with the knowledge of not only fashion, but also the art of shoe and handbag design.

南アフリカでファッションデザインの文学士号を取得後、ファッション業界で目指す方向を定めるためにもっと学びを深めたいと思いました。企業インターンを経験した際には、外国製の皮革を使用したカバン制作とデザインを学びました。

すぐに靴制作を学びたいと思うようになり、靴制作や革工芸を学べる世界で最も有名な都市・フィレンツェ行きを決意。検討の結果、自分が探し求めていた内容の靴制作コースを提供するアカデミアリアチへの入学を決めました。

ここで最高レベルの靴制作技術を身につけ、ファッションのみならず靴やカバンの知識も兼ね備えたデザイナーになることが夢です。
Dec. 08, 2016 | Posted in Reports, Shoemaking , Student Reporter | Tags:Lara Blevi, ShoemakingReporter: Lara Blevi | Course: Shoemaking
During this week we were all very busy designing and making our Derby shoes. The pattern for the Derby shoe is a bit more complicated than the Oxford, but has less different panels to work with, so the time spent on the pattern is more of less the same depending on how many decorations you would like to add. Most of us decided to make two pairs of shoes at the same time. This is great as you can work on the one while waiting for the other one to dry before starting to work on it again.

We are also preparing the insole of the shoe to do the Goodyear technique. This is a different way to attached she insole of the shoe to the outsole by hand sewing the together in a specific way.

On Wednesday it was also the opening of the German Christmas market in Santa Croce and we all went for some warm gluhwein and yummy pretzels.
今週はダービー(外羽接着製法)靴のデザインと制作で多忙を極めました。ダービーの型紙はオックスフォードのものより複雑です。しかしパネルの種類が少ないため、加える飾り付けの数にもよりますが制作時間に大差はありません。クラスのほとんどの人が2足同時に制作を進めることにしました。そうすることで乾かしている時間をもう1足の作業に当てることができ、とても効率的に作業が行えます。

グッドイヤー製法の中底制作も進めました。この中底は本底と一緒に手縫いで縫い付けます。

水曜にサンタ・クローチェ聖堂でジャーマンクリスマスマーケットが始まったので、温かいグリューワインと美味しいプレッツェルを楽しみました。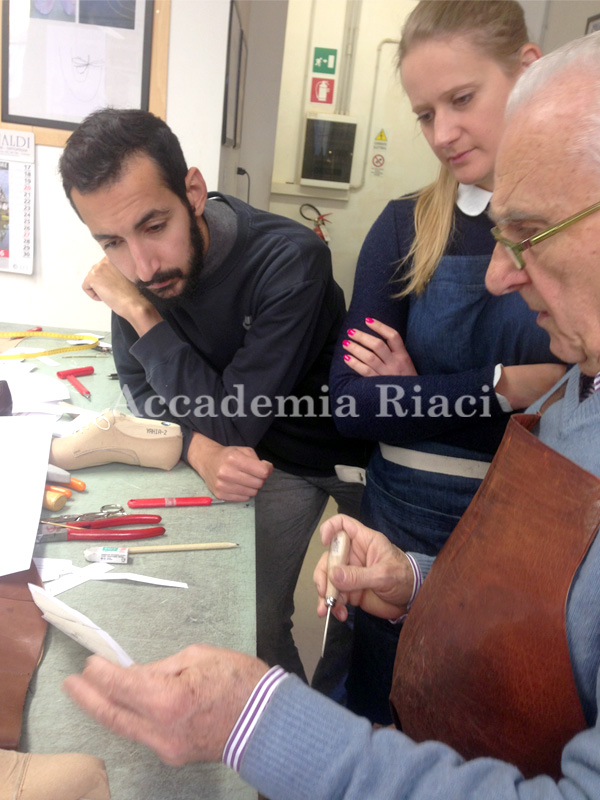 Prof Angelo demonstrating the pattern for the lining of the Derby shoe. This is also a bit more complicated as you need to pivot the pattern in order for the tongue of the shoe to fit in on the pattern as well.

アンジェロ先生によるダービー靴用ライニングの型紙作りのデモンストレーション。靴の舌革を型紙に合わせるために型紙を回ながら行う必要があり、少し難しい作業です。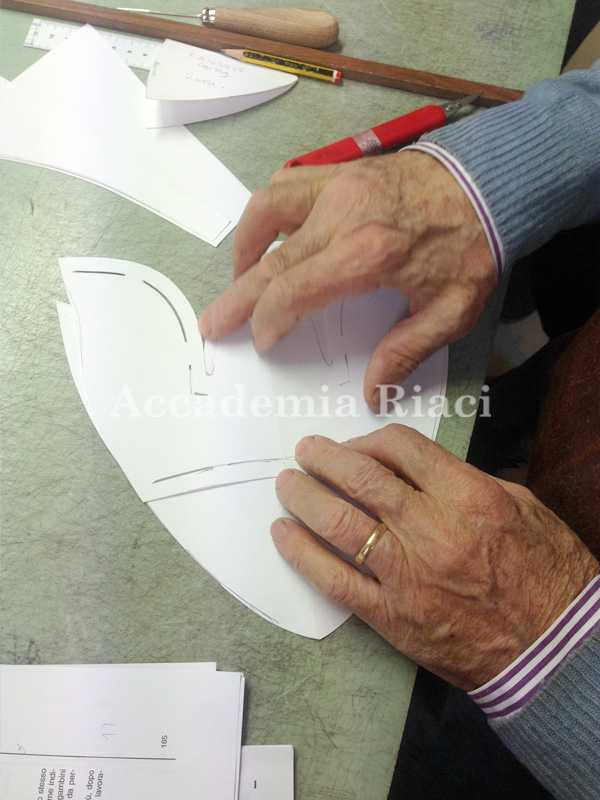 Here the different pattern pieces are placed on each other to make sure that they fit in order to prevent any problems when making the upper of the shoe.

違う型紙を重ね合わせてチェック。アッパーを制作する際のズレを防ぎます。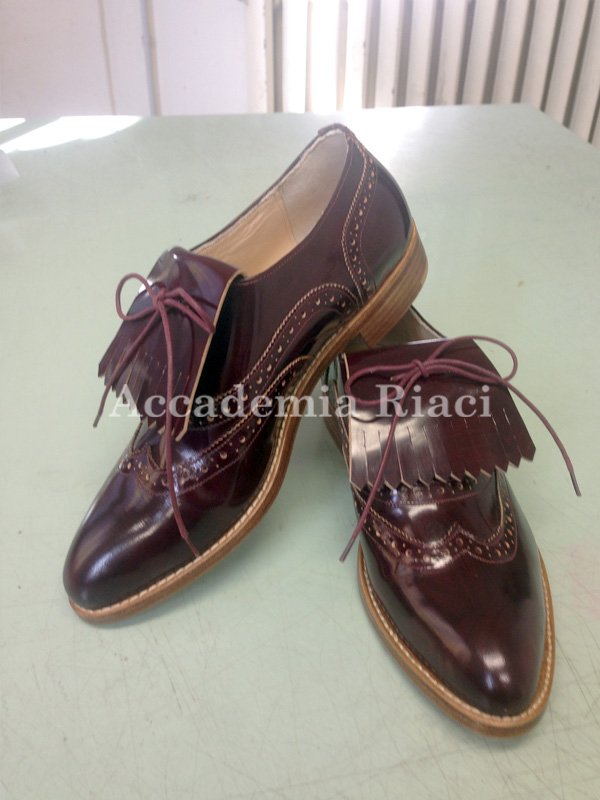 I finally also had some time to make the extra decoration piece for my Oxford shoes. This piece is also detachable so that you can decide how you would like to wear them on the day.

時間がようやくできたので、制作済みのオックスフォード靴用の飾りを作りました。この飾りは取り外し可能なので、その日の気分でスタイルを変えられます。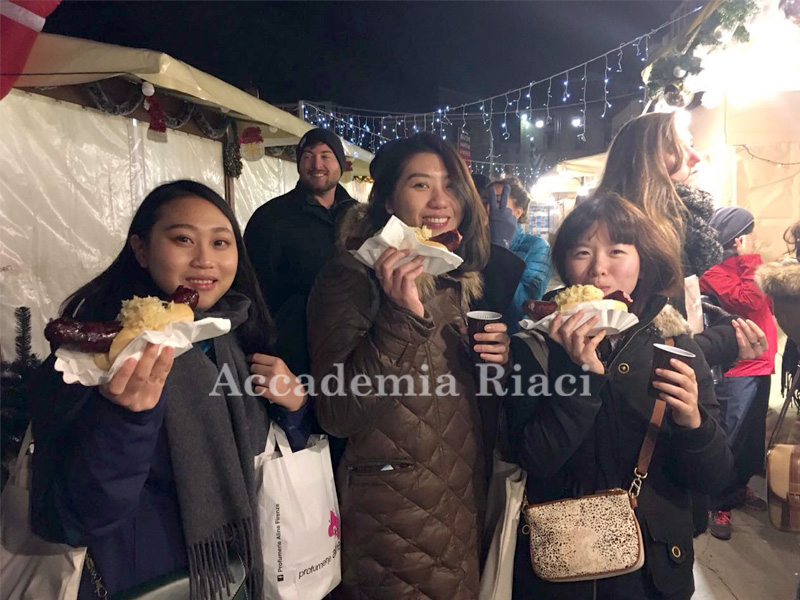 Tina, Ivanna and Brigette enjoying their super tasty German wurst rolls at the market on Wednesday.

水曜のマーケットでジャーマンソーセージロールを楽しむティナ、イヴァンナにブリジット。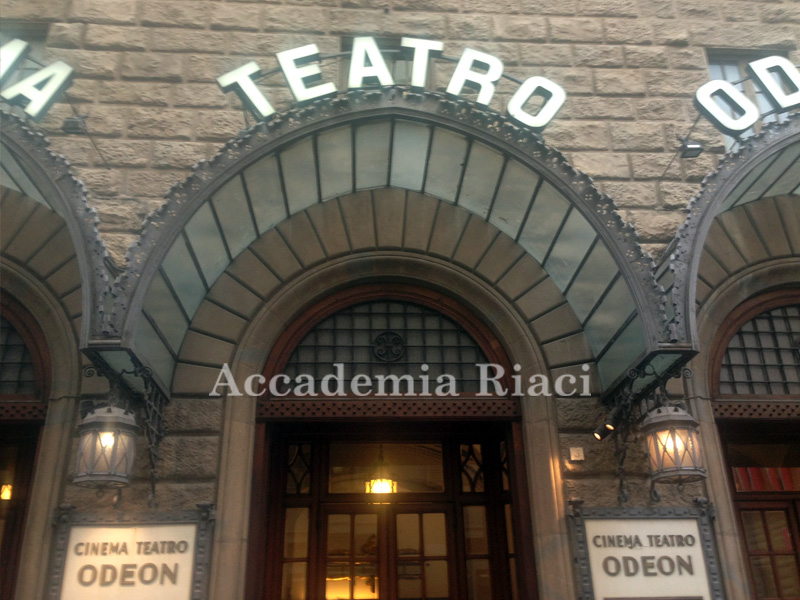 On Friday I also visited the Odeon movie theatre to watch a movie for the first time. It is such a beautiful theatre still in its original form and style from the 1920's.

金曜は初めてオデオンで映画を観ました。1920年代から変わることのない美しい建物です。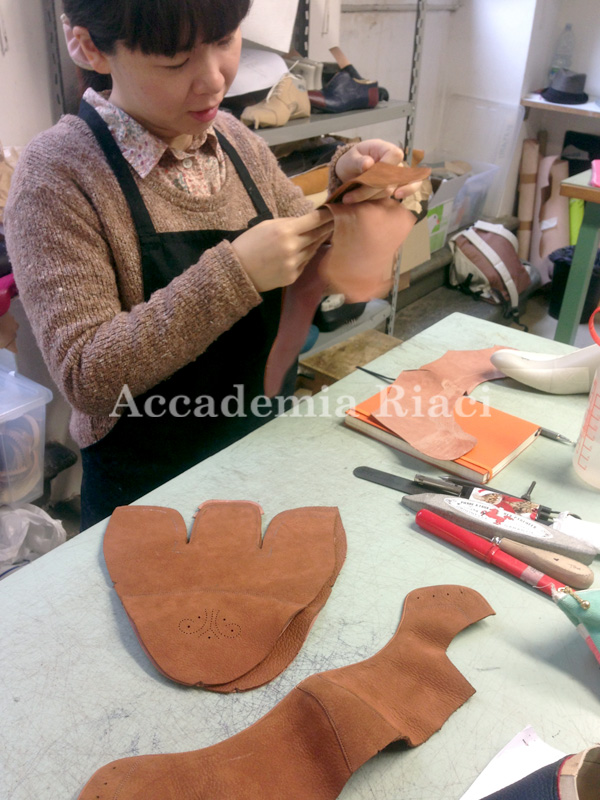 Tina, putting together the upper leather panels for her derby shoe. She decided on a stunning textured brown leather with a decoration on the front toe.

ダービー靴用アッパーの革パネルを一体化させているティナ。素敵な茶色い革で作ったアッパーのつま先部分に飾りをつけるそうです。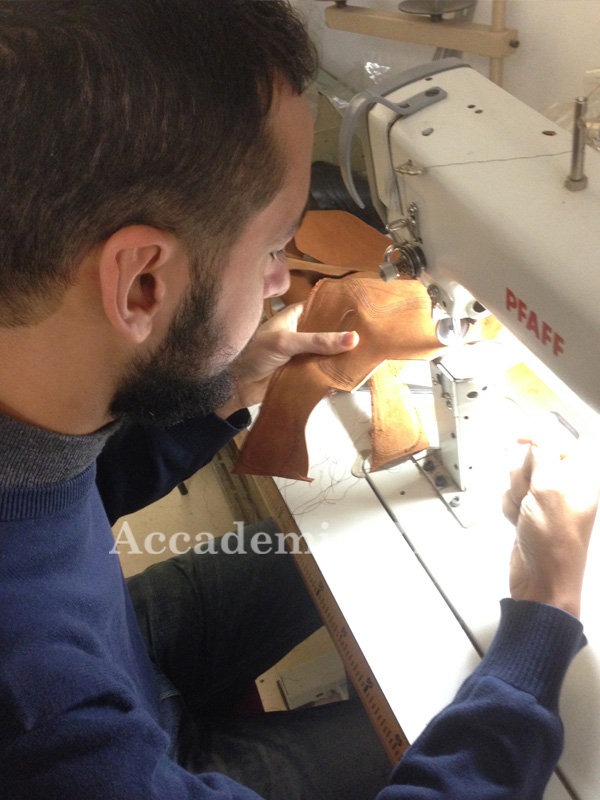 Giovanni very focused as he stitches together the upper leather panels for one of his derby shoe pairs. He is making a pair of shoes for himself and a pair for his sister.

革のパネルを縫い合わせ、ダービー靴用アッパーを集中して製作中のジョヴァンニ。同時進行している2足のうち、1足は自分の靴でもう1足は妹のための靴だそうです。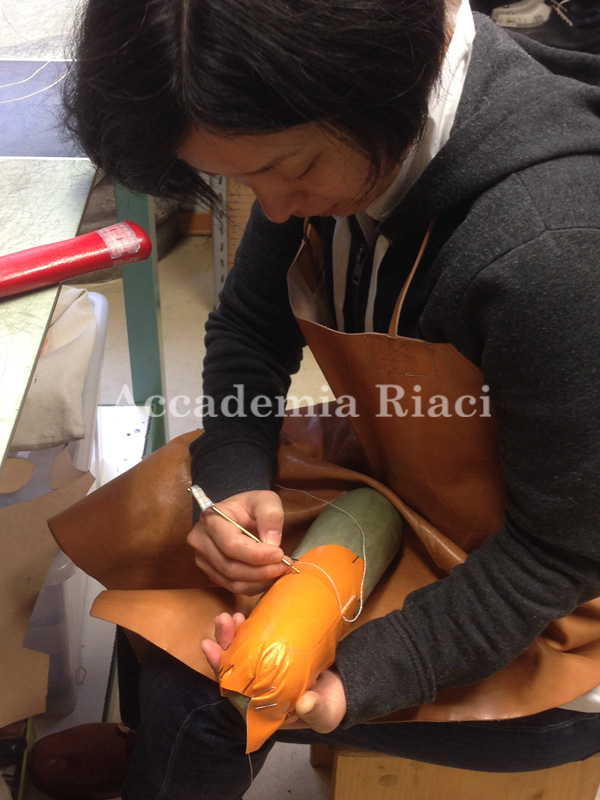 Masami is quite ahead and already practicing the stitching that we will need to do for the Goodyear technique.

マサミの作業はかなり進んでいて、すでにグッドイヤー製法の縫いの練習をしています。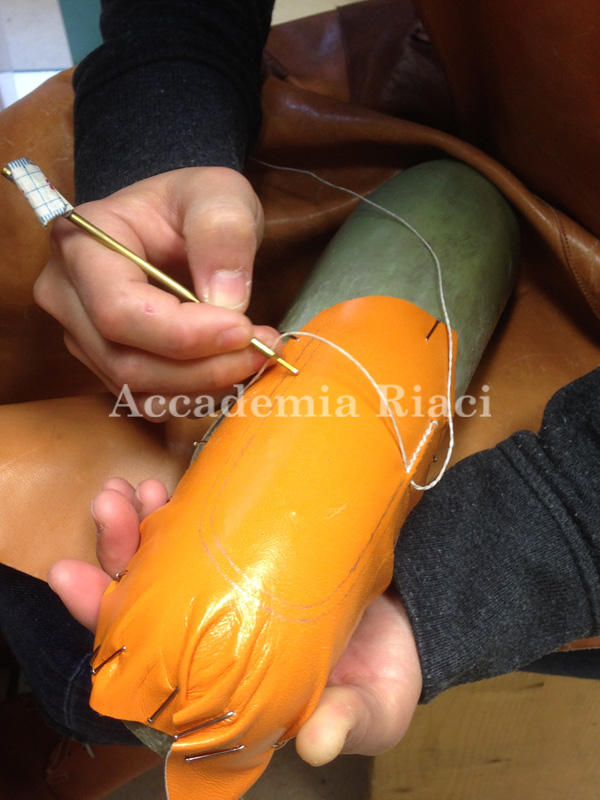 This technique takes a lot of time and focus as the thread needs to be prepared in a specific way before using it and precision is very important.

この技法は特殊な方法で糸を準備する必要があり、正確さも重要になるため、時間も集中力も要します。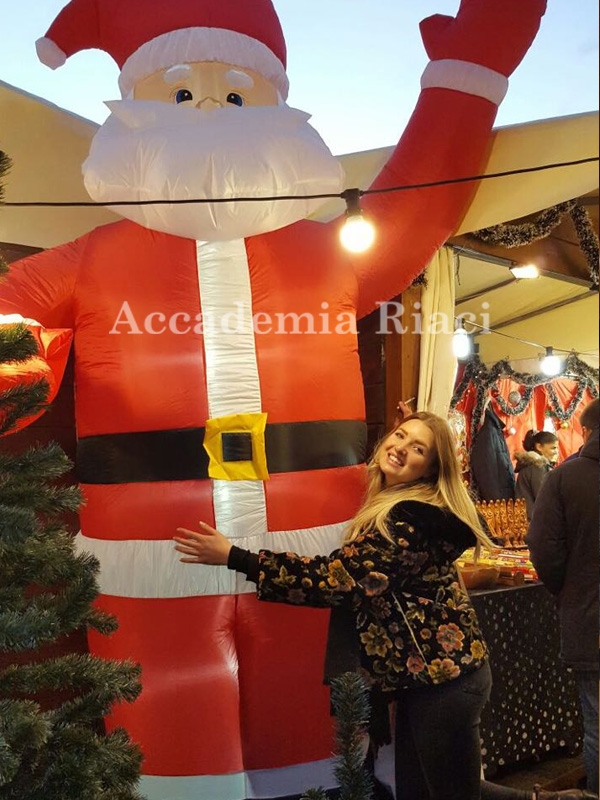 Florence is becoming really festive as we are moving closer to Christmas. The streets are filled with beautiful lights and Christmas decorations and there is a constant buzz of people walking through the streets. Cute Christmas markets are also popping up everywhere and what better thing to do than to give Santa a great big hug!

クリスマスが近づき、フィレンツェのお祭りムードも高まっています。通りは美しく光り輝くイルミネーションやクリスマスの飾りつけで溢れていて、通り過ぎる人々のざわめきが絶えることはありません。可愛らしいクリスマスマーケットがあちこちに立ち、私も思わず大きなサンタに大きなハグをしたくなってしまいました!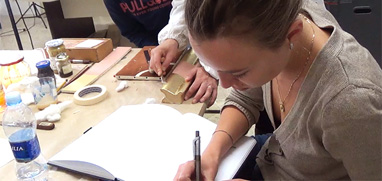 At Accademia Riaci, we are recruiting Course Reporters from our students. The students who are chosen to become Course Reporters are given 10 % of the tuition as their scholarship fee.
The Reporters who have submitted excellent reports will have his or her profile posted on our school website for the next 5 years as an alumnae and will be able to connect with their business chancesafter their graduation.