Accademia Riaci
Students' Blog
Up-to-date report from one of our students!
Reporter
Lara Blevi
Nationality: South-African
Course: Shoe Making
Program: One-Year Atelier Course
Period: Sept 5, 2016-April 25, 2017
After Studying a BA degree in Fashion Design in South Africa, Lara decided that she would love to study further and focus on a specific direction in the fashion industry. During her studies, she followed an internship at a company where she was taught how to make and design handbags out of leather and exotic leather skins.

She knew instantly that she would love to study further and learn more about shoes and decided to come to Firenze, Italy, the most famous city to learn more of leather art and shoes! She found Accademia Riaci and knew that the shoe making course that they had to offer was exactly was she was looking for.

Here she wishes to learn the highest level of shoe making techniques and to be able to follow her dream to become a designer with the knowledge of not only fashion, but also the art of shoe and handbag design.

南アフリカでファッションデザインの文学士号を取得後、ファッション業界で目指す方向を定めるためにもっと学びを深めたいと思いました。企業インターンを経験した際には、外国製の皮革を使用したカバン制作とデザインを学びました。

すぐに靴制作を学びたいと思うようになり、靴制作や革工芸を学べる世界で最も有名な都市・フィレンツェ行きを決意。検討の結果、自分が探し求めていた内容の靴制作コースを提供するアカデミアリアチへの入学を決めました。

ここで最高レベルの靴制作技術を身につけ、ファッションのみならず靴やカバンの知識も兼ね備えたデザイナーになることが夢です。
Dec. 01, 2016 | Posted in Blog, Shoemaking , Student Reporter | Tags:Lara Blevi, Shoemaking | Language:


Reporter: Lara Blevi | Course: Shoemaking
This past week was a very eventful week. Last weekend I travelled to Venice with my boyfriend and had an amazing adventure of sight seeing and walking through the special streets of Venice. We also visited the glass blowing museum on the Murano Island and even went on a Gondola. On Monday I was back in full force working on my shoes and very excited how it was beginning to turn out.

My boyfriend left on Tuesday and on Friday we also had to say goodbye to Chirag, who became a dear friend to all of us while he was attending the short shoe-making course for six weeks.

By Friday most of us had already lasted our shoes and were ready to add the sole and heel. Next week Tuesday we should be finished with our first pair of shoes and will then be starting with the Derby shoe and the Goodyear hand sewing technique.

先週から今週にかけてはイベントが盛りだくさんの週でした。先週末はボーイフレンドとベニスへ行き、素晴らしい景色と街なかの散策を楽しみました。ムラーノ島のガラス博物館へも足を伸ばしゴンドラにも乗ることができたおかげで、月曜には十分リフレッシュした気持ちで靴制作に臨めました。だんだん形になってきた自分の靴に気持ちも上がります。

私のボーイフレンドは火曜に帰ってしまい、金曜には同じクラスで靴制作を学びながら友達になったチラグが6週間のショートコースを終えて帰国の途につきました。

金曜にはほとんどの生徒が吊り込み作業を終え、本底とかかと部分に取りかかる準備が整いました。来週の火曜には私たちの最初の1足が出来上がっているはずで、その後ダービー靴の制作とグッドイヤー靴の手縫いの練習に入っていきます。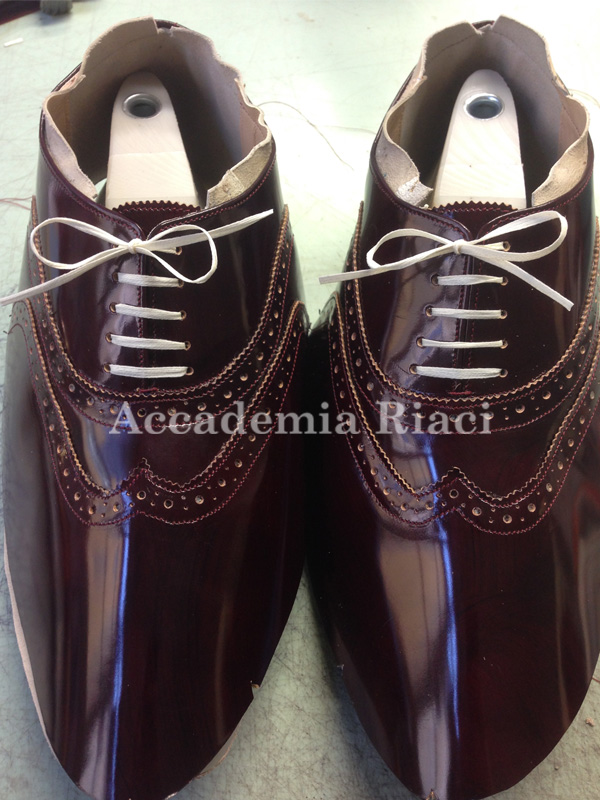 The uppers of my shoes all finished and ready to mount and last on my shoe last.

完成したアッパー部分。木型の上に置き、後は吊り込むだけです。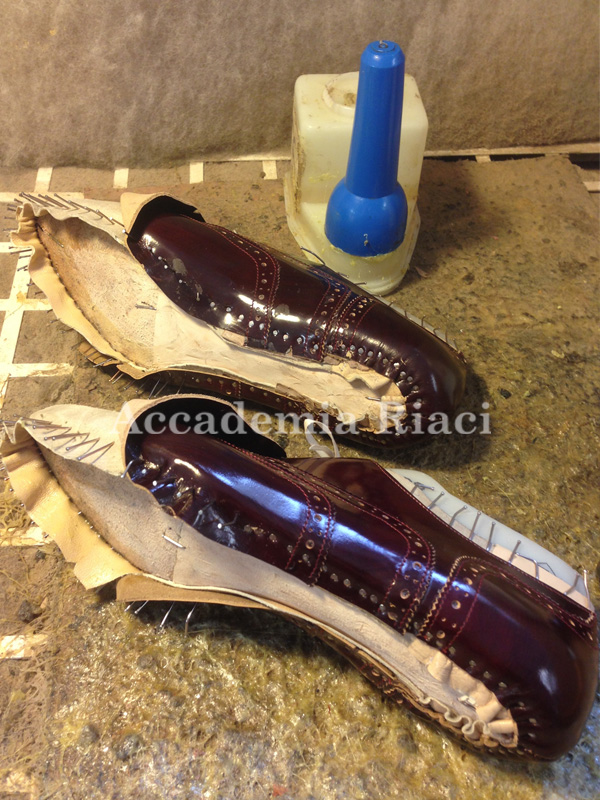 My shoes in the process of lasting. Here I have mounted the back of the shoe as visible with the short nails and the front lining of the shoe with tall needles. After this step the front toe reinforcement of the shoe will be added and then the upper leather will be mounted over and nailed to the shoe last.

吊り込み作業中の靴。写真で見ての通り、靴の後ろ側は短い釘で、前の方は長い釘で止めています。この後、つま先部分を補強したらアッパーをかぶせて吊り込みます。

Joanne after finishing her lasting of the shoes and added a welt to the rim of the shoe as visible as extra decoration.

吊り込み作業を終え、ウェルトを飾りとして大きく出したジョアンナの靴。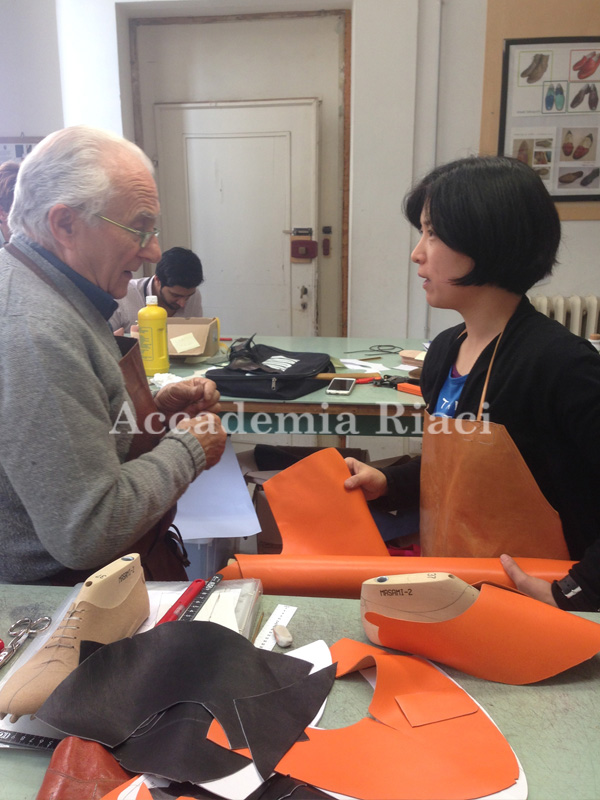 Masami is working extremely fast and is already working on her third pair of shoes! Here she is discussing her next step with Prof Angelo for her bright orange Oxford shoes.

作業がとても早いマサミはすでに3足目を制作中。明るいオレンジ色のオックスフォード靴を制作するにあたり、アンジェロ先生と次の手順について話をしています。

Tina in the final lasting process with her shoes.

最後の吊り込み作業中のティナ。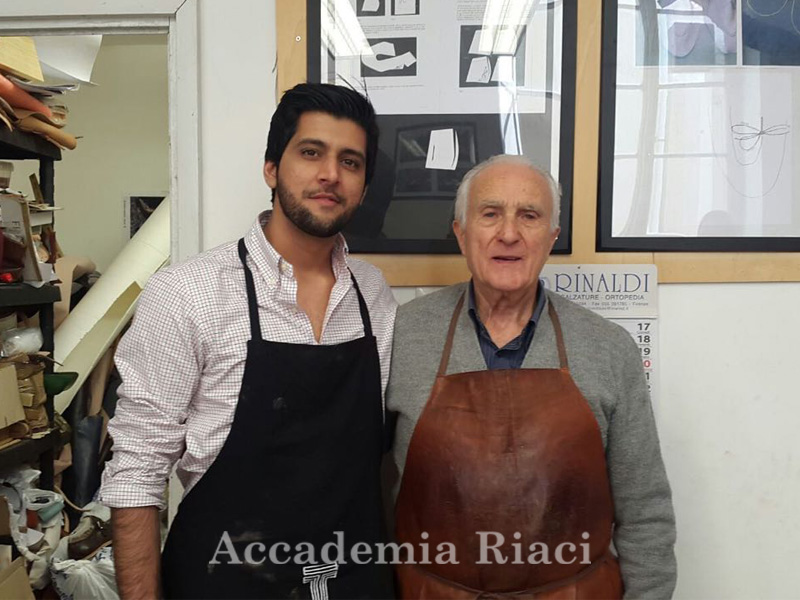 Chirag with Prof Angelo on the last day of his course. He ended up making a stunning pair of Oxford shoes.

アンジェロ先生とコース最終日を迎えたチラグ。素晴らしいオックスフォード靴を完成させ、有終の美を飾りました。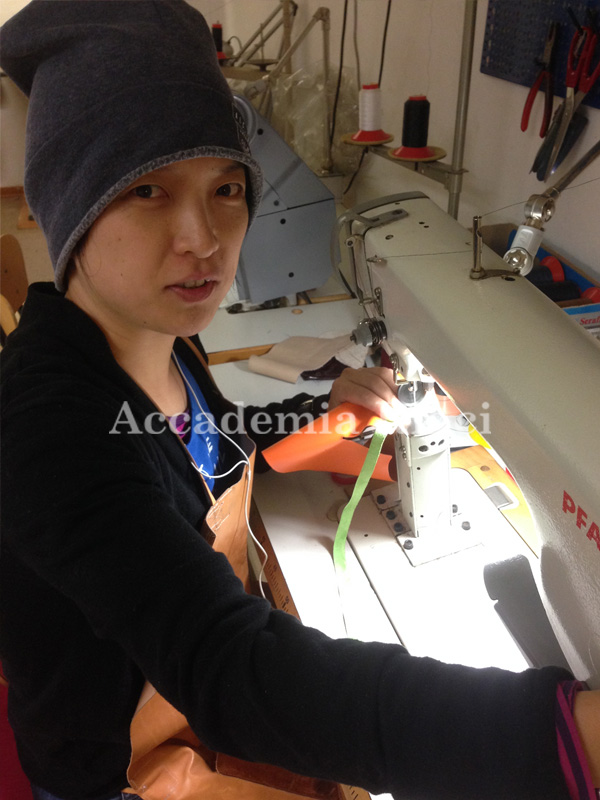 Masami sewing her upper for her orange shoes. She decided to add an extra green decoration in between the upper and the lining.

オレンジ色の靴のアッパーを縫っているマサミ。アッパーとライニングの間に緑色の縁飾りを足すことにしたそうです。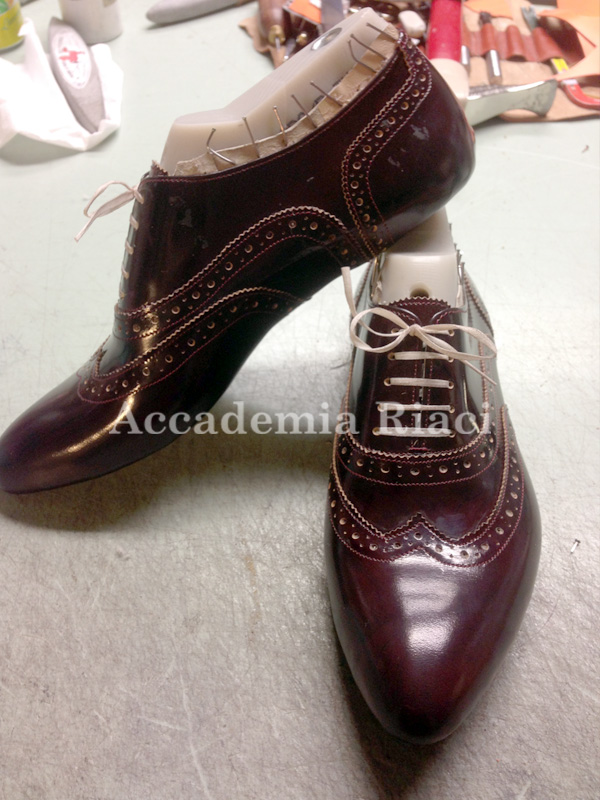 My shoes just after the lasting process. After this I added welt decoration and the sole of the shoe.

吊り込みを終えた状態の私の靴。この後、ウェルトを付けてから本底を付けます。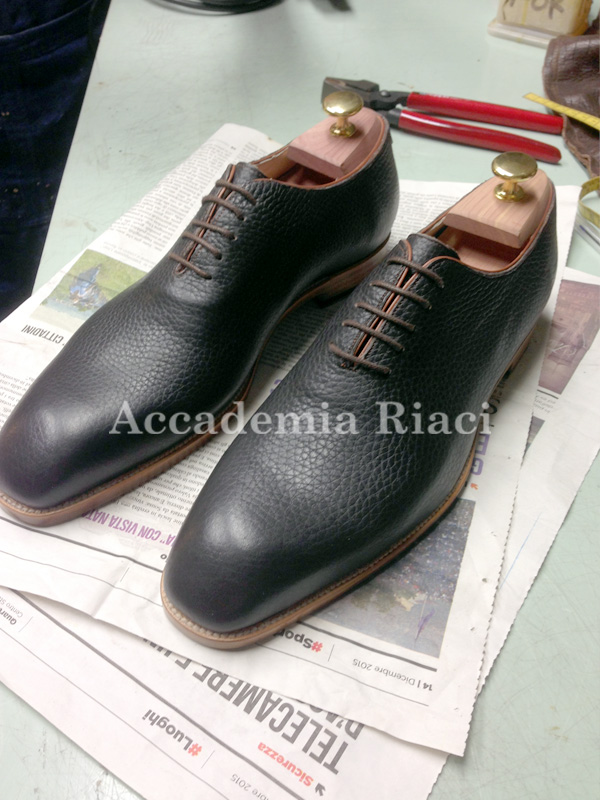 Chirag's stunning pair of shoes that he completed just before he left.

チラグが帰国直前に完成させた素晴らしい靴。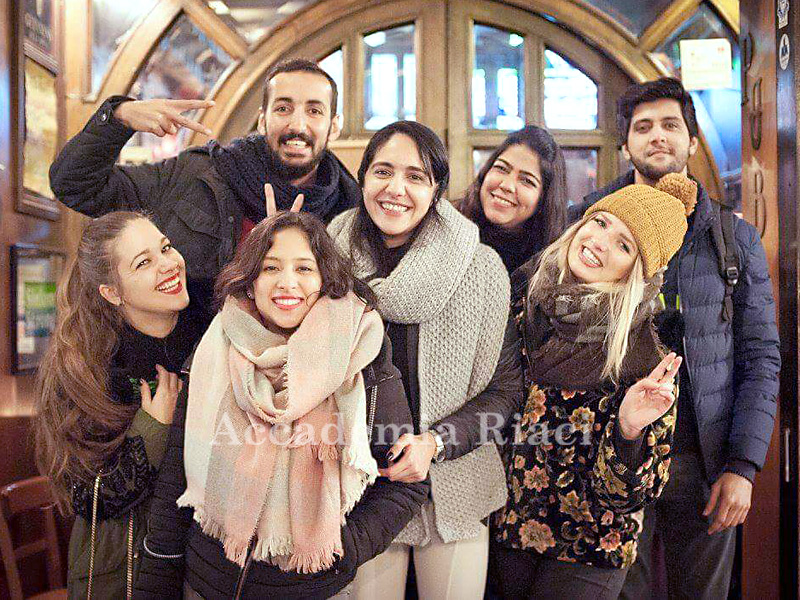 We all went out for Chinese food and a fun night on Wednesday night for Chirag's farewell.

水曜の夜はクラスメイトと一緒に中華料理店でチラグの送別会でした。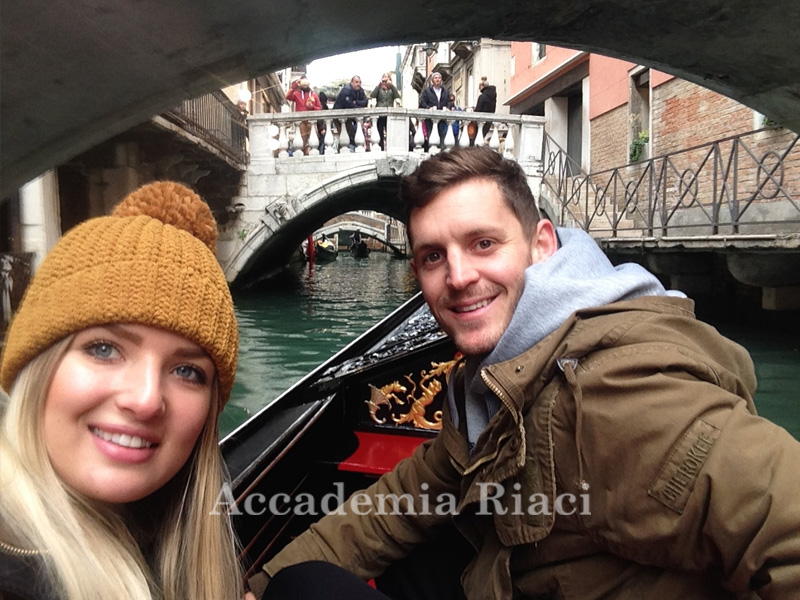 Me and my boyfriend in Venice on a Gondola through the grand canal and small romantic roads.

ボーイフレンドとベニスのゴンドラの上で。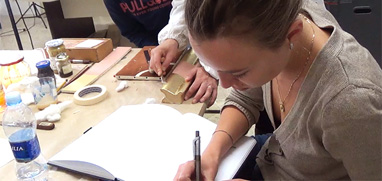 At Accademia Riaci, we are recruiting Course Reporters from our students. The students who are chosen to become Course Reporters are given 10 % of the tuition as their scholarship fee.
The Reporters who have submitted excellent reports will have his or her profile posted on our school website for the next 5 years as an alumnae and will be able to connect with their business chancesafter their graduation.