Accademia Riaci
Students' Blog
Up-to-date report from one of our students!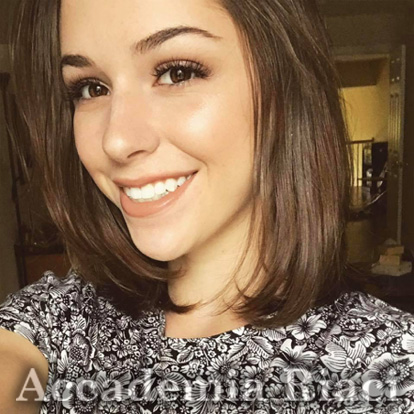 Reporter
Kristin FIORVANTI
Nationality: American
Course: Painting and Drawing
Program: One-Year Course
Period: Jan. 14, 2019 - Jul. 26, 2019
Art has always been an immense passion and influence in my life. From a young age, drawing, coloring, and painting would help me express myself and feel free. I grew up pursuing an education like my peers --graduating high school in the U.S. and moving on to college. I knew all along that there was something bigger waiting for me.
I never dreamt I could pursue my passion professionally, but after being given this opportunity at Accademia Riaci in beautiful Italy, it seems more than possible. With the help of a few well-known professionals in Florence, I can continue to learn and blossom as an artist.
Jun. 10, 2019 | Posted in Blog, Painting and Drawing , Student Reporter | Tags:Kristin Fiorvanti, Painting and Drawing | Language:


Reporter: Kristin FIORVANTI | Course: Painting and Drawing
The Wait for Spring
Being an artist in the pursuit of self-excavation and thereon self expression is a challenge in and of itself; being an art student studying abroad in a foreign space can more so present challenges of its own. This season, and course, has been both quick and slow to an end. One important thing I've learned is that any and all obstacles in my personal life can greatly impact my work, no matter how therapeutic art can be. During this last month, I fought myself hard to complete my work and to feel content with it all.
There were days where my instructors were very patient with me, in frustration, anxiety, and exhaustion. When they would see me on a good day, we were all very happy to see the hard work pay off –even my translators would notice a difference. I think it's important to give light to this because there is a typical misunderstanding surrounding artists. Some people tend to beautify the struggles; they assume that the greatest art comes from tormented souls, cast out or strange people –but in reality, like in any other work, it blossoms with feelings of confidence and peace within the person.
I'm happy to say that my teachers at Accademia have not only given me new techniques, but also wisdom. Those bad days would sometimes result in Alessandro and I simply talking about life, art, and the world, cultivating ideas and learning bits of each others' languages and cultures. On one hand, it could be viewed as unproductive, but I'd slap that hand and disagree. These conversations were so vital in such an intimate setting (with me being the sole student in the class); I had to feel comfortable with my instructors and my translators in order to function. My comfort and confidence in my skills have increased greatly since I started the course.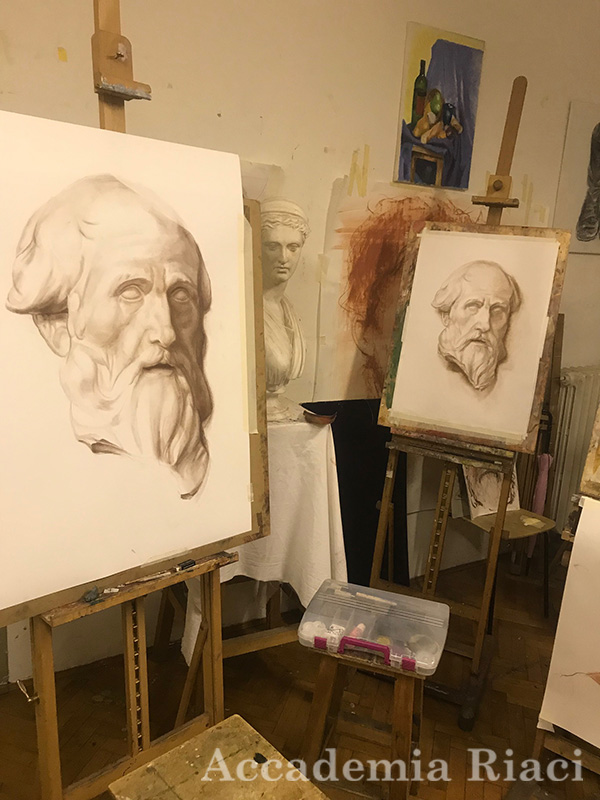 This is the start to my 100x70cm piece of Saint Andrew. Of course, this photo is after much progress; I'm not good at breaking away from my work to take photos until it's finished, but I will say that the proportions were much easier my second time around. I really only struggled with the size of it. It overwhelmed me, but much like anything else, you have to try it to prove it to yourself that you can do it.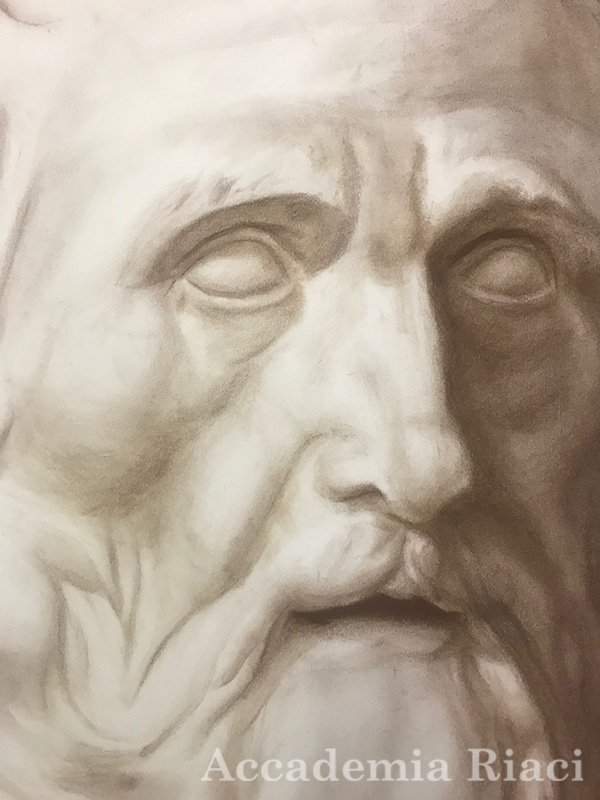 Details on large pieces are so interesting. In this case, I was referencing a recreation of a marble bust, so there wasn't any texture, but getting that smooth finish is more difficult as the size increases. Luckily, the large size also offers a lot of room to try different techniques. I did a lot of shading with my fingers, even my hands, and for smaller details I used a paper stub.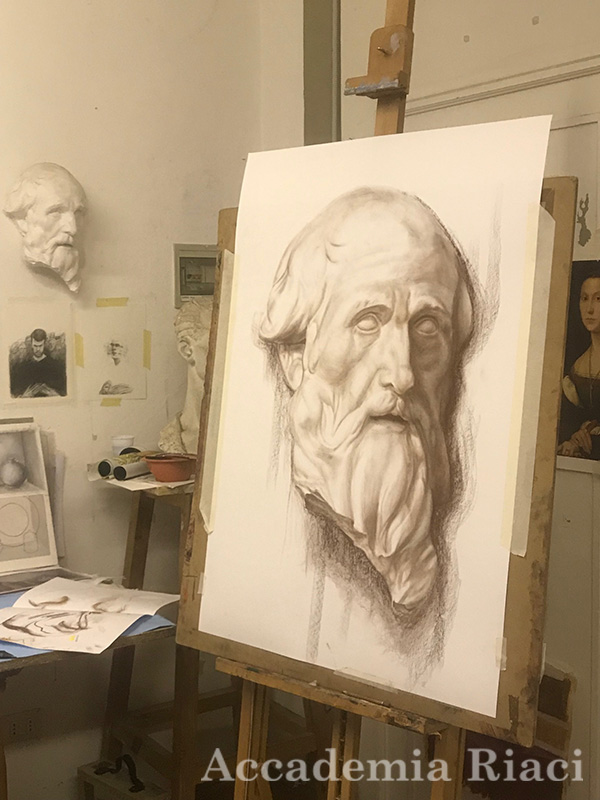 I was very proud of the detail I was able to accomplish with Alessandro's help. At this point he wondered if it was finished, but I insisted I add to it. I've been wanting to experiment with color in an abstract way, so I asked again for Alessandro's trust. He was so willing to allow me to explore my creativity.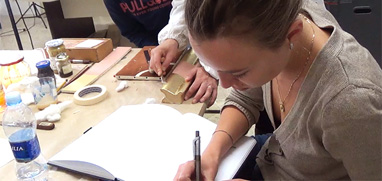 At Accademia Riaci, we are recruiting Course Reporters from our students. The students who are chosen to become Course Reporters are given 10 % of the tuition as their scholarship fee.
The Reporters who have submitted excellent reports will have his or her profile posted on our school website for the next 5 years as an alumnae and will be able to connect with their business chancesafter their graduation.