Accademia Riaci
Student Reports
Read all class reports from our students!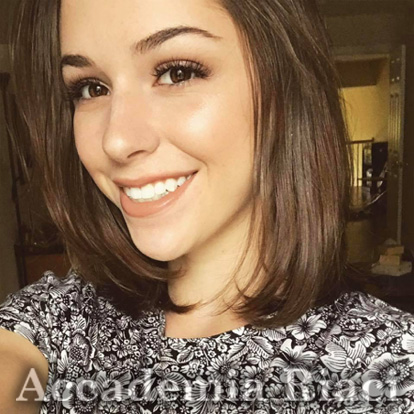 Reporter
Kristin Fiorvanti
Country: U.S.A.
Course: Painting and Drawing
Program: One-Year Course
Period: Jan 14, 2019 - Jul 26, 2019
Art has always been an immense passion and influence in my life. From a young age, drawing, coloring, and painting would help me express myself and feel free. I grew up pursuing an education like my peers --graduating high school in the U.S. and moving on to college. I knew all along that there was something bigger waiting for me.
I never dreamt I could pursue my passion professionally, but after being given this opportunity at Accademia Riaci in beautiful Italy, it seems more than possible. With the help of a few well-known professionals in Florence, I can continue to learn and blossom as an artist.
May. 29, 2019 | Posted in Reports, Painting and Drawing , Student Reporter | Tags:Kristin Fiorvanti, Painting and DrawingReporter: Kristin Fiorvanti | Course: Painting and Drawing
Challenging a Visual Artist
Between new techniques learned in school to trips to new cities with new friends, these past two weeks have been a true adventure. In my personal time, I've been exploring the value of the Flow State within an artist, a state of mind in which a person loses sense of time while totally encapsulated in creativity and productivity. Since I've recovered from the flu, I've been submersed in inspiration and I've been able to work freely without distraction. Florence is the perfect place for an artist to indulge and thrive. Beauty is such an easily acquired thing here; it seems so effortless, and inspiration is everywhere.
There is so much that I want to see and do; time is fleeting! Studying abroad has thus far helped me to appreciate the details in every little thing –every day, every moment, every fine line. This experience has challenged me on many levels, artistically and personally; I feel so elevated and grateful.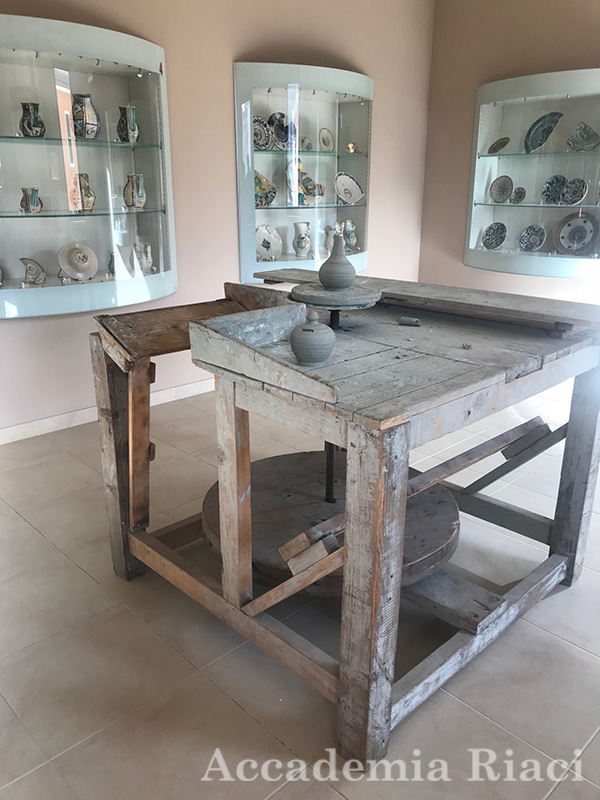 Last week, we had our first Art Stage. It was in Montelupo, which is the heart-center for ceramic art. We visited the Museo Della Ceramica in the middle of the small town. We discovered much of the history of Montelupo and gained a respect for the intense craft that goes into ceramics.
In the museum, we had a tour guide that informed us of all of the art pieces and their value. We saw an original potter's wheel that worked only by man power. There was so much detail in this work many years ago, and proves to be the same today.
Then, we went to explore the town. We saw the original well that potters used to dump old, broken, or mistake pieces away; it was where the history of the craft was literally dug up and stuck into the museum for the public to see. Overall, it was a cute town and a fun trip.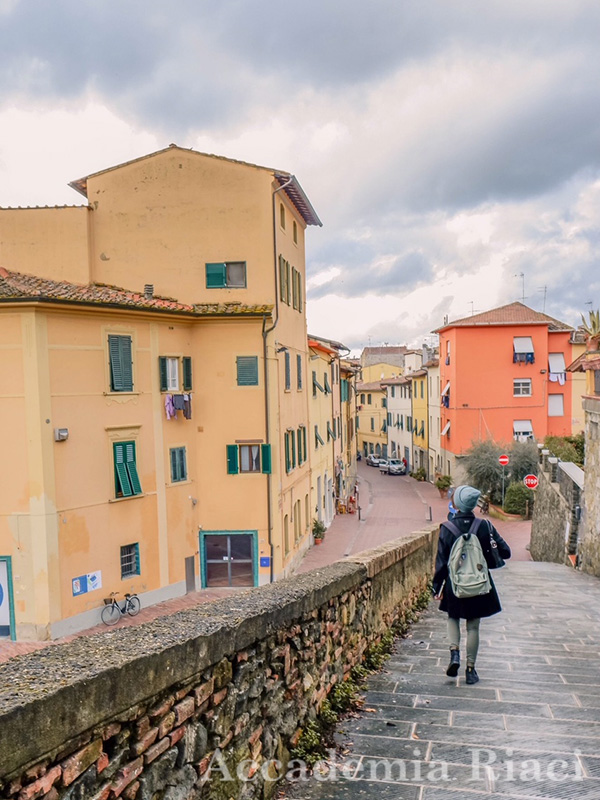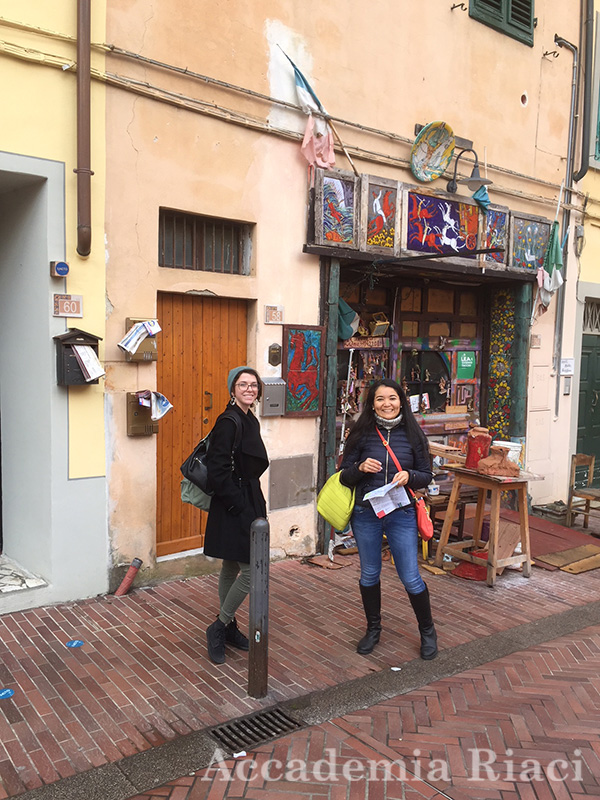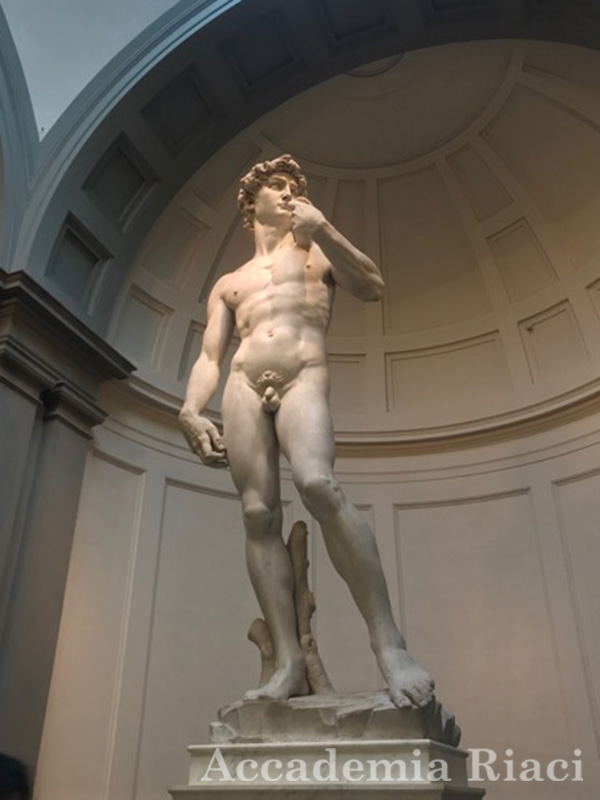 After Montelupo, because it was the first Sunday of February, some classmates and I decided to go see the statue of David. It was free admission. The statue was much bigger and far more detailed than I was expecting. We had a great evening together.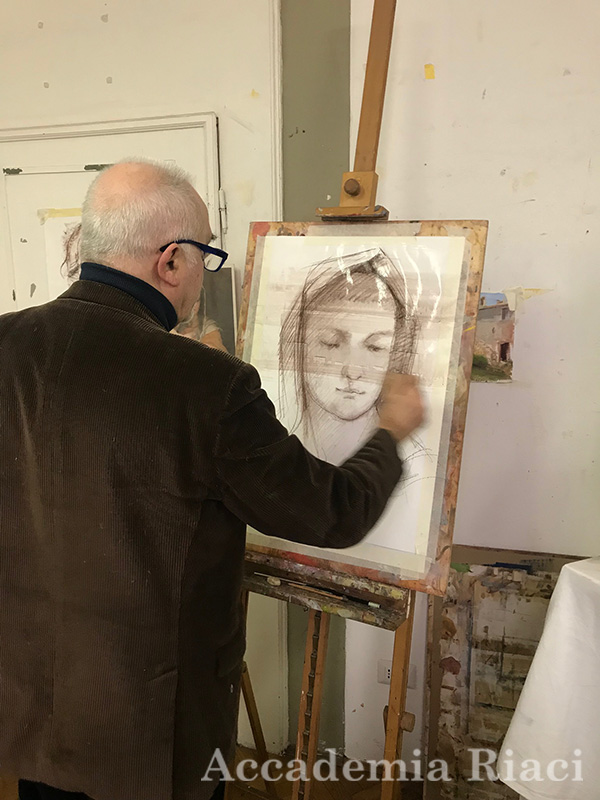 The following day, I was surprised to learn a brand-new technique from my instructor. I had no idea that you could use water over sanguine to soften the look of an image. He took a large 1.5" brush and gently swept a layer of water over the image, and it gave it a faint paint-like appearance.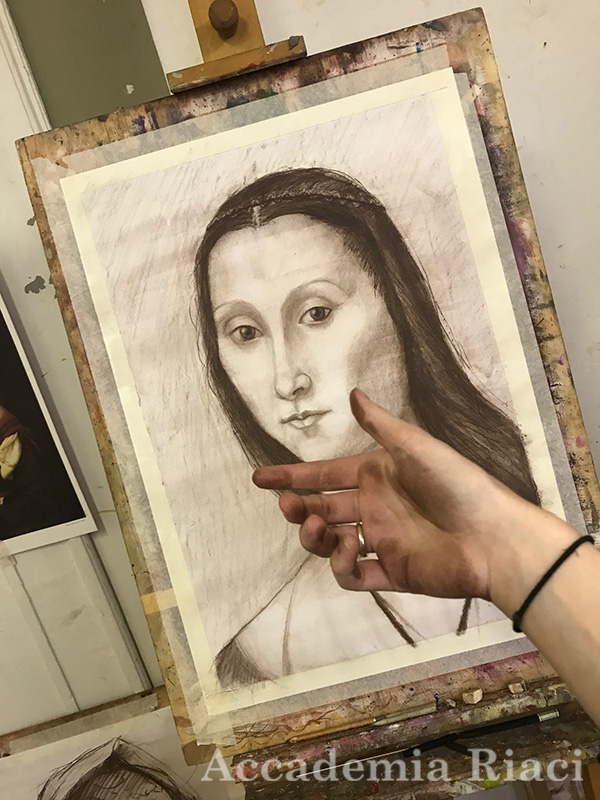 I used the technique on my own drawing. It was really fun to give it a try. I think I will continue to use it in the future. I like to capture how messy my hands get after a project.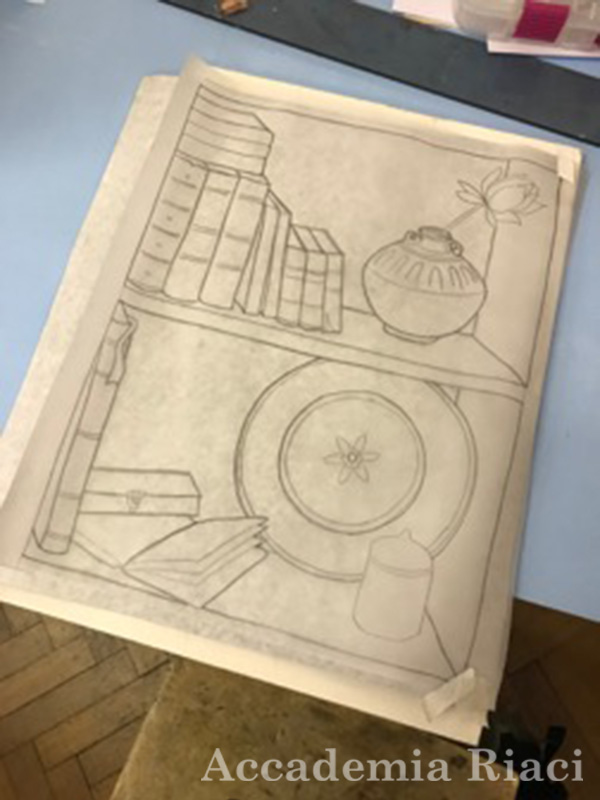 The following painting class, Prof. Puccioni helped us to make a stencil for our first painting project. I learned that it's more beneficial to trace and transfer things at different times.
For example, first you transfer the general outline of an object. Then you paint it. After that, you can wait for it to dry and use the same transfer paper to include the details. This way, it saves time and supplies, and also provides an opportunity to be more accurate according to the reference picture.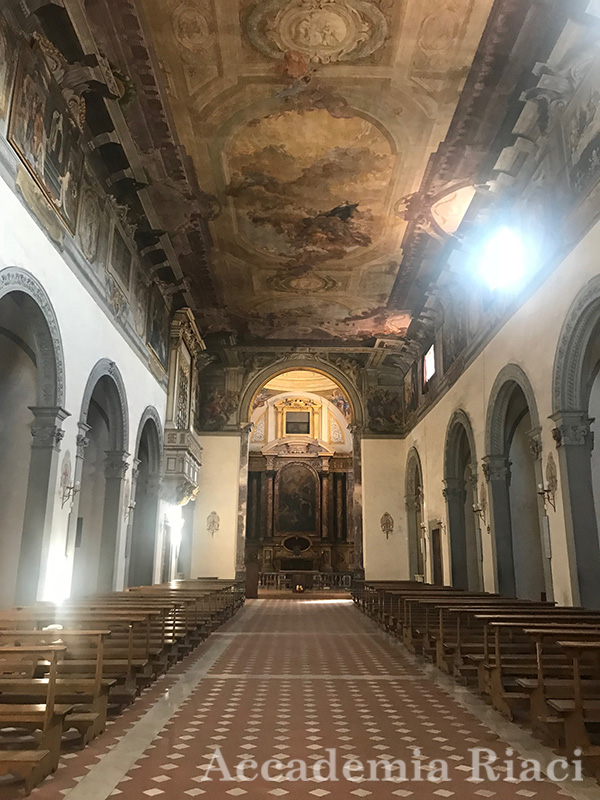 The Friday, we had an Art Visit to the convent of St. Mary of Pazzi. It was a beautiful church with painted ceilings and grand marble embellishments. I was surprised to learn that the bodies of high-end families of the church were entombed within the church and that it was a normal practice for that time.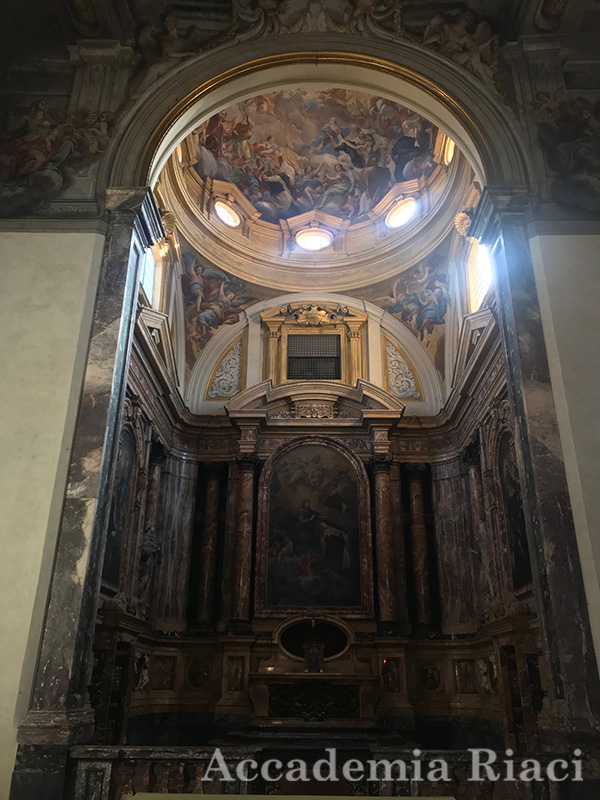 The catholic influence in the paintings were interesting to interpret. Renaissance art has a very distinct, cherishable style. I learned more about this classic, Florentine style of art in the following Basic Lesson on Modern Italian Art History. I'm so happy to finally absorb some historical information about what I've been seeing in Florence. Now I can analyse all forms of artisanship much better than before.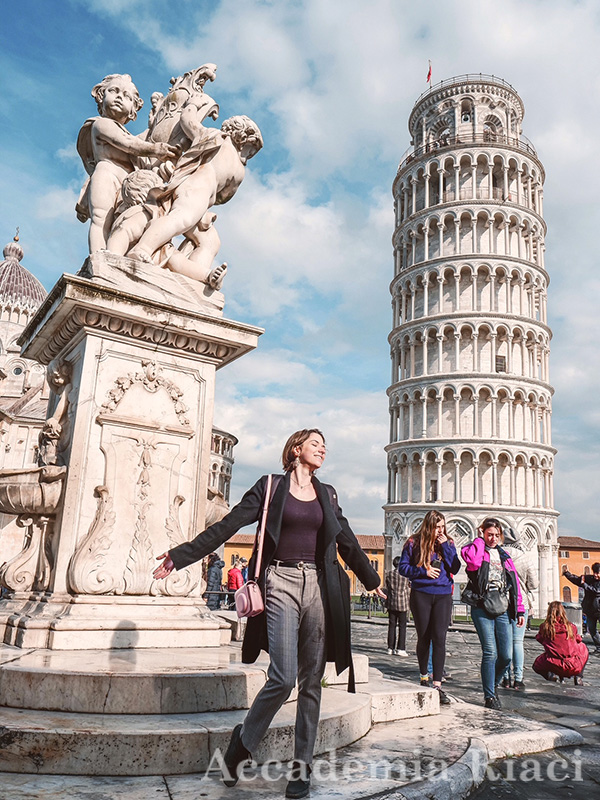 Over the weekend, my classmates and I went on a trip to Pisa. They are all studying different things at Accademia Riaci: Shoe Making, Furniture Design, Textile Design, and Jewelry Design. Spending the day with them made me realize how much I love other creative minds. I hope the school offers a collaborative project opportunity!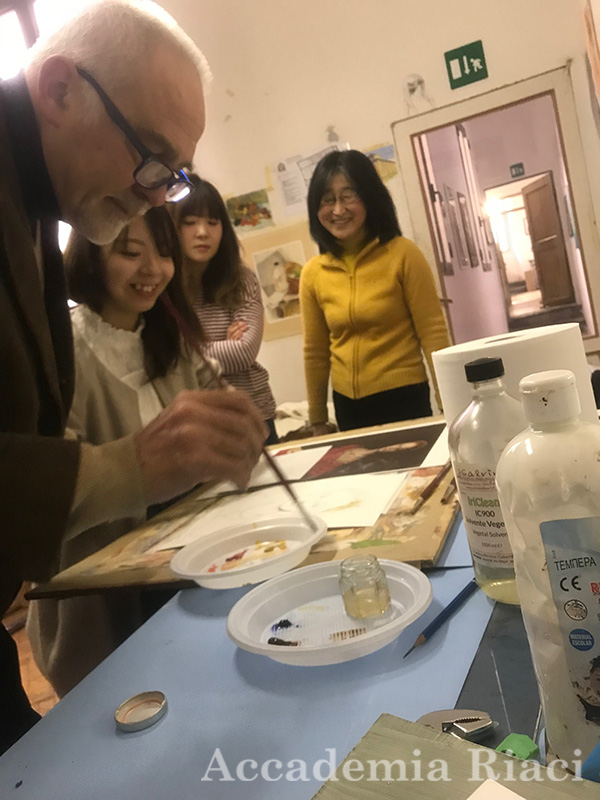 The following week, we welcomed a new classmate, Tomoko, into Porf. Berti's drawing class. In this picture, he is showing Tomoko how to paint with oils, and the rest of us are taking notes from afar. He is surely skilled!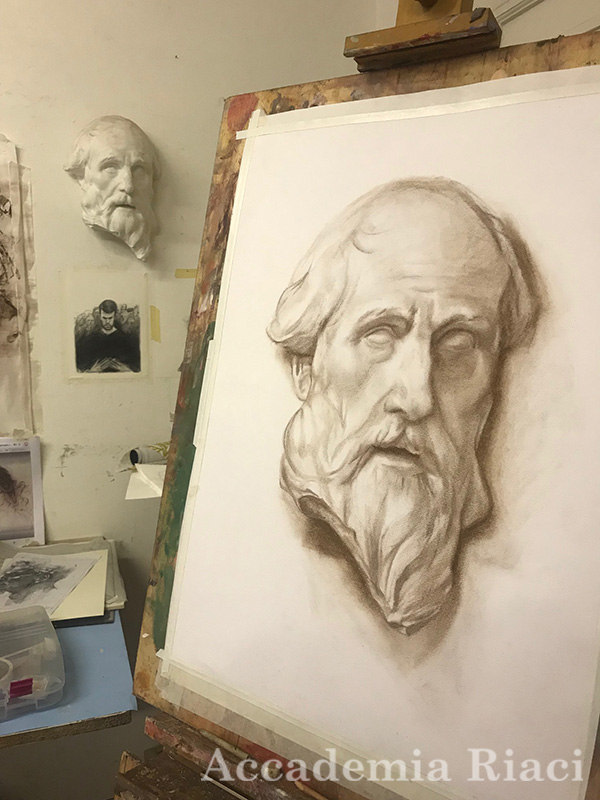 Prof. Berti and I decided to use the water and sanguine technique that I learned last week, so I began a drawing of a bust on the wall of the classroom. Once it was complete, I liked it too much to add the water or go any further with it. I really appreciated Alessandro's respect for my work at this point; he was adamant about it being my artwork, and that I could continue how I pleased. He was happy with the job I'd done as well, but he still wanted to challenge me, so he sent me to Zecchi to buy a larger piece of paper. Now I'm working on the same image but 3 times larger –the biggest project I've done thus far. My teacher reassured my confidence and it's coming out beautifully. We will eventually choose one to add water to.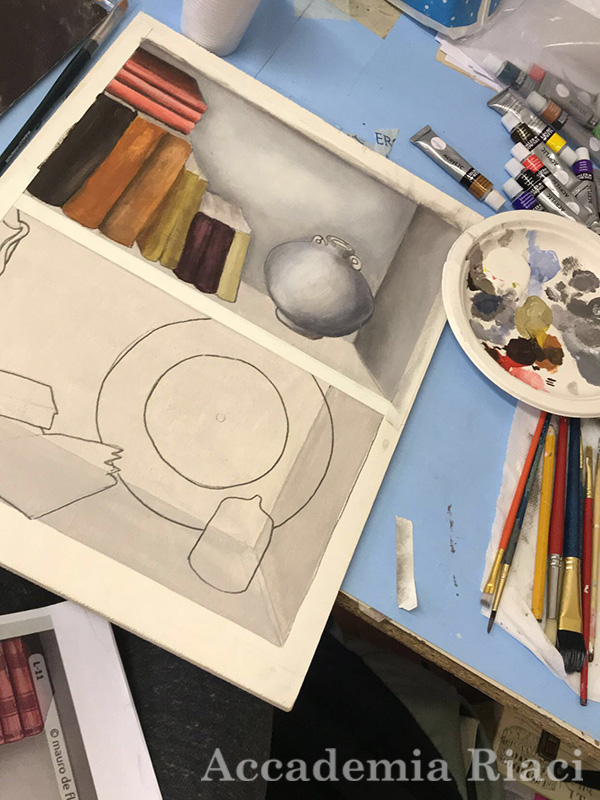 Finally, my painting class is picking up the pace! It feels good to paint again. Although I don't like acrylics very much, I learned a few great blending techniques from my instructor that should be useful in several different mediums. I'm excited to see the completed piece.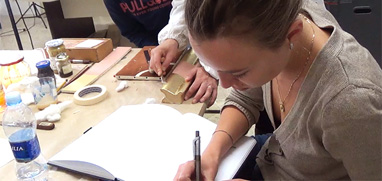 At Accademia Riaci, we are recruiting Course Reporters from our students. The students who are chosen to become Course Reporters are given 10 % of the tuition as their scholarship fee.
The Reporters who have submitted excellent reports will have his or her profile posted on our school website for the next 5 years as an alumnae and will be able to connect with their business chancesafter their graduation.