Accademia Riaci
Student Reports
Read all class reports from our students!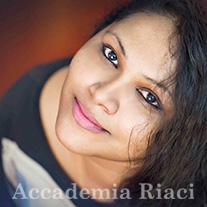 Reporter
Sharon Palihawadana
Nationality: Sri Lankan
Course: Painting and Drawing
Program: Master Coures
Period: Sep. 4, 2017 – Apr. 28, 2018
She went through with a working experience as a foot ware and fashion designer in capacity of holding a special (B.A) degree of Art & Design with academic learning in one of the best university in Sri Lanka. During last four years she has exposed and inspired with several global trends, techniques, methods which related to shoe industry.
Since her childhood it is one for her dreams to be pursuing her masters in art and design. She applied to the international art and design competition 2017 and obtained second place in category of professional in art painting and drawing section.

スリランカでも最高の大学のうちのひとつで学び、アートとデザインの学位を得た能力を使い、靴とファッションデザインの仕事を経験しました。ここ4年間、靴産業に関わるグローバルなトレンドや、技術の中におり、それらにインスパイアされてきました。子供の頃からアートとデザインを職人から学ぶ事が夢でした。国際アート&デザインコンペティション2017に応募し、絵画とドローイング部門で第2位に入賞をしました。
Mar. 16, 2018 | Posted in Reports, Painting and Drawing , Student Reporter | Tags:Sharon Palihawadana, Painting and DrawingReporter: Sharon Palihawadana | Course: Painting and Drawing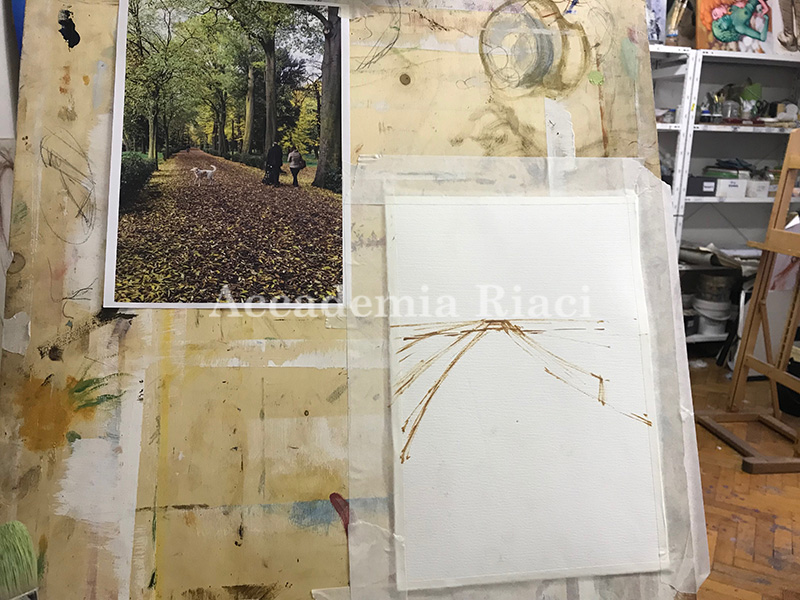 Monday lesson I start my Third Landscape painting. For that I choose my own picture which I took at the Le Cascine park Florence Italy. I take Raw Umber and draw the shapes with a small paint brush. As professor Alessandro say when we do Landscape painting "The shapes don't have to be precise, we are not copying a scene exactly. We are using the scene as a reference or guide. The scene just provides the material, we will decide how to organize the composition and what colors to use."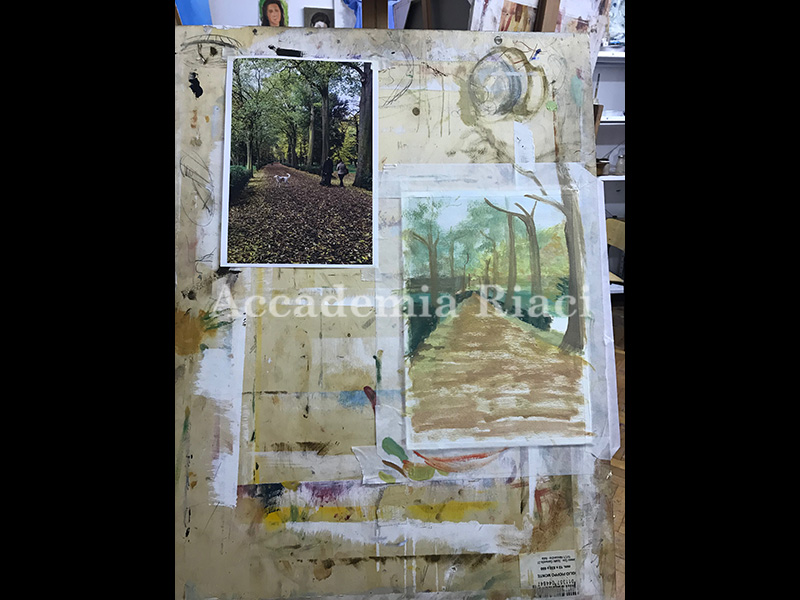 Then I do other part of my painting according to the composition rules. And I use various of green colors. I mix muted green with other colors on the palette first and then slowly add tiny amounts of intense green to add harmonious look as well as value to the painting.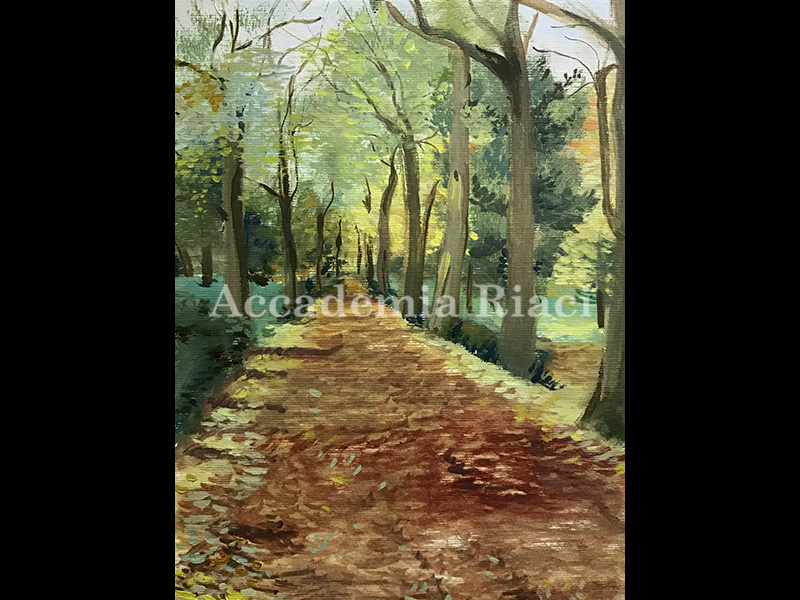 As always love to do the detail; that is the best part of my painting.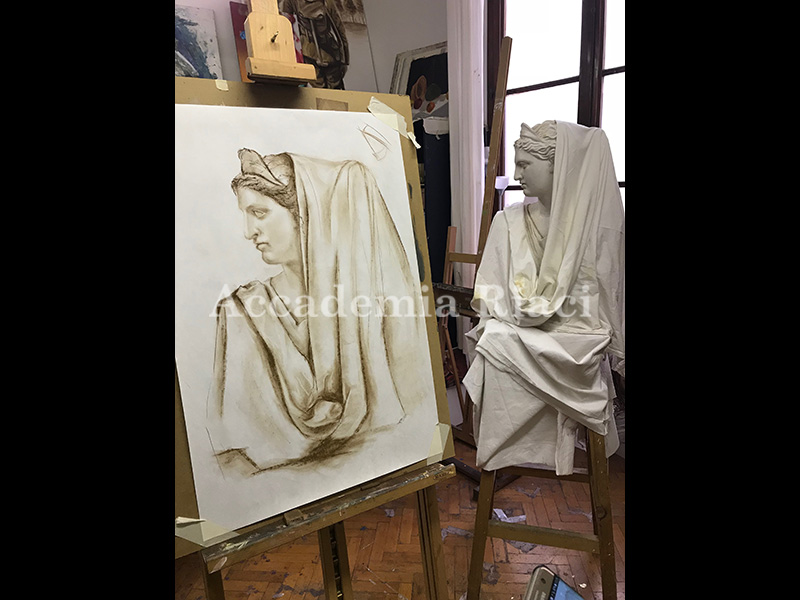 When my friend Laysa is doing her painting. As she selected to do more experimental study in drawing and sketching due to her less time period according to Professor Alessandro, she got improved on her sketching talent.
In Wednesday lesson I got positive comments for my Landscape painting which I finished on my Tuesday on individual study period. So my lecture asked me to do same painting again in bigger size paper as well as he guided me to avoid some week point of my previous painting.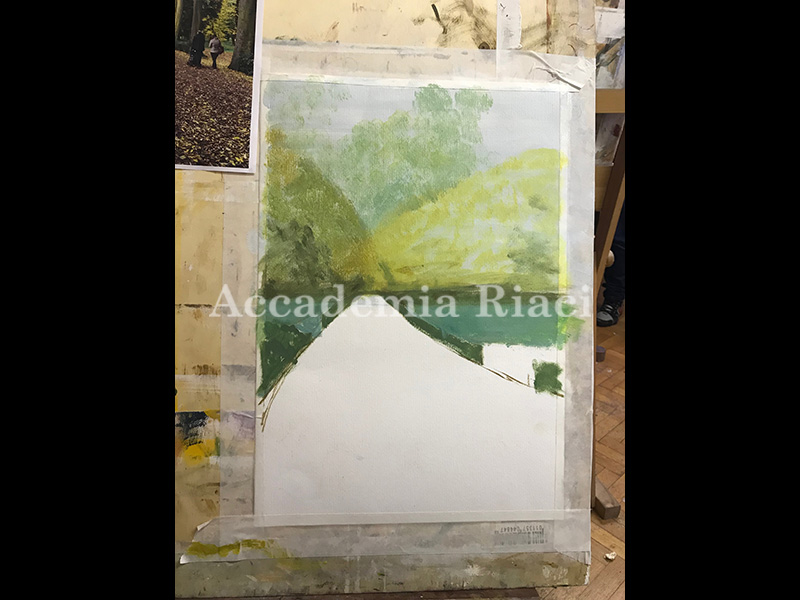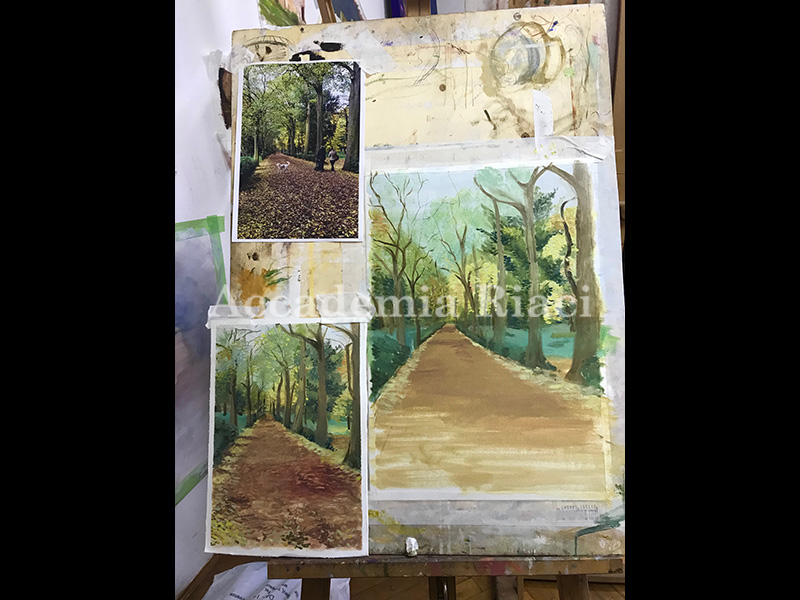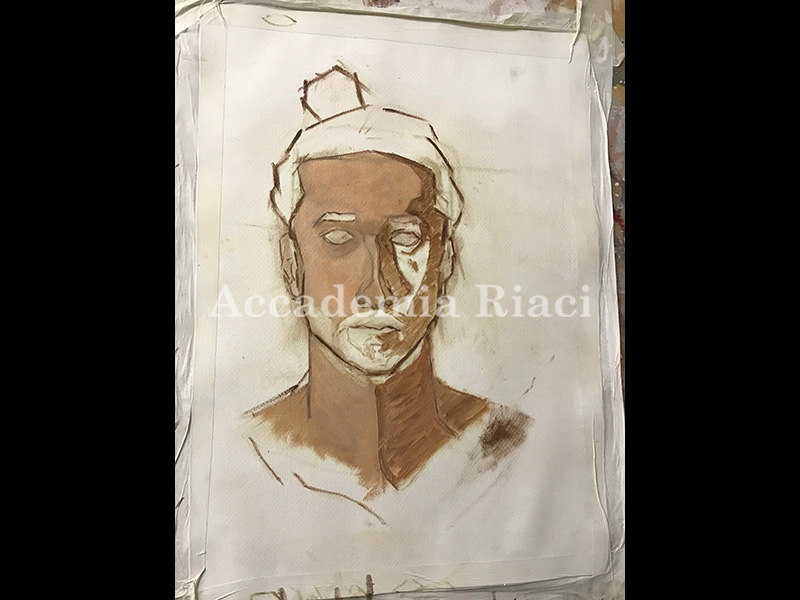 Thursday: Victor did his second step of his self-portrait, professor Andy asked him to balance tones in right manner. It is important to identify what falls into dark shadows and mid tones and it's not easy as it sounds, she said. This is how he did it.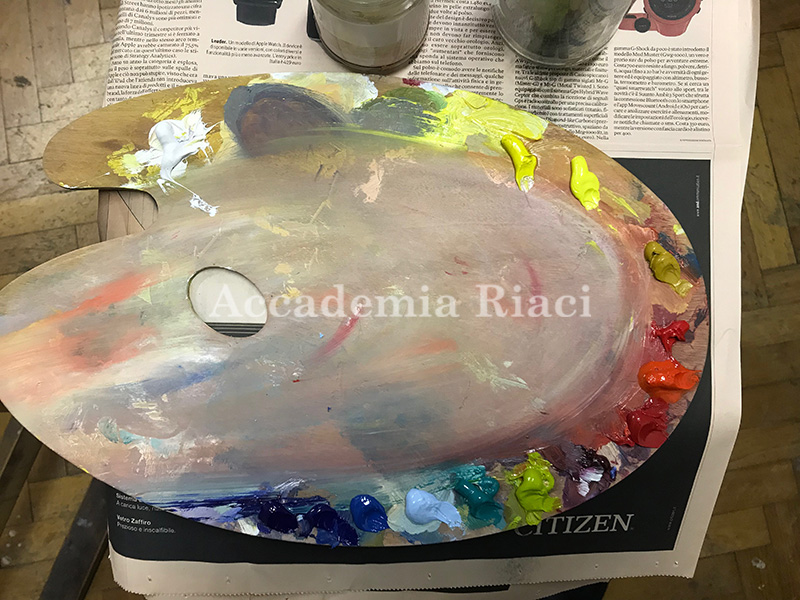 The colors that the artist chooses to use are called a color Palette, this is my favorite colors which I used in my oil paintings.
Hard rock café Firenze, incredible place awesome atmosphere, a lot of famous guitars and things from celebrities of rock. Nice music and good foods.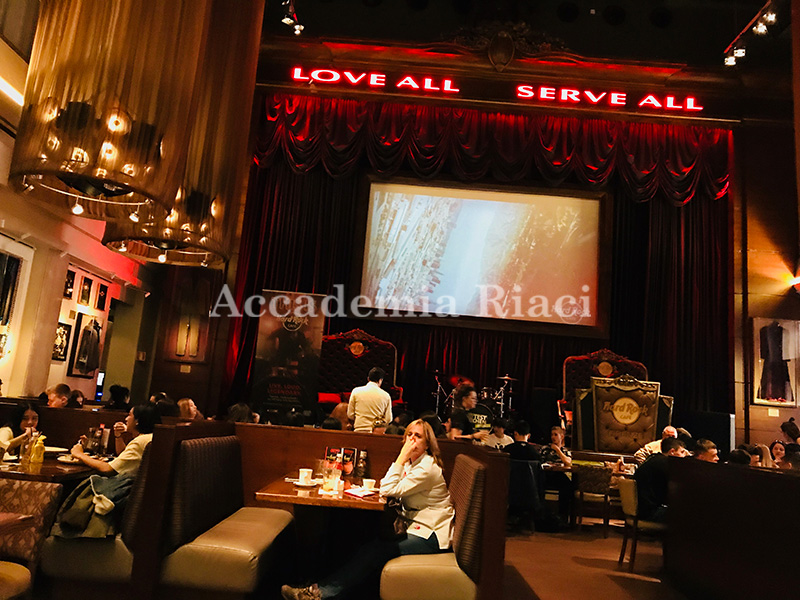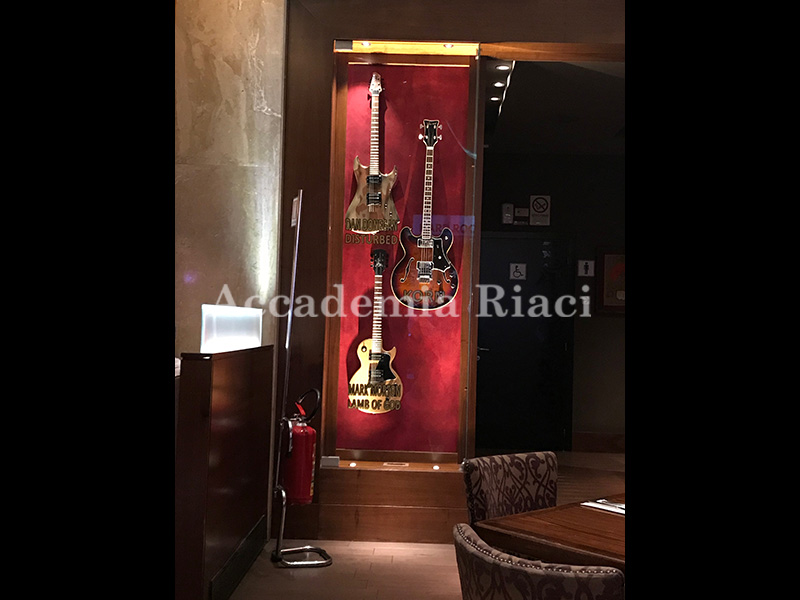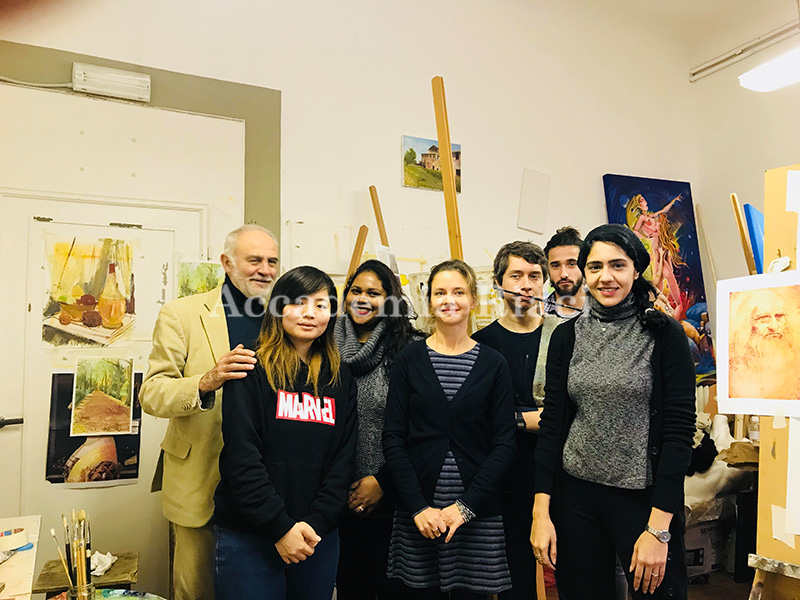 My classmate Laysa and Kanna last day at school with our teacher. Its really hard to say bye to this two ladies.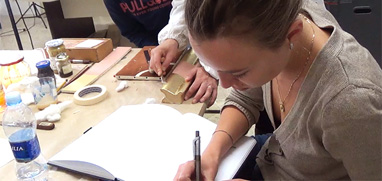 At Accademia Riaci, we are recruiting Course Reporters from our students. The students who are chosen to become Course Reporters are given 10 % of the tuition as their scholarship fee.
The Reporters who have submitted excellent reports will have his or her profile posted on our school website for the next 5 years as an alumnae and will be able to connect with their business chancesafter their graduation.