Accademia Riaci
Student Reports
Read all class reports from our students!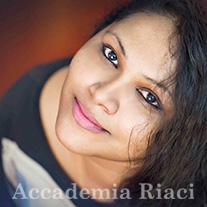 Reporter
Sharon Palihawadana
Nationality: Sri Lankan
Course: Painting and Drawing
Program: Master Coures
Period: Sep. 4, 2017 – Apr. 28, 2018
She went through with a working experience as a foot ware and fashion designer in capacity of holding a special (B.A) degree of Art & Design with academic learning in one of the best university in Sri Lanka. During last four years she has exposed and inspired with several global trends, techniques, methods which related to shoe industry.
Since her childhood it is one for her dreams to be pursuing her masters in art and design. She applied to the international art and design competition 2017 and obtained second place in category of professional in art painting and drawing section.

スリランカでも最高の大学のうちのひとつで学び、アートとデザインの学位を得た能力を使い、靴とファッションデザインの仕事を経験しました。ここ4年間、靴産業に関わるグローバルなトレンドや、技術の中におり、それらにインスパイアされてきました。子供の頃からアートとデザインを職人から学ぶ事が夢でした。国際アート&デザインコンペティション2017に応募し、絵画とドローイング部門で第2位に入賞をしました。
Nov. 02, 2017 | Posted in Reports, Painting and Drawing , Student Reporter | Tags:Sharon Palihawadana, Painting and DrawingReporter: Sharon Palihawadana | Course: Painting and Drawing
First day at academy I learned basic face proposition with the lines. Line is the most basic element of the drawing the more lines that are added the more complex and numerous the separations become light from dark. And the other main element I study how light and shadow create depth and atmosphere in a drawing.

アカデミーでの初日は、線を使った基本的なプロポーションを学びました。線はドローイングで最も基本的なもので、線が多くなるほど分割が複雑で、多くなるほど濃いものから明るいものになります。そして、もうひとつの主要な要素として、ドローイングにおいて光と影がどのように深みと雰囲気を創り出すかを学んでいます。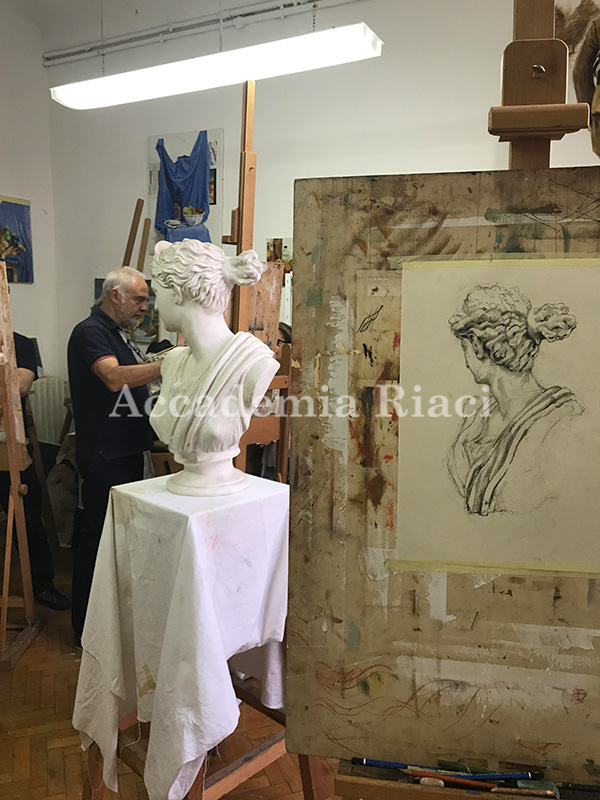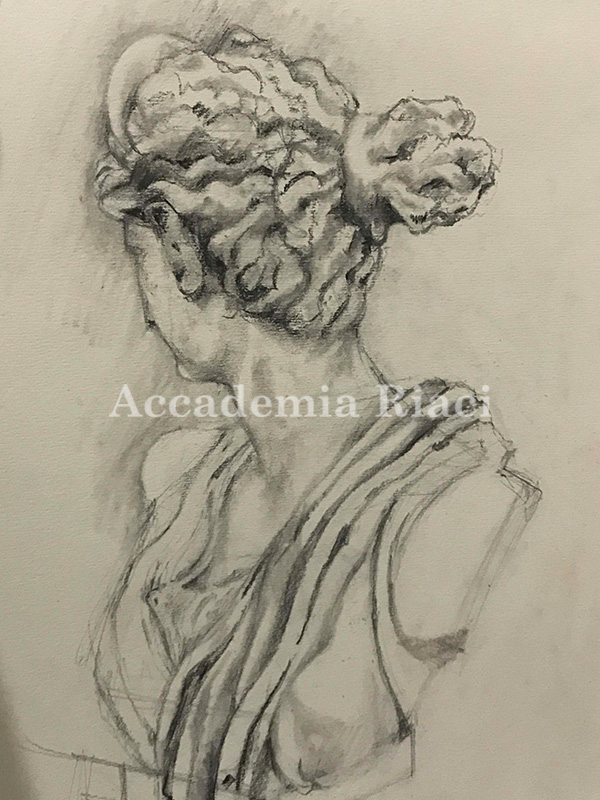 Adding shadow with different technics of each student through their own way is interesting . Professor Alessandro guides us how to correct our mistakes and improve our level of perception.

それぞれの学生がそれぞれの技術を用いて影を与えて行くのはとても面白いです。アレッサンドロ先生はどのように間違いを修正し、私達の知覚レベルを向上するかをガイドしてくれます。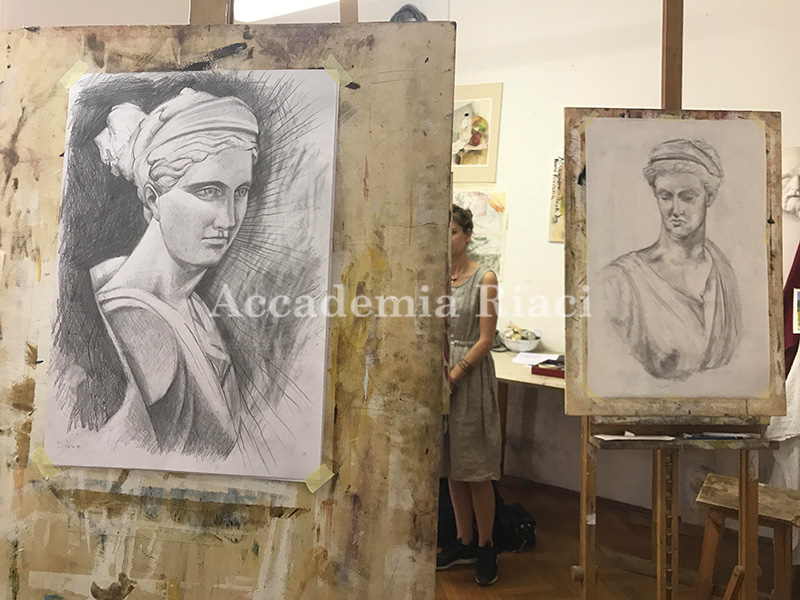 Very first photo of us in together. That is wonderful day met with talented people around the world and we can inspire from each other with guidance of accademia to create our own language of art through the new art experiments.

私たちの最初の集合写真です。世界の色々な所から来た才能あふれる人たちに出会い、アカデミアの指導によって互いをインスパイアしながら自分なりの新しい芸術表現を発達させる、素晴らしい日です。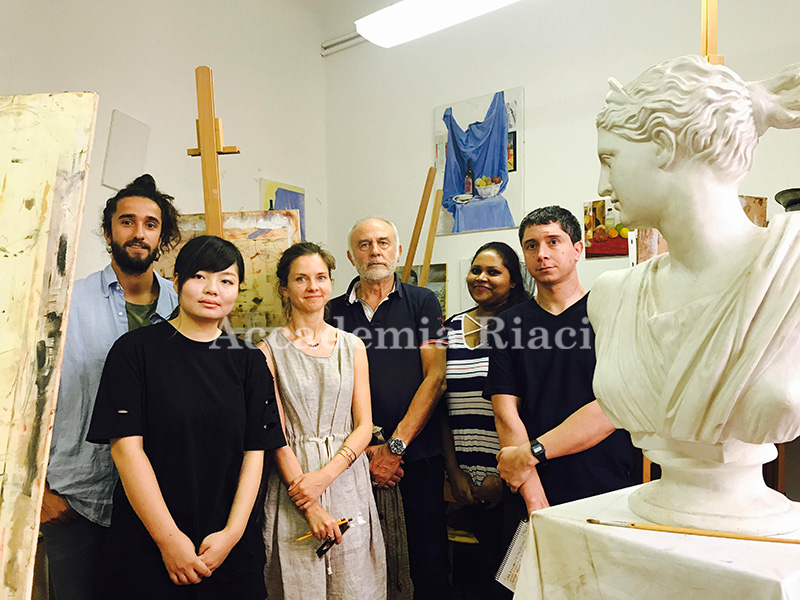 Second day we did individual study which we study on previous day. When drawing the sculpture me and my classmates choose the different view of position than before. As I have not familiar with the human figure drawing this was a big challenge for me.

2日目は前日に学んだ事を元に実習をしました。石膏デッサンのときは、私もクラスメイトも前と違う視点を選びました。人のデッサンを描くのに慣れていないので、私にとっては大きなチャレンジでした。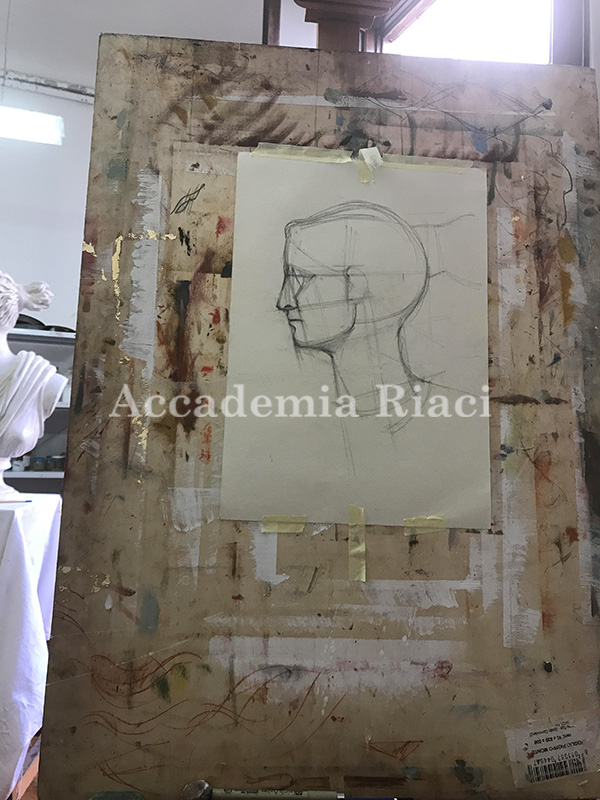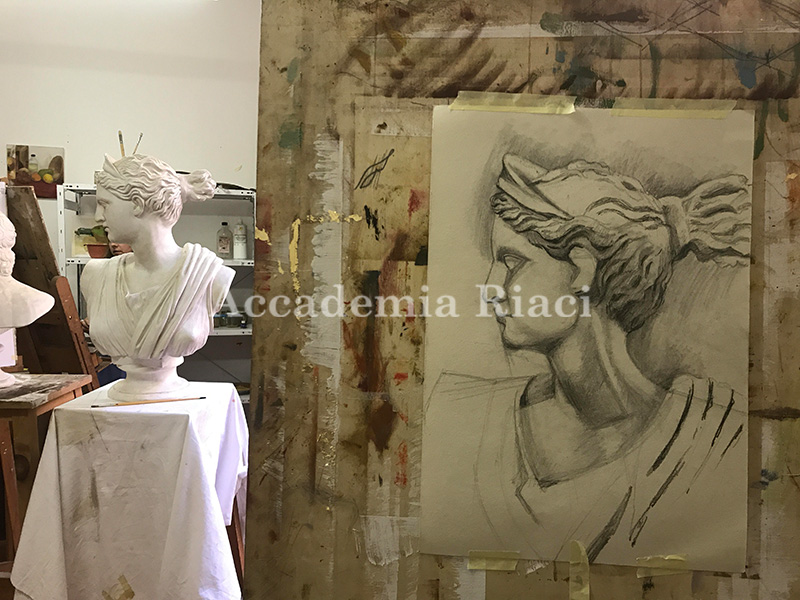 The next class he thought us to get the measurement accurately through the thread. We changed our mediums (chiaroscuro and mix medium) with the same sculpture with different view. I felt more exited as it is not easy to erase. Anyway I love to work with experiment of new medium.

次のクラスでは糸を使って正確に寸法を測る方法を教えてもらいました。私たちは材料を変えて(キアロスクーロと、混ざった材料)同じ石膏を違う視点から描きました。消すのが簡単ではないので、こちらの方がエキサイティングに感じました。いつでも新しい素材を使って実験的な作業するのが好きです。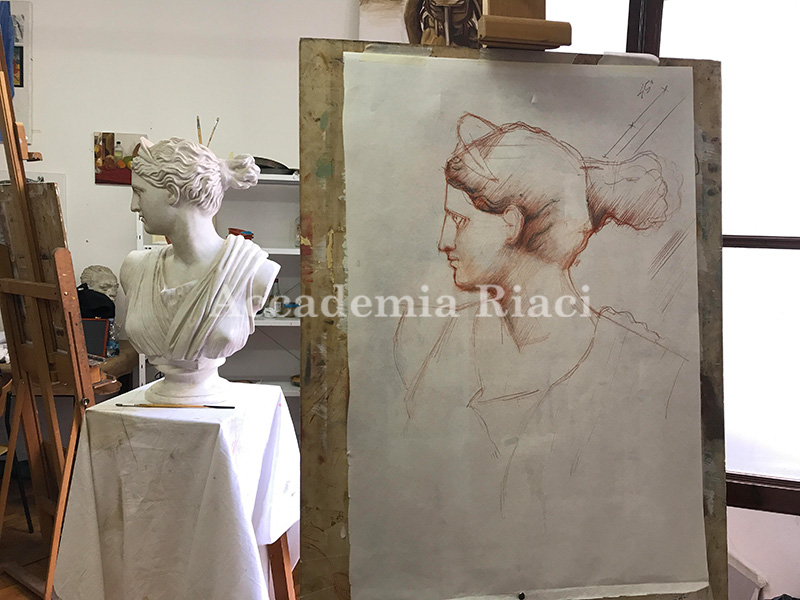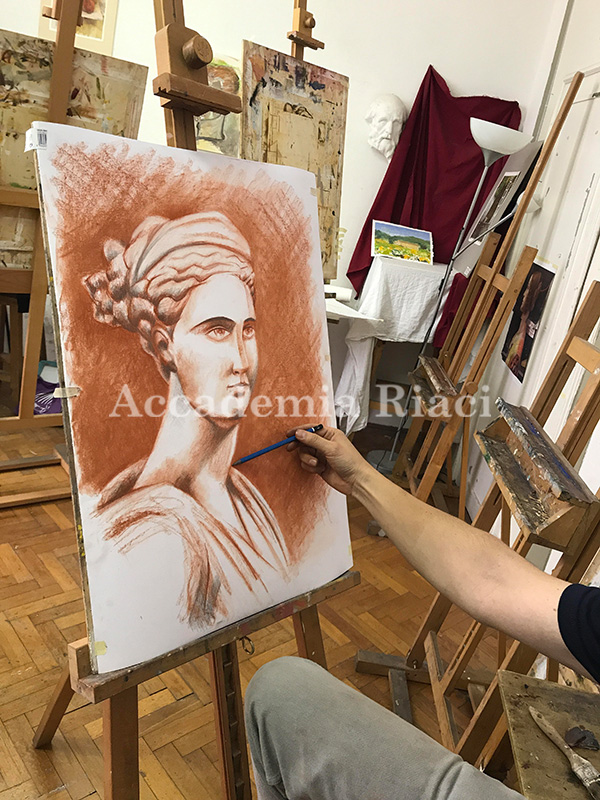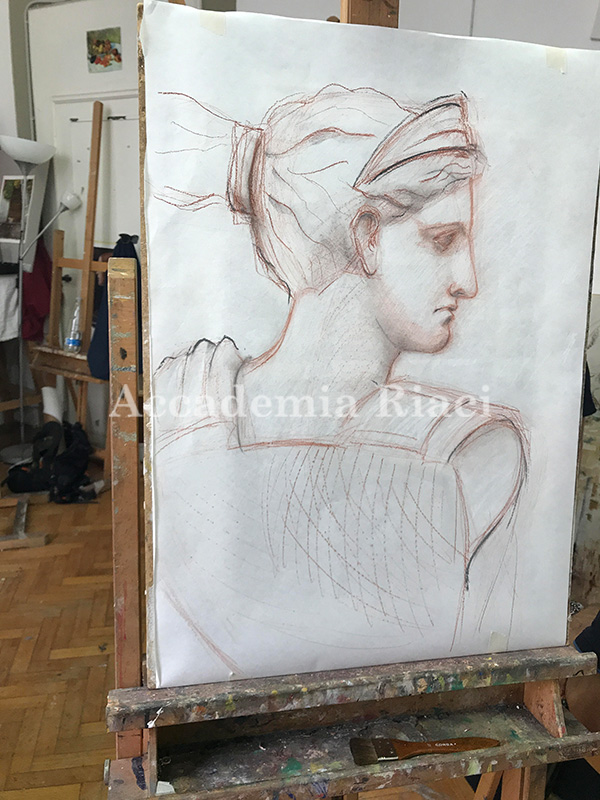 Thursday we got new instructor Processor Andy. She thought how to create own canvas paper and we left them for a while to be dry. We began to familiarize oil medium technics with the still life painting. The magic of still life painting is that they can show us a new way of looking at the ordinary object around us.

木曜日は新しい先生、アンディ先生の授業でした。先生はどのようにキャンバス紙を創るかを教えてくれました。私たちはそれぞれの作業物を少しの間乾かしておきました。静物画を油絵の具で描くのにも慣れてきました。静物画のすごい所は、私達の身の回りにある普通のものを違う視点から見せてくれる所です。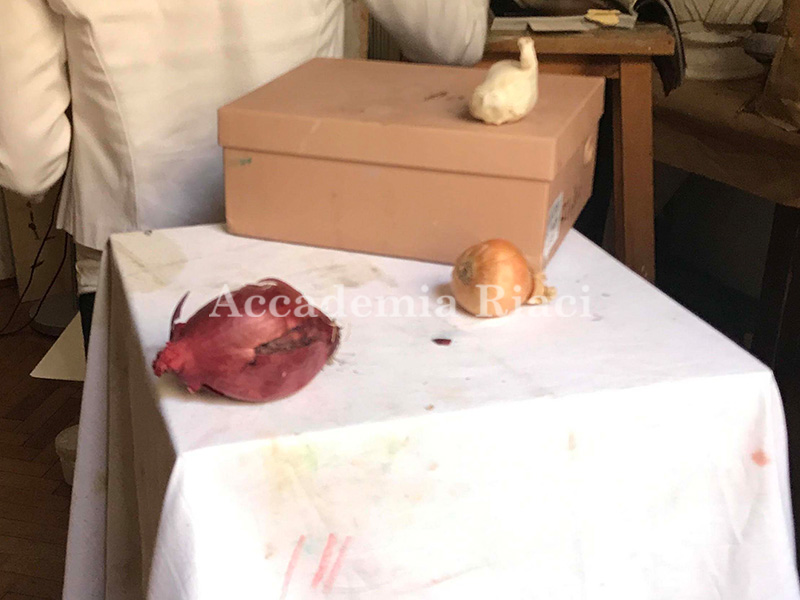 When composing a still life, try to introduce the quality that makes an interesting arrangement. We try our best to organize the composition on the group of objects with interesting manner.

静物画を描く時は、面白い作品に仕上がるように、特徴的な要素を挿入してみます。みんなで興味深い配置に物を置けるように考えます。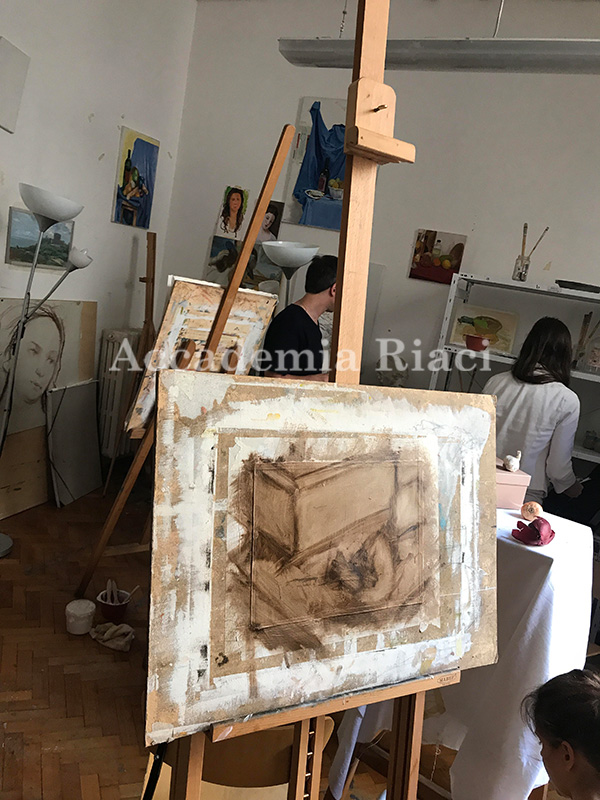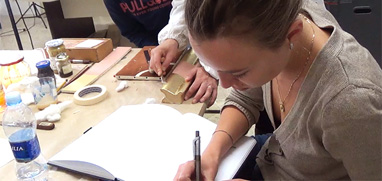 At Accademia Riaci, we are recruiting Course Reporters from our students. The students who are chosen to become Course Reporters are given 10 % of the tuition as their scholarship fee.
The Reporters who have submitted excellent reports will have his or her profile posted on our school website for the next 5 years as an alumnae and will be able to connect with their business chancesafter their graduation.