Accademia Riaci
Student Reports
Read all class reports from our students!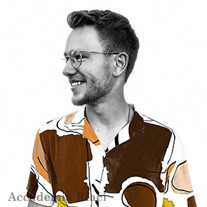 Reporter
Daniel Trembovelski
Country: France
Course: Jewelry Making
Program: Master Course
Period: Sep 6, 2021 - Apr 15, 2022
My name is Daniel Trembovelski, I am a 23-year-old French and Russian student in jewellery. I am currently following the 1-year Master course in jewellery making at the Accademia Riaci after graduating from a bachelor in Jewellery and Silversmithing at the Birmingham School of Jewellery in the UK. I decided to follow this course with the aim to gain more practice and confidence in my work before getting to work in the industry. I was also motivated to learn the "Incisione" techniques in addition to the different possible stone settings and therefore reach a new level in my jewellery creations. My long-term ambition is to gain enough various experience in jewellery all around the world and open my own brand and create my collections once ready! Outside of school, I like to read, visit exhibitions, work out and go out for walks and hikes in the countryside of Italy, Florence being the perfect place for that kind of extracurricular activities! You can follow my journey in jewellery and see my creations on my Instagram account @trembo_jewellery
May. 30, 2022 | Posted in Reports, Jewelry Making , Student Reporter | Tags:Daniel Trembovelski, Jewelry MakingReporter: Daniel Trembovelski | Course: Jewelry Making
Week 6
Earring's repair
I started the week by working on a commission of mine. A member of my family gave me a pair of gold earrings, hand made in Israel 20 years ago and set with an orange sapphire and a purple amethyst. The back branch of one of the earrings broke and needed repair. It's the first time I worked with gold, so I proceeded with the help and advices of my teacher. I started by unlocking the claws on the back of the earrings to allow the stones to come out of the piece. I took me quite a long time as gold became harder with time and the claws being really small. Once done I took out the 2 stones and realised the orange one was already broken before on an invisible part of the jewel. (See earrings picture 1)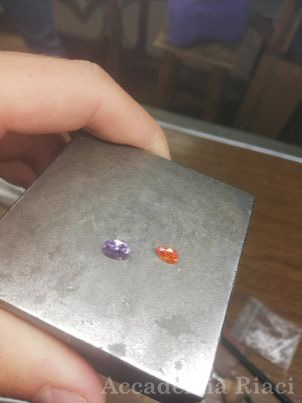 picture earring 1
I then cut a little bit of gold from the earring, mixed it with a small piece of silver solder and mixed them up together by heating them. It therefore created something similar to a gold solder. Then I started soldering once I managed to maintain the 2 parts of the earring in place. (See earrings pictures 2,3 and 4) The soldering point is now a fragile point, so I purposely left a bit more of solder to make sure it doesn't break again. I then left it in the acid to clean and afterwards cleaned the whole piece as well as the second earring that didn't need repair. Finally, I cleaned the 2 stones and put them back on the setting as needed. The earrings are now ready for a second life. (See earrings pictures 5&6)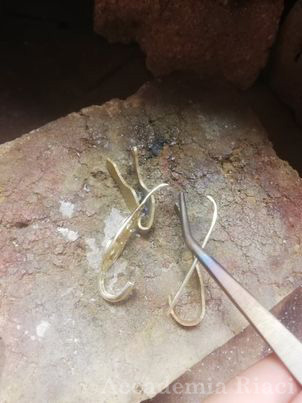 picture earring 2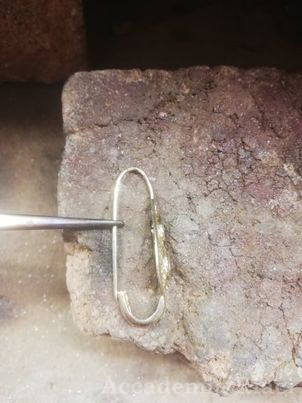 picture earring 3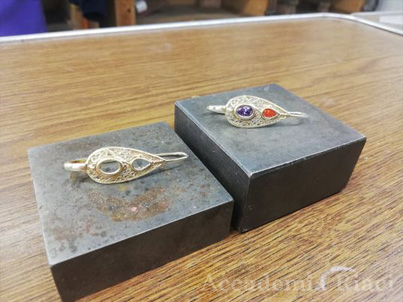 picture earring 4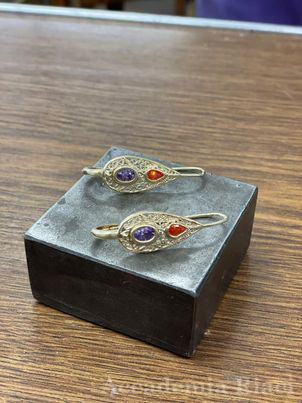 picture earring 5
Silver cross with mother pearls
I carried on with another commission for a friend of mine: a silver cross set with 4 cabochon cut mother pearls. It's a piece I started before but never had the chance to finish. After cutting the right shape for the cross, I had to make sure each side is even by filing them. Afterwards, I decided to create a "rigatto" texture on the back of the piece to practice my engraving skills. First horizontally, then vertically, the engraving came out pretty well. (See cross pictures 1&2)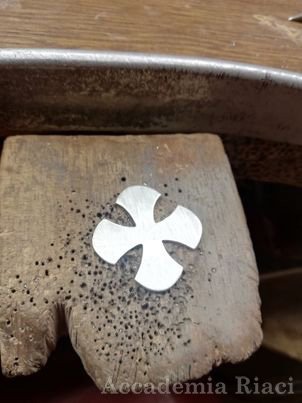 pictures cross 1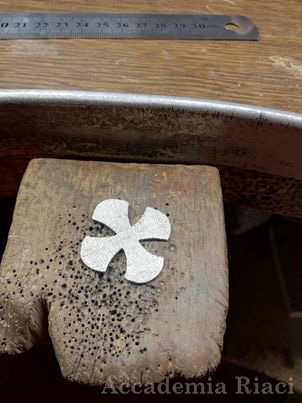 pictures cross 2
I then created the settings for the stones with a thin sheet of silver. It's an easy process but quite long. After creating the 4 sets I soldered them on the piece at the four extremities of the cross. I did the mistake to put solder on the inside part of the stone which lead me to a lot of cleaning afterwards unfortunately. I'll carry on with this project next week. (See cross pictures 3, 4 and 5)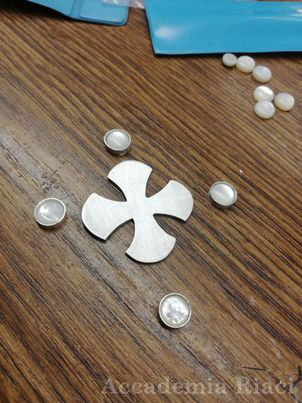 pictures cross 3
pictures cross 4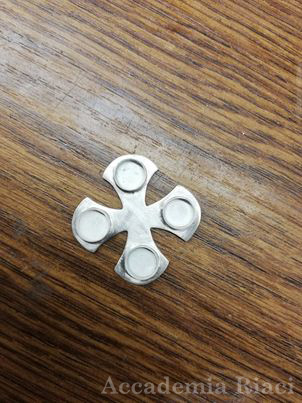 pictures cross 5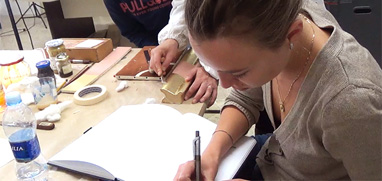 At Accademia Riaci, we are recruiting Course Reporters from our students. The students who are chosen to become Course Reporters are given 10 % of the tuition as their scholarship fee.
The Reporters who have submitted excellent reports will have his or her profile posted on our school website for the next 5 years as an alumnae and will be able to connect with their business chancesafter their graduation.