Accademia Riaci
Student Reports
Read all class reports from our students!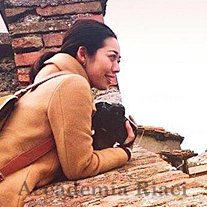 Reporter
Emi Ota
Nationality: Japan
Course: Internship
Program: Internship
Period: Sept 1,2016- Sept 30,2017
アカデミアリアチでカメラマン兼アシスタントをしています。
日本で写真の仕事を辞めて、イタリアのレストランで働いてみたい夫についてきてジェラテリアのインターシップをしていました。
が、その後イタリアで写真の仕事の可能性を感じ、改めて色々と挑戦してみているところです。
カッフェが好きなのでバール巡りをよくしています。
役立つようなイタリア生活情報、学校情報をお伝えしていきます。

I am an intern photographer and assistant at Accademia Riaci.
I quit my job as a photographer in Japan and came here with my husband who wanted to work at a restaurant in Italy. I took a Gelato Internship Course at Accademia Riaci meanwhile.
After my new challenge, however, I began to think that there was more possibility in the photography field in Italy so I decided to go back to my area of expertise and restart.
I love coffee, so I enjoy visiting coffee bars in and around town.
I hope I can let you know useful and helpful Italian daily-life and school information in my reports.
Feb. 14, 2017 | Posted in Reports, Internship , Assistant Reporter | Tags:Emi Ota, InternshipReporter: Emi Ota | Course: Internship
先日、エノテカ(ワインバル)でインターンシップをされているアカデミアリアチの学生さんのお店にお邪魔してきました。
ご夫婦で半年間のイタリア留学をされていて、もうすぐご帰国されます。
ワインの色々な知識も教えていただけるので、渡辺さんの働かれている間にお気に入りのワインを見つけにぜひ足を運んでみてください。
私は"vivia le mortelle"というトスカーナワインをおいしくプロシュートと共にいただきました。
毎日ワインを拭いて綺麗にしながらラベルをみて、作り手やブドウ品種をみて覚えているそうです。
ワインソムリエになるために、香りを覚えるのに勉強をされるのかお聞きしたところ、香りのワインの数十種類のアロマの瓶が入ったキットのようなもので勉強されるそうです。こちらの店でもそのキットが売られていました。日本で買うよりもずっと安いそうなので、気になる方は見に行ってみてください。

I visited one of our students taking an internship course at an enoteca (wine bar).
Kenzo came to Italy with his wife for 6-month internship until the end of February.
He would gladly share his wine knowledge with you, so go find a bottle of your favorite wine while he is there. I enjoyed a Tuscan wine called "vivia le mortelle" with prosciutto.
He learns about manufacturers and grape varieties from wine labels while he wipes wine bottles clean everyday.
To become a sommelier, he studies the wine aroma using a special kit with many different wine aroma bottles. The same kit was sold at this wine bar. The price is much less here than in Japan, so go check it out if you are in Italy and interested.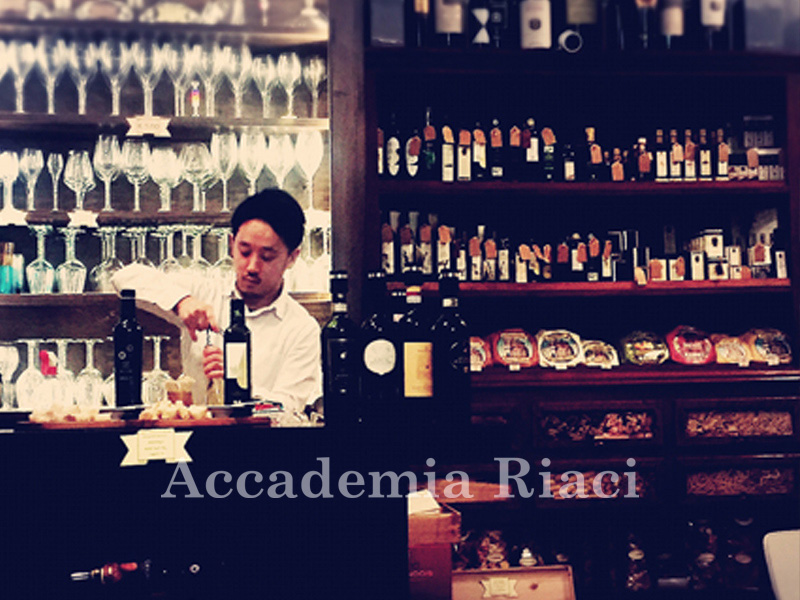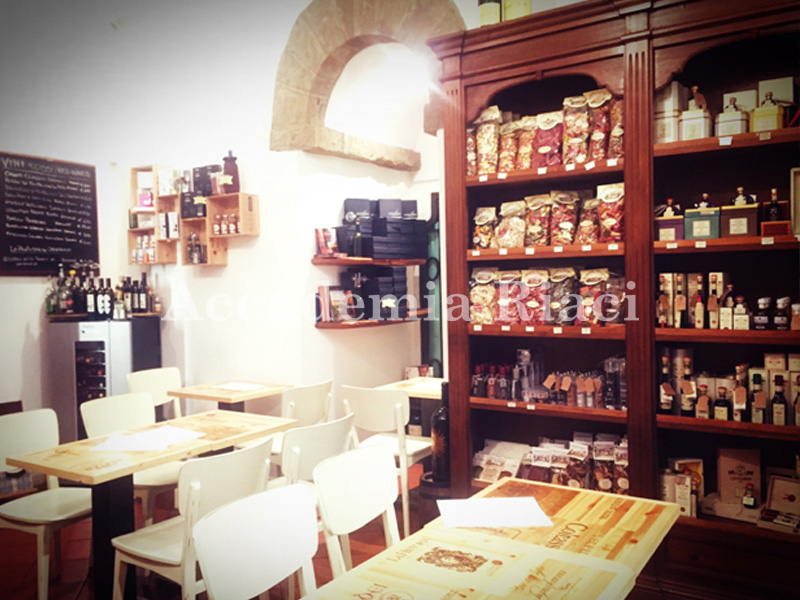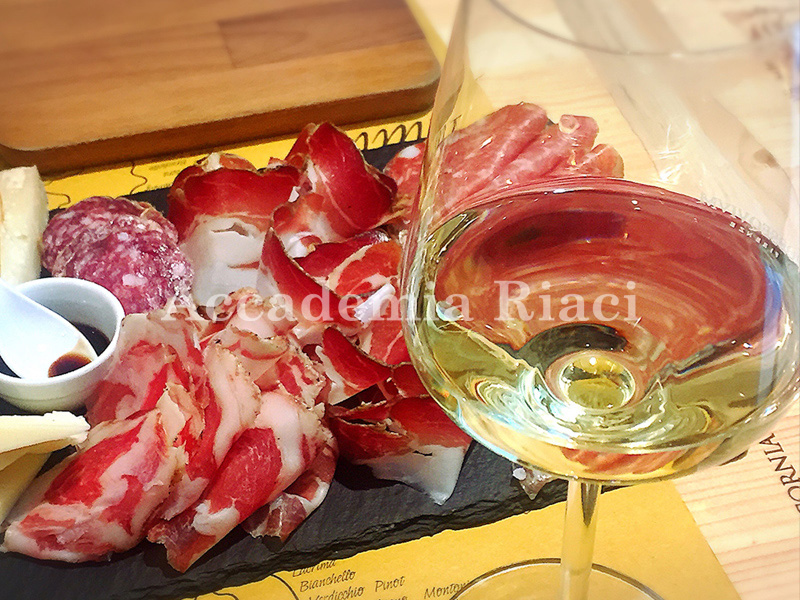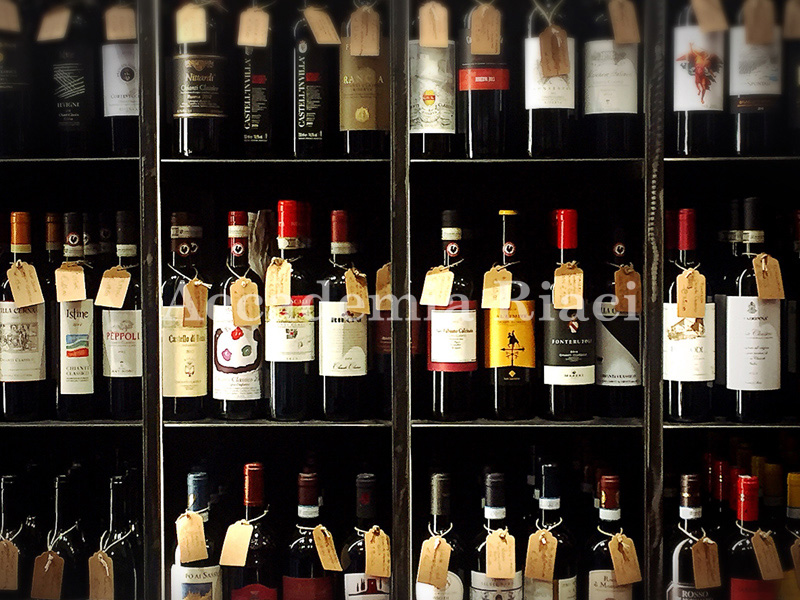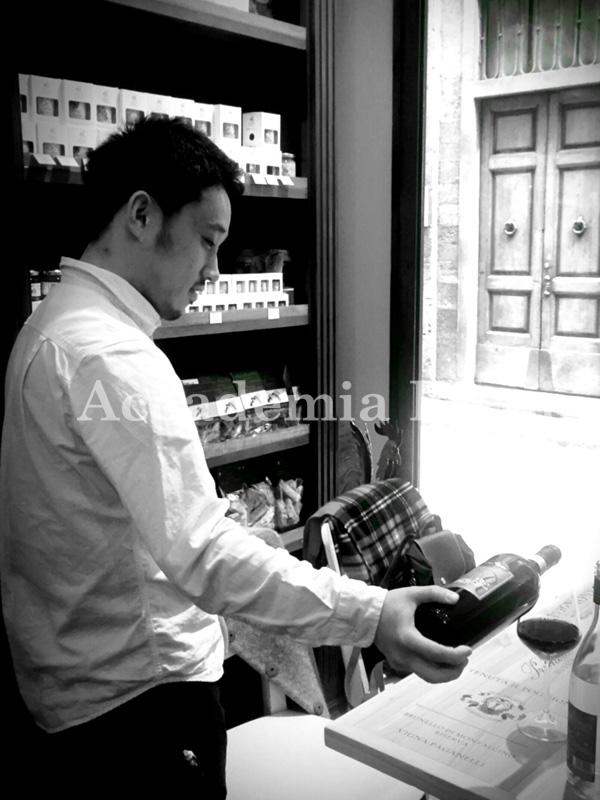 Enoteca Obsequium Firenze
Borgo San Jaccopo,17
そのあと、ちょっと気になった渡辺さんオススメの別のエノテカへ行きました。
一見たくさんのいろんな種類のお酒やお土産の食材が置いてあるお店ですが、なんとこちらは地下のワイン貯蔵室のようになっているワインの売り場が、素晴らしかったです。
もうワインの知識が素人の私でも楽しめました。
ディスプレイがとても素敵でビンテージの売り物にできないワインは鍵がかかったケースに飾られていました。
椅子は、ワインの樽で作られたものや天板部分にコルクを入れて樹脂で固めてあるものがあり、真似してみたい、おしゃれな手作り椅子でした。

I then visited another enoteca where Kenzo recommended.
With various liquors and food materials in the shop, it did not look like a wine bar at all. But surprisingly, they have a gorgeous wine floor in the basement.
I really enjoyed learning about wines here even without special prior knowledge.
All vintage wines not for sale were displayed beautifully in a locked case.
And there were really cool handcrafted chairs made from wine barrels and seat faces made from corks in hardened acryl.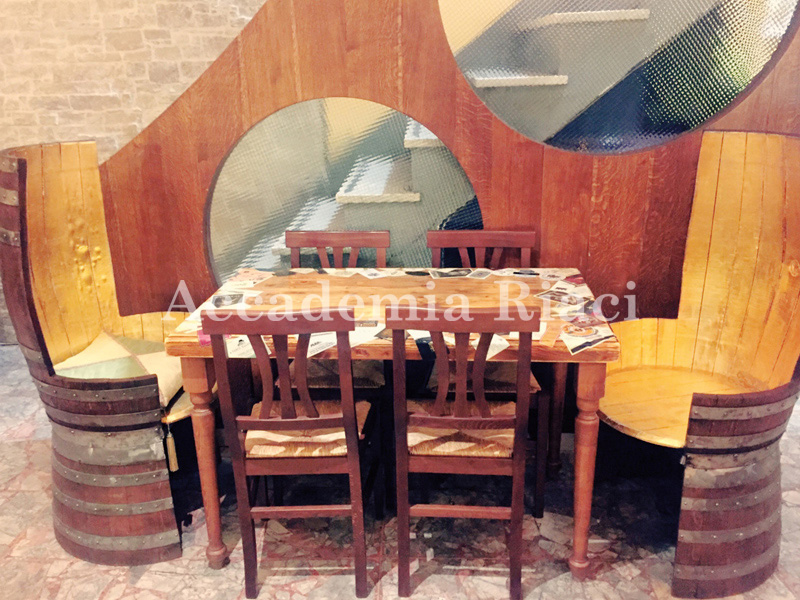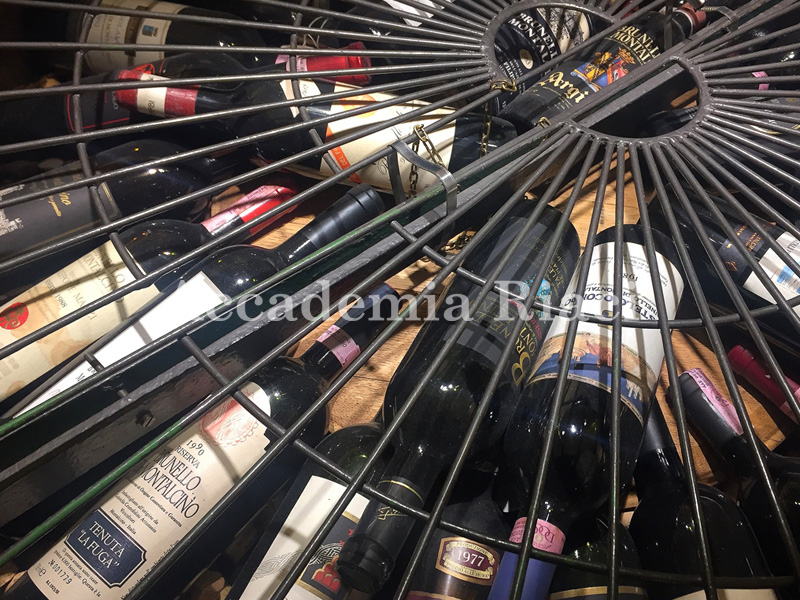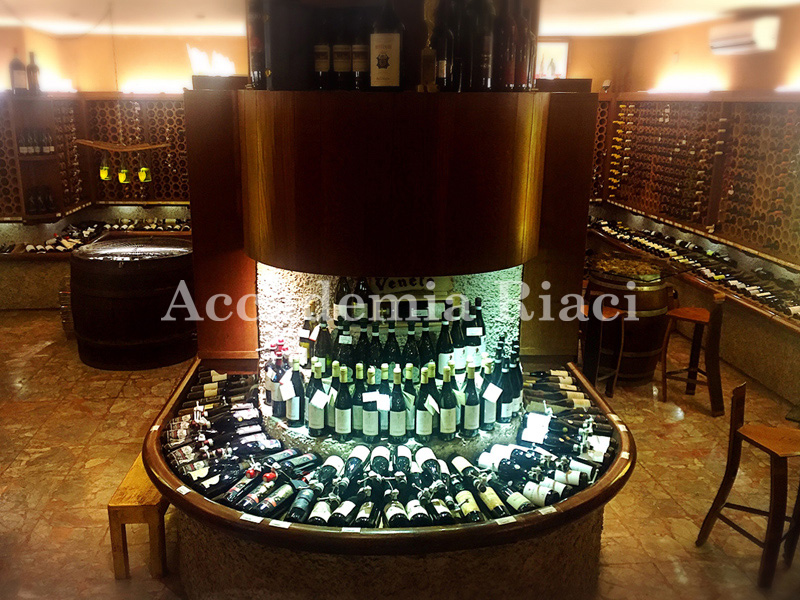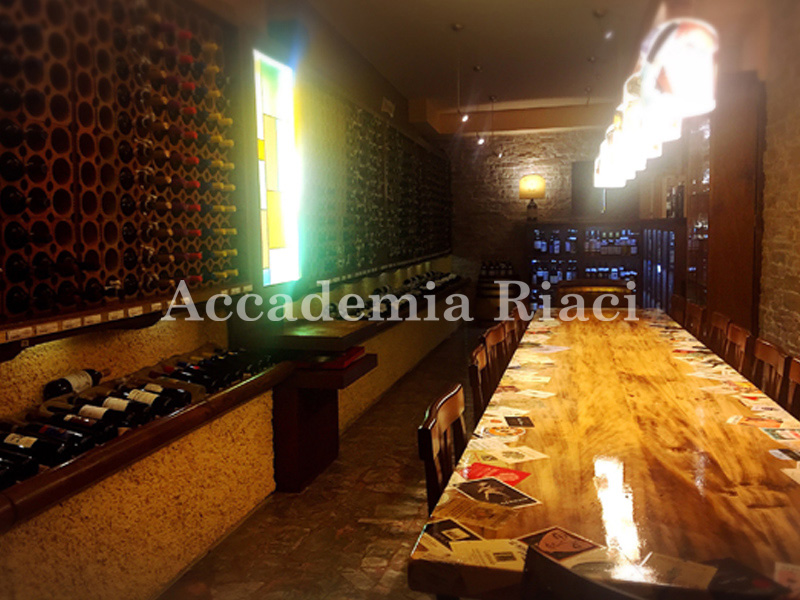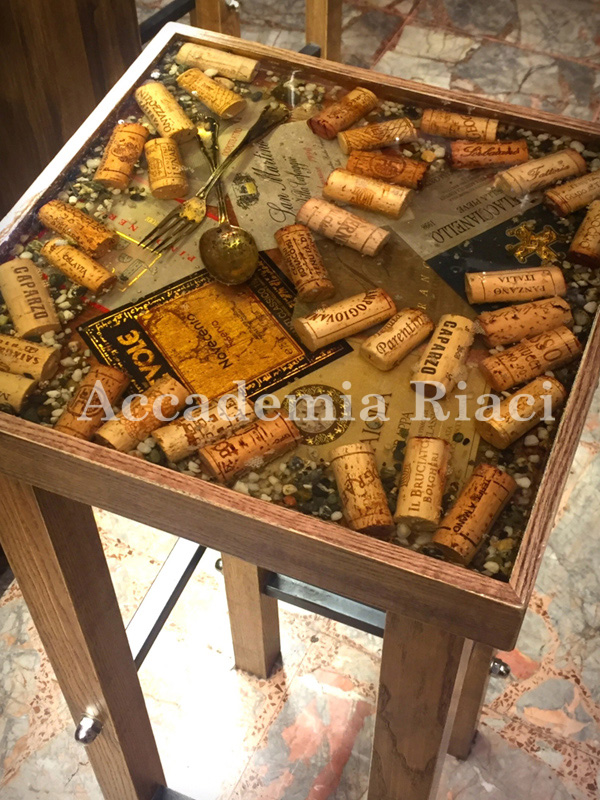 "Enoteca Alessi"
Via delle Oche, 27/red, 50122 Firenze,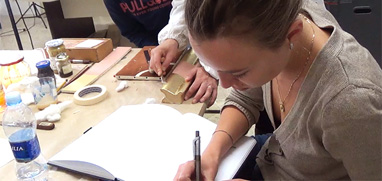 At Accademia Riaci, we are recruiting Course Reporters from our students. The students who are chosen to become Course Reporters are given 10 % of the tuition as their scholarship fee.
The Reporters who have submitted excellent reports will have his or her profile posted on our school website for the next 5 years as an alumnae and will be able to connect with their business chancesafter their graduation.