Accademia Riaci
Student Reports
Read all class reports from our students!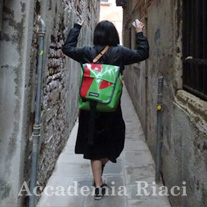 Reporter
Misa YOSHIDA
Nationality: Japan
Course: Graphic Design
Program: OneYear Course
Period: Oct. 31,2016-July 28,2017
高校を卒業後、語学と美術を学ぶ為にイタリアへ来ました。初めの半年間はシエナの語学専門学校に通いながらグラフィックデザインを学べる学校を探し、一度帰国をした後にアカデミアリアチへの入学を決めました。今までは絵画を中心に制作活動をしていたので、ルネッサンス期の芸術作品が溢れるフィレンツェでの生活はとても勉強になります。これまで培ってきた経験を生かし、今回は新たにグラフィックデザインについて学びを深めていきたいです。

I came to Italy right after I graduated from high school to study Italian language and art. I spent my first 6 months in Siena to study at an Italian language school. While I was there, I looked for a good school for graphic design. I went back to Japan once and decided to enroll Accademia Riaci. Because my main art field had always been painting & drawing, I have been learning a lot from the life in Florence surrounded by full of artworks from the Renaissance era. I look forward to learn further more about graphic design based on my past experience.
Apr. 28, 2017 | Posted in Reports, Graphic Design , Student Reporter | Tags:Misa Yoshida, Graphic DesignReporter: Misa YOSHIDA | Course: Graphic Design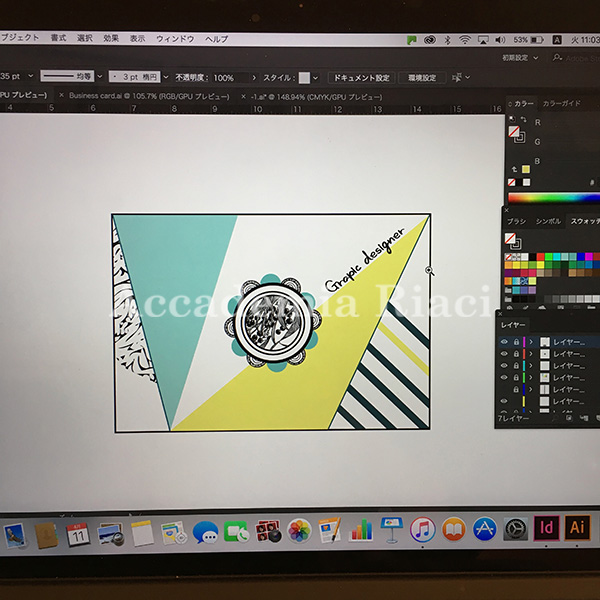 ビジネスカードを新しく作り直しました。フライヤーのデザインをそのままカードに反映させます。初めに作ったものよりも色味があり、日頃からデザインが古いと指摘がありましたが、今回は先生も納得してくださいました。

I made a new business card. The design of the flyer is reflected on the card as it is. It has a more color taste than the first one that I made. The professor always pointed out that my design was old, but this time she was also convinced.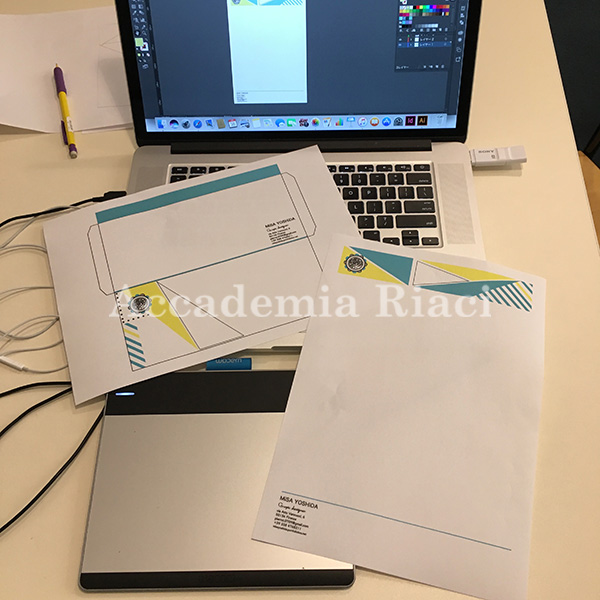 ビジネスカードのデザインが終わり、次はブランディング作業に入ります。以前行ったデータをもとにデザインだけを変更していきます。画面が混乱し無い様に調節をしながら、フライヤーとのバランスを考えました。

After the design of the business card is over, we start branding work. We changed only the design based on previous data. I adjusted it so that it should not to be confusing and to be balanced with the flyer.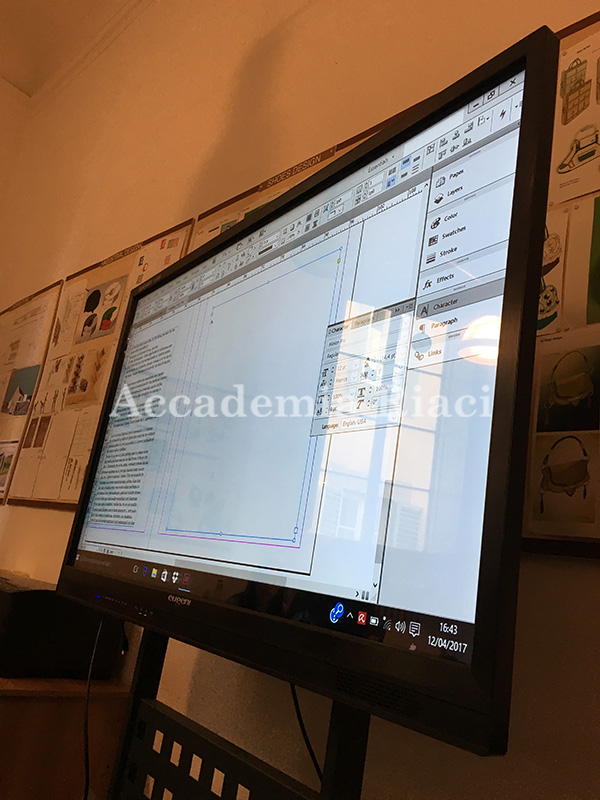 ベーシックレッスンではマルチメディアの勉強をし、その後ポートフォリオを制作します。基本的にInDesignのソフトを使い、自分の作品を紹介します。私はコースの中ですでにソフトを使っているので、そこまで苦労する事なく作業を進められました。

In basic lessons we study multimedia and then make portfolio. We basically use InDesign's software and introduce our work. Since I already use software in my own course, I was able to do the work without having any difficulty.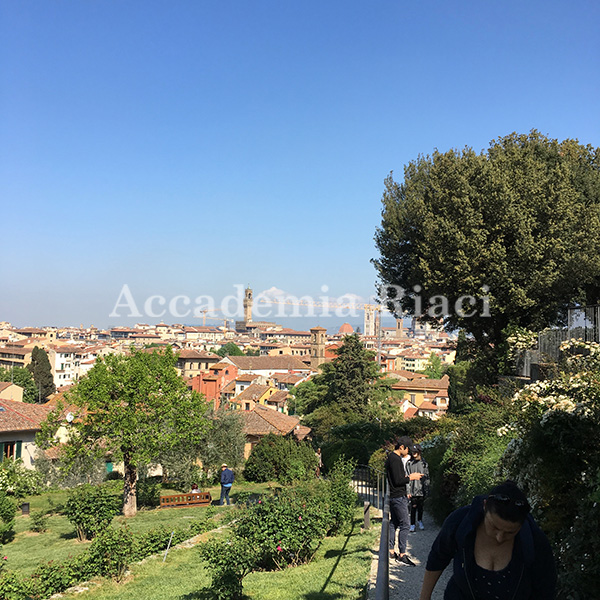 ART VISITでは私のお気に入りの教会、サン・ミニアーノ教会へ行きました。途中美しい庭園を通り、記念撮影。庭園の中にはいくつか彫刻などがあり、この日は天気も良かったののでピクニックをしている人もいました。

We went to San Miniato church, my favorite one for the ART VISIT. We took commemorative photos, passing through the beautiful garden. There are some sculptures in the garden. And there was also people who picnicked because of the good weather.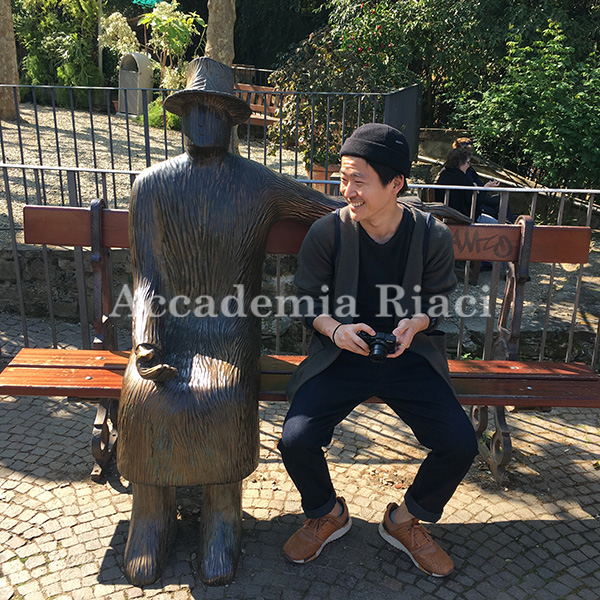 庭園の中で面白い彫刻を発見。友人に隣に座ってもらい、記念撮影をしました。この場所以外にも同じようなユニークな作品が他にも多くあります。

I found an interesting sculpture in the garden. I asked my friend to sit next to it and took a photo. There are many other similar unique works besides this place.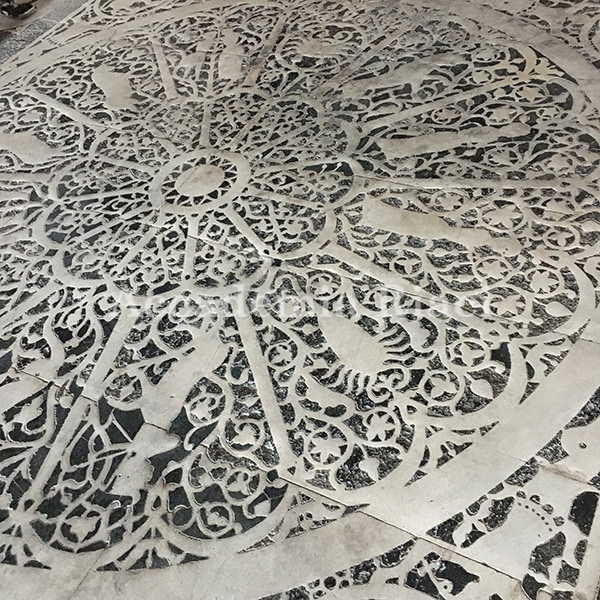 教会内の床に掘られたレリーフです。実はこれ、星座の模様が描かれているんです。よく見ると、それぞれの星座のモチーフが描かれ、それが床になっています。こうしたよく見てみないとわから無いデザインがいくつもあるので、何度足を運んでも飽き無いです。

It is a relief on the floor inside the church. Actually, the patterns of the constellation are drawn. Looking closely, the motif of each constellation is drawn and these composes the floor. There are many designs that I don't recognize without observing well, so I don't get tired of going over several times.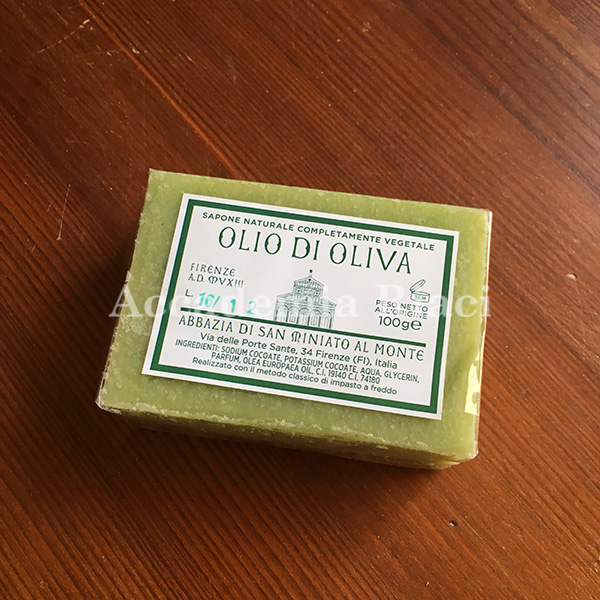 教会に隣接した薬局で買った石鹸です。フィレンツェのオリーブを使った石鹸は肌にはもちろん、香りもとてもいいです。日本では液体のものを使っていたのですが、イタリアに来てからは様々な種類の固形石鹸を試しています。

It is a soap that I bought at the pharmacy next to the church. Soap with Florentine olives is very good for skin, and has a good aroma. I used a liquid soap in Japan, but since I came to Italy I am trying various types of solid soap.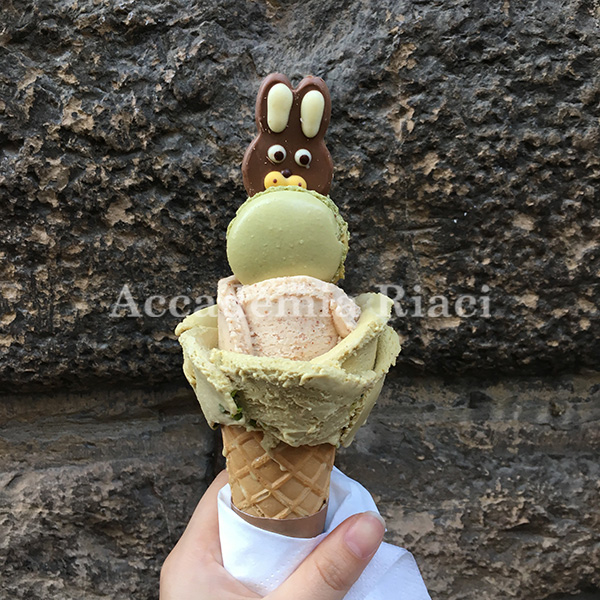 4月16日は祝日で、ほとんどのお店がお休みでした。この日はイースターと言ってキリスト教の復活祭です。4月に入り、大きなエッグチョコレートやうさぎの置物をよく目にする様になったのはこの日のためですね。私もイースターにちなんでジェラート屋さんで限定ジェラートをいただきました。

April 16th was a holiday and most of the shops were closed. This day is the Christian Easter festival. That's why we often see big egg chocolate and rabbit figurines in April. I also got limited gelato at a gelato shop after Easter.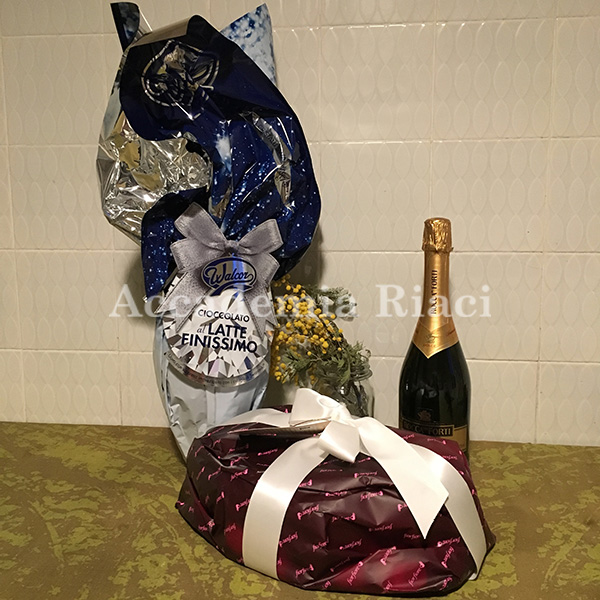 夜は買ってきたエッグチョコレートとイタリアで食べられる伝統のケーキ、コロンバ(Colomba)を食べました。これは一見十字形のケーキにも見えますが、どうやら鳩をかたどった物の様です。イタリアでは、これをイースターの日に家族で食べるのが伝統の様です。味はクリスマスに食べるパネットーネと似て、パンとパウンドケーキの間の様な食感。中にドライフルーツも入っていてとても食べやすいです。

In the evening, I ate egg chocolate and Colomba, a traditional cake in Italy. It seems like a cruciform cake at first glance but it actually has a pigeon figure. In Italy, it is traditional to eat this on Easter day with family. The taste is similar to Panettone of Christmas and has texture between bread and pound cake. There are dried fruits inside.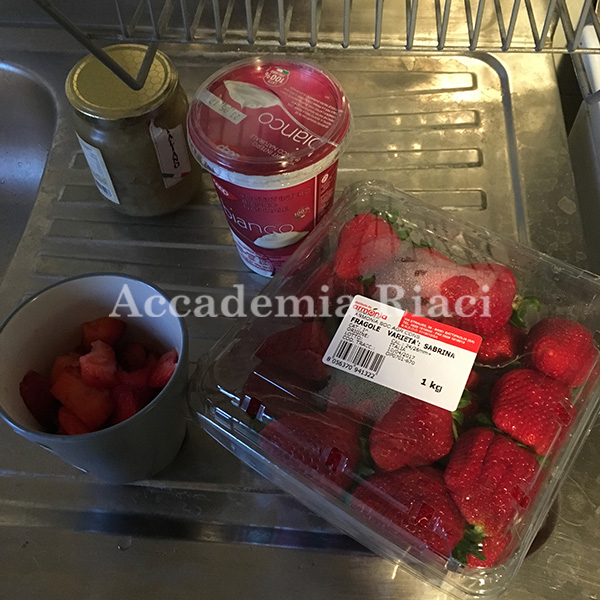 ある日スーパーに買い物に出かけると、山の様に積まれたいちごを発見しました。よく見ると、1kg€1.78と記載されています。日本では1パック約400円が、ここではキログラム単位で売られていることに衝撃を受け、思わず購入してしまいました。味は日本のいちごの様な甘さまではないのですが、さっぱりしていて美味しいです。最近ではヨーグルトに混ぜて食べています。

When I went shopping at a supermarket, I found a strawberry stacked like a mountain. If you look it carefully, it is described as 1 kg € 1.78. In Japan, it costs about 400 yen per pack. I was shocked that here they are sold in kilogram units, I purchased it unexpectedly. The taste is not sweet like Japanese strawberries, but it is refreshing and tasty. Recently I mix it with yoghurt and eat it.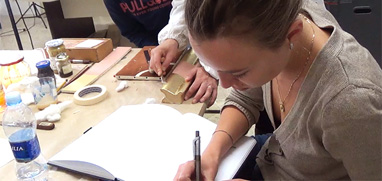 At Accademia Riaci, we are recruiting Course Reporters from our students. The students who are chosen to become Course Reporters are given 10 % of the tuition as their scholarship fee.
The Reporters who have submitted excellent reports will have his or her profile posted on our school website for the next 5 years as an alumnae and will be able to connect with their business chancesafter their graduation.