Accademia Riaci
Student Reports
Read all class reports from our students!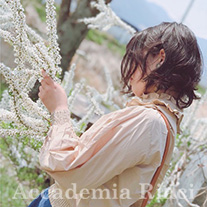 Reporter
Saki Nagai
Country: Japan
Course: Glass Art
Program: One-Year Course
Period: Sep 2, 2019 - Apr 24, 2020
🇬🇧 After studying arts at the high school, I decided to enroll at Accademia Riaci to learn the stained glass techniques that I had always wanted to do after graduation. I'm going to learn various topics such as Italian painting, art, culture, and language, as well as Italian glass techniques.
🇯🇵 高校まで美術を学び卒業後はずっとやってみたいと思っていたステンドグラスの技法を学びにこの学校に入学しました。本場イタリアのガラス技法はもちろん、イタリアの絵画や芸術、文化、語学など様々な面で沢山学んでいこうと思います。
Sep. 22, 2021 | Posted in Reports, Glass Art , Student Reporter | Tags:Saki Nagai, Glass ArtReporter: Saki Nagai | Course: Glass Art
のりの乾き待ちで作っていた作品の続きです。前回までで花の部分と背景の模様の部分までのりで貼り終えていたので今回は背景の細かいパーツの作業に入りました。花や模様の周りのパーツが小さかったり、難しい形になってしまい切るのが大変でした。次作品を作るときは背景とモチーフの配置をよく考えてデザインしようと思いました。
のりが乾いたので漆喰を塗りました。漆喰を埋める場所が多かったので少し時間がかかりました。漆喰はすぐに乾いてしまうので早く隙間なく綺麗に埋めなければならないそうです。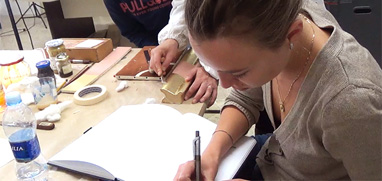 At Accademia Riaci, we are recruiting Course Reporters from our students. The students who are chosen to become Course Reporters are given 10 % of the tuition as their scholarship fee.
The Reporters who have submitted excellent reports will have his or her profile posted on our school website for the next 5 years as an alumnae and will be able to connect with their business chancesafter their graduation.