Accademia Riaci
Students' Blog
Up-to-date report from one of our students!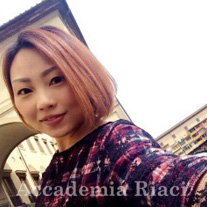 Reporter
JACQUELINE VONG
Nationality: Portugal
Course: Art Management
Program: Master Course
Period : Sep.7,2015-Apr.22,2016
I got a Bachelor Degree in English Communications in University of Macau. I'm a free-lance dancer and choreographer. I was facing a turning point in my artistic development, I would like to take a step forwards towards my career ambition, and furthermore I've been impressed and inspired by western influences while expanding my individual artistic practices. As a result I've decided to come to Italy to undertake the Art Management Master Course.
Nov. 03, 2015 | Posted in Blog, Business and Management , Student Reporter | Tags:Jacqueline Vong, Business & Management | Language:



Reporter: JACQUELINE VONG | Course: Business & Management
Art Management Master Course: Event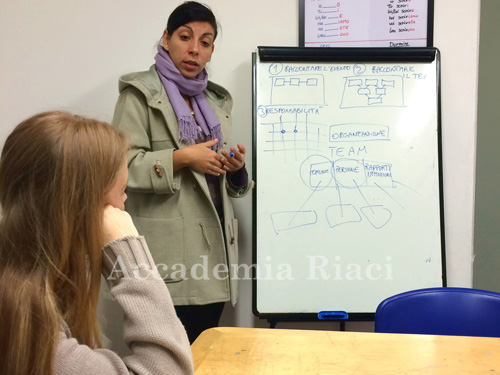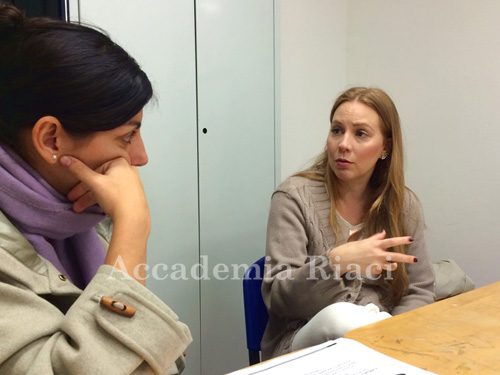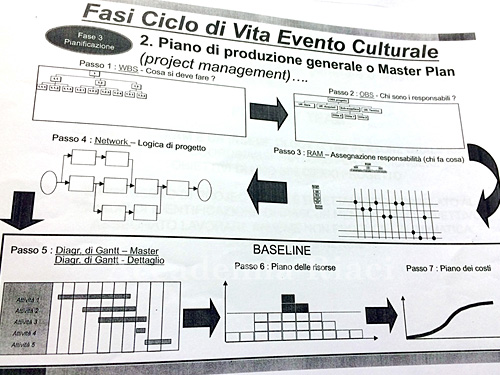 Event is the realization of project to the creation and development of large scale events such as festivals, conferences, ceremonies, formal parties, concerts, or conventions. Before actually launching the event, analysis of feasibility involves in organization, technical logistics, financial, marketing, and communication is a basic step to activate the plan. Then, the next step is to prepare a general production plan or master plan which is an explicit way to show the life cycle of the project, components of 7 steps: WBS (Work Breakdown Structure) → OBS (Organizational Breakdown Structure) → RAM (Responsibility Assignment Matrix) → Network → Gantt Diagram → Resource Plan → Cost Plan. Preparing the general production plan is important to a project manager because it specifies the progress of the project for executing. Moreover, we glance at 5P (Participant, Product, Promotion, Probing, and Prospect), Budget Plan, and Project Team this week.

活動是實現項目對大型活動的創造及發展,如節日,會議,慶典,正式的聚會,音樂會,或會議。在實際展開一活動之前,分析其可行性是活化該項計劃的基本步驟,分析包括組織、技術後勤、財務、市場營銷、及通訊。下一步是編製一總體製作計劃或總體規劃,是以一個明確的方式來顯示一項目的盛衰週期,以上計劃由7個步驟組成:WBS(工作分解結構) → OBS(組織分解結構) → RAM(責任分配矩陣) → 網路圖 → 甘特圖 → 資源計劃 → 成本計劃。編製總體計劃對項目經理實行項目來說是重要的因為它詳細指明該項目的進展情況。此外,本週我們簡略介紹了5P(參與者、產品、推廣、探索和展望),預算計劃,以及項目團隊。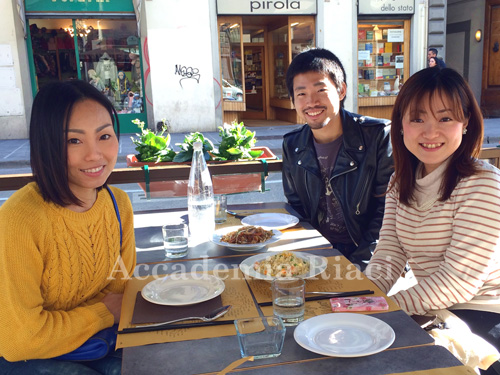 Last week I accomplished my 6-month Italian language course. It is a great joy to study Italian with good teachers and friendly classmates in the pleasing atmosphere. The last day of the course, I lunched with my classmates. We got a lot of fun to stay together!

上星期我完成了6個月的意大利語課程。跟好的老師與友善的同學在愉快的氣氛下學習意大利語是一大樂事! 課程的最後一天,我和同學們一起吃午飯。我們在一起有很多樂趣!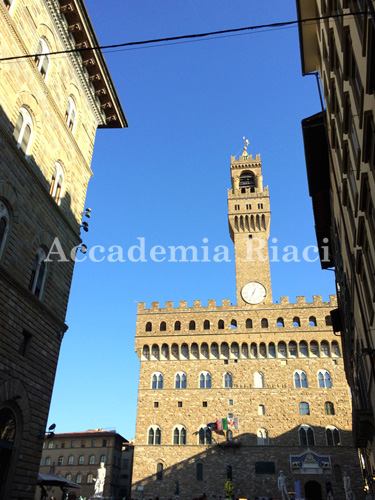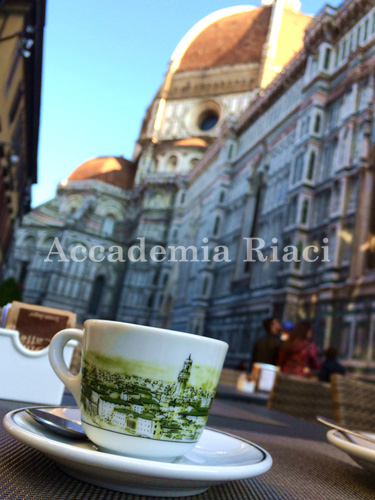 Last weekend, a friend of mine from Macau came to Florence for travelling. We met and roamed around the city, took a coffee next to Duomo…

上個週末,我的一位澳門朋友來佛羅倫斯旅行。我們見面及漫遊佛羅倫斯,在百花教堂旁喝咖啡…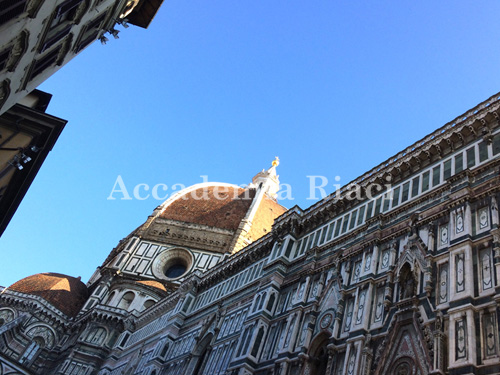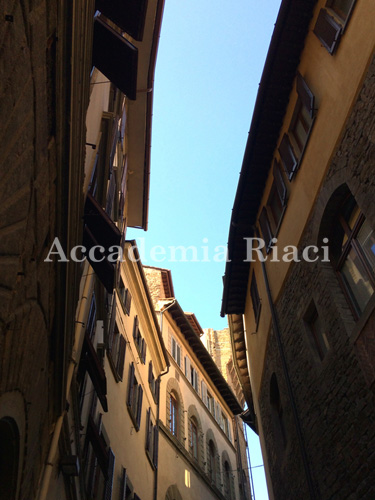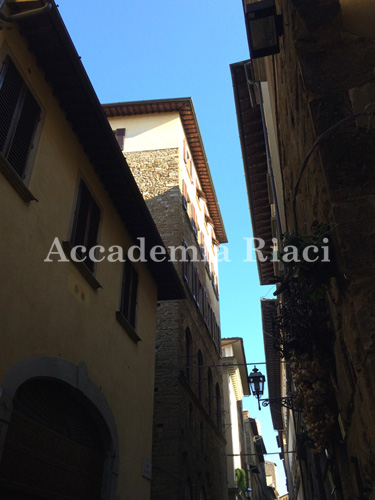 While we were walking around, I found that the skyline of Florence is very beautiful!

在我們漫步的同時,我發現佛羅倫斯的天際線很美!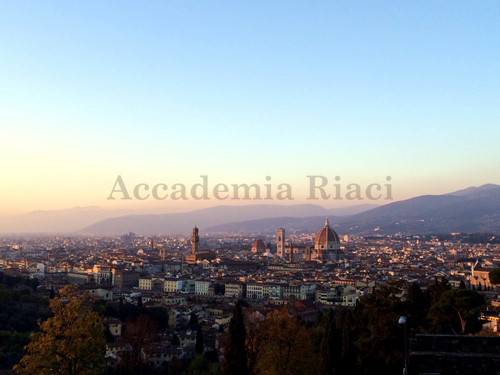 Last, we went to Piazzale Michelangelo to appreciate the panorama of Florence to end the beautiful day!

最後,我們到米開朗琪羅廣場觀賞佛羅倫斯全景來結束美好的一天!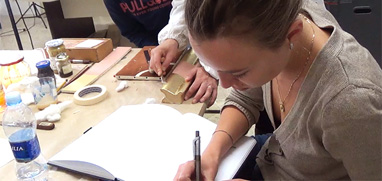 At Accademia Riaci, we are recruiting Course Reporters from our students. The students who are chosen to become Course Reporters are given 10 % of the tuition as their scholarship fee.
The Reporters who have submitted excellent reports will have his or her profile posted on our school website for the next 5 years as an alumnae and will be able to connect with their business chancesafter their graduation.