Accademia Riaci
Students' Blog
Up-to-date report from one of our students!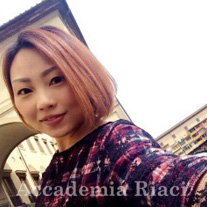 Reporter
JACQUELINE VONG
Nationality: Portugal
Course: Art Management
Program: Master Course
Period : Sep.7,2015-Apr.22,2016
I got a Bachelor Degree in English Communications in University of Macau. I'm a free-lance dancer and choreographer. I was facing a turning point in my artistic development, I would like to take a step forwards towards my career ambition, and furthermore I've been impressed and inspired by western influences while expanding my individual artistic practices. As a result I've decided to come to Italy to undertake the Art Management Master Course.
Dec. 01, 2015 | Posted in Blog, Business and Management , Student Reporter | Tags:Jacqueline Vong, Business & Management | Language:



Reporter: JACQUELINE VONG | Course: Business & Management
Art Management Master Course: Primary Art Market / Cultural Policy & Public Art

This week we mainly study two topics: Primary Art Market, and Cultural Policy & Public Art.

這星期我們主要學習两主題:初級藝術市場、文化政策及公共藝術。

First, primary art market refers to a new art, and comes from the artist and sold by the intermediary to the collector. In this sector, we study the interrelation of artist, gallery and collector, the types of collector, and the purchase purpose of collector. Moreover, we study art value, market supply and demand, market trends and forecasts, as well as art criticize.

首先,初級藝術市場是一個來自藝術家的新藝術品由中介人出售予收藏家。在這一部份,我們學習了藝術家、畫廊及收藏家之相互關係、收藏家的類型、收藏家的購買目的,而且,我們學習了藝術價值、市場供求、市場趨勢及預測、以及藝術評論。

Second, cultural policy & public art, this sector talks about art in the urban public space, the role of public art in urban regeneration, the types of public art, the origins of public art, the transformation of art and culture, a array of activities involves in cultural policy, and territorial policy and culture in the contemporary city.
Furthermore, we read some relevant examples as below.

其次,文化政策與公共藝術,這一部份談及城市公共空間藝術、公共藝術在城市更新中的作用、公共藝術的類別、公共藝術的起源、藝術和文化的變化、 涉及文化政策的一系列活動、以及地區政策和當代城市文化。此外,我們看了以下一些相關的例子。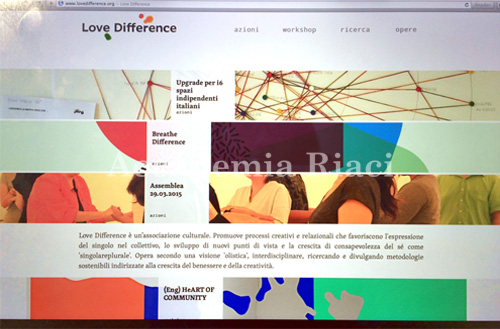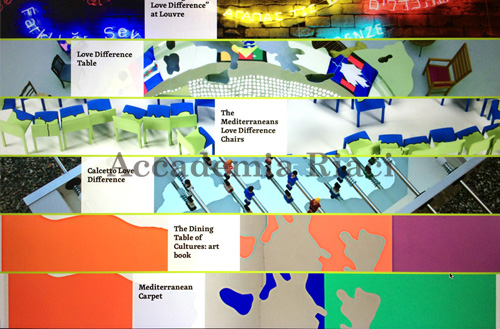 1. Policy and cultural project
"Love difference"
Love Difference is a cultural association, aimed to search for solutions to the major problems of society through cooperation with institutions, artists and creative individuals between different cultures.

政策及文化項目
Love Different是一個文化社團,旨在通過與不同文化之機構、藝術家、以及創作人合作,以尋求解決社會的主要問題。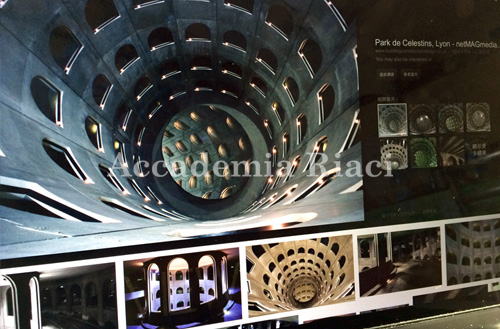 2. Permanent installation of street furniture: public art, site specific art and urban sculpture parks
Park de Celestins, Lyon

城市家具永久裝置:公共藝術、場域特定藝術、及城市雕塑公園
法國里昂的停車場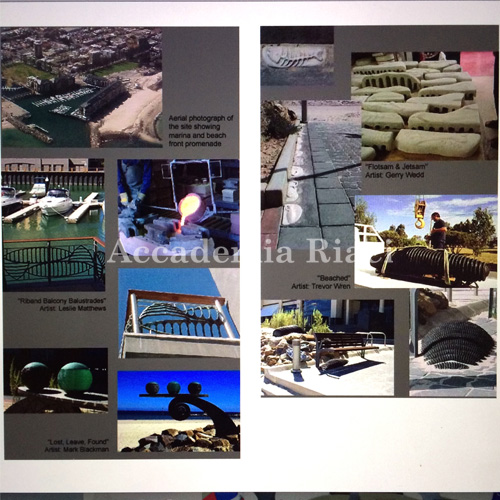 City of Holdfast Bay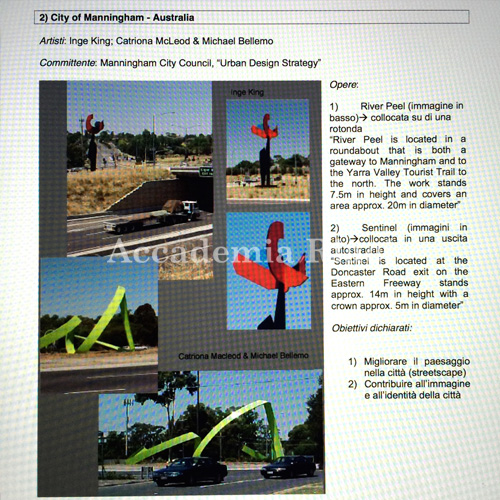 City of Manningham – Australia

3. Temporary art exhibitions / Performance
"il viaggio delle parole" presents at the central station in Milan.

臨時藝術展 / 表演
"文字的旅程"展示在米蘭的中央火車站。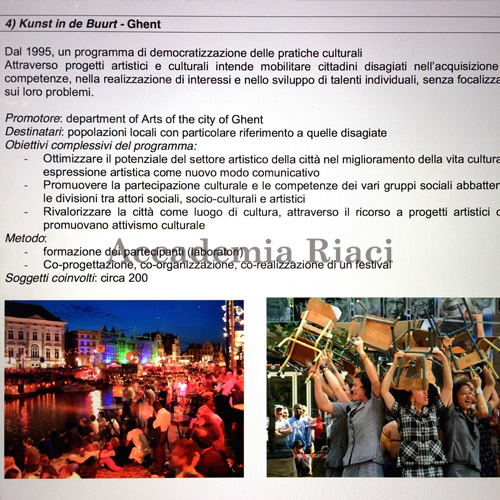 4. Art installations "participate" / relational art

藝術裝置 "參與"/ 關係藝術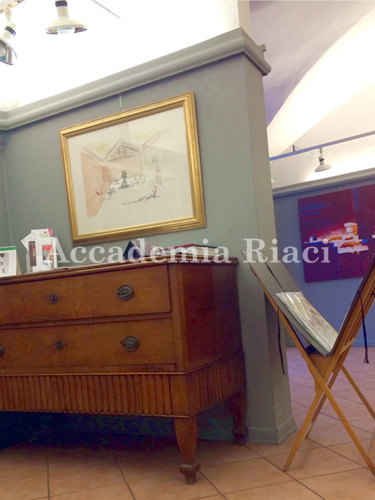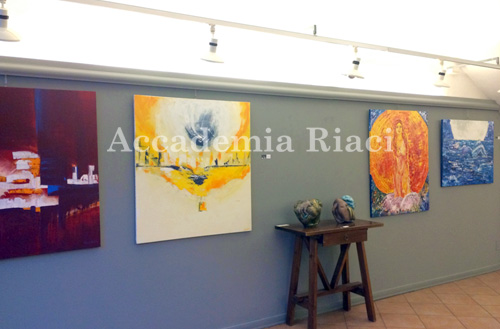 Last week, I visited Gallery Mentana where nears Gallery Uffizi in Florence.

上週我參觀了位於佛羅倫斯烏菲茲美術館附近的Gallery Mentana。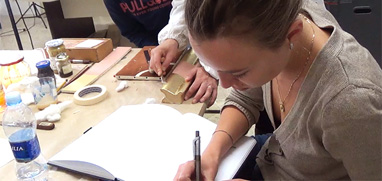 At Accademia Riaci, we are recruiting Course Reporters from our students. The students who are chosen to become Course Reporters are given 10 % of the tuition as their scholarship fee.
The Reporters who have submitted excellent reports will have his or her profile posted on our school website for the next 5 years as an alumnae and will be able to connect with their business chancesafter their graduation.