Accademia Riaci
Student Reports
Read all class reports from our students!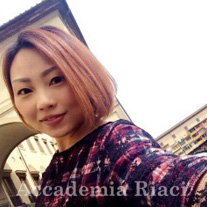 Reporter
JACQUELINE VONG
Nationality: Portugal
Course: Art Management
Program: Master Course
Period : Sep.7,2015-Apr.22,2016
I got a Bachelor Degree in English Communications in University of Macau. I'm a free-lance dancer and choreographer. I was facing a turning point in my artistic development, I would like to take a step forwards towards my career ambition, and furthermore I've been impressed and inspired by western influences while expanding my individual artistic practices. As a result I've decided to come to Italy to undertake the Art Management Master Course.
Nov. 24, 2015 | Posted in Reports, Art Management , Student Reporter | Tags:Jacqueline Vong, Art ManagementReporter: JACQUELINE VONG | Course: Art Management
Art Management Master Course: Global Economy, Competition and Market of Contemporary Art

This week our topic is global economy, competition and market of contemporary art.

這一週我們的主題是全球經濟、當代藝術的競爭和市場。

First of all, the contemporary art now has to confront with a highly unstable socio-economic context that is rapidly evolving, therefore, there is a result of a particular analysis finds the state of supply and demand of goods and artistic services in a global scenario is quite complex. Supply of contemporary art is renovated and has to continue to innovate, as the growth of demand and the change of technological economic.

首先,當代藝術現在必須面對個極不穩定及正在迅速發展的社會經濟背景,因此,一個具體的分析結果認為商品和藝術服務的需求及供應情況在全球局面是相當複雜的。當代藝術的供應是被更新及必須不斷創新,就如需求的增長和技術經濟的變化。

Then, we enter the following two sections under the captioned subject:
1. Structure and Characteristics of the Contemporary Art Market
– Global economy and supply for contemporary art
– System of intangible contemporary art supply
– Product orientation, marketing orientation and market-driven orientation
2. Globalization and Competitive Dimension
– Distribution center, artist and competitive advantage
– Production, diffusion and global competition
– Effects of globalization on contemporary art market

之後,我們進入標題題目下的两部份:
1.當代藝術市場的結構及特點
– 全球經濟和當代藝術的供應
– 無形的當代藝術供應方式
– 產品定位,市場定位及市場導向定位
2.全球化和競爭範圍
– 配送中心、藝術家及競爭優勢
– 生產、傳播及全球競爭
– 全球化對當代藝術市場的影響

Next, we look at the data from 5 different auctions, in this table there are the name of auctions, the number of artists, the number of auction houses, coverage and range. It shows the status of auction of fine art from different period.

接著,我們看了來自5個拍賣的資料,在表格中可看到拍賣名字、藝術家數目、拍賣行數目、作品覆蓋範圍、及時間範圍。它顯示了美術品在不同時期的拍賣情況。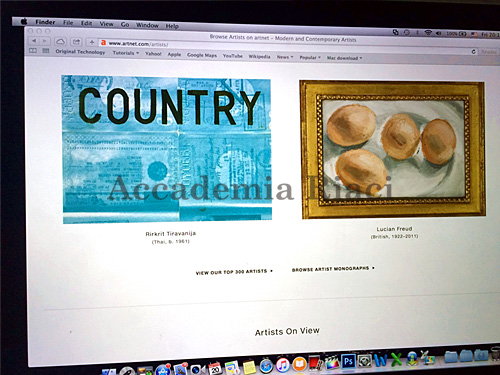 We also visit the websites of the above auctions in the table and watch some art works inside.

我們亦瀏覽了上述表格中的拍賣網頁以及觀看裡面的一些藝術作品。

Artnet: www.artnet.com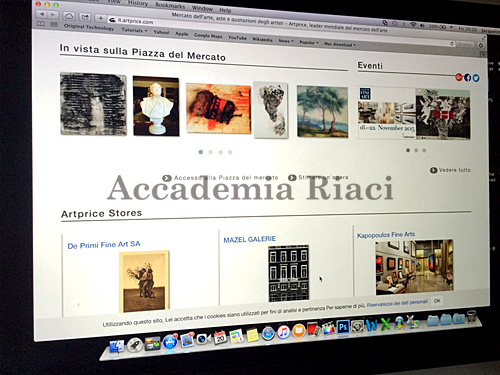 Artprice: www.artprice.com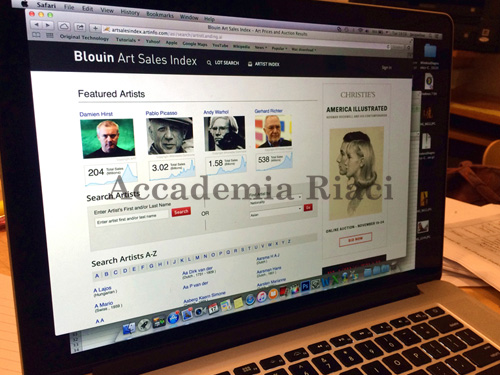 Art Sales Index: http://artsalesindex.artinfo.com/asi/security/landing-page.ai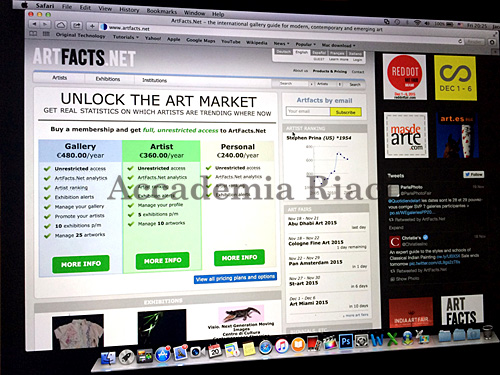 AMR (N/A)

Art Fact: www.artfacts.net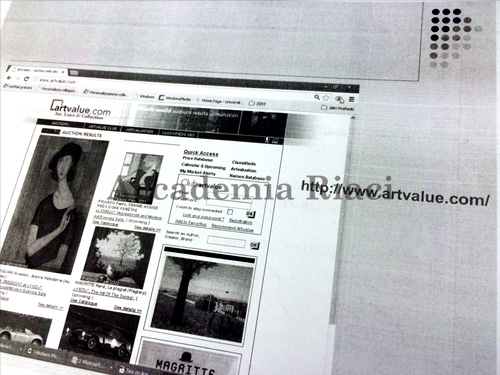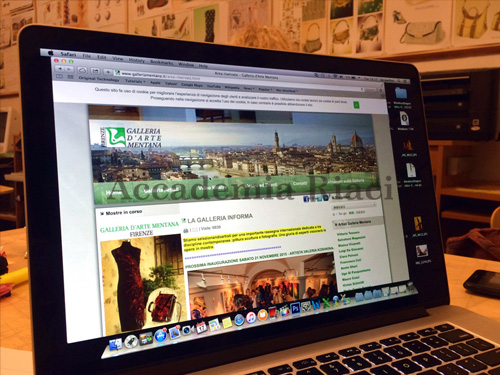 In addition, we go to one more auction website Artvalue www.artvalue.com and the website of Galleria D'arte Mentana www.galleriamentana.it

另外,我們還多看了一個拍賣網頁及一個畫廊網頁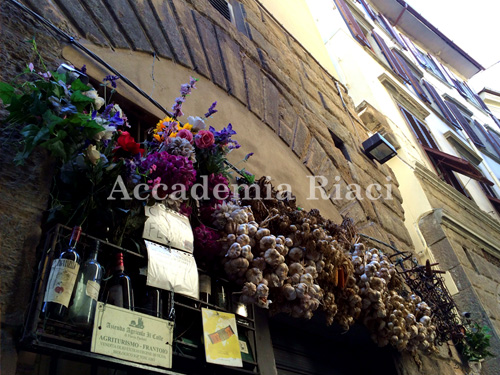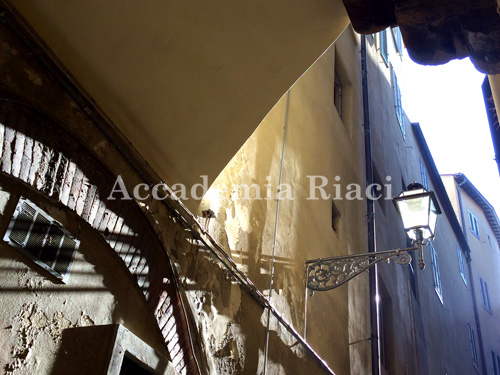 After watching several websites of auction, more or less there is a preliminary concept on the market of contemporary art.

在看過以上幾個拍賣會網頁後,或多或少對當代藝術市場有一個初步概念。

Besides the class, continuously exploring Florence, photos below are the exterior walls of a little store, looks graceful!

除課堂外,繼續探索佛羅倫斯,下面的相片是一間小商店的外牆,很雅緻!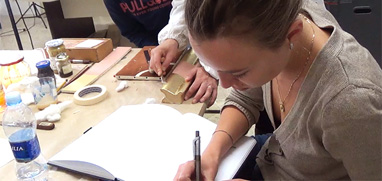 At Accademia Riaci, we are recruiting Course Reporters from our students. The students who are chosen to become Course Reporters are given 10 % of the tuition as their scholarship fee.
The Reporters who have submitted excellent reports will have his or her profile posted on our school website for the next 5 years as an alumnae and will be able to connect with their business chancesafter their graduation.