Accademia Riaci
Student Reports
Read all class reports from our students!
Jun. 09, 2014 | Posted in Reports, Shoemaking, Living in Florence , Student Reporter | Tags:Hyunjin Kim, ShoemakingReporter: | Course: Shoemaking
Sono andata al mercato delle Cascine, che viene fatto ogni martedi mattina dalle 7:00 alle 14:00.
In questo mercato si trovano frutta, verdura, abbigliamento, alimentari, fiori, borse e scarpe.
Lo trovo molto interessante ed economico.
피렌체 카쉬네 공원에서 매주 화요일 아침 7시부터 오후2시까지 시장이 열립니다.
정말 크고 긴 시장인데요 옷,신발,가방, 악세사리,음식,속옷, 과일,채소, 치즈,생필품등등 많은 제품들을 판매합니다.
가격은 저렴한 편이고요 흥정도 가능하답니다. 시장 위치는 트람을 타고 Cascine 아니면 Paolo Uccello역에서 내려셔서 2~3분정도 공원쪽으로 걸어가시면 보입니다. 볼거리도 많고 먹을거리도 많아서 눈과 입 모두 즐거운 곳인 것 같습니다.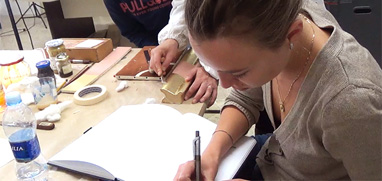 At Accademia Riaci, we are recruiting Course Reporters from our students. The students who are chosen to become Course Reporters are given 10 % of the tuition as their scholarship fee.
The Reporters who have submitted excellent reports will have his or her profile posted on our school website for the next 5 years as an alumnae and will be able to connect with their business chancesafter their graduation.