Read the latest reports of our students!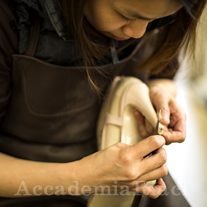 With medical background specializing in biomechanics of lower extremity, Yi-Chen Chou is interested in producing bespoke shoes for both general population and people with special needs. By taking the entry level of shoe making course last year at Florence, she has now equipped with the fundamental skills of shoemaking, and would like to learn more advanced shoemaking techniques as well as to integrate the gained knowledge onto prospective orthopedic shoes using customized lasts through her second year.
Feb. 26, 2015 | Posted in Reports, Student Reports, Shoe Making & Shoe Design, Shoemaking | Tags: Shoemaking| Mario:



Reporter: Yi-Chen Chou | Course: Shoe Making Course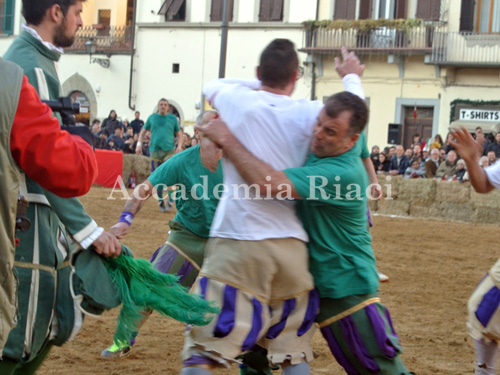 1) On this Tuesday, there was a historic soccer game taking place at Santa Croce. Generally, this event takes place only in summer.

本週二在聖十字廣場有一場古式足球賽,一般而言這個賽事通常在夏天才會舉辦。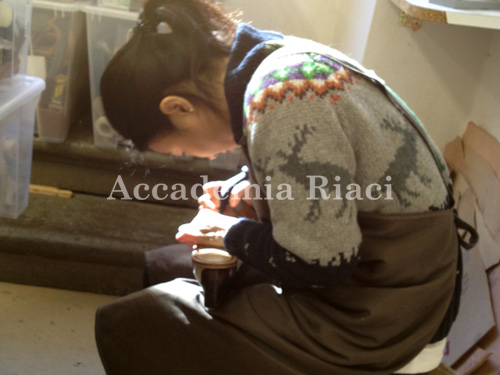 2) Spring is approaching, as the day time gets longer and longer. It's really a bless to have the sunshine in the classroom under this cold weather.

春天整緩緩的逼近因為日照時間越來越長了,在這樣的冷天下教室裡的一抹陽光真是一個恩賜。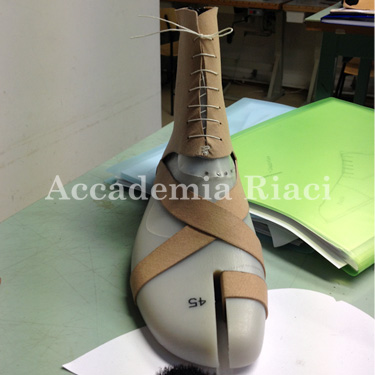 3) This week, Luca has started to design his first pair of sandals which will be the primary products in his career.

Luca本週已經開始設計他第一雙涼鞋,涼鞋將是他未來事業的主力。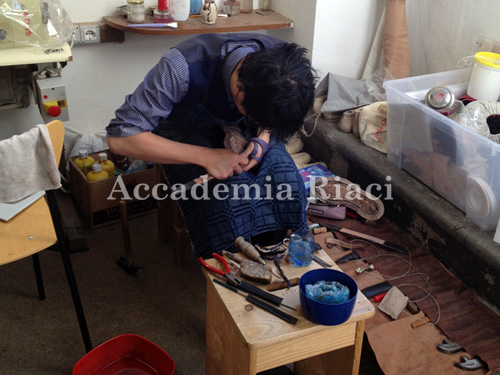 4) Yuichi was working on the first hand stitching of Goodyear construction. He is now quite good at this work.

Yuichi正在進行固特異結構的第一道手縫,他現在這工法已經相當純熟。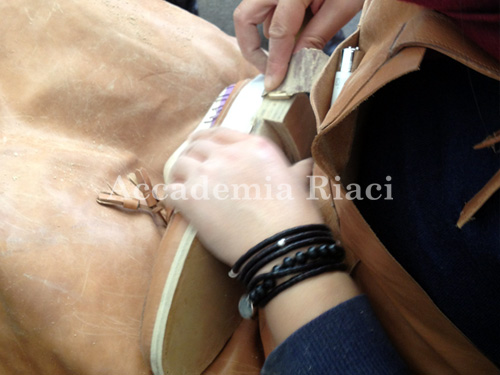 5) Jill doesn't like to sand the heels manually as it takes much longer than she thought. Hang in there, Jill!

Jill不喜歡手工磨鞋跟因為這比想像中耗時很多,加油啊!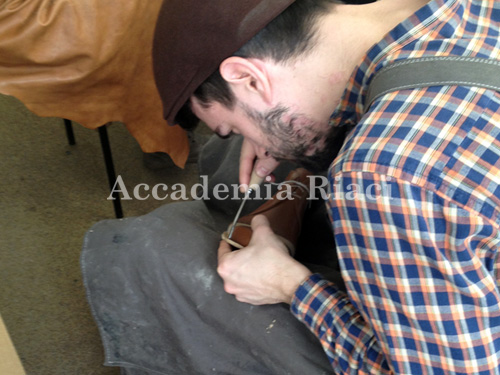 6) Francis, as being an apprentice at a local shoemaking shop as well as a TA at school, only gets free time to work on his own work on Fridays.

Francis同時是實習生又是助教,因此只有週五才有自己的時間可以做自己的鞋子。

7) By the end of this week, Bernardo has finished his moccasin shoes for his girlfriend. Hopefully it will fit.

在本週結束前,Bernardo已經完成了他要送給女朋友的莫卡辛鞋,希望尺寸會合腳。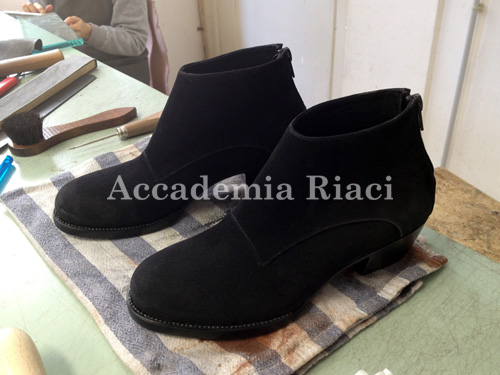 8) Finally I've also completed my ankle boots by this week. I am quite happy with what it turns out.

我終於也在本週完成了我的踝靴,我挺滿意它最後的樣子。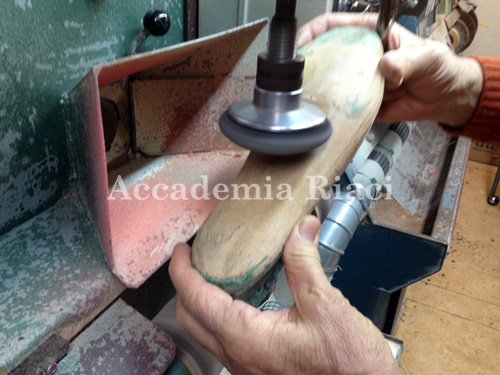 9) At the same time at the orthopedic shoe shop, I was also working on the last modification for a patient with leg length discrepancy.

在矯正鞋工作室裡我同時在進行長短腳患者的楦頭修改。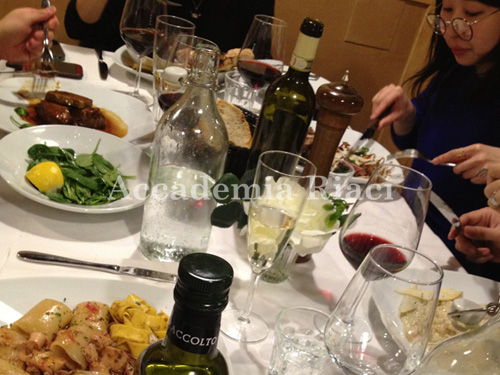 10) This week is a big week to most Asians as there was a Chinese new year. Therefore, as being Asians, we also went out to celebrate on Friday night. Happy Chinese New Year to everyone!

本週對多數亞洲人而言是大日子因為農曆新年的緣故,所以我也和其他亞洲朋友們在週五晚上出門慶祝了一番,祝大家農曆新年快樂!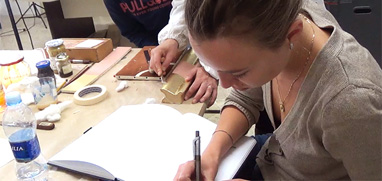 At Accademia Riaci, we are recruiting Course Reporters from our students. The students who are chosen to become Course Reporters are given 10 % of the tuition as their scholarship fee.
The Reporters who have submitted excellent reports will have his or her profile posted on our school website for the next 5 years as an alumnae and will be able to connect with their business chancesafter their graduation.