Read the latest reports of our students!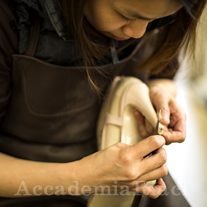 With medical background specializing in biomechanics of lower extremity, Yi-Chen Chou is interested in producing bespoke shoes for both general population and people with special needs. By taking the entry level of shoe making course last year at Florence, she has now equipped with the fundamental skills of shoemaking, and would like to learn more advanced shoemaking techniques as well as to integrate the gained knowledge onto prospective orthopedic shoes using customized lasts through her second year.
Dec. 09, 2014 | Posted in Reports, Student Reports, Shoe Making & Shoe Design, Shoemaking | Tags: Shoemaking| Mario:



Reporter: Yi-Chen Chou | Course: Shoe Making Course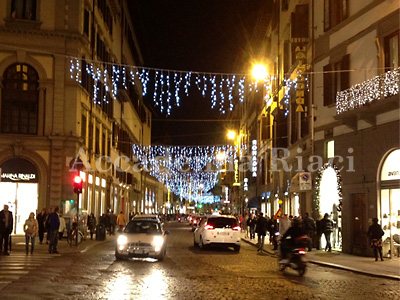 1) Christmas has come to the town. These Christmas lights are way more beautiful if you come to see physically.

耶誕節已經來了,這些耶誕燈飾實際看起來更美。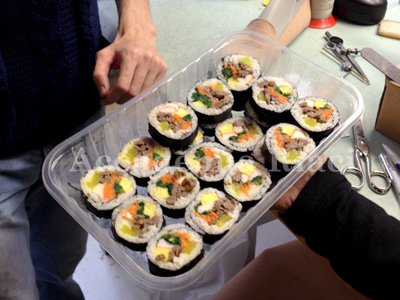 2) Hyunijn's Mom and sister have also come to the town, and prepared us some yummy Kimbob for our time at school.

Hyunjin的媽媽和姊姊也造訪了佛羅倫斯,並準備了美味的韓國壽司給我們吃。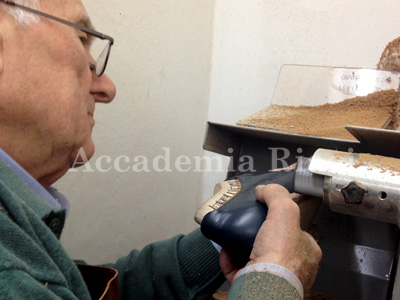 3) This week, I've almost done my shoes.

本週我已經快完成我的鞋子。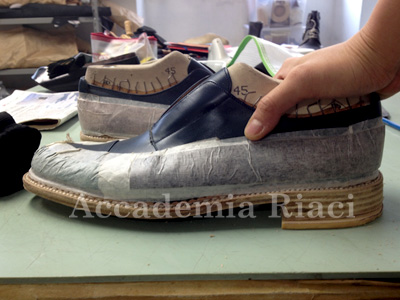 4) But the heel stacking part did not go very well, oops!

但是疊鞋跟的流程並沒有做的很好,唉呀呀。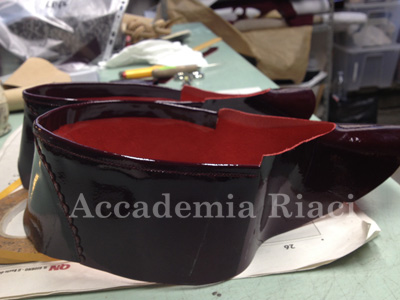 5) Earlene was working on the upper stitching for her Moccasin shoes.

Earlene本週在車縫她莫卡辛的鞋面。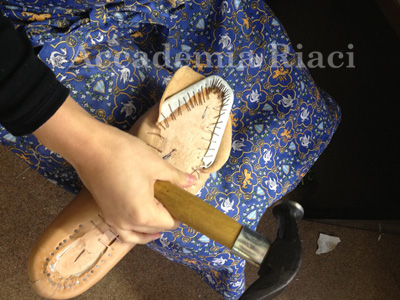 6) Natsumi was also lasting her Moccasin shoes this week.

Natsumi也同樣在幫她莫卡辛的鞋子。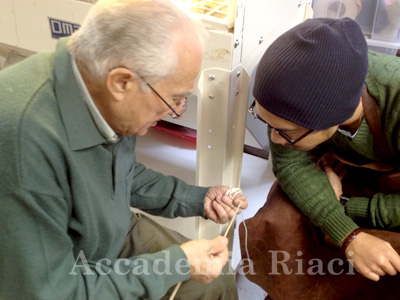 7) Josh was learning how to prepare the threads in order to do the Goodyear bottom construction.

Josh則在學習如何備線準備用於固特異的手縫底。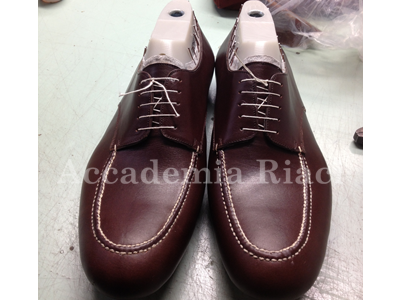 8) Bernardo has done the lasting on his Derby shoes, and about to hand stitch the bottoms. Good Luck!

Bernardo已經完成他德比鞋的入楦,並準備要開始手縫底。加油!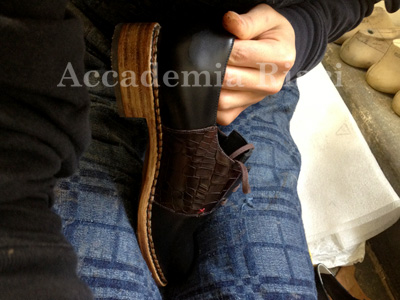 9) Yuichi was polishing his uppers with cream and cloth, which generally takes 2 to 4 hours to complete.

Yuichi正在用鞋油跟棉布打亮他的鞋面,這步驟一般而言需要2到4小時。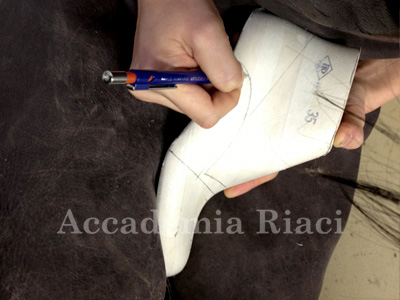 10) I am moving forward to design my next shoes: an ankle boots with zipper in the back.

我已經開始著手設計我下一雙鞋子,將會是一雙踝靴後跟有拉鍊。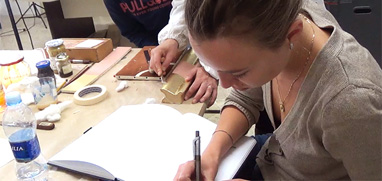 At Accademia Riaci, we are recruiting Course Reporters from our students. The students who are chosen to become Course Reporters are given 10 % of the tuition as their scholarship fee.
The Reporters who have submitted excellent reports will have his or her profile posted on our school website for the next 5 years as an alumnae and will be able to connect with their business chancesafter their graduation.