Read the latest reports of our students!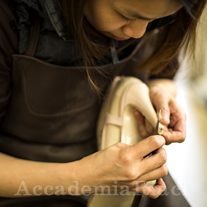 With medical background specializing in biomechanics of lower extremity, Yi-Chen Chou is interested in producing bespoke shoes for both general population and people with special needs. By taking the entry level of shoe making course last year at Florence, she has now equipped with the fundamental skills of shoemaking, and would like to learn more advanced shoemaking techniques as well as to integrate the gained knowledge onto prospective orthopedic shoes using customized lasts through her second year.
Nov. 18, 2014 | Posted in Reports, Student Reports, Shoe Making & Shoe Design, Shoemaking | Tags: Shoemaking| Mario:



Reporter: Yi-Chen Chou | Course: Shoe Making Course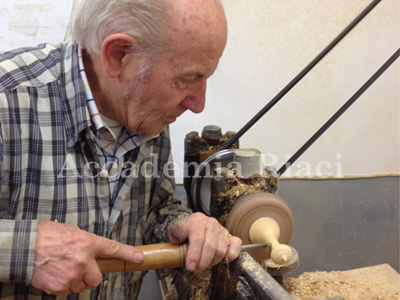 1) Last friday in the class of art visit, we went to see the studio of a carpenter. He has started to learn this field since he was a teenager, and now he is an 80-year-old master.

上週五的藝術參觀課程我們參觀了一間木匠的工作室。他自青少年時就開始學習木工,而現在他已經是80歲的老師傅了。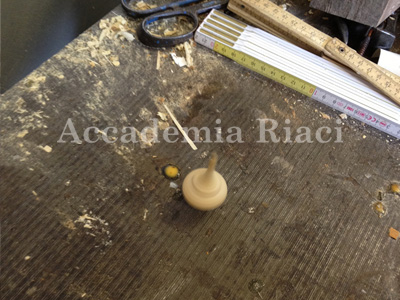 2) During our visit, he made us a spinning top within 5 minutes starting from a wood block. How skillful!

在我們參訪時,他僅花了5分鐘就將一個木塊磨成了一個陀螺,技術相當高超。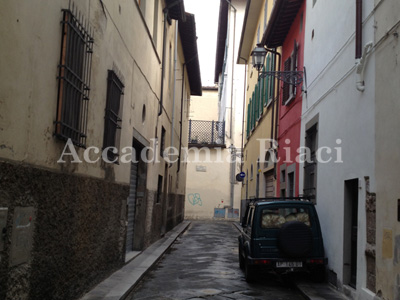 3) We didn't have a nice weather cause it has been raining for almost the entire week.

本週的天氣不太好,幾乎天天都下雨。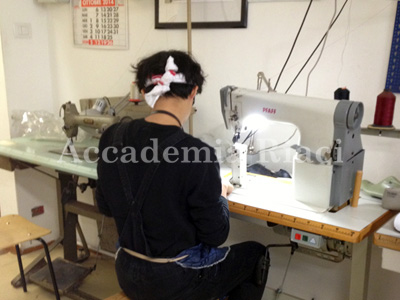 4) But still we are enthusiastic about our shoemaking work as always.

但是我們還是如同以往鬥志高昂的在製鞋上。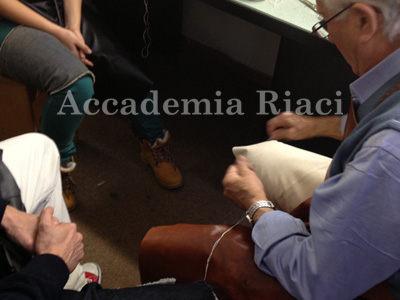 5) This week new students were learning but also somehow struggling with the thread making process. It takes time to get familiar with.

本週新生們學習如何自備手縫線,一開始並不怎麼容易,需要一些時間來熟悉。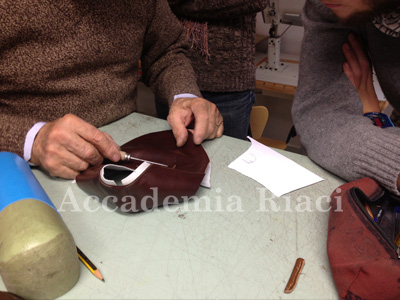 6) Bernardo was learning how to do the "fermatura (stopper)" on his Derby shoes, which is a main characteristic to tell Derby shoes from other shoe types.

Bernardo正在學習如何車縫停止點(fermatura),這是德比鞋異於其他鞋型的一個重要環節。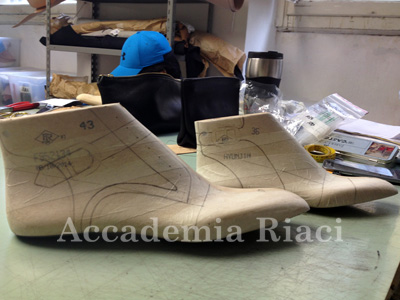 7) Hyunjin has started to work on her ankle boots, which are going to be a Christmas gift.

Hyunjin已經開始製作她預計要作為耶誕禮物的踝靴。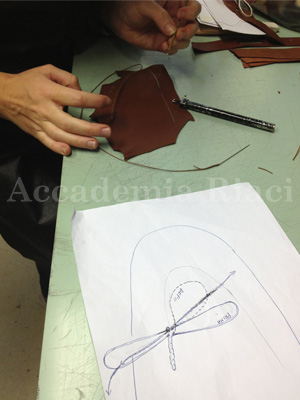 8) Amy has done her upper stitching very well on her dad's shoes, and is currently hand stitching both aprons.

Amy預計要送給爸爸的鞋子鞋面車縫得相當漂亮,而目前正在手縫莫卡辛鞋的裙面。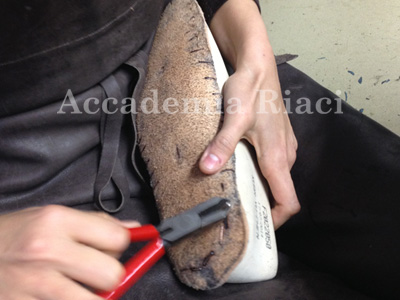 9) I am working on the midsole preparation for Tirolese construction. Hope it will go well.

我正在備Tirolese的中底,希望會進行的順利。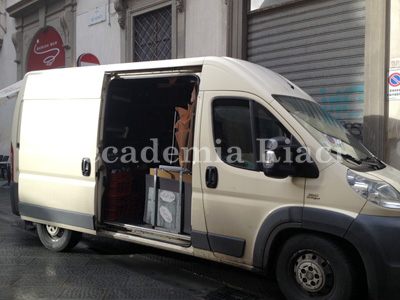 10) Massimo comes to school every other Thursday to sell and deliver all the materials we need. I love his truck quite much!

每隔週四Massimo都會帶我們購買的材料來學校,我超喜歡他的材料車的!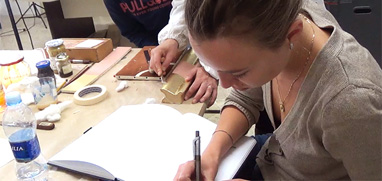 At Accademia Riaci, we are recruiting Course Reporters from our students. The students who are chosen to become Course Reporters are given 10 % of the tuition as their scholarship fee.
The Reporters who have submitted excellent reports will have his or her profile posted on our school website for the next 5 years as an alumnae and will be able to connect with their business chancesafter their graduation.